Mill Spring, N.C.—Oct. 30
In the middle of the hectic Washington International ambiance, Virginia Bonnie huddled over a computer Thursday morning. Inhaling and finally clicking that button her cursor had been hovering over, the 17-year-old submitted her early decision and early action applications for college.
With the fingers perpetually crossed, she then focused on the high junior/amateur-owner jumpers division that started that afternoon and continued until Saturday. And with her partner of two and a half years, Efodea, she found reward for the earlier stress by taking home the division championship.
"In this time together she really [is] the most earnest, honest, courageous, kind—all the of the adjectives—mare I've ever met in my life," said Bonnie, of Upperville, Virginia. "So through [the Winter Equestrian Festival in Florida] and competitions like Young Riders, Prix De States, we've really been able to step up together and form really a special bond that I wouldn't give up for anything."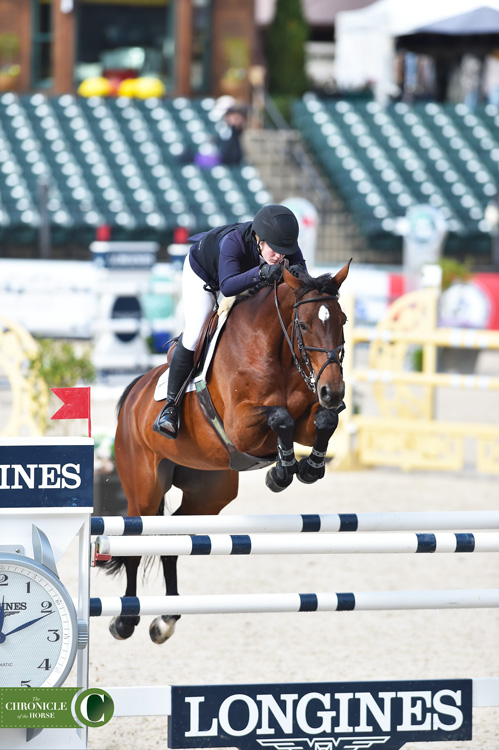 The pair were a part of the winning team that brought the gold medal stateside in the FEI Jumping Nations Cup Youth Final CSIOJ in Kronenberg, the Netherlands.
"I was doing the highs before we bought her, so when we got her, we started her in the mediums first a little bit [and then] moved up to the highs," she said. "We've also been showing a lot in FEI, U25, national grand prixs, so she's really taken me everywhere. Honestly made all of my dreams come true."
And to make the win more special, Bonnie has a special connection to the Washington International, serving on the WIHS Junior Committee.
"When it was at the Capital One Arena, I was able to help set up, really help out," she said. "And this show and that junior committee has taught me so much how horse shows are run and managed and really the inner workings you don't see when you're just coming and riding and leaving on Sunday. It's really been a wonderful experience for me because so much of my learning experience has come from this show and everything that comes with it.
"So being able to win champion here and of course [competing against] the top junior jumpers in the country, I mean it's unreal," she continued. "I'm a little bit in disbelief. There's a little bit of a disconnect. I'm not quite sure what's going on."
With a win in the $10,000 Show Jumping Hall of Fame High Junior/Amateur-Owner Jumper Classic, Vanessa Hood and Santauer took the reserve high junior/amateur-owner jumper championship.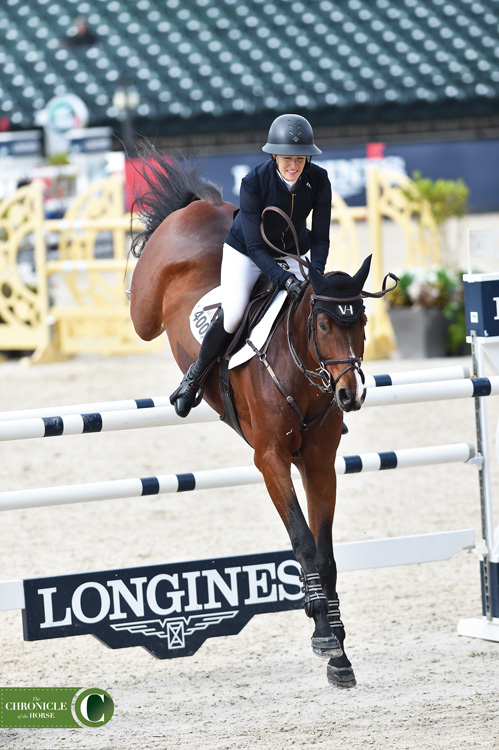 "I've had him for about two years, and the horse gives me a lot of confidence," she said. "We've spent a lot of time in the high amateurs learning together and developing our partnership. I've also jumped him in some grand prixs as well, and he just comes through when I need him. He's a very scopey horse with a big stride, so sometimes in these jump-offs it's really hard to keep up with these really sporty horses, but I just try to use his big stride and his scope to his advantage, and it worked out today."
Hood, 39, Wellington, Florida, rode competitively as a junior before taking an extended hiatus from horses. She returned five years ago and now rides as an amateur full time.
"I think there's some advantages like being an adult and having some life experience under my belt," she said. "I know myself a little bit better and maybe understand a little bit better how to prepare mentally. I think I appreciate it a lot having been away from it for a while. I realize how much I love the sport and how much I love working with horses, so usually a day doesn't go by where I don't say I'm just so thankful to get to do this."
Gochman Scoops Up Another WIHS Tricolor
About a year ago, Mimi Gochman sat on Codi BH for the first time at the Tryon International Equestrian Center. One of her trainers, Amanda Derbyshire, had been riding the 9-year-old Holsteiner mare by Casall for Pine Hollow Farm and thought she'd be a good fit for Gochman.
"Amanda really loved her and was like, 'Oh this would be a really great young horse for Mimi. She's scopey; she's careful. She has game in her,' " Gochaman recalled. "So I tried her here in Tryon, and then I did my first few shows at [the Winter Equestrian Festival (Florida)], and it's been a building relationship ever since."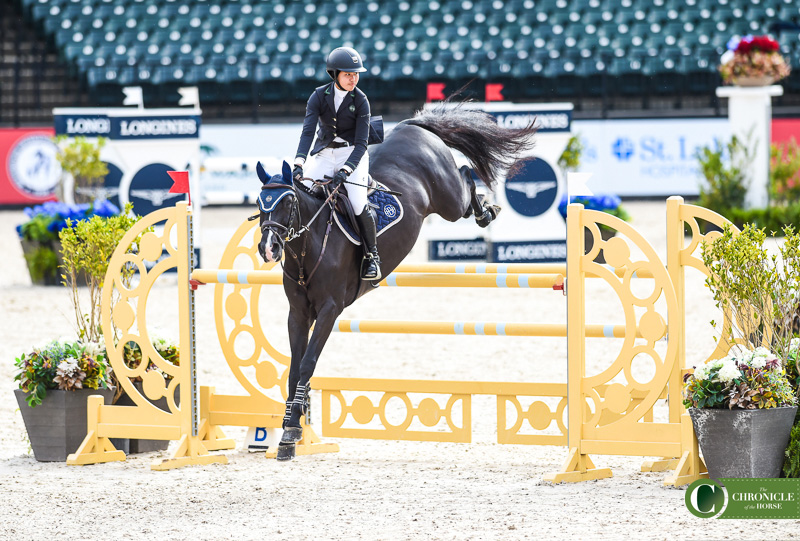 Though Codi was 9, she didn't have a lot of experience, so Gochman spent the first half of the winter circuit gaining the mare's trust and building her confidence in the low junior jumpers before moving up to the mediums.
"She was kind of unsure of what she was doing and just hadn't gotten a lot of ring time, so we've just been spending some time building up her confidence and getting quicker and quicker," said Gochman. "We finally sort of figured each other out, and we're a very good partnership, and we're having a lot of fun. She's super, super cool, and she always wants to win and go clear, and she jumps her heart out every time."
That time paid off, as they won two of their classes at the Washington International to take the medium junior/amateur-owner championship. Gochman received the Shalanno Style of Riding  award and the leading junior jumper award.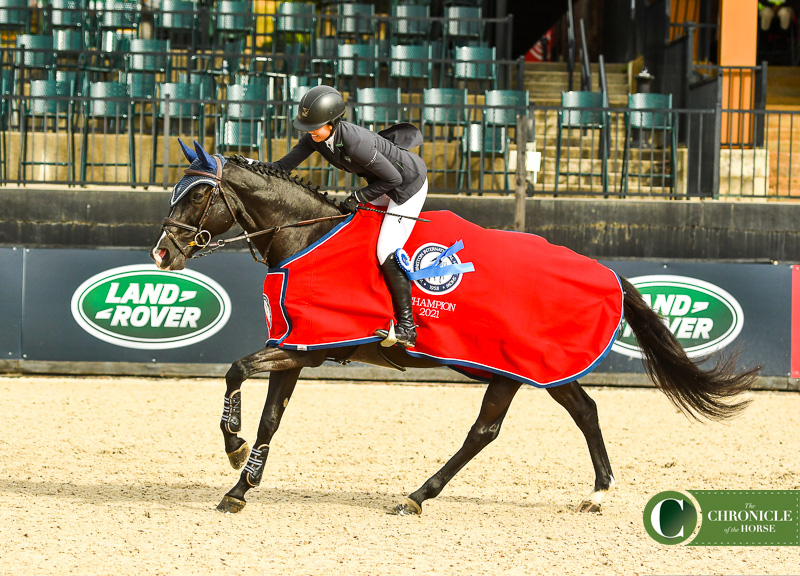 "Our goal is to try to do some high junior jumpers this WEF and see how high she can go," said the 17-year-old from New York City. "I feel like she can maybe do U25 or even two-stars in her future. She's super careful, super scopey. She has a big stride, and she wants to jump; she's just a little inexperienced, so I definitely think she could have high junior jumpers in her future and hopefully some lower grand prixs."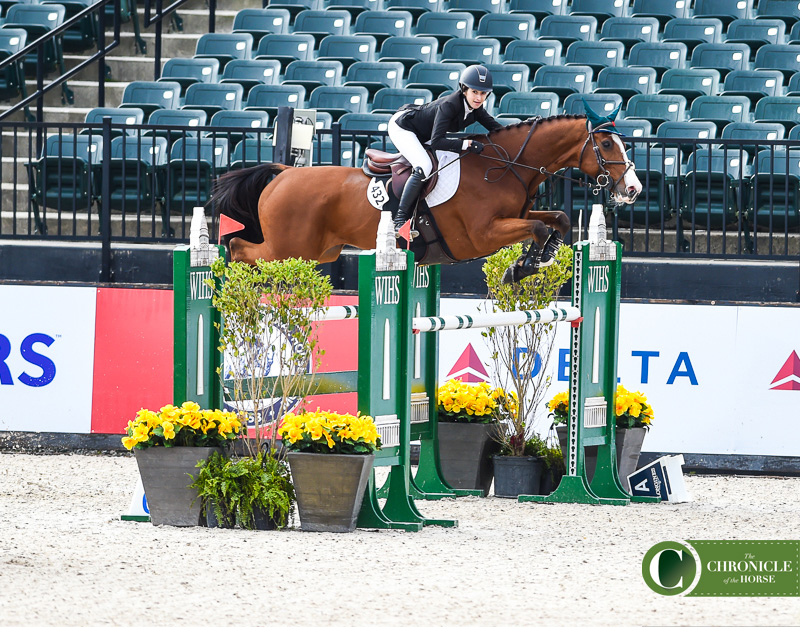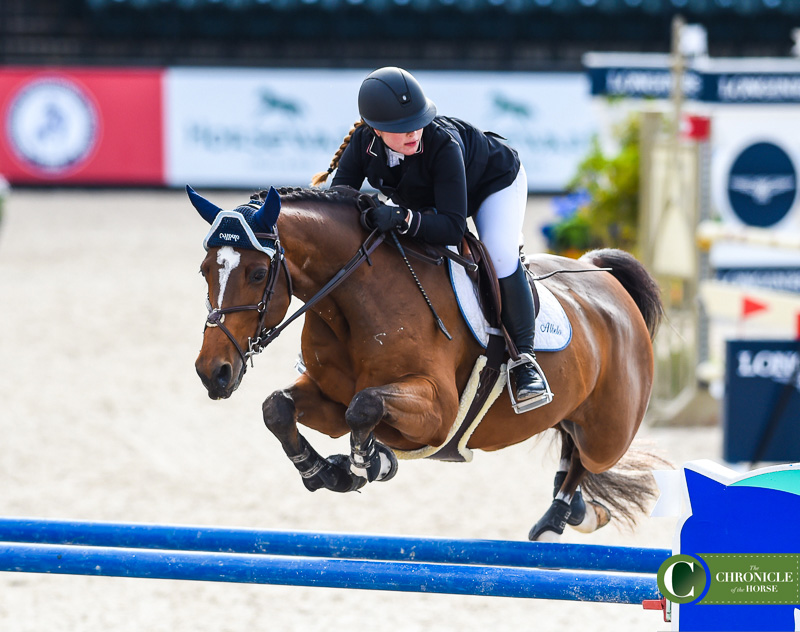 Long Partnership Pays Off For Dugas
When Caroline Dugas first crossed paths with Skyfall—her immediate thought was "No way."
"I thought he was crazy," said the 20-year-old from Birmingham, Alabama. "I was like, 'In no way am I going to be riding this horse. He's crazy.' "
Dugas was coming off of the child jumpers divisions when she purchased the fiery gelding—with a red ribbon on his browband. And though a lot of horse, Dugas learned he was the kind to keep around.
"He's the kind of crazy that's not scary," she said. "He has no malintent. He's just a little bit wild, but that's what we love about him. That he's got that little extra spunk.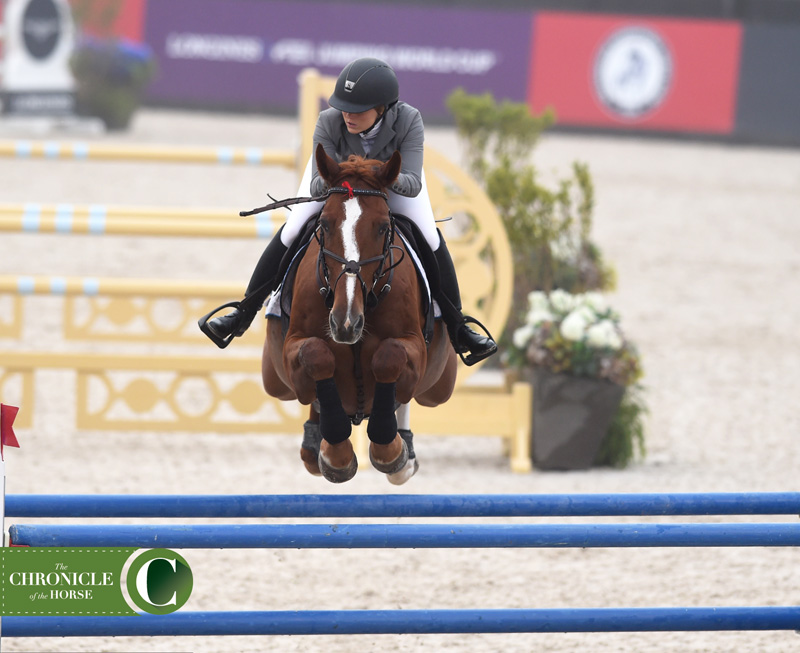 "I've had him for like [five] years," she added. "He was my first real horse horse. I had ponies and things, but he's just awesome. He's always in it with me. I never have to doubt if he's going to do his job. He's the best."
Now enrolled at the University of Alabama, Dugas flies to Ocala, Florida, to meet up with "Bo" at her trainers Tim and Camille Maddrix's farm. And at Washington International, their long partnership shined through as they earned the championship in the low junior/amateur-owner jumper division.
"He's just the kind of horse you don't want to sell," she said. "He's in it with you. He's got a big heart. He never wants to let you down."
Taking the reserve in the division and winning the $7,500 low junior/amateur-owner jumper classic was Sydney Myers and Skara Glen's Signature. Though their partnership just formed this May, the pair outran the field of 26 competitors.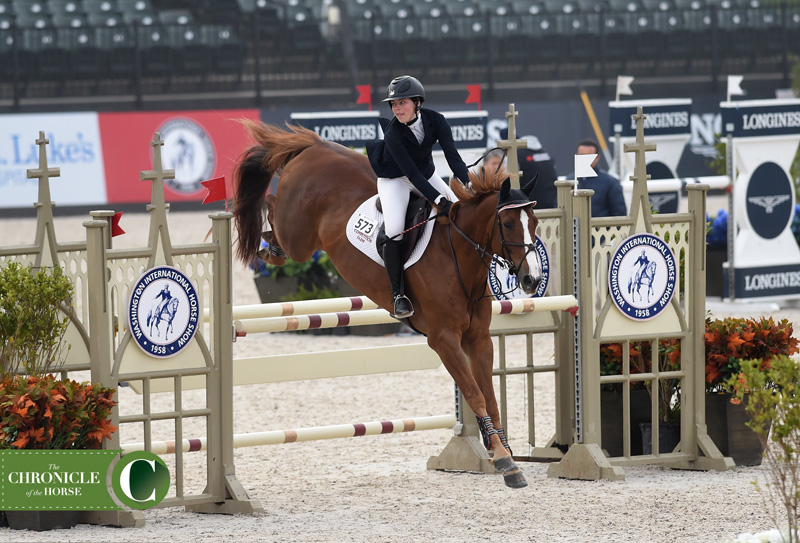 "He's very different from my past horses," said the 16-year-old from Plantation, Florida. "He likes to go from the corner, and then it's like 'OK now I need to slow down.' He is a lot of energy going through the corners especially. He likes to run around the ring. He has a hard jump. He likes to jump big over everything. So, it just makes another challenge. He's really great."
And if you pay attention, you will notice many bunny motifs sprinkled all across Myers' equipment, from her saddle to her helmet.
"it's literally on everything," she said. "Even my spurs! At our barn, we always thought he was like a bunny with the way he jumped. He jumps with his body—not so much his legs. So, we always thought, 'Oh he's like a little bunny.'"
See full results.

The Chronicle will be on-site all week bringing you stories and photos on all the big winners. See our coverage here. Want more? Don't forget to pick up a copy of the Nov. 22 issue of the magazine. What are you missing if you don't subscribe?