Her consistency and feel give her the big win.
It didn't take Kels Annabelle Bonham long to make an impression on Alex Jayne and Tamara Provost, the judges for the Pessoa/USEF Hunter Seat Medal Finals.
Looking for our daily coverage of the Pessoa/USEF Medal Finals, including a comprehensive blog of all the action?
Click here
.
"She was in a league of her own right from the beginning," said Jayne. "She was the only one who got a 90 in the first round, and I think the next highest score was an 86. She just walked in and nailed the course. The horse jumped beautifully from start to finish. It was a very hard, technical course, and she had a great grasp of what we wanted."
Bonham went 61st out of 269 in the initial order on Oct. 12 during the Pennsylvania National Horse Show in Harrisburg, and she led the standby from the start.
"I was shocked I was on top after the first round. My goal coming into this was just to make the first cut. I've never made the cut before," said Bonham, who was competing in her fourth Medal Finals.
Bonham, 17, is from a long line of horsemen. She grew up riding with her parents, Michael and Heather, who run a hunter/jumper training business in Claremont, Okla., outside Tulsa. Her great-uncle, Max Bonham, was a highly regarded trainer, and his wife, Nancy, still trains in South Carolina.
Jayne noted that Kels doesn't fit the stereotype of the equitation star.
"She's not really classically elegant—she's more workmanlike," he said. "And she's not your typical 5'10" willowy, long-legged equitation rider that so often wins the finals. She's a more compact model, but she has a beautiful feel and you needed to have that for the course we built. You needed to have a real connection and a nice touch, and she had that in spades."
Kels solidified her lead in Round 2.
"I was nervous going up to the second round, then I saw it was a hunter-type course and felt better. I kept telling myself that I needed to seize the moment, and this was my only chance to do it," she said.
Jayne noted, "She came back in Round 2 and was the only one to score above an 86—I think we gave her a 90 again. Going into the final test, she had really distanced herself from the pack." Kels' final test was solid, though her hand gallop was a bit conservative, but by that time she'd already won."
For the Medal Finals, Kels enjoyed riding Sundance, the lanky chestnut who carried Kim McCormack to win the
Medal Finals and the ASPCA Maclay Finals (N.Y.) last year. She'd ridden "Tommy" for the first time just a few weeks before the competition.
"She did a great job of getting to know the horse in a very short time," said trainer Missy Clark, who arranged for Kels to borrow Tommy and helped train her. "He's got a big stride and a slow, lopey jump. So, getting the feel of staying with that jump was important."
Sisters Kristy and Kim McCormack gave Kels a lot of input about Tommy, whom they developed from a green horse.
Just Something About Her
When Bonham decided to take a chance early this year, little did she know where the path would lead. "I never knew who Kels was, but in early January a letter came across my desk from this nice little girl named Kels Bonham," said Clark.
"She wrote that she was wondering if I had a position available to be a working student and that she would come and muck stalls and even if she couldn't get to ride, she'd love the opportunity to come and learn," recalled Clark. "It was the sweetest, cutest letter, but Florida got into swing and I didn't call her right away, just because I got busy. For some reason, oddly enough, because I lose everything, I never lost her letter."
Clark finally called Bonham in March, and the two met in Florida, but Clark never saw her ride.
"There was just something about her that I really liked. I told her to meet me in Saratoga [N.Y.] in April," added Clark. "She did, and I put her on one of my 7-year-old equitation prospects. And she won everything. I was like, 'OK, the girl can horseback ride.' Then she went to Devon [Pa.] with me and rode the same green 7-year-old and got ribbons in every class but one."
Bonham wasn't able to spend the entire summer with Clark because she had riding commitments at home, but she did meet her at a few shows. And as the fall finals approached, Clark put the McCormacks and Bonham together.
Medal Finals Tidbits
• Michael Desiderio, 17, who placed sixth, has an unusual background for an equitation rider—he grew up riding and showing on the Arabian show circuit, only turning his attention to equitation three years ago.
Desiderio's parents, Ricci and Stephanie, have a farm in Chester, N.J., with a mix of Arabians and hunter/jumpers. "It's fun to ride both," Desiderio said. "They have very different kinds of jumps, but there's a lot that's the same." Trainers Emil Spadone and Val Renihan joined his parents as trainers for Desiderio's equitation career.
• When 14-year-old Cayla Richards pulled her horse, Asparagus, out of his stall to tack up before the Finals, he wasn't feeling right, leaving Richards high and dry 30 minutes before her ride time. She found a savior in Missy Clark, who loaned Richards and trainer Jenny Karazissis one of her back-up mounts, equitation veteran Lando, who had already been unbraided and declared done for the day.
"I got to jump about 10 jumps before we went in the ring," said Richards, Calabasas, Calif. "Everything went well though—he went great."
• Ivy, owned by Missy Clark's North Run, was named best equitation horse. Zazou Hoffman rode Ivy this year.
• When Reed Kessler's equitation horse, Riccochet, wasn't feeling his best the day before the Medal Finals, Kessler and trainer Andre Dignelli decided that her junior jumper Flight could fill in.
Aboard Flight, Kessler had ridden to clear and four-fault rounds to help her Zone 4 team claim gold in the Adequan/USEF Prix des States Junior Jumper Championships. She didn't return for the individual final round to save Flight for the Medal Finals. Her first round was good enough for her to be called back in 11th for Round 2.
"She's such a hard worker with such a great attitude," noted Clark. "She was little off the radar screen, and a lot of people hadn't known of her or seen her ride, but she's truly a special talent. It's a good thing to see for a lot of kids who don't have the million-dollar bank roll; they see that if they work hard and have the ability, it's possible."
Moving Up
Matthew Metell, Falmouth, Mass., moved up from seventh after the first round to third before the final test. His accurate test, which included a trot jump and a long hand gallop to the last oxer, moved him up to second behind Bonham.
"Matthew had a very bad first jump in Round 1," Jayne said. "The horse jumped hard over the first fence, and he landed in a bit of a heap on the horse's neck. The rest of the round was beautiful, so we called him back in seventh. He had a better second round—he rides with a beautiful style."
Metell rides with the Heritage Farm team of Andre Dignelli, Patricia Griffith and Kirsten Coe.
Jessica Springsteen used the final test to vault herself from fourth to third. She performed the best hand gallop of the day to the last fence to impress the judges. She'd been called back in sixth after Round 1 and had ridden a beautiful Round 2. Springsteen, Colts Neck, N.J., rides with Stacia Madden, Krista Freundlich and Max Amaya of Beacon Hill.
Julianna Fischer was in third after Round 1 and moved up to second with a lovely Round 2, but when she took an inside cut to an oxer in the test, she got a bit close to the fence and had a rub. She took the fourth-placed ribbon.
Metell had also turned inside to that oxer in the test, but Bonham chose to go outside.
"We decided not to do that turn because sometimes he jumps really high and I have short legs so I have trouble staying on him," Bonham said.
"We chose the best option for me and the horse. We haven't known each other that long," she explained. "Since we'd been on top all day we thought that going in and being smooth was the way to go. I wasn't sure [if I'd stay on top] because the two before me had been so good and had done that inside turn."
---
The Course Kept Them On Their Toes
Judges Alex Jayne and Tamara Provost set a real test for Round 1 of the Pessoa/USEF Hunter Seat Medal Finals.
"I can very proudly say that nobody posed their way around and fooled us," Jayne said. "It wasn't a course that you could get lucky on. Every jump asked a question, and there were major faults at every jump. It really kept them on their toes, and they had to focus from start to finish."
Jayne's inspiration for the course was an open jumper speed class at the Rome CSIO (Italy) this spring. "The field at Rome is much bigger, but I thought if I could take that course and make it work in [the ring in Harrisburg], it would be a real test of horsemanship," he said.
Riders came into the ring and had to obey a generous dotted line—set about halfway down the ring—and circle to get to the first jump, set just past the in-gate on the short side of the ring.
They then cantered out of the corner on a short approach to a square oxer at fence 2, just two strides off the rail. Set 50'—or three long strides—later was a vertical, fence 3. Then there was a bending four strides to a two-stride in-and-out at 4AB, set along the long side.
"My thought process was to see if the kids could go in, get the horse in front of their leg, keep a connection and be patient enough to jump fence 2 and then land and move up to get jumps 3 and 4AB done," Jayne said.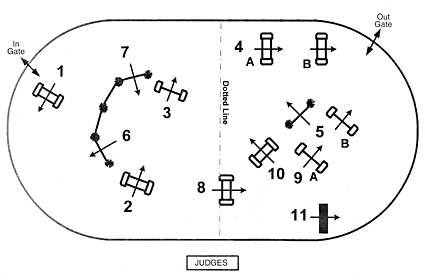 Some riders chose to navigate the line from fence 2 to fence 3 in four strides and then to fence 4AB in five strides, but the judges were looking for the more forward option.
Riders then cantered around the short side of the ring and turned out of the corner to the natural coop that has been a staple of the Medal Finals courses, fence 5. They then turned in a bending seven or eight strides (104′) to the left side of a curved complex of split-rail verticals. A quick rollback around the end of the ring brought them to the other side of the split-rail line of fences, for fence 7.
A left-hand bending line in five strides to a square white oxer at fence 8 followed. After the oxer, riders had to organize immediately, as a combination of verticals, set in a tight one stride, followed off a bending four-stride left-hand line.
"You had to do the five [strides] to the four-to-the-one," Jayne said. "We were looking for the ability to get the horses back on their hocks and bend and shape the line. We'd already asked them to go forward. This was 'Now that you've gone forward, can you come back and rebalance?' "
Cantering around the end of the ring, they then had another wide, square oxer out of the corner at fence 10. Then, a rollback to the left to jump fence 11, a narrow wall with wings, completed the course.
"They had to ride hard to that oxer because it was a bit spooky with brush in it, but immediately come back in time to make the inside turn to the last jump. We definitely wanted that inside turn to the last; there was no reason to go around," said Jayne.
"You had to horseback ride to get around that course; it wasn't just push the button and go," said trainer Missy Clark.
For the second round, when 25 riders returned, Jayne and Provost devised a much simpler test.
"My first course was to sort them out and then in the second round, I wanted to let them show their technique," Jayne said.
Clark added, "I think they were asking, 'Show me your ability to ride this really technical, trappy course and then show me your ability to finesse over a nice hunter course and let your horse jump round and beautifully.' "
Molly Sorge and Mollie Bailey