Updated Oct. 29 10 a.m.: This story has been updated to correct the original trainer of Five Star.
Upper Marlboro, Md.—Oct. 28
For years Augusta Iwasaki watched Bond compete, first with Isha Swani then with her younger sister Raina Swani, and she longed to get a chance to throw a leg over the 10-year-old warmblood by Clarimo. Earlier this year she got her chance, riding him at one show before she headed to Southern Methodist University (Texas).
That's all it took for them to get to know each other, and they headed to the fall indoor circuit with that one show under their belts. They started out by winning the small junior hunter, 16-17, division championship at the Pennsylvania National, and cranked it up a notch this week, winning all three over fences classes to take the division title and the grand junior hunter championship for Shadowfax Equestrian.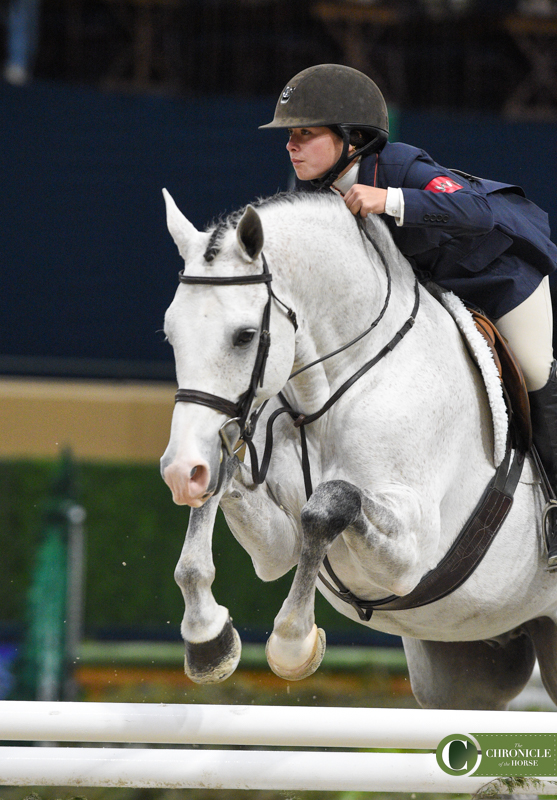 When Isha headed to Princeton University (New Jersey), Raina took over the ride on Bond. But Raina had other small junior hunters in her string, and was on the lookout a talented jock to show Bond at Pennsylvania National, Washington and the upcoming National Horse Show (Kentucky). Trainer Geoffery Hesslink said that because Isha and Iwasaki are close friends, and Hesslink grew up riding with Iwasaki's parents, Chris Iwasaki and Liz Reilly of Makoto Farms, it was a natural choice to have Augusta take over the ride this fall.
"He felt amazing. He perked up a little bit for the stake today, so I thought he was really in the groove and had his game face on," said Augusta, 18. "I think his canter and his jump are both amazing. His canter is super rangy. I feel like I have a million miles of stride, which is amazing."
Judges Peter Lombardo and Linda Andrisani honored Augusta with the Best Child Rider on a Horse award, her second consecutive title this season.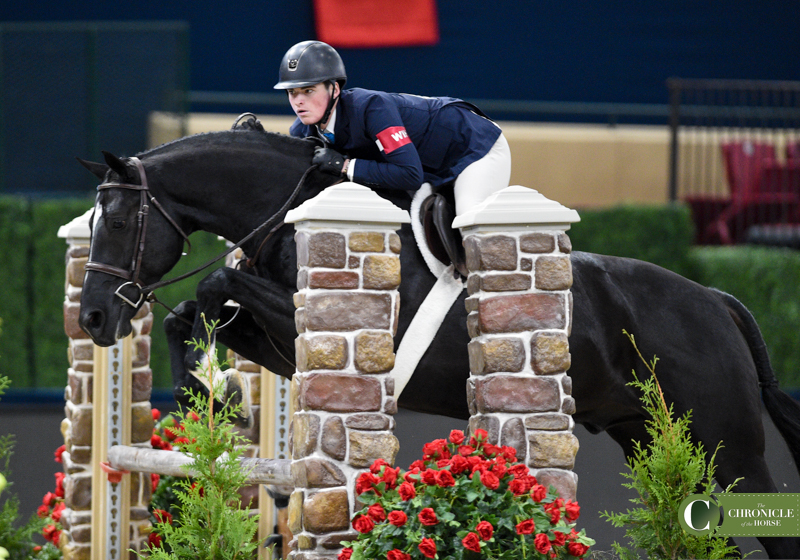 Augusta also took the lead in the WIHS Equitation Finals, winning today's hunter phase. That class continues tomorrow with the jumper phase then the work-off, when the top 10 riders swap horses then repeat the jumper course.
First Time's A Charm For Marnell And Babylon
Heading into the small junior hunter, 15 and under, under saddle class Ariana Marnell was feeling the pressure. She knew that if she won the class she could secure the division championship aboard her own Babylon, but she also knew the competition was stiff.
"I was calling this the hack Olympics," said Marnell, 16. "This is the most serious hack I've ever done. But I was talking to my mom about it and while we love to win and be champion, if I was third today then it just wasn't our day and still thinking to next week to what I have to do over fences to not have to rely on the hack."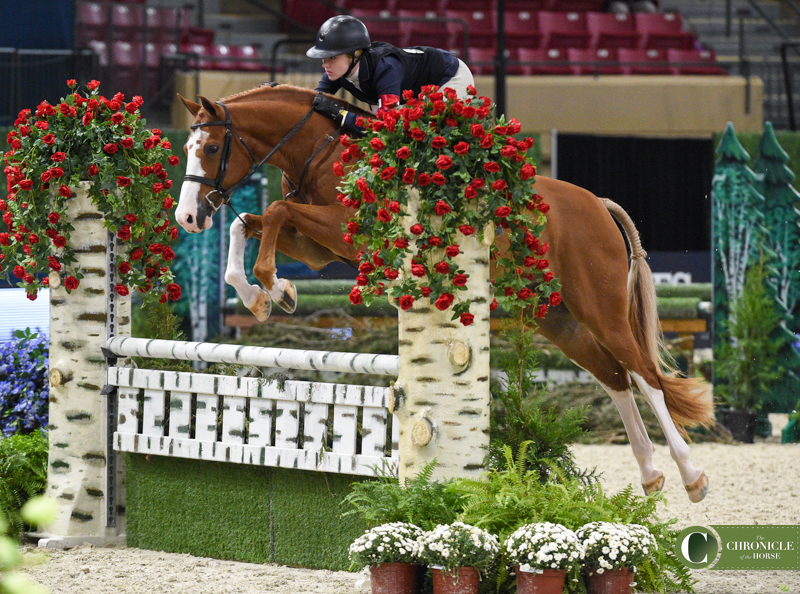 Sure enough, she and her 7-year-old Oldenburg claimed blue under saddle to secure the division title over Inquisitive and Clara Propp. She claimed the high point junior hunter owner-rider award to boot.
She cited her trainer John French and the team at KPF Stables for their calm demeanor to help her stay relaxed.
"I used to be kind of a really nervous rider," she said. "I think part of it is being around our team, which is super calm. Some have been to the Olympics, and John's been to World Cup Finals. This is all a breeze. I try to remember that this isn't my end goal. So if things don't go well I want to fix it next week, or fix it two weeks from now. Even winning today I still know what I could have done better. So looking to next week I'm just thinking about what I need to change from this week. So just think always looking ahead and not getting too high or too low."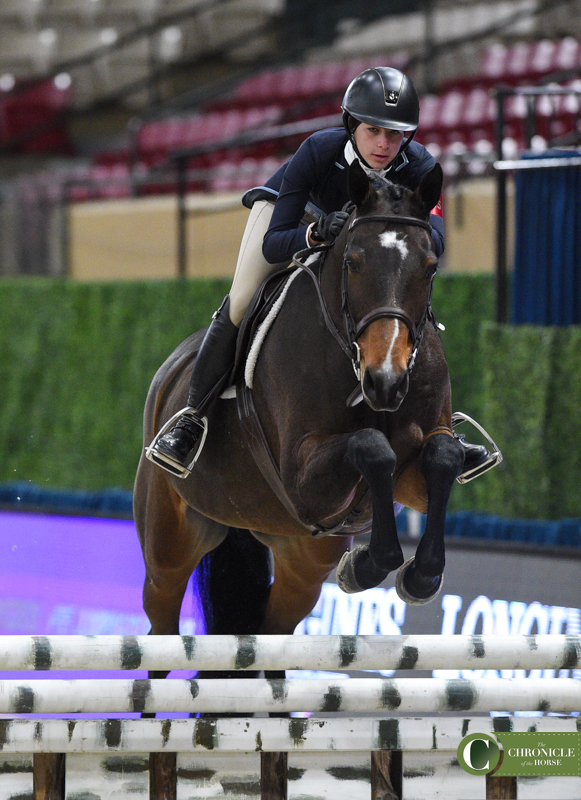 Marnell purchased Babylon last year and the horse competed with French in the irons as a green horse. This year she's taken over the ride and gone from strength to strength.
"Babylon is a super good jumper," said Marnell, Las Vegas. "He's a really good mover, too. When we first got him we thought maybe he would be a little too spooky but he just grew up right away—it's like he knows, 'This is a kid, I need to help her out' and he really likes his job. He loves Prince Georges Equestrian Center. He loves the warm-up here because he gets to warm up with the ponies. He just chases them around."
Next up is the National Horse Show, where she'll try to keep her streak alive.
A Five-Star Finish
Jordan Gibbs couldn't have been more excited to win the large junior hunter, 15 and under, championship at Washington aboard Five Star. After all, that horse has been a wonderful professor for her and made a huge difference in her riding.
" 'Jerry's' taught me so much and we've come such a long way together, so it's a really great win here," said Gibbs, Colorado Springs, Colorado. "He's an over, under, through type of horse—[no matter what], he's jumping. So he's really given me a lot of confidence to build off of. He's taught me to work with pace and he's taught me style, just all the pieces to the puzzle."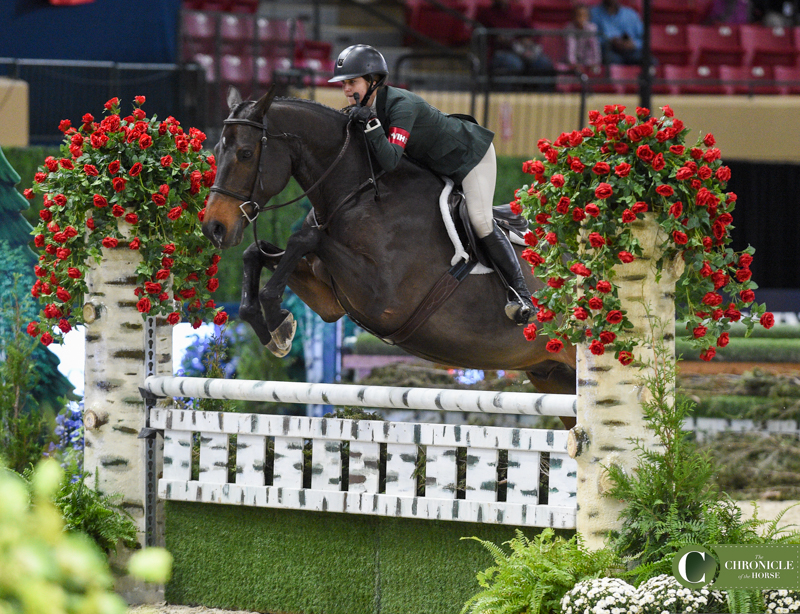 Gibbs got the ride on Jerry thanks to a close friendship with owner Dana Vollbracht. Vollbracht had the horse for two years, competing in the USHJA International Hunter Derbies with Amberlee Wentz. When Amberlee got pregnant and and wanted to spend more time with her family, Vollbracht made the match with Gibbs, and offered to let her take Jerry from Colorado to New Jersey, where Gibbs trains with Stacia Madden and the Beacon Hill team.
"He likes a leg ride for sure," said Gibbs, 15. "He doesn't get offended easily, so it's almost better to give him too much support than not enough. He's never going to misbehave if you do anything wrong. He's very steady and straightforward."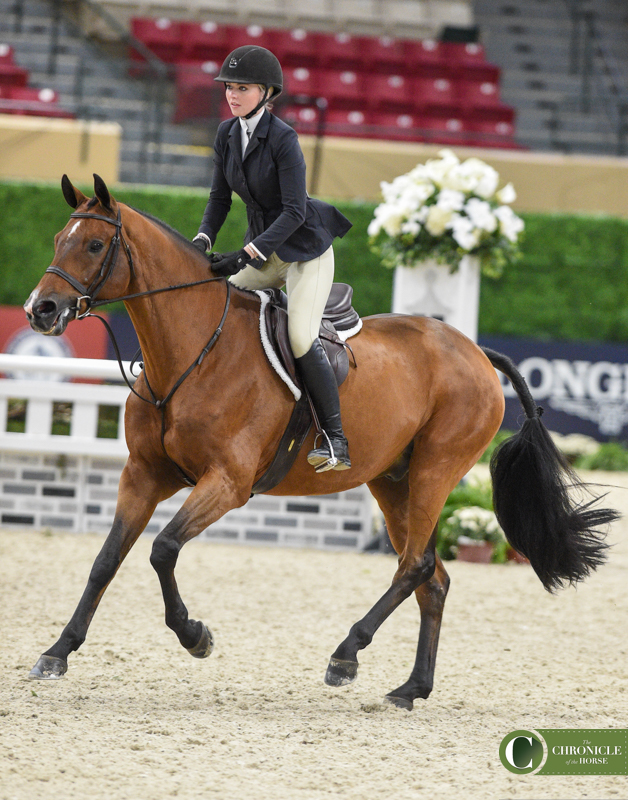 Gibbs followed her older brother Dominic Gibbs into the sport. She said she's not intimidated by his success—he won the WIHS Equitation Classic Final last year, for one—but rather appreciates his encouragement.
"He's an amazing person and very supportive of me," she said. "I'm riding his equitation horse Cent 15. A lot of people think it might be tough but it's really not. I'm running my own race and he's there to support me and so are my parents and trainers and grooms and sponsors—everybody is just there to help and support, and I couldn't be there without them; I'm so thankful."
Style Is In Fashion At Washington
Blythe Goguen and Style have been steadily improving this fall, culminating in the large junior hunter, 16-17, championship at the Washington International over Cascartero and Joey Roman.
"Each indoor [show] has gotten better and better," she said. "It's been nice to be able to go from one to the next and we've been able to pick up where we've left off from each of them so I've really enjoyed it."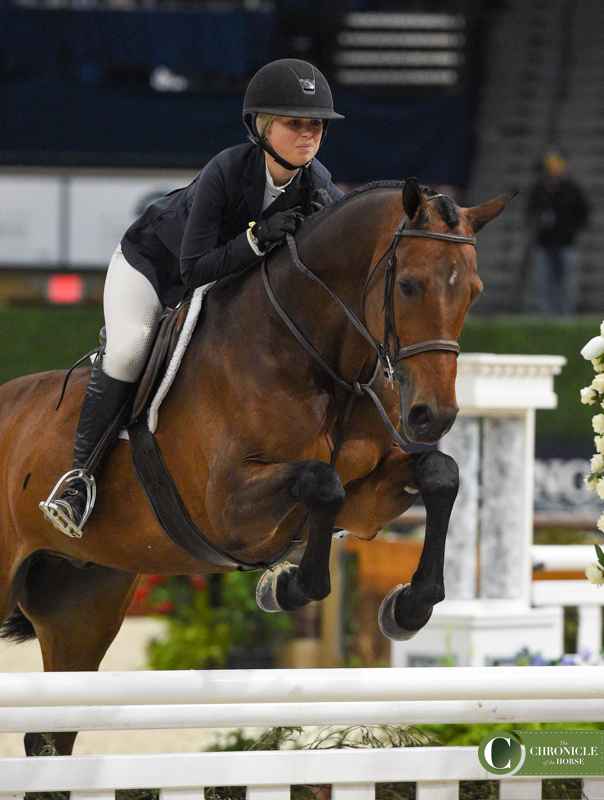 She started her trip to Washington by winning both yesterday's over fences and handy hunter class—one on Style and one on Category.
"The first round on [Style] didn't go to plan but I felt really good going into the handy and he was great," said Goguen, 17. "I think he really deserved that win. My horse that I was first and third on yesterday, [Category], he was perfect, he's always so good. I kind of had a little mistake with him today; I felt like I let him down a little but Style made up for it."
Style won the handy and picked up two thirds today to secure the championship for Bellhaven Stables.
Goguen rides with her parents Tim and Kelly Goguen out of their Boggs Hill Farm in Lexington, Kentucky, and gets help from the North Run team in the equitation.
"We've had Style for about two or three years now," said Blythe, 17. "Originally my dad showed him a lot in the regular conformation and he won a lot on him. I started showing him last summer a little bit. We started to click more and more this summer and this fall and everything came together here. He's special. He's fancy. He's taught me to stay focused and be on my game. He's always there.
"He's so much fun to ride," she added. "He has a big stride and a great canter and he jumps great; he moves great. He's really so much fun to ride. He's a little bit lazy but he kind of carries himself nicely."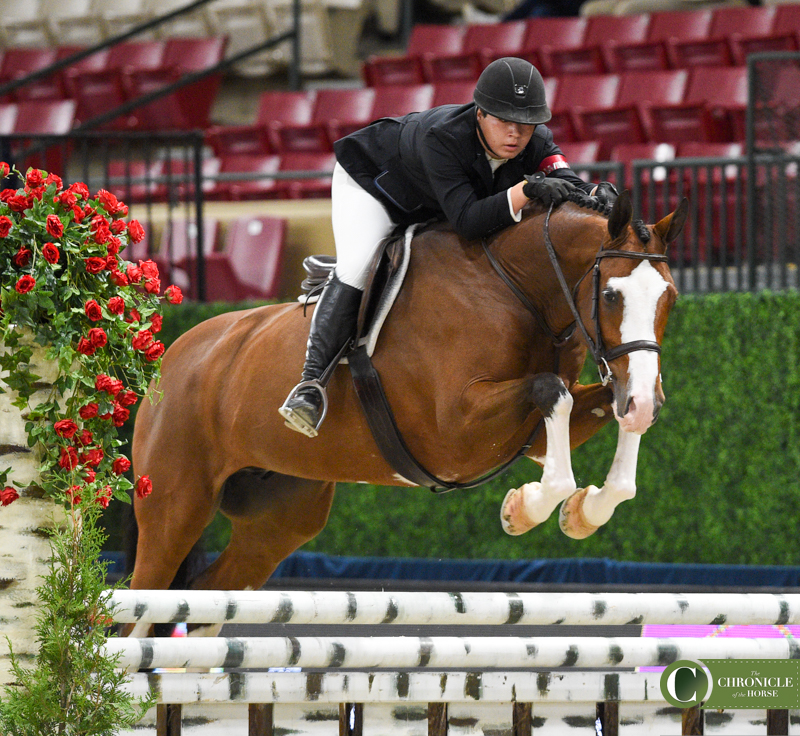 Find full results here. Want more Washington International? Check out all the Chronicle's coverage here. You can see more news and analysis in the Nov. 21 issue of the magazine.