High school senior Jenna Denver and her mother, dressage and eventing trainer Martha Denver, were looking for a flashy bay gelding for Jenna's first solo training project. So naturally, in the tradition of all great horse-buying stories, they ended up making a split-second decision on a chestnut mare.
Their gamble paid off when Jenna and that mare, 4-year-old She's A Bold One, won the eventing division, finished second in the dressage division and were named overall champions in the Retired Racehorse Project's Thoroughbred Makeover, held Oct. 12-15 in Lexington, Kentucky. Jenna, 17, became just the second junior competitor to win the overall title.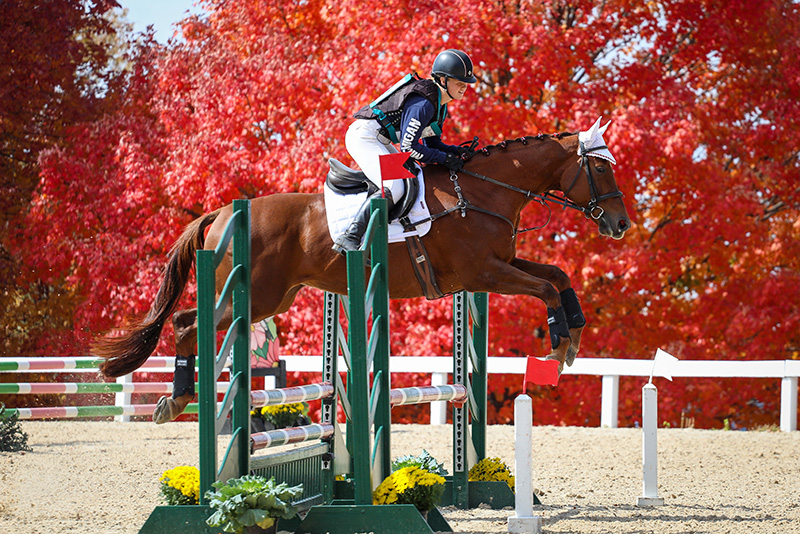 The Denvers bought "Bailey" after seeing her in a Facebook ad and liking her big-boned conformation and strong hooves. Seller Katie LeClaire told them the Kentucky-bred filly (Midshipman—Bold Contender, Strong Contender) had trained at the track but never raced due to developing a bone chip. LeClaire spotted her at the layup facility where her breeders Downtown Bloodstock Partnership had sent her to recover from surgery to remove the chip.
"I just took a chance on her," LeClaire said. "I thought, 'She's a nice horse,' and I didn't want her to end up somewhere that wasn't a good fit. She just had a great walk, and she was just so quiet."
LeClaire had only ridden her a few times and had limited information to share, including that Bailey's nickname on the track was "The Bus" because she was so easy to exercise it was like going for a ride on a bus.
Martha was intrigued enough by what she heard that she decided to call her shippers to see when Bailey could travel from Lexington, Kentucky, to the Denvers' home near Metamora, Michigan.
The answer? Bailey could get a ride immediately—if the Denvers could decide in one hour. They went for it.
Jenna has been riding since age 4 and foxhunting since age 5. Martha, who has worked with many off-the-track-Thoroughbreds, decided her daughter was ready for her own solo project because of how well she was riding Martha's own OTTB Zandango. The pair spent 2021 winning good ribbons at training level events around Area 8.
 "There were always these comments that I made Zoey, and so she kind of had it set up," Martha recalled, adding that Zoey is not an easy ride. "If you can ride Zoey, you can ride anything."
Martha decided from the beginning that Jenna's first solo project would truly be Jenna's. "I really let Jenna have Bailey," she said, telling her daughter, "You're going to do this and take all the rewards for this, so now you're not in my shadow."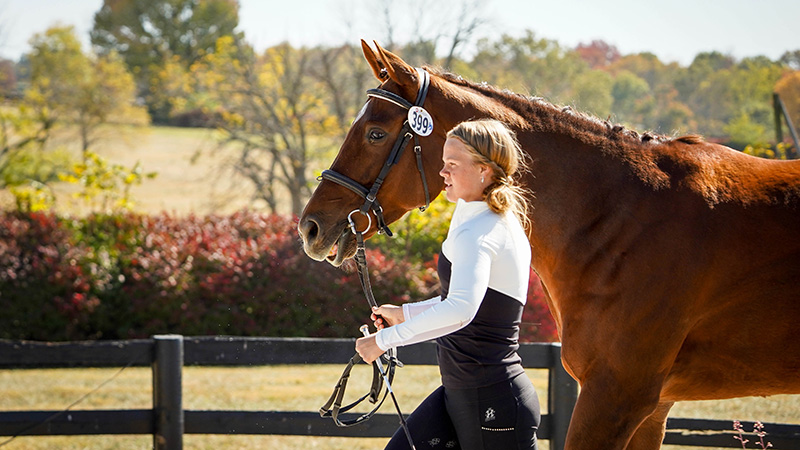 Martha was true to that vow. She's logged a total of three rides on Bailey while Jenna juggled riding, school and extracurricular sports like track and cross-country.
When Bailey arrived at their barn, she was out of shape from her long rehab.
 "She was super weak, and we did have to spend a lot of time giving her some groceries and getting her strong," Jenna recalled.
Their first rides didn't exactly show the promise of what was to come either.
"I could not get this horse to canter at all," Jenna recalled. "She just did not want to go forward. I was like, 'I'm not sure that I can ever get a nice, balanced canter out of this horse.' "
Teenaged Jenna had to learn patience working with Bailey, Martha said. "She would get upset with her, and I'm like, 'Jenna, you're going to have bad rides; you're going to have good rides.' "
Jenna persisted, but she wasn't really sure she wanted to keep Bailey long-term until the first time she took the mare cross-country. Then she was sold.
"Once I got over a jump or two, she got the hang of it, and then I'd point to anything, and it was amazing," Jenna said. "She was just taking me, and I was just going for the ride."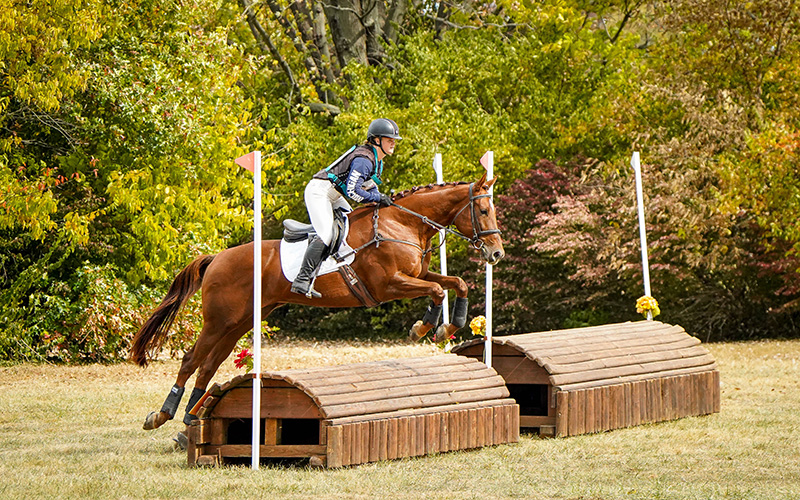 Jenna since has taken Bailey to clinics with U.S. eventing team members Will Coleman and Boyd Martin and competed her through novice level.
But just a few weeks before the Makeover, Bailey behaved so poorly at an event—with the mare rearing on cross-country due to separation anxiety, leading Jenna to retire on course—that the Denvers were reconsidering whether to go to Kentucky at all. Because they had already invested so much time and money, they decided to go ahead with the Makeover.
"Whatever mare we have, we have," Martha said.
They decided to get to the Kentucky Horse Park, where the Makeover was held, as early as they could to get Bailey settled and take her out alone to school cross-country at nearby Masterson Station Park, which went well.
The Makeover is like 10 shows in one, with Thoroughbreds who have been in post-track training for less than a year competing in 10 different disciplines, from foxhunting to barrel racing to polo. Jenna and Bailey competed in both the eventing and dressage divisions, finishing fifth and fourth, respectively, in the preliminary rounds of both.
The competition then brought the top five finishers in each discipline back to compete in the Oct. 15 finale—held in the horse park's covered arena in front of a crowd of cheering spectators—on a clean slate.
The eventing test was a full show jumping course with two natural cross-country jumps and a gallop.
"We overall had a really good rhythm, and it was smooth," Jenna said. "I think the first fence is always the most important because if you don't have a rhythm, if you don't have good first fence, then it can affect the rest of the course. We had a really good number 1 and 2, and that set us up for the rest of the course."
As Martha watched, she compared Jenna's round to each of the others. "It was a really nice ride," she said. "It was really smooth, and she was also the straightest horse, so I thought she had a chance."
And while Jenna may have punched her ticket to the finale by placing fifth in the eventing preliminary, she and Bailey came out on top in the finale as the judges' favorite. Not done yet, the pair had to return to the same arena they'd recently galloped and jumped in for the dressage finale.
"I was a little nervous for dressage because we were both feeling pretty tired. It was a long week,"  said Jenna, who wasn't sure if Bailey was going to be forward or too tired from having jumped in the ring already. "I just gave it my all," she said, and Bailey "definitely knows when she is competing. She has a really good rhythm whether she's doing dressage or jumping and I think that stands out."
They finished second in the dressage final, with Jenna as the top junior rider, behind professional Holly Zecchin and Buckeye Warrior.
When judges scored the winners of each discipline and chose Bailey and Jenna as the overall makeover champions, Jenna became only the second junior to win the honor. The first was Charlie Caldwell, who competed in polo in 2017 with Old Tavern.
Reflecting on the experience, Jenna said the Makeover asks a lot of the horses entered but also does a lot to promote the Thoroughbred breed.
"[It shows] how trainers can make one breed into any kind of horse," she said. "I think it really goes to show the talent in the breed of Thoroughbred—and of the people, of course."
Now that Bailey is a keeper, Jenna hopes to progress up the levels of eventing with the mare.
"I think she can totally make an event horse," she said. "I think she loves it, and I love it with her."