The feral palomino mare with an auction sticker reading 737 wasn't what Savannah Simo was looking for when she went to the Kalona, Iowa, kill pen in September 2020. But less than a year later, the pony she named Boeing 737 in a nod to that auction is headed to USEF Pony Finals.
Simo, who is the founder of the nonprofit For The Love Of A Slaughter Horse rescue in Woodstock, Illinois, never planned to bring home a heavily pregnant pony mare, especially one as unhandled as Boeing 737.
"Feral pregnant mares are difficult to work with, but I decided if she moved well, I would think about bidding," Simo said. "Then she came in moving really well, so I went in with one bid and that was the winning bid, so I think it was meant to be."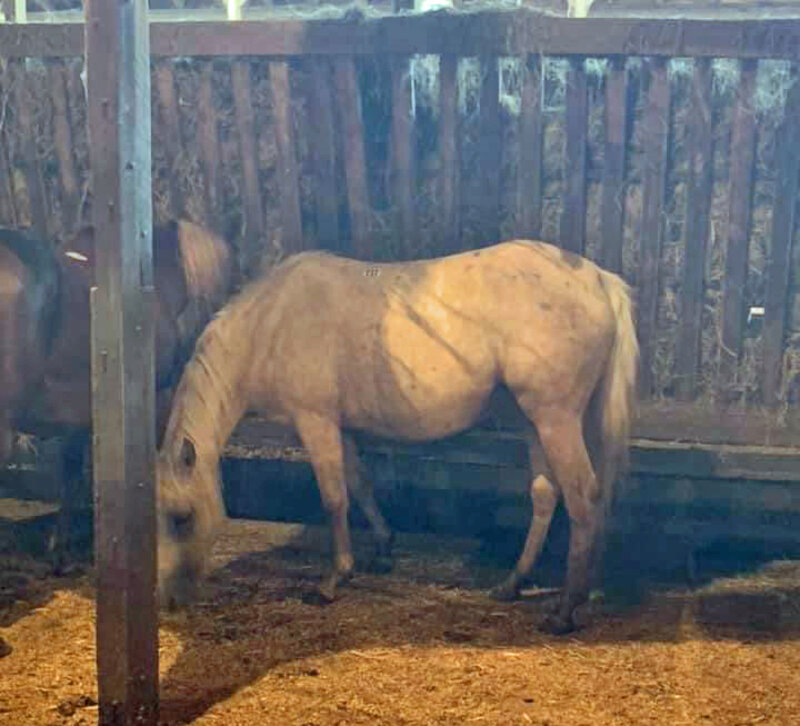 After struggling to load the unhandled mare into the trailer and get her home, Simo noticed she began to act strangely. The behavior was the beginning of labor, and that night "Boeing" gave birth to a chestnut filly they named Piper.
"That night I had a camera on her, and she was going up and down, and all the sudden she had a baby," Simo said. "Only 30 hours after being pulled from the loose pen, she had a baby."
The experience was unusual, even for Simo, who said her organization has rescued more than 425 horses from auction since 2017. Her group attends monthly auctions and tries to pick up eight to 10 horses per visit.
"I used to only pick horses that would be easy to train and get homes quickly," Simo said. "Now we get a lot of young and feral horses too. We specialize in rehomeable horses, but we handle euthanasia cases as well."
Horses go through a 30-day quarantine and health evaluation once she purchases them, then begin their journey to finding new homes. Those who are too sick or injured are euthanized as "a last act of kindness," Simo said.
Boeing and Piper went through the process and eventually were adopted, but the adoption didn't work out.
"A family adopted them and didn't know much about young horses. They asked us to come get her because she was being so aggressive towards them and the baby," Simo said. "They kept the filly, and we started working with Boeing. We put her over a jump chute, and she was a natural."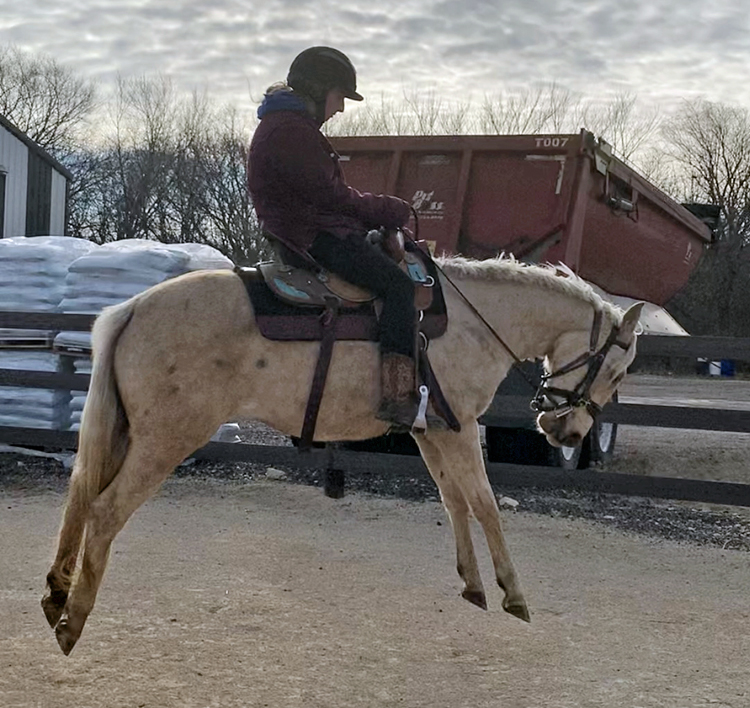 Simo, who specializes in dressage now, began her career in the hunter/jumper world and always hoped one of her rescues might make it to Pony Finals. She soon realized Boeing could be the one.
"I've been wanting to get one to Pony Finals since I started rescuing," Simo said. "She was still young and gangly, but her movement is incredible. You don't expect [a rescue pony] to jump like she jumps."
From her first rides, Boeing moved so well, and she had automatic lead changes with little to no training. Although the mare was only 3 years old, Simo knew she was going to be special.
"When we started getting on her and getting her broke, I could feel it: I knew she was the one to go to Pony Finals," Simo said.
After only a dozen rides, Simo sent Boeing to Amber Bauman of Valley View Acres in Woodstock, Illinois, and her daughter Alexis, a seasoned pony rider. Alexis, 17, began to teach the pony the ropes of the hunter ring. They give all their horses human barn names, so Boeing was called "Gillian."
"When Savannah was putting out the story about this pony and said she really wanted her to go to Pony Finals, I reached out to her and said, 'I know the jock just for you!' " Amber said. "A trainer that Alexis worked with once said that Alexis could ride the stripes off a zebra."
Gillian arrived at the Baumans' farm when she was still learning to canter and jump. Soon after, the Baumans tried her in the green pony hunter division at Ledges Winter Classic II (Illinois) in March.
"Alexis started getting to work with Gillian, and we had her two weeks, and I said let's just bring her to Ledges for exposure," Amber said. "We had no expectations, and she did well. We were super proud of her. She jumped everything, marched down the lines, and had a natural lead change."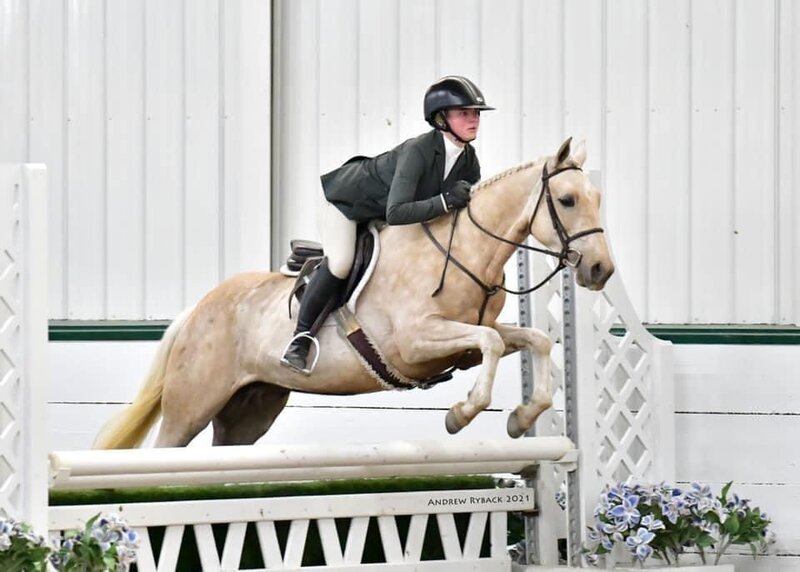 After more work at home, they took the pony back to Ledges where she was reserve champion in the green ponies, qualifying her for Pony Finals.
"Alexis had her not even four full weeks in training, and this 17-year-old kiddo took her from super green to qualifying for Pony Finals," said Amber.
Alexis said she's come to love riding Gillian—though the 4-year-old still has plenty of baby pony moments to keep Alexis on her toes.
"She's super smooth to ride, and her canter is really nice. She's still a little green over jumps, but she's learning," Alexis said. "Her ground manners are still bad sometimes; you have to be slow around her, but she's super sweet."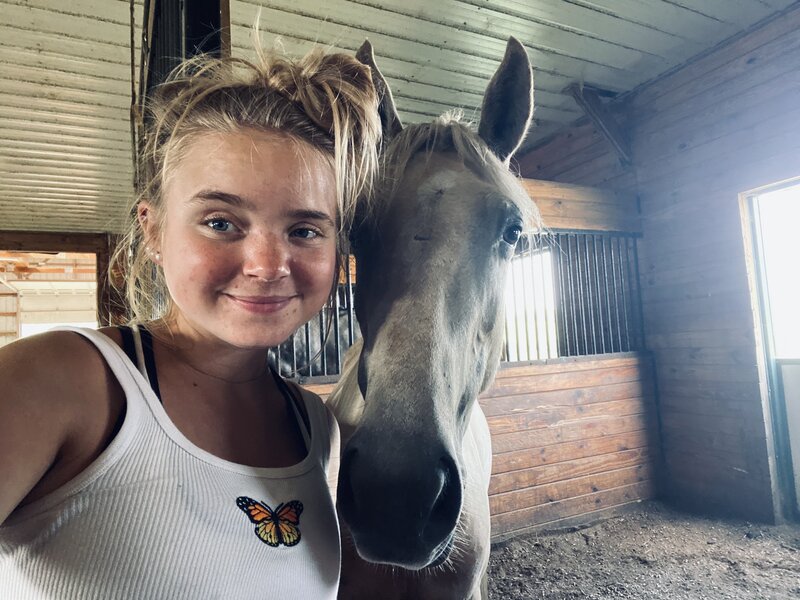 Looking ahead to Pony Finals, Alexis predicted that people who judge Gillian at first glance might be in for a surprise.
"I'm excited to show her at Pony Finals because when you first look at her you think, 'What is that?' and then you see her move, and you're like, 'How does she move so good when she looks like that?' " Alexis said. "She loves her job, and I'm excited to see how she does at Pony Finals."