Jessica Newman and JustWorld International leverage the power of horses for a greater good.

"It's not just about the blue coats and the logo. It's more than that," says Jessica Newman.
But it's those blue coats and Newman's familiar face that pop up at horse shows all over the world, all year long.
The jackets appear on the backs of grand prix riders from Washington State to South America. In December they were seen in the junior/amateur ring out in California while Newman posed for photos on the red carpet at the Gucci Masters in Paris. And Newman's dark complexion fits right in with the Florida crowd that flocks to West Palm Beach for the FTI Winter Equestrian Festival, where the blue coat is always prominent.
But Newman is not a rider, owner or official. She would much rather be hunkered down at a one-room schoolhouse in Cambodia than mingling among the five-star show jumping crowd. And the blue coat is a simple symbol of riders' connection to JustWorld International, the charitable organization that Newman founded in 2003.
JustWorld assists children in developing countries through its network of JustWorld Ambassadors, who pledge a portion of their annual winnings (or a donation) to the organization. The organization's annual gala in mid-January raised $420,000, and in 10 years, Newman and her JustWorld Ambassadors have raised more than $5.5 million dollars that have been used in outreach projects to help improve the lives of children in developing countries.
A Different Path
Altruism shouldn't be a unique quality, but in the often navel-gazing environment of the show jumping world, Newman's selfless desire to help others stands out.
She grew up just as privileged as the next trust-funded rider; with the support of her family's wealth, she pursued the top levels of show jumping full time. A private barn, a string of horses, a top trainer—you name it, she had it. Newman rode for the U.S. Equestrian Team in Nations Cup competition and on the Developing Riders Tour, and she earned top-five placings in World Cup-qualifying grand prix classes throughout North America.
But by the age of 22, Newman ran up her stirrups and decided she'd had enough.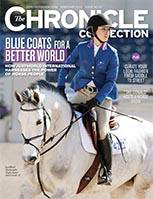 This article featured in the February
2013 issue of The Chronicle
Connection, the Chronicle's monthly
digital publication. Click here to subscribe!
"As much as horses and riding were my passion, my own success was not fulfilling enough to me," Newman explains. "I didn't like the whole team being focused on me and my success."
Newman had been dedicated to showing since her pony division years, but she'd also always battled feelings of embarrassment about her personal wealth. As a teenager, she didn't want people to know that she'd never need to take a salary, and she began to feel an urge to find success outside of simply riding for blue ribbons.
The turning point came while she was studying development at The American University of Paris, a unique school with 1,000 students from 150 different countries. As her perspective widened, she became aware of the crushing poverty around the world.
With two of her horses out due to injuries in 1998, Newman spent time working with the Trickle Up organization after Hurricane Mitch in Honduras. Suddenly, her eyes were opened—wide—to the world outside horses.
"Becoming aware of poverty, and of all the people who don't even have a sliver of the opportunities that I had—it was life-changing," Newman says.
Start Small, Dream Big
Newman's goals soon shifted from grand prix glory to how she could help others, and JustWorld was born. She researched partner organizations in nations that suffer from overwhelming poverty like Cambodia, Honduras, Guatemala and Brazil, and she started small.
Initially, the goal was to see local change—children who were happier, healthier and learning in a clean environment.
"Education is the best investment anybody can make. Helping children become leaders and have a bright future is JustWorld's focus," Newman attests. "It takes a generation to see those things strongly, but it's important to be focused enough to see that we can make a difference."
That was a decade ago. Since then the projects JustWorld has supported in developing countries have become hard to count; the construction of several schools, providing a mobile library, funding community programs, educational programs and job training are just a few examples.
Newman's determination to involve riders in a way that would work for them has also been successful. She knows from personal experience how all consuming a life with horses is, and the JustWorld Ambassador program was designed with that in mind.
More Than Just Writing a Check
"I wanted to create a way to have it actively be a part of riders' lives without having to sacrifice their career or take time away from it. Riders are involved without leaving their world, but they're doing more than just writing a check to a charity once a year and not thinking of it again," she says.
There are now 574 JustWorld Ambassadors around the world. That number includes junior, amateur and professional riders, as well as technical officials. Anyone with the interest and desire can become an Ambassador, Newman says, and everyone from high-profile grand prix riders such as Laura Kraut, Nick Dello Joio and Candice King to junior and amateur riders in several countries represent JustWorld.
Every time one of those riders wins prize money, a portion of it goes back to JustWorld. They're also encouraged to participate in community service and to pitch in on JustWorld projects in developing countries if able.
In November, 18-year-old Ambassador Caitlin Ziegler did just that, spending a week in Guatemala at a JustWorld project.
Zeigler, whose family owns the posh Artisan Farms in Wisconsin and Florida, gained recognition as the youngest FEI winner ever at Spruce Meadows when she won the $31,000 AON Cup in July 2011. Since then the young rider has gained mileage in the grand prix classes under the eye of coach Eric Lamaze. So spending a week serving food in a Guatemalan school kitchen and clearing a construction site where a new school will soon stand was a foreign experience for Zeigler.
"I was donating the prize money I won to JustWorld, but I wanted to see the results of my actions," says Zeigler. "So I went down there, and it was an amazing experience. A lot of us, especially with riding, don't appreciate the little things we have, and I think that is what JustWorld really gives us. It made me think about how instead of using something you have in excess, you can help other people who don't have enough of those things."
Horseless Horse Shows
Another JustWorld calling card is the horseless horse shows that have become widely popular at shows and events around the world. With a course of kid-sized jumps and a crowd of enthusiastic children, the hard-to-miss events raise funds for JustWorld through their modest entry fees.
"In any given month there could be three, four or five of them going on around the country," says Newman. "I think the kids identify them, they have fun, and it's a horse show community activity. Most of all, it's an awareness raiser."
Pulling the horse show community together is one of Newman's enduring goals. Her own network within the horse show world is large, and she knows that horse show connections run deep. Awareness of JustWorld begins with horse people, but she sees it reach the non-rider connections of the horse people involved all the time.
"Anyone in the equestrian world is part of a community, and they have an influence," Newman points out. "If we are all socially irresponsible, that way of life will trickle down to the next generation. A lot of these kids who ride will grow up to be CEOs, have careers in politics, you name it. We've got to make the trickle down theory a positive one."
Passing It On
To that end, JustWorld is launching a leadership component with Private Tutoring Services this winter. A philanthropy leadership program for Junior JustWorld Ambassadors, it will teach juniors how to organize and communicate to instigate change.
"We always wanted to have a leadership component," Newman adds. "A lot of these kids want to do more but don't know how. We want to change that."
These days, Newman is no longer embarrassed that she doesn't have to take a salary; her extensive travels around the world are solely meant to spread awareness of JustWorld, and she happily pays all of her own expenses out of pocket.
Many five-star shows around the world partner with JustWorld to raise awareness (after the Paris Masters, Newman went straight to a five-star show in Geneva, Switzerland), but Newman wants to see the effects at shows of every level. She travels wherever she's able to meet with the most people, and she's working on developing affiliate chapters in North American and Europe.
Newman sleeps and breathes JustWorld every hour of every day, and she's unstoppable in her mission to engage others until that altruism becomes as much a part of their culture and their being as it is hers. The power of the equestrian world can be leveraged in many ways, and with JustWorld, Newman has found one of the best ways to do it.
A simple hunt coat has never symbolized so much.