The dapple chestnut Manhattan is hard to miss—if the dapples don't get you, the eye-catching hind-end flip will. He's not just another athletic international show jumper; he's a homebred, bred on U.S. soil by his pilot Georgina Bloomberg, from two horses she also competed.
This weekend, on the grass field in Bridgehampton, New York, she gets to compete her 10-year-old American Warmblood gelding in the Fédération Equestre International classes at her hometown horse show, the Hampton Classic.
Manhattan is not Bloomberg's first try at breeding. In 2006, when her first homebred South Street dropped, she vowed that she would approach breeding with a sustainable, "whenever it is right" mentality. Though her ultimate dream would be to breed her next grand prix partner, she accepted then and there that she would have responsibility for whatever the foal blossomed into being, no matter its path.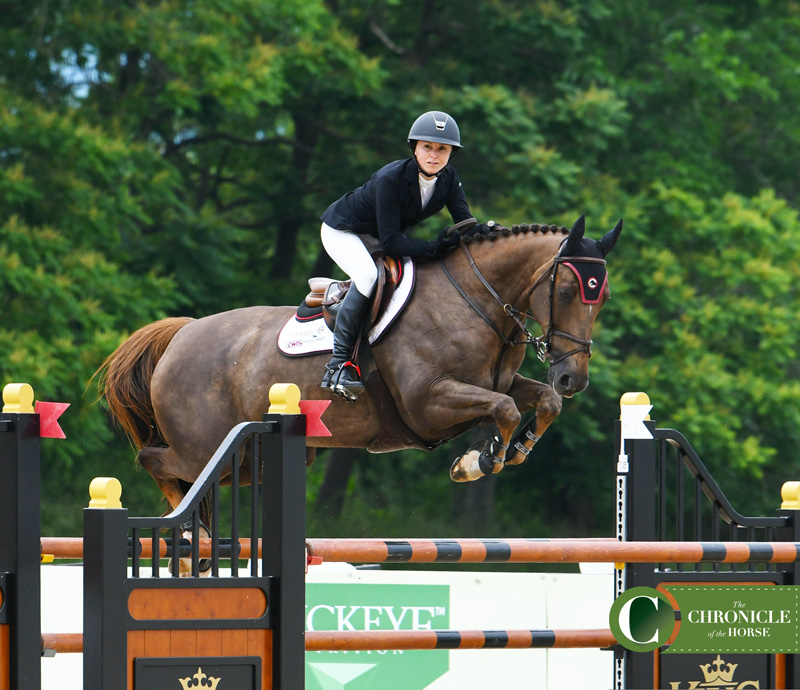 "We had South Street, who was a mare who never going to be a grand prix horse but was a super 1.40-meter horse," Bloomberg said. "She won tons and tons of classes 1.40-meter and below and was probably one of the best horses I ever had without even being a grand prix horse, as far as winning. That was our first experience with [breeding]."
Since that first successful attempt, Bloomberg has bred sporadically and with the input of Dr. Brendan Furlong, who raises the offspring on his New Jersey farm. And each time one of her mares reached the end of her competition years, Bloomberg would ask herself the breeding question.
"We still don't necessarily want to have a breeding program," she said. "We see breeding as something where, if there's the right time, right horse, and we'll be able to responsibly take care of whatever baby comes out of it in whatever way, then we'll do it.
"We are bringing a life in that will then be our responsibility no matter what, whether it is a five-star grand prix horse or whether the horse can never jump. We always know that no matter what we create, we are then responsible for them and making sure that horse has a happy life and a happy home."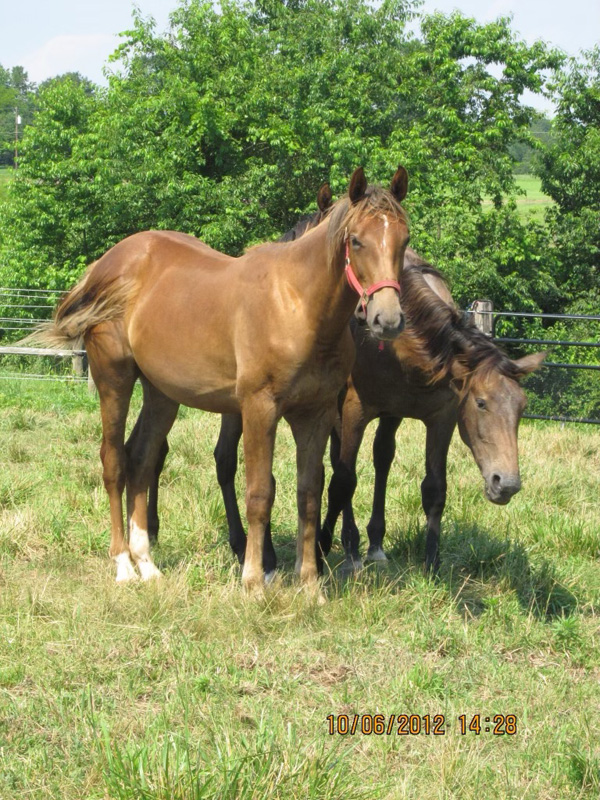 When Manhattan was yearling and in his early, fast-growing years, Bloomberg didn't necessarily think he'd be the one to realize her grand prix homebred dreams.
"He was a little odd-looking. He's not necessarily built like a jumper, and he sort of looks like a little Irish hunter," she said. "In the beginning, he had his own style of going, and we weren't sure what he was going to turn into. Nobody really believed in him, especially as a young horse."
Bloomberg had shown both Manhattan's dam, Lumina 2, and his sire, Metropolitan. Lumina brought Bloomberg out of her junior career and into the amateur jumpers and eventually the pro ranks as a steady 1.40-meter contender. Bloomberg piloted Metropolitan around Nations Cups.
"He was a big, scopey stallion, and he sort of had his own way of going, like now his son does; he holds his neck down the same way," Bloomberg said of Metropolitan.  "He had a very successful career—different than Lumina—and we sort of thought that would be a good match, and they would balance each other out well."
Knowing his sire, Bloomberg wasn't all that surprised when Manhattan turned out to have an unusual jumping style as well.
"He's smart, and he's a character, but he's a bit of a late developer," Bloomberg said. "He would jump almost with his back legs first and hang his front legs and have an amazing hind end but then fall into the jumps."
One of the benefits of breeding stateside, Bloomberg discovered, was the ability to accommodate a late bloomer.
"If they're over in Europe, and whoever is taking care of them calls us when they're 7 and says, 'This horse will never make it,' then you might miss out on an opportunity," she said. "For us, when we have them at home, and we're working with them every day, we sometimes see potential that just hasn't come out yet.
"It took a while to really see any potential [with Manhattan]," she added. "Then when he started showing a little more and jumping some bigger jumps, we knew he was going to be a lot of work, but we started seeing his potential."
Bloomberg and Manhattan competed in CSI3* grand prix classes during this year's Winter Equestrian Festival in Wellington, Florida. Over the summer, the pair put in clear rounds at the Great Lakes Equestrian Festival (Michigan), Longines Global Champions Tour London and GCT Valkenswaard (the Netherlands).
"It's a cool thing to have a homebred in general but especially a true homebred where I actually rode the mother and father," she said. "It wasn't like I went out and bought fancy sperm. I actually feel more connected to Manhattan than I would any other homebred because I actually rode the mother and father, and he was truly a baby out of our program.
"It's cool, no matter what, to bring along a young horse and jump it in a big class for the first time to realize that they can do it," she added. "That's exciting anyway. But it's much more exciting when you are that attached to the horse and have that much put into the horse emotionally."