Keri Potter spent the last year trying to build a relationship with Bitalica, and it paid off when the pair bested a field of 23 to win the $80,000 CSI*** Gold Tour Grand Prix in San Juan Capistrano, California. Third to go in the jump off, Potter aboard Julia Koetting's 12-year-old Oldenburg gelding Bitalica beat the leading time held by USA's Zazou Hoffman to take her second win of the week.
"The course was definitely a notch up in regards to technicality and height, but it suited the forward distances suited my horse. It was a good track for him," Potter said. "This is a pretty cool horse. I've been riding him for about a year now. He was pretty scared when I got him, so it's been great to form a relationship with him."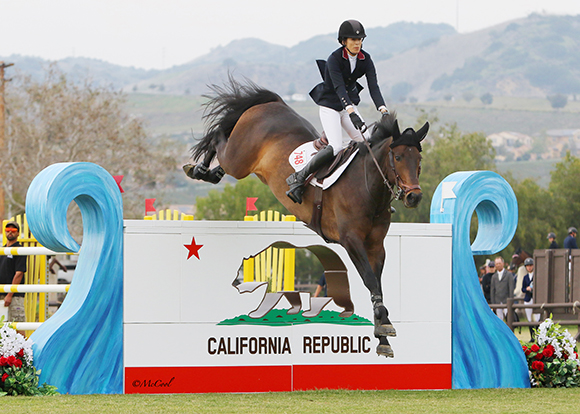 World Cup Champions, Olympic Medalists, and CSI5* athletes, mixed with up-and-coming horses and riders, all faced the track challenges set by FEI Course Designer Olaf Petersen, Jr. that included a combination, a large California Grizzly Bear wall, an open water obstacle, related bending lines, scopey oxers and tall verticals.
Peterson's jump-off course asked the riders to execute two rollback turns, and to gallop up several lines. First to go, Hoffman and Samson II set the bar for the six riders to follow, double clean in a tidy 45.42 seconds. Two rides later, Potter's strategy, and slighter quicker turns, stopped the clock in 45.18 seconds, a mere 0.24 seconds quicker. Jim Ifko and Eventyre Farms Ltd.'s Un Diamant des Forets had a forward pace throughout the track, but couldn't top the girls, crossing the timers in 45.69 seconds to take third place.
"This week for me has been incredible," said Potter. "My horses have jumped really well. The show jumping has been great; the FEI classes have been a big step up for California. It raises the horses and riders to a certain level that we should be at in order to compete with the rest of the world."