Windsor, England—May 14  
It was an emotional final day at Royal Windsor Horse Show as the crowds took to their feet to witness show jumping legends Nick Skelton and his team and individual Olympic gold medal-winning horse Big Star stand together in the arena for the last time.
In front of Her Majesty The Queen and packed out grandstands, Skelton was joined by his family, owners, fellow Team Great Britain riders and loyal groom, Mark Beever, to say his final goodbye.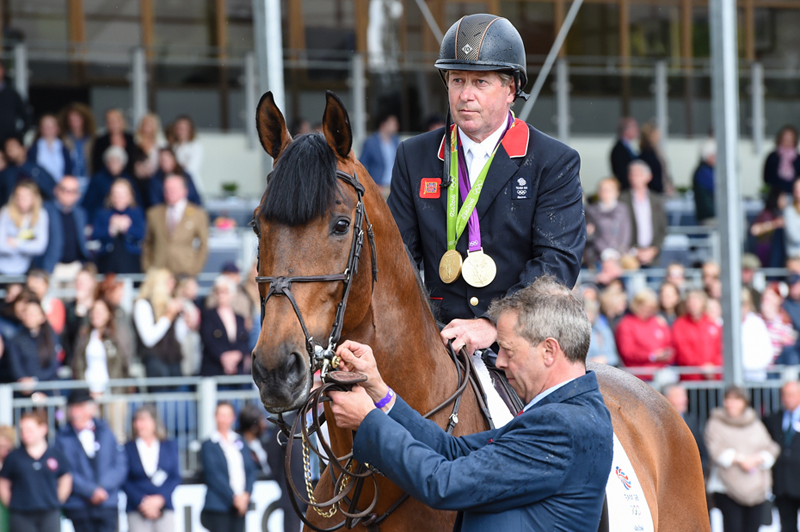 Skelton's youngest son, professional jockey Harry Skelton, was unable to attend due to racing commitments but left a message for his father that was read out to the crowd:
"Dad, I'm so sorry I'm not there, but when I asked you if I should go racing today or come down to Windsor, you said, go and do your job and try and ride some winners. I thought; that is what has got you to where you are, your hard work, dedication and determination. My first great memory of you in the ring was when Dollar Girl won the World Cup Final in 1995. You went through so much from then to Rio 2016, and when you finally reached your childhood dream to take individual gold, was the best day of my life. I am the proudest son alive and so glad you've stopped at the top. I hope I will make you as proud as I am of you one day. See you later, love you, Harry."
There was not a dry eye in the house as Skelton dismounted Big Star, took the saddle off his back and walked a final lap of honor in-hand to a standing ovation, with the crowd cheering to mark their respect and admiration for Skelton, whose career spanned five decades.
Skelton and Big Star's winning moment in the Rio Olympic Games:
Skelton himself jumped in seven Olympic Games, seven World Championships, 11 European Championships and 16 World Cup Finals for Great Britain over the course of more than 40 years at the top of the sport. But it wasn't until the London Olympic Games in 2012 that he finally got an Olympic medal, helping the British team take gold with the great Big Star, who Skelton has described as the best horse he's ever ridden. He narrowly missed an individual medal that year, but guided Big Star through rehabilitation from multiple injuries to jump to individual gold at the 2016 Rio Olympic Games.
With a final wave to the adoring crowd, the Olympic gold medal-winning duo exited the arena to start their well-deserved retirement.