While Lainey Ashker and Elisa Wallace admit they're polar opposite humans, there's one thing these best friends have in common—the love of a good Thoroughbred.
Both riders are competing off-the-track Thoroughbreds this weekend in the CCI4*-S at the Cloud 11-Gavilan North LLC Carolina International (North Carolina).
Ashker is riding Call Him Paddy, an 11-year-old gelding (Alymagic—Woodford Princess, Candi's Gold), and Wallace is riding Let It Be Lee, a 13-year-old gelding (Bernstein—Sugaree, Broad Brush). She's also got two Thoroughbreds in the CCI3*-S—Munson Slew and Sharp Decision.
Ashker is making her return to the advanced level this year with "Pat" after retiring her longtime OTTB partner Anthony Patch in 2017. She and Pat competed at Pine Top (Georgia) a few weeks ago, but retired on course after some control issues. She's hoping a bit change will help this weekend around Ian Stark's course.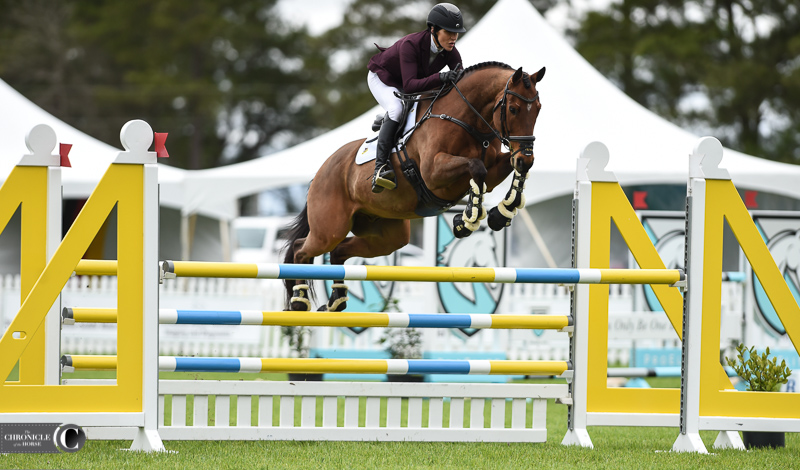 Her mother, Valerie Ashker, found the gelding in California through Tricia McConnell. He'd had 21 starts at the track.
"He broke a splint bone or something on the track, and they were just going to kind of throw him away," said Lainey. "Trisha was the one who rehabbed him. One of my mom's good friends on the track who we've bought a couple of five-star horses from called my mom and said, 'Bring your trailer. You're getting this horse.' My mom was not excited about Pat. Pat and I have sort of been a love affair from when I first met him in California. My mom wasn't really that impressed with him, but the horse has just been this incredible athlete. From the first jump I sat on him I thought he was going to be good, and he's never let me down yet. I think he will be a horse that goes all the way. He's certainly got the heart for it. It's just putting all that energy into a straight line instead of little tornadoes."
Lainey describes Pat as "very spirited and aggressive" on cross-country, which is a great quality for an event horse, but now that they've reached advanced, she's ready to take a little control back.
With guidance from Wallace, Lucinda Green and her longtime coach Buck Davidson, a change from a snaffle to a full cheek Waterford bit seems to be doing the trick.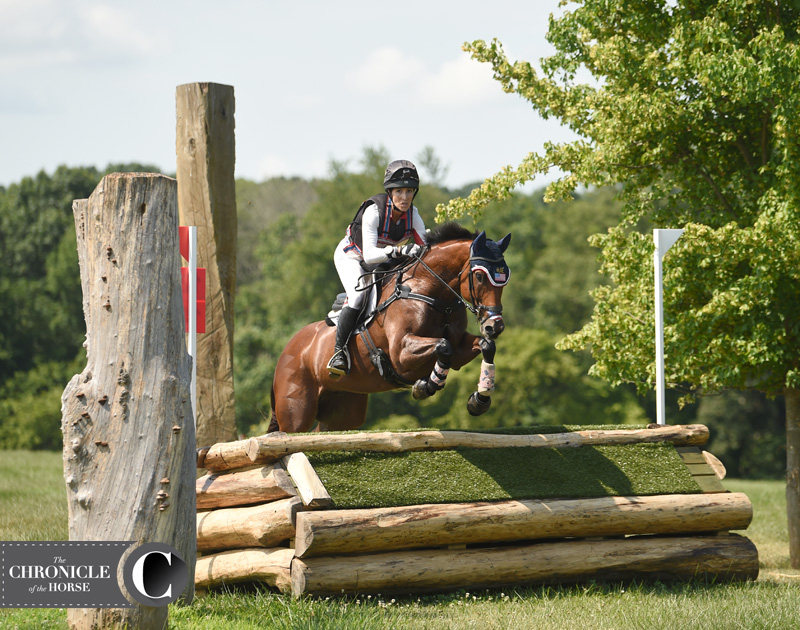 "He thinks he knows the course more than I do, and although I think he's probably smarter than I am, he has not walked the course!" said Lainey with a laugh. "I think this will be a little bit better. I never want to take away his confidence because I think that's what makes him so amazing. What people don't know about him is that he's only 15.2. He's quite small, and I never want to rob him of that confidence because I think that is what works for him. However, when I tell him he needs to come back, he does need to come back."
She says dressage is a work in progress, and is hoping to be able to be more competitive next year in all three phases once they get their confidence at the level this year.
"He had splint surgery a couple of years ago, so I'm just really blessed to have the horse at the level, and it's fun to bring my horses up the levels from the ground up and from the track," she said. "It's been five years since I had my amazing Anthony Patch, who I had such a long relationship with. To have another one that I've built—it's taken us five or six years to get to this level—I'm just really tickled."
Wallace got "Lee" a little over a year ago from Kyle Carter, who'd competed him to intermediate. He was started by Jonathan and Suzy Elliott and Meika Descher. Known as Leerider on the track, he had 12 starts in California.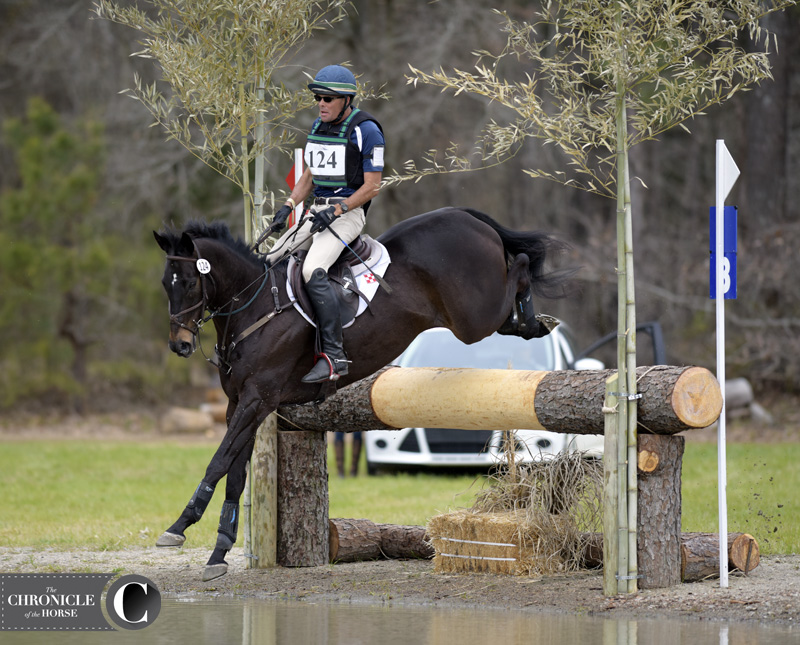 "Kyle always told me, 'Hey Elisa, I have a black horse who's similar to your [Simply Priceless] horse. You'll like him.' I was like, 'Whatever, not yet.' Then I was starting to look for horses because 'Johnny' was getting older, and he's 20 now," she said. "I ended up retiring him this year. I got Lee in December of [2019]. I sat on him, and he just reminded me so much of Johnny. He's a little bit better show jumper, but it's still a work in progress. Sometimes it's harder getting that horse that's been produced by someone else and then building the relationship. We've had some ups and downs, but that's how it goes."
Wallace describes Lee as a funny horse, who loves spicy jalapeño chips and gummy worms. He's learned to enjoy working bareback with a neck rope, as Wallace does with all of her horses, and she's starting to feel their bond growing stronger as he trusts her more.
"I have faith in the horse. He's getting stronger and stronger, and I think he's going to be a really good horse," she said.
For cross-country, both Lainey and Wallace hope to have confident rides.
"My goal is to come out with a better horse than when I started. I'm finding things out about him as I go," said Lainey. "Everybody that knows me, I talk a lot about mental health. It's not like I have depression, but I have anxiety. I've dealt with it for a long time. Walking around Pine Top, having been away from that level, you can do three-star all day long, and I've had great horses, but I've been away from the advanced level for a long time. I was walking around that course, and I know my horse can jump the height; I was second-guessing myself. It's not why I retired, but I was going, 'Am I ready to do this?' "
Ashker admits she rides better when she's nervous, and she feels cautiously confident at Carolina. "I'm going to take it one jump at a time," she said. "My goal is to have a better horse than what I came with so that this time next year I have a horse that can be competitive. I feel anxious and excited to get out there. Now, having gotten through the size and a lot of the questions at Pine Top, I know that I can do it."
"I love coming to Carolina because everybody's great here," said Wallace. "I normally don't have the best results here, but I feel like it's a show that, while I may not produce the best results, it always makes me a better rider. It's always a good lead up before Kentucky. I hope my horses will be aimed at the 4*-S there."
Whatever happens, they'll both be each other's biggest cheerleaders in the start box and at the finish line.
"We've been best friends for a long time," said Ashker. "We bounce ideas off each other. We're literal opposite people, and it actually works. Most people would hate one another, but I respect the hell out of her, and she respects me. She's the first person I go to when I have a problem. If it was something I'd never do, I would talk to Elisa about it, and she brings a completely different perspective. She'll do the same thing with me."
Scores I Website I Schedule I Live Stream I COTH's Coverage