Allentown, N.J.—May 10
Last year Olney Uncle Sam picked up two advanced wins and two top 10 finishes in his first year at the level with competitive dressage scores and confident jumping phases on paper.
It might have seemed like an obvious choice for his rider, Emily Beshear, to take him to the Dutta Corp. Fair Hill International CCI4*-S (Maryland) in the fall, but she dropped him down a level to the CCI3*-S and finished on her dressage score in second place.
"I felt like he just wasn't quite handling the level consistently enough, and because he's a little bit of a quirky, careful horse, I just didn't want to overface him," said Beshear. "We talked about it and decided it would be better for him to have a strong showing, and it worked out great because I feel like he's come out this year even better."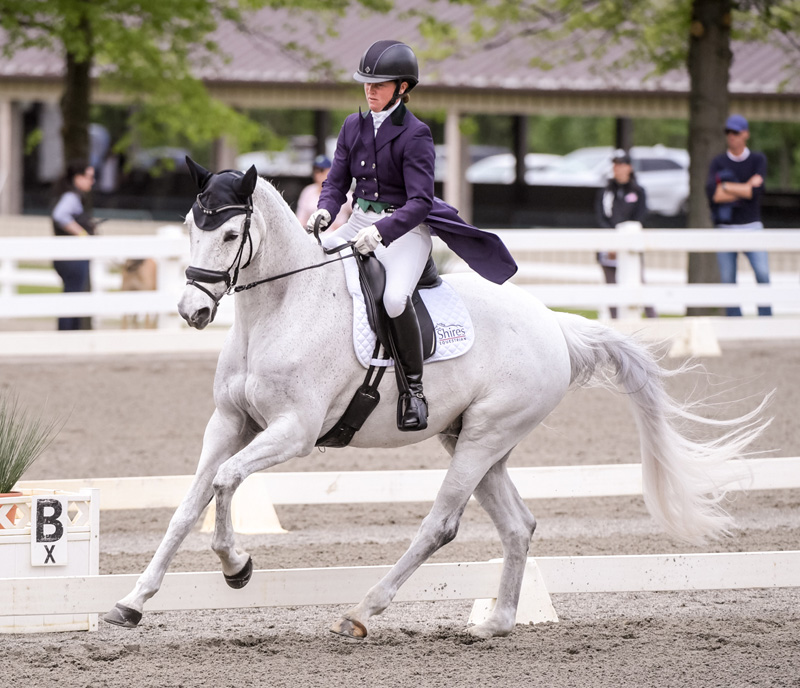 "Sam" showed his strength in the dressage today at the Jersey Fresh International, where he's contesting his first CCI4*-L. He and Beshear are leading the field on 32.9, just ahead of Jacob Fletcher and Van Gough (33.0).
"Overall I was thrilled with how Sam was today," said Beshear, Somerset, Virginia. "He tends to be a little bit of a lazy horse, so I've been working on different routines for the warm-up on dressage day to feel like I've got him tuned up enough but without him deciding it was too much effort, and I think I'm getting close to getting the balance right."
Sam, a 12-year-old U.S.-bred Trakhener gelding (Sonset Seiger—Aerial, Starman) owned by Jennifer Ward, went out for a hand graze this morning, then had a short longe to stretch out, followed by a short warm-up for his test.
"He went in the ring, and I felt like I had the right version of him to really try and show off some of the movements," said Beshear. "He didn't put in a clean test—we still had a couple of mistakes, but this is only the second time I've done this test on him, and some of the canter work is a little bit tricky still because he does get a little bit lazy. He can do all the pieces, but I can't always put it together as fluidly as I'd like. I did have a couple of mistakes, but all in all I was really happy with him."
Beshear's had the ride on Sam for a little over two years after Ward brought him to the CCI2*-L level. Beshear believes he's ready for Mark Phillips' cross-country track tomorrow, which twists and turns across the Horse Park of New Jersey.
"I think here it's always hard to know how the horses are going to handle all the twists and turns and ups and downs for that long of a duration," she said. "All the questions are very fair I feel, but there are a lot of questions out there. I was sort of half joking that there are 10 places I could easily have a run-out. Sam's a very honest horse cross-country, but he is a little bit of an overachiever in that he sometimes tries to guess what I want rather than actually hear what I want, so I've had the odd run-out at something just because he's a bit looking at something else, and we're just not on the same page, so there's a lot to do tomorrow, and it will tell me a lot about where he is. We've been practicing a lot. When he's on he's superb, so hopefully that will be tomorrow!"
Lynn Symansky has a bit of the same philosophy for RF Cool Play. She's leading the CCI3*-L with 27.3. "Coolio" completed the CCI4*-L here last year, but he's had a late start to his spring, so Symansky's chosen to run him at the level he'll be the most confident at.
"He's a horse that I like to have a lot of base fitness going into it," she said. "I didn't think there was that much to be gained from running the same thing he did last year. I'd rather just run the three long to get the [Pan Am Games] qualifier done so I can keep ticking along with him in the spring, summer and fall.
"Some people get so caught up in goals and trying to prove everything in a selection year, and I'm just going with what my gut tells me on the horse, and it's a really nice horse," she continued. "I'm thinking more about the long run in the future for him, but also ticking the boxes to have done the qualifier and be able to have my options open going through the rest of the year."
Watch Symansky's test via TheHorsePesterer.
Coolio, an 11-year-old German Sport Horse (Condors Champion—Roxana, Radscha) owned by the Donner Syndicate LLC, is a fancy mover, almost to an extreme, according to Symansky, Middleburg, Virginia.
"I've been working on trying to keep him taking me a bit more in the ring," she said. "He struggles with tension in a way that it makes him move a little too much sometimes. I was very happy with him. There were a lot of points left on the table for sure, like his halts were not very square. He's a very sensitive horse, but also kind of holds his breath sometimes in there. In the last year or so we've been working on getting him to breathe and relax a bit more and show off his very fancy movement."
Cross-country kicks off tomorrow at 8:30 a.m. with the CCI3*-L, followed by the CCI4*-L at 9:50 a.m. The CCI4*-S and CCI3*-S divisions will show jump beginning at 8 a.m., then go cross-country at 11:25 a.m. and 1:20 p.m., respectively.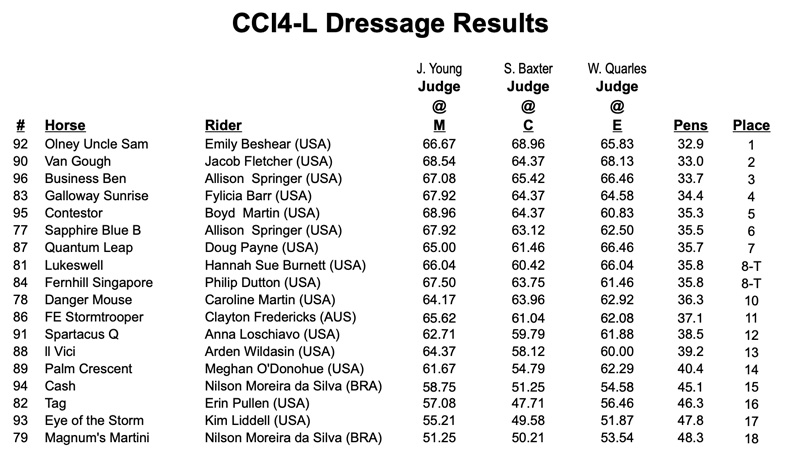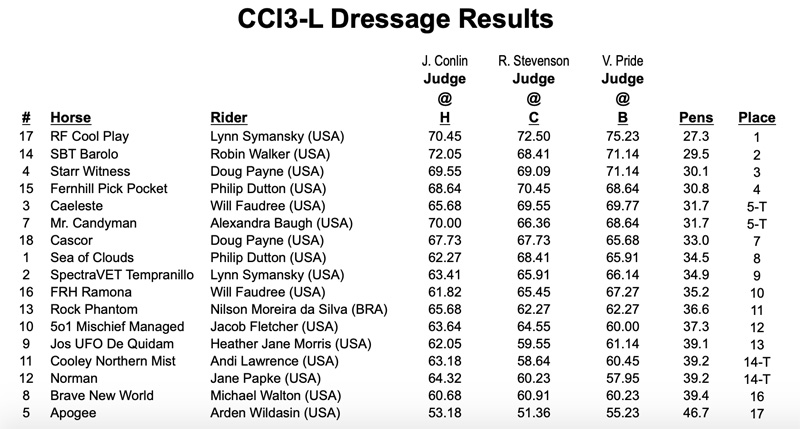 Full Scores I COTH's Coverage I Website
Want more from Jersey Fresh? We're on site all weekend to bring you news and photos! We'll have more in the June 3 print edition of the Chronicle.
Make sure to follow along on the Chronicle's social media outlets: Facebook, Twitter and Instagram.