Mill Spring, N.C.—Sept 3
When Kathleen Bertuna bought Millye's Mojave last year, it had been 19 years since she'd ridden due to medical school, children, and "life."
But when Courtney Cooper matched her with the off-the-track Thoroughbred gelding, she knew she's found the right partner.
Bertuna couldn't believe it when she sat down at the press conference for the beginner novice rider division at the U.S. Eventing Association American Eventing Championships after show jumping this afternoon, breathless from leading the victory gallop.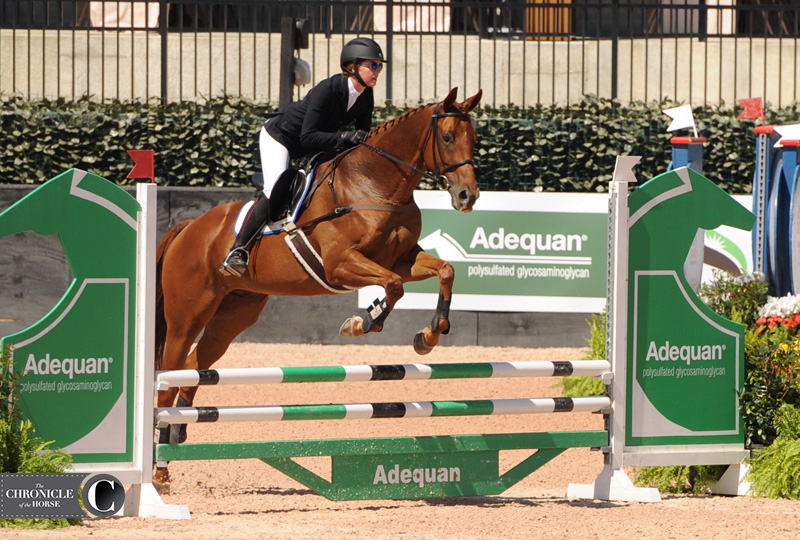 "I missed my kid's soccer game for this, but they're cheering me on from home! He's incredible. He's a prince, he's amazing," she said. "He tries, and he's so patient with me. If I'm wrong, he just says, 'Try again.' He's such a good partner."
Bertuna, Athens, Ohio, said starting out eventing this winter on "Prince," who'd had some novice experience, was a bit intimidating.
"Cantering over small fences seemed really big!" she said.
An obstetrician/gynecologist in her hometown, Bertuna saved for 12 years to buy a horse.
"As soon as I got my first job I started putting money away, so I've been saving for Morris for 12 years. I put a little money away every month, and I searched and searched and looked at a lot of horses, but he was the one," she said.
Bertuna said her entire hometown is cheering for her. She estimates she's delivered most of the other children on her daughter's soccer team.
"It was so much fun," she said of the cross-country course. "It had a little bit of something from all the courses I jumped this summer. It was the first time I rode in studs! It was such an experience."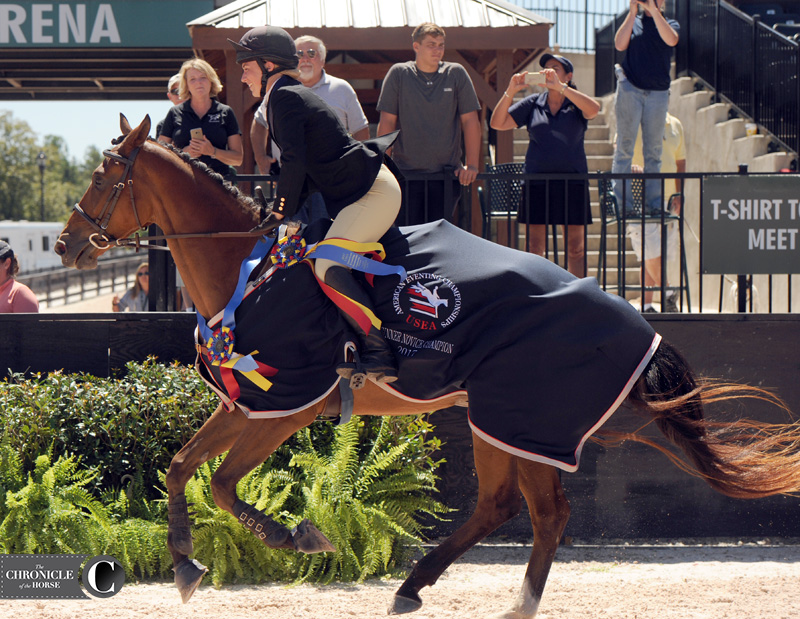 Leah Backus rode her homebred Diamond Of Truth to the beginner novice amateur division championship.
Backus, 21, Chesapeake, Va., just started competing 5-year-old "Louis" this year.
"He's learning. He thinks he knows a lot, but we're trying to teach him the right things," she said.
In first after cross-country, Backus was a little intimidated in the George Morris Arena. "I was pretty nervous because stadium is our weakest phase. I could hear him ding a few out there, but he did well. I was proud of him," she said.
Backus is graduating from Christopher Newport University (Va.) in December with a degree in business management. She's hoping to move up the levels with Louis.
"I've never had this type of bond with another horse. Sometimes we hate each other, other times we love each other," she said. "I see him every day, and I take care of him, so I know him pretty well. He knows exactly what to do to get on my nerves, he knows exactly how to get forgiveness! It's pretty cool."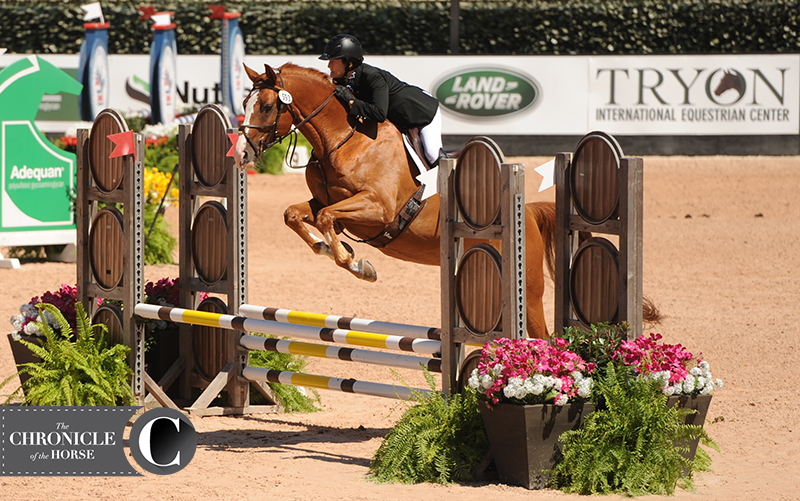 In the master beginner novice amateur, Carrie Griffen rode Feuertanzer ES to the win, leading wire-to-wire.
The 12-year-old Belgian Warmblood has a lot of personality, according to Griffen, Wadmalaw Island, S.C.
"Dressage is not our strength, and I've had a really bad back the past two weeks, so we had didn't ride really leading up to this. But he really did well in dressage because we had a really long warm up, so that was helpful. He really relaxed for dressage, and so did I," she said. "He loves cross-country, he's very game. The downside to that is he likes to buck. He is extremely exuberant, he's very proud of himself. With my back, I was a bit concerned about it, so we were kind of conservative on time."
Griffen gave credit to her trainer Beth Perkins.
"She's phenomenal every step of the way trying to get us here and trying to support us. My horse gets the credit too. He's just a great guy. Lots of fun and has a great spirit," she said.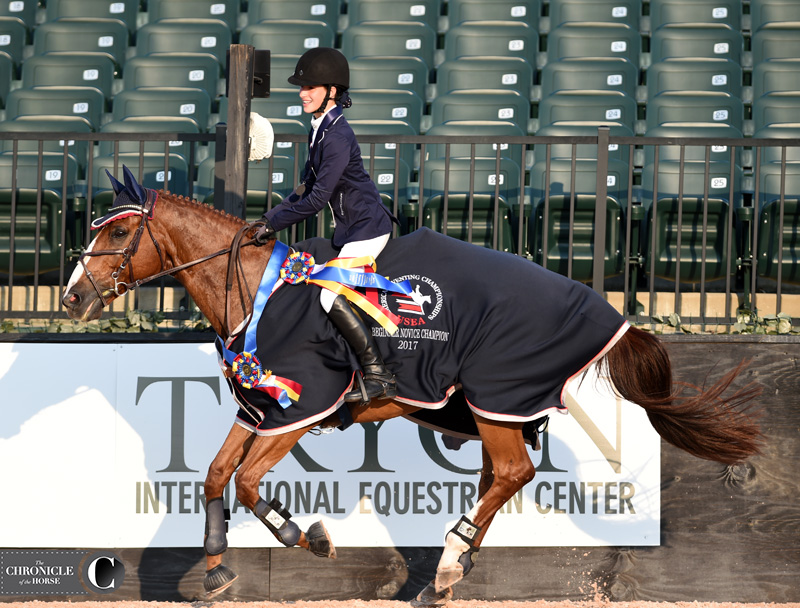 Ashley Stout, 11, won the junior beginner novice, 14 and under division on Deo Volente. On Saturday she broke an unlucky streak by going clear through cross country. Stout said that "Davey" can be spooky and was impressed with the venue and atmosphere, but settled down when it mattered.
Stout started her partnership with Davey last February. She got him from one of Lillian Heard's students who had been taking him training level. Stout hopes to get to that level with him as well.
"He's really good about going over things when I ride him correctly," Stout said. "But he will refuse. Stadium is one of our best events, and today he was really good about listening and being focused."
Stout's short term goal is to keep putting in clear rounds, but she dreams of one day making it to the Kentucky Three Day Event.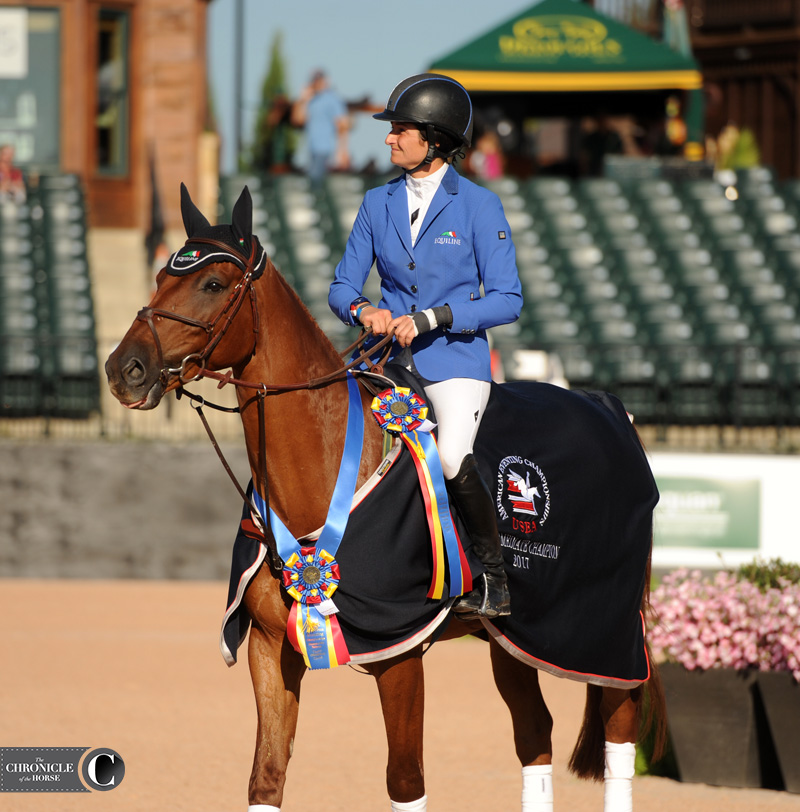 Jennie Brannigan continued her winning weekend by finishing first and second in the Boehringer Ingelheim open intermediate division. She overcame an injured left hand to pilot FE Lifestyle to first and Twilightslastgleam to second.
FE Lifestyle added two time faults to his dressage score, finishing on a 30.3. Twlightslastgleam was placed 17th after dressage but they only added .4 time faults on cross- country, which buoyed them over a field of riders with stops and more damaging time faults. She finished on a score of 32.5, narrowly ahead of Charlotte Collier and Clifford M, who scored 32.7.
"I'm super excited for the horses," Brannigan said. "I definitely am not on my best form at the moment because of my hand but I'm so relieved they jumped well and I was able to ride them halfway decently."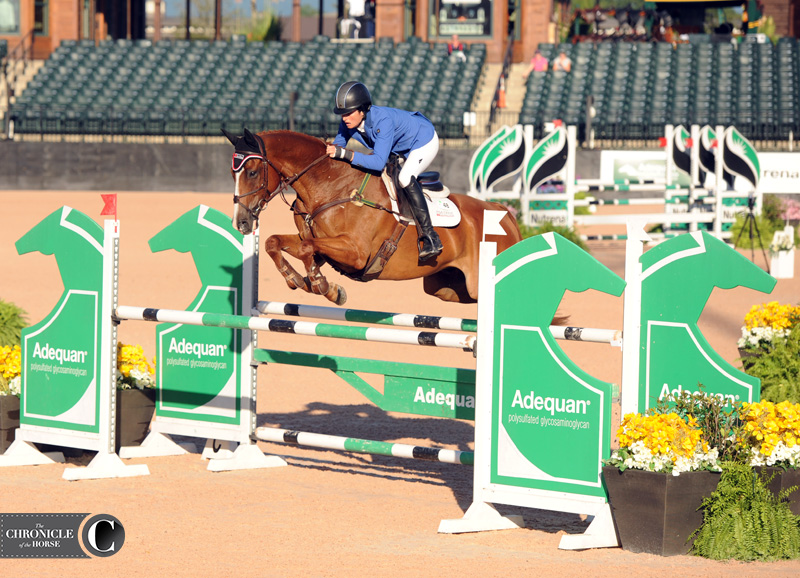 Brannigan was warming up her advanced horse Cambalda last night when he jumped way up over an oxer. She came down hard on her hand, and is looking at a possible surgery.
Nina Gardner owns both horses. Brannigan produced Twilightslastgleam from a young horse but has only had the ride on FE Lifestyle for a year.
"It's super exciting, just getting to know him and moving up," Brannigan said. "He just keeps improving, the future is really bright for that horse."
Holly Payne Caravella topped the beginner novice horse division with Kathleen Hall's Benjamin Button. The 4-year-old Thoroughbred finished on his dressage score of 25.8 and moved up in the rankings when overnight leader Amanda Ruane and Bally More Who had 8 jumping faults. Caravella said working with a young horse has its challenges, but felt the experience was valuable for Benjamin Button.
"He had all week to settle in, so every day he got a little bit better," Caravella said. "He was so good in the dressage, he's usually pretty good, he's a consistent horse. But this week he was like a little adult."
Caravella was also competing Never Outfoxed in the Adequan USEA Gold Cup advanced division, so her times for cross-country and show jumping were adjusted to let her fit both rides in.
"We ended up in the amateur warm-up [for cross-country] and it was hectic for him," Caravella said. "So he got a lot of experience in the warm-up this week."
Kathleen Hall used to groom for Caravella and got Benjamin Button as a project horse to resell. Caravella said she might still sell him, but he's impressed her with his talent so far.
"We really like him, and we don't really want to sell him because he has turned out to be pretty cool," Caravella said. "He's still really little, he's probably only 15.3 hands. but he's definitely still growing. He's been growing since we got him so that's why he's still running around in beginner novice."
Brynn Hershbine, 15, from Pennsylvania, led the junior beginner novice division on Cadenza Aria, an 11-year-old mare.
"She's evented up to prelim so we got her as a confidence builder for me," Hershbine said. "This weekend was a lot of fun. It was stressful at times but when I finished I felt really accomplished.
Hershbine specified that Cadenza Aria's willingness to listen was an influential factor in their win.
"Going in to dressage I was really nervous," Hershbine said. "But we went in and she immediately listened to all my aids. In cross country I just wanted to get over everything safely and she was very adjustable. And then in the stadium phase the pressure was really on because if we had a fault we would drop out of first, but again [Cadenza Aria] just listened to me."
All the COTH coverage of the 2017 AEC  |  full results  |  live streaming