Back in 2006, Berry Porter glued himself to the television every week when Animal Planet debuted "Horse Power: Road To The Maclay." He was less than a year into his career as a professional hunter/jumper trainer and was still finding his feet and establishing himself in the greater Houston area.
"I remember watching Frank [Madden] and Stacia [Klein Madden] and Andre [Dignelli] and John Brennan and Missy Clark," said Porter. "I remember seeing them and being like, 'How cool must that be?' They were like rock stars to me."
Now Porter has his former idols on speed dial, and his students go toe-to-toe against theirs and have won competitive equitation classes at championship shows. Motivated by a love of learning, Porter is soaking up knowledge as he rises up the ranks of the top equitation trainers.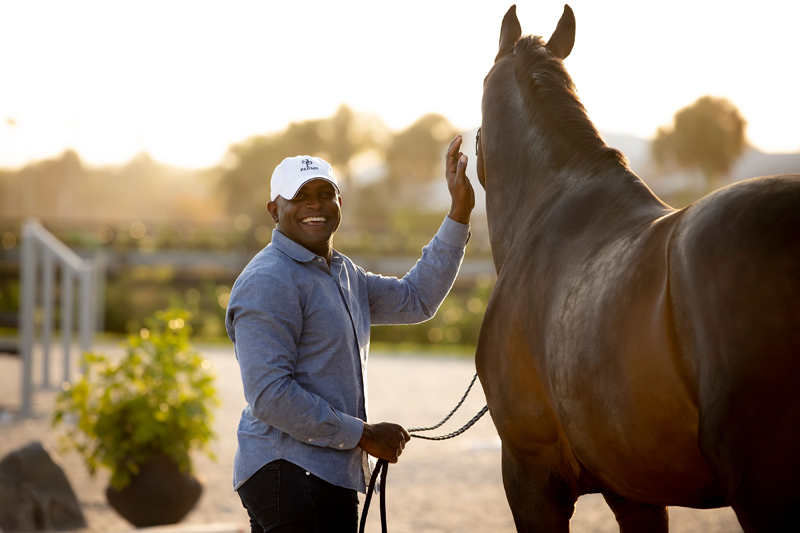 "To be fair to myself I can't expect to go and beat Missy Clark and Andre Dignelli and Don Stewart all at once," he said. "That is a goal—at one point I would say it was a dream. I think we've now moved to it being a goal of mine to maybe win an [equitation] final with one of my kids. An even bigger dream is one of my kids [winning a final while] riding one of my horses."
Porter, 37, is well on his way, having coached Eleanor Rudnicki to 2019 wins in the Hamel Foundation National Horse Show 3'3″ Equitation Championship (Kentucky) and the Taylor Harris Insurance Services National Children's Medal Finals (Maryland). His students have also won 3'6″ equitation classes at the Winter Equestrian Festival (Florida) and Devon (Pennsylvania), among others. While he's had success in the jumper and hunter rings—his trainee Calou won the USEF Junior Hunter National Championship—East two years in a row with Taylor St. Jacques and then Grace Boston—his heart is in the equitation ring. And he's proving he belongs with the best of the best.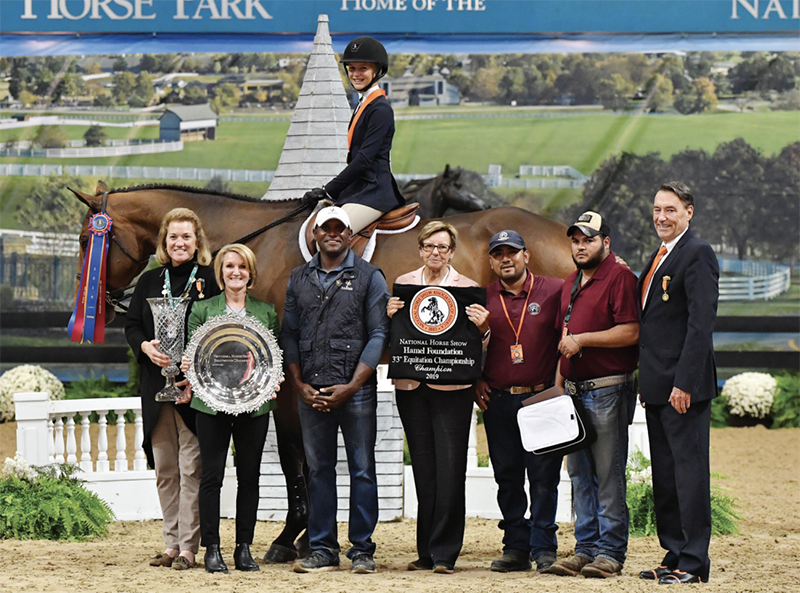 "I almost get shivers when you talk about [Porter] breaking into the elites," said Sean Brennan, Porter's business partner at Brookside Pine Farms. "He knows when his horses and his kids are ready to go to the next level, and he tries very hard not to accelerate that. He sets them up for success. In this sport, young kids have timelines that are ticking, and sometimes that can be very hard to manage.
"I remember when we first started doing a lot of Kentucky horse shows, getting out of local stuff," Sean continued. "Another big step was getting to WEF. We've always been able to go and have a decent showing and absolutely prove that we belong there. We may not sweep the thing, but we're not some country bumpkin outfit out of Texas that has no business being there."
Redirecting His Energy
Porter grew up in Spring, Texas, in a family that didn't have a cat or dog, much less a horse. He got his first taste of riding at 4 when his preschool arranged for leadline rides for the children.
"I was insanely ADHD [as a kid], on the line of being kicked out of school," said Porter, Conroe, Texas. "I just couldn't function. When I was 7, as school was getting harder, and the attention was getting more difficult, my pediatrician who was overseeing my ADHD said, 'Maybe if you try to get him into the horse thing, just maybe it will redirect some of his energy and give him something to focus on.' "
His parents bought Porter his first horse, Jake, from an auction for $300, and they turned him out in a 21-acre field an hour from their home. On the weekends the family would pile into the car, grab a bag of feed to catch Jake, and Porter would climb aboard. He took his first formal lessons while visiting his uncle and aunt in Del Mar, California, having taught himself leads and diagonals from poring over Anna Jane White-Mullin's "Judging Hunters And Hunter Seat Equitation" and practicing on Jake in the field.
As Porter grew older he took working student jobs at a dressage barn and an eventing barn, picking up rides wherever he could. He made contacts at a local racetrack and galloped race horses as an exercise rider.
Porter muses that if he hadn't glommed onto horses as a young man he might have become a track coach, having run track successfully as a kid at the encouragement of his athletic father, Joel Porter, and the support of his sports-crazed mother, Doris Porter.
"My father thought that me having a [working student] job and riding was distracting from what I'm really good at," said Berry. "I thought the opposite. Neither of my parents were anti-horse, exactly, but they were big on education and diversity of education. They wanted me to do sports and band and have a normal life as a kid."
At his parents' insistence, Berry enrolled at Stephen F. Austin State University (Texas) where he studied agriculture, but he felt miserable in conservative, rural east Texas. That changed when, at the urging of his animal science professor-turned-mentor, Joe Gotti, Berry started an equestrian team with both a western and English program.
"He threw some paperwork at me and said, 'Here. Go,' " Berry recalled. "That's where I got the nerve and gumption to do it."
At first they trained on "beyond-bad" footing in a dirt field. Taking advantage of collegiate funding, Berry helped organize the construction of a barn. He participated in meet-and-greets with sponsors and drove the horse trailer to Oklahoma and Louisiana to try out horses for the program. He recruited students to ride on the team, and, after he organized an NCAA team in 2002, he interviewed coaches. He also coached some of the riders.
"What did I know at that time about teaching?" said Berry. "I was watching videos and reading. It was basically fake it till you make it."
As he was building the college team, Berry was also pursuing a career in horses outside of school, riding professionally in the western disciplines.
"My biggest doubt I experienced in my career as an equestrian professional was that I couldn't hack it as a western rider; I wasn't neurotic enough," said Berry. "The level of training and control is just another league. At the time I was like, 'Do I have it? Do I have enough discipline to do this?' I learned that it's not that I didn't have enough discipline to do it, I just couldn't wrap my head around the way those horses go. I had plenty of work ethic and was highly disciplined; it just wasn't a passion of mine."
Berry then turned to the hunter/jumper world. He worried he didn't have an extensive background in it, but his days reading "Judging Hunters And Hunter Seat Equitation" had made a big impression on him.
"For me, there was lots of information [on the sport] that was obtainable and understandable," said Berry. "I could read books about hunters and jumpers and the basics of equitation and comprehend them. They made sense to me."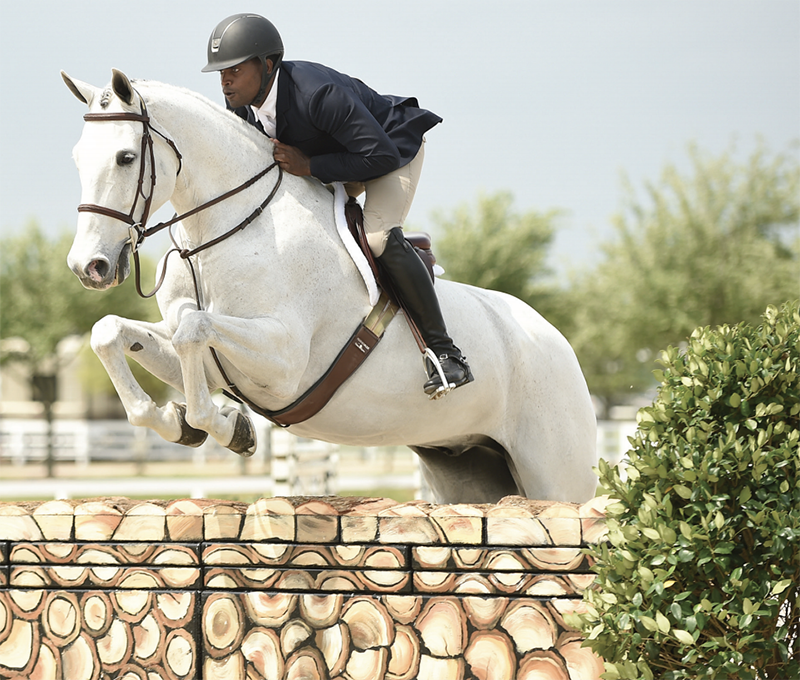 Forming A Partnership
Berry met Sean through a mutual friendship with amateur rider Alta Basaldua. Berry recruited Sean's daughter, Catherine Brennan, to try out for the Stephen F. Austin team in 2005, so Sean hooked up the trailer and hauled her horse out to Nacogdoches, Texas.
"I watched the tryouts, which was essentially Berry giving Catherine lessons," said Sean. "My daughter made tremendous progress in the two weekends of lessons that Berry gave her in tryouts, and she ended up making the team. I'm listening and watching the lessons, and I can understand his directions. This is Berry's hallmark: Not only is he knowledgeable and astute and knows more about horses and horse training than anyone on the planet, but he has a great way of communicating that with the kids. I turned to my wife and said, 'This young guy is phenomenal.' "
Within a few months, Sean came to Berry with a proposition to go in on a young horse together to train as a hunter/jumper, and Berry, excited to swap disciplines, agreed. After that went well, they spent the next several years buying, training and selling various investment projects, often dressage horses they thought could be hunters or horses at the start of their careers. They started by leasing a small barn and some pastures, and in 2007 Sean and his wife Robin bought a plot of land in Conroe, Texas, and built a 20-stall facility: the current home of Brookside Pine Farms. That farm boasts all the amenities typical at a top training barn, plus a field full of retirees.
These days when they're both in town, Sean and Berry will have coffee at 5:30 a.m. to discuss the day ahead. Berry takes charge of the horse care—he or his assistant Karianna Knezevich personally make feed for every horse 365 days a year—as well as training of the horses and riders. Sean is in charge of the financials, infrastructure needs and client relations. Berry considers Sean a father figure and sees him as instrumental to his development as a professional horseman.
"I'll never get burned out from the horses," Berry said. "But sometimes the industry can be hard. If anything might burn me out it's balancing the customers with the horses and the horsemanship with the business. It can be overwhelming. If I was alone I could see myself getting burnt out. But Sean is so supportive, and he'll say, 'I think you're overdoing it.' For example, I'll be trying to save money on a housing scenario and suggest we should get one house for a bunch of us for a long stay. He'll say, 'I don't think you'll be able to survive that for four months.' It's things like that. It's nice to have somebody who says you're taking on a little more than you can do."
For Sean the partnership works because they balance each other out and keep the lines of communication open.
"Berry is super intelligent, with an unquenchable thirst for knowledge when it comes to horses," said Sean. "Berry's definition of a day off is watching videos of horses. He's just that driven. That drive and thirst for knowledge has made him 10 times more knowledgeable today than 15 years ago. At the same time as the two of us have felt our way through this progression, there are things I've taken away from him, and things he's taken away from me. Now he is much more aware of dealing with the people side."
Berry admits it's ironic that while he hated his time in the classroom, he's obsessed with learning.
"This is a passion, and it's always what I enjoyed doing," he said. "If it's something you think about doing all day, every day, it's not work. I go home at night and re-watch every video and every course, whereas the classroom stuff never clicked for me."
While the horses have helped Berry's ADHD abate, he says it's still something he manages.
"At the end of the day when I'm making feed and going through meds [Brookside Pines Farm professional rider] Ashton [Alexander] will be doing the board at the same time," said Berry. "She always has questions, and I'll get distracted and have to start over again. It will take me an hour to finish the feed. I cannot do two things at once. Sometimes I will come across as short or frustrated, but it's not that; my mind is just over there, trying to accomplish something else. Multitasking is not a gift I have."
"Berry Can Only Do What Berry Can Do"
For his first few years as a hunter/jumper professional, Berry trailered every week to Mike McCormick and Tracy Fenney's MTM Farm in nearby Flower Mound, Texas, for lessons, and McCormick became one of his early mentors.
"Mike would say, 'Berry, when everything goes right you're fine; you don't have a problem. But when it goes wrong you don't have a plan,' " recalled Berry. "Mike taught me about making a plan for every day, thinking about how you're going to teach each horse to be a better horse each day. [Mike and Tracy] were instrumental to my career to learning how to set the horses up for success."
At 22, Berry attended his first hunter/jumper competition, a B-rated show at the Great Southwest Equestrian Center in Katy, Texas.
"It was our first outing as a barn and a team, and it was fine," he recalled. "I had one or two customers plus horses we bought as projects to develop. I cleaned all the stalls every morning; there were no grooms, just me. I got there at 3 or 4 a.m. to do chores and get ready in the morning before I was the professional rider and trainer."
Berry and Sean became regulars on the Texas circuit, gradually expanding the client base and focusing on bigger shows. By late 2010 his student Maddie Chenoweth started investing in top hunters, and Berry coached Chenoweth to her first trip to the Adequan FEI North American Junior and Young Rider Championships (Kentucky) in 2015. The Brookside Pine Farms team started venturing to Kentucky and soon added Devon and the fall indoor circuit to the schedule.
Sean encourages Berry's dedication to education, often telling him, "Your learning is as important as the kids' learning."
In addition to McCormick and Fenney, Berry also counts on horsemen like Bibby Farmer, Clark and John as mentors.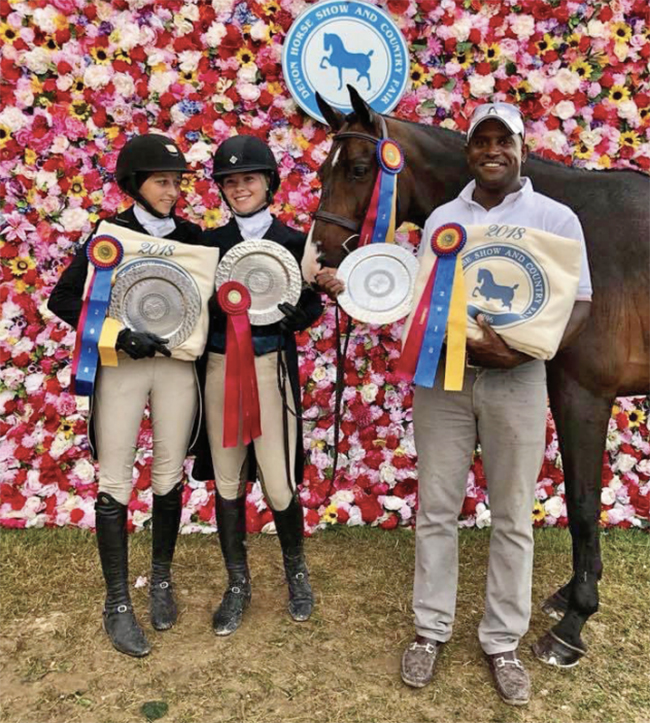 "I think if you're open and come with no ego, people are happy to share," he said. "I genuinely want to know how they do things. I'm not saying I'm going to copy them exactly. I can't do what [Clark and John do], and they know that. I can't do what Mike and Tracy do. I can learn from them and maybe take a piece and adapt it into my program. That's maybe another key to my success: I'm not trying to be anyone else. Berry can only do what Berry can do. If I'm going to learn from somebody, I'm going to pretend I know nothing. Treat me like I'm a beginner; talk to me like I'm stupid, I don't care. I want to hear how you do it."
Berry started working closely with John and Clark's North Run team a few years ago when they collaborated with Berry's student Hallie Grimes, who rode in Prix des States competition at the Pennsylvania National and has won in the hunter and equitation rings at Devon. Today, Brookside Pine Farms often stables with North Run at championships.
"He's got a good, consistent program," said Clark. "He knows what a good horse is, and he knows how to manage a horse. Anybody who gets from one place to the next in this business, and in life, in my opinion, does because they're willing to keep watching and evolving and learning. I know I do every day. He's got a great ability to look at things that way, which is hugely beneficial to all of us. Nobody knows everything. It's fun to work with someone like that. We can share ideas back and forth and have conversation, and it's always very productive.
"He's got a great sense of humor," Clark continued. "But at the same time he's very calm when he has a day where things don't go the right way. He looks at it as another day on the job."
Reflections On Race
When the murder of George Floyd ignited Black Lives Matters protests across the country and prompted conversations about race within the equestrian industry, Berry's phone started ringing. Friends in the horse world wanted to hear his perspective as one of just 79 Black members of the U.S. Hunter Jumper Association.
"I don't really feel like my race was prohibitive in my success," said Porter. "If anything, it's made me more recognizable and has helped me a little bit here and there.
"I really enjoy being the Black guy on the circuit," he continued. "I love it when people make jokes; I love when we have banter about it. I'm not sensitive about those things. I think people felt safe to come talk to me about it. [When the horse world started talking about race,] a lot of people that weren't communicating about it were calling me and saying, 'How do you feel about this?' I try to be really levelheaded. I have a different perspective than a lot of my Black friends in this sport."
Porter said he discussed the racial unrest and racism in the horse world to the point of exhaustion at times, and he admitted that he lost some friends because they couldn't see eye-to-eye on those issues.
"Yes, there are a couple of judges I never place well under even when I have an outstanding round, and I've been told, 'That judge is not for you,' " said Porter.
"To think people don't have biases in their head—they do," he continued. "Everyone in some sort of way is dealing with a bias or prejudice of some sort. I don't really let it affect my day."
Continuing To Grow
Berry's clients are mainly juniors with a few young amateurs these days, and he spends eight to 10 weeks at home during the year, making frequent trips to visit his mother, who still lives in his childhood home. He and the team escape the Texas heat to spend the summer in Lexington, Kentucky. He typically travels with around 15-20 horses, and he bases out of Wellington, Florida, for the winter.
While Berry has made his share of trips around the hunter ring, recently he's been handing over the reins to Alexander—whom he convinced to work for him while she's looking for a "real world" job—and he's happy to watch from the sidelines.
"Every horse I buy with the dream of, 'Maybe I'll do it as a derby horse but if not it'll be a great equitation horse,' " said Porter. "But now I don't ever really need to do it. Right now I'm enjoying having [Alexander] as part of the team. I'm not retired from the show ring; when she leaves I'll set the horses up and do what I need to do. But it's nice to be able to be on the ground and have her as a rider right now."
In addition to his goal of coaching a rider to a 3'6″ equitation final win on a horse he trained, Berry wants to develop a sustainable top program.
"I feel like there are a lot of people that have come and won a class, or had a good horse or a good rider," he said. "But look at Missy and John, for example, winning year after year for so many years. That's the biggest goal. I think we did right by Calou and Hallie Grimes and Eleanor Rudnicki, for example, and I want to see the same success with [students like] Sofia [Cady] and Lola [Head] and all my students. I want to show consistency in the program, and I want to be able to sustain my horses and keep them in the program."
As a trainer, Berry has developed a reputation as a stickler for the rules. He's not afraid to speak with an official if, say, a course isn't built to the correct specifications.
"It's at every horse show," said Berry. "They're tired of watching me come up. All my trainer friends are like, 'Berry, go look at that course. We don't want to be the one [to complain.]' It's always me."
Fellow rule fanatic Britt McCormick often accompanies Berry to raise his own concerns with stewards and course designers. Britt sits on multiple U.S. Equestrian Federation and U.S. Hunter Jumper Association committees, and when it came time to reseat the USHJA Equitation Task Force for 2021, Britt immediately thought of Berry and encouraged him to join. Though the task force has only had one meeting so far, Berry dove into the role and relished the opportunity to help clarify rules to keep a level playing field.
"[The USHJA] needs fresh ideas and people in the field doing it," said Britt. "I just thought he would be a good fit for that. As he grows and gets more involved in governance, I hope he wants to move into it. I'm 100 percent behind him.
"He thinks about bigger picture stuff, and he's good with coming up with out-of-the box ideas," he continued. "He's tailor made for it."
---
A version of this article ran in The Chronicle of the Horse in our March 22 and 29, 2021, issue and has been updated.

Subscribers may choose online access to a digital version or a print subscription or both, and they will also receive our lifestyle publication, Untacked. Or you can purchase a single issue or subscribe on a mobile device through our app The Chronicle of the Horse LLC.
If you're just following COTH online, you're missing so much great unique content. Each print issue of the Chronicle is full of in-depth competition news, fascinating features, probing looks at issues within the sports of hunter/jumper, eventing and dressage, and stunning photography.