There was a sense of déjà vu as Atlanta Spring Classic II drew to a close with Jason Berry continuing his winning ways in the jumper ring. Aboard Quantos, owned by Lee Cesery, Berry topped the field to win the $15,000 Grand Prix.
It's been a banner two weeks for Berry and Quantos in Conyers, Georgia. The duo won both weekly Welcome Jumpers, in addition to the grand prix.
"Quantos is giving it his all," Berry said. "It certainly makes you excited to get up in the morning when you have a horse with a future like he's going to have."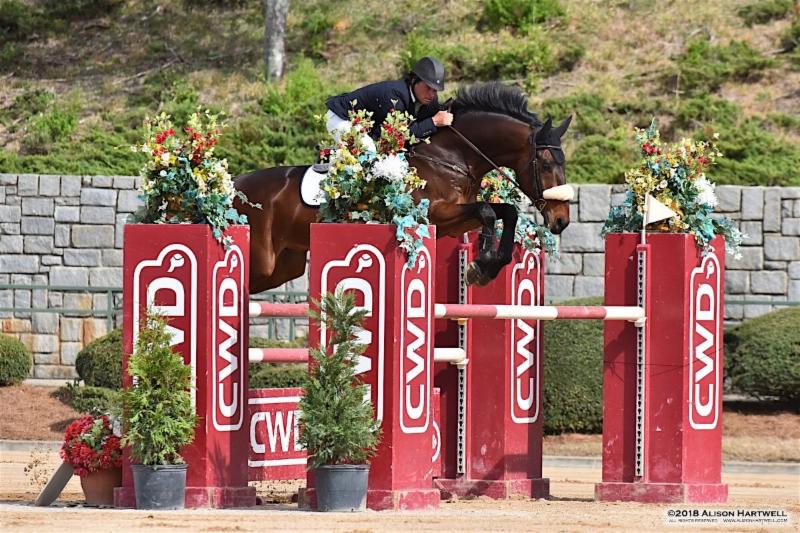 Berry, of Verona, Virginia, was the first horse-and-rider team to attempt the first round of the grand prix track, set in the Olympic ring at the Georgia International Horse Park. Only three achieved the clear round required to proceed to the jump-off.
First to attempt the shortened, speedy course was Jorja Rose Jones, of Byhalia, Mississippi. She piloted Diane Masters' Light Show to a double clear performance, setting the pace to beat at a quick 42.721 seconds.
Next up was Canton, Georgia's Chase Boggio. In the irons of his own Co Pilot, Boggio navigated the shortened course, leaving all the jumps in their cups. Unfortunately, the duo reached the timers just outside of the 47-second time allowed — their time of 47.076 seconds landed them a single time fault.
Berry and Quantos were next up to catch the pace to beat. The pair laid down a flawless clear round, racing to the timers in 41.422 seconds, snatching top honors and the lion's share of the prize money.
"I wasn't sure I could catch her," said Berry of the pace to beat set by Jones. "But Quantos is a good mix. He's a long-strided horse, so we can leave the stride out, but he's also got a turn on him. It was a good course, and you needed a horse who could accomplish both — leave out strides and turn quickly.
"There was a fast gallop to an oxer in the jump-off, followed by a sharp right turn," Berry continued. "Quantos ran well to the oxer and took direction well on the backside, making a sharp right turn. I think that may be where I caught the time."
Berry said his team couldn't be happier with the 7-year-old Quantos and he's pleased with the support from his team, from his owner Lee Cesery to his grooms, Javier Guerra and Luis Vega.
"Everyone has been at the top of their game," Berry remarked.
Jones ended the class in second place, and Boggio ranked third.
Jones was back in the ring to pick up fourth prize for her ride aboard Chris Richards' Uno Z. Fifth place was awarded to Aida Sanchez Long, of Chattanooga, Tennessee, and Darragh Kerins' Rossco. Berry ranked sixth aboard Andrew Kocher's Duvelke, while Lexington, Kentucky's Sarah Meier placed seventh with Punchestown Stable's F 16.
Boggio was back in the ribbons, ranking eighth with Victoria Press' Quesada D'Elle. Heather Hooker, of Wellington, Florida, was ninth with Meredith Darst's Quester de Virton. Tenth place was awarded to Meier, this time with Madison Dehaven's Chanel. Merideth Bryans, of Newborn, Georgia, with her own Guidam Sid, ranked 11th, and Roger Seitzmeir, of Thompsons Station, Tennessee, wrapped up the top-twelve with the Jaeckle Centre's TJC's Kaizer-A.