Jason Berry was nearly unbeatable during the first week of the Atlanta Spring Classic. After taking the top three ribbon-placings in the $7,500 Welcome, he swooped in to win the $15,000 Grand Prix.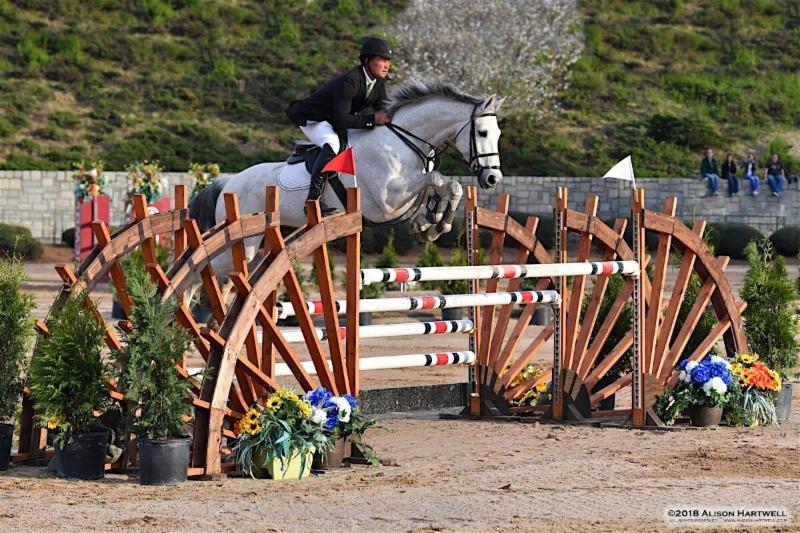 Thirteen horse-and-rider teams tackled the course designed by Allen Rheinheimer of Zionsville, Indiana on Saturday evening in the Olympic arena at the Georgia International Horse Park, in Conyers, Georgia.
The first round was set with a time allowed of 81 seconds and 43 seconds for the second round. Seven advanced to the jump off.
Chase Boggio of Canton, Georgia, and his own Co Pilot were the first horse and rider team to turn in double clear rounds with a jump-off time of 32.241 seconds, setting the new time to beat.
Heather Hook of Wellington, Florida, and Meredith Darst's Quester de Virton followed with the next set of double clear rounds, but their time of 33.934 wouldn't beat Boggio.
Berry, Verona, Virginia, and a new ride of his, Andrew Kocher's Duvelke, followed with the next set of double clears and their time of 30.362 seconds would temporarily take the lead.
Aida Sanchez Long of Chattanooga, Tennessee and Darragh Kerin's Rossco followed with the next set of clear rounds in a time of 32.210 seconds.
Boggio and Victoria Press' Quesada D'elle followed with a clear second round in a time of 29.567 seconds to temporarily took the lead.
"[Rheinheimer] had set a vertical to six strides to a triple bar then five strides to an in and out, and some folks had problems with that," said Berry. "He definitely didn't hand us that line."
Berry followed with Fazous and challenged that time with their own double clear rounds and with a time of 29.055 seconds, took the lead and set the new time to beat.
"I just had to go faster," Berry said. "I had the lead then Chase took it back, so I just went a little faster with Fazous," he said.
Jorge Ludwig of Newbury Park, California, and his own Cricket sat in the enviable last-to-go position, but four jump faults would see them finish in seventh place and leave the win to Berry and Fazous.
Second-place honors went to Boggio and Quesada D'Elle and Berry picked up a third with Duvelke.
Sanchez Long and Rossco earned a fourth place and Boggio returned for a fifth-place ribbon with Co Pilot. Hooker and Quester De Virton rode home with a sixth place. Ludwig and Cricket earned a seventh place and Ludwig also picked up the eighth-place ribbon in the irons of his own The Graduate.
Heather Steinman of Canton, Georgia, and Maarten Huygens' Justin earned ninth-place honors for their four fault first round in a time of 69.406 seconds, and 10th was awarded to Jorja Rose Jones of Byhalia, Mississippi, and Diane Masters' Light Show for their four-fault first round in a time of 70.880 seconds. Eleventh went to Charlotte De Smedt and her own Chido, and Berry wrapped up the class with a 12th-place ribbon in the irons of Lee Cesery's Quantos.