Guess Who?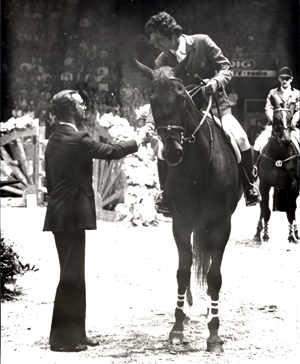 The gentleman on the horse was one of America's top show jumpers in the '80s and early '90s. He's also competed to advanced in eventing, did well in upper-level dressage and was a top hunter rider. In 1961 he won the ASPCA Maclay and he also won the AHSA Medal.
Serious, serious extra kudos if you can identify the royal dignitary handing him his trophy. Hint: This photo was taken at the Gothenberg CSI.
And the Answer is:
Bernie Traurig
Congratulations to Constance Tramm Hunt, who was the first correct answer. The gentlemen shaking Bernie's hand is the H.M. Carl Gustaff of Sweden. Bernie was recieving his trophy for winning the North American League (East Coast) for the FEI World Cup at the 1982 World Cup Finals in Gothenberg, Sweden.