Rider Clayton Fredericks reflects on the amazing career he's had since their first victory, three years ago.
Clayton Fredericks was emotional about his win in the HSBC FEI Eventing World Cup Final in Deauville, France, Sept. 19-21.
His last victory in this competition, in 2005 on the same horse, Ben Along Time, triggered a stream of success, including an individual silver medal at the 2006 World Equestrian Games (Germany) and a win in the 2007 Rolex Kentucky CCI****.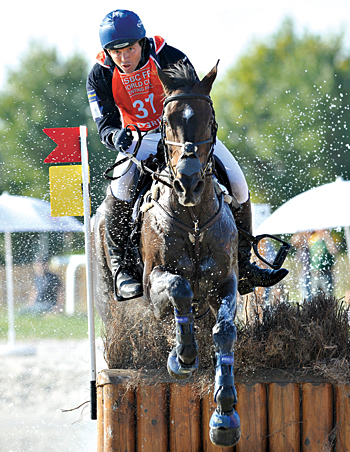 "Most people know I was pretty disappointed not to win an individual medal at the [2008] Olympics," said the Australian team silver medalist. "The World Cup is a really important competition, but it's particularly special to me. When I won in 2005 [in Malmö, Sweden], it was at a stage when I never thought I'd get anywhere near people like Pippa [Funnell, the runner-up in Deauville], but it gave me confidence and turned out to be the launch pad for this successful period of my career."
Clayton's wife, Lucinda, fell from contention after a crashing fall from Headley Britannia at the penultimate fence when lying second to her husband after dressage. The two of them rode in Deauville's first eventing competition last year. The venue, a picturesque racecourse in a glamorous gambling seaside town, in the heart of Normandy's horse and Calvados country, was under-bidder to Kentucky for the 2010 WEG, and its connections now hope to clinch the 2014 Games.
"We enjoyed our visit last year, and it's fantastic to be able to come back with our Olympic horses," said Clayton. "It's a tribute to how great the facilities were in Hong Kong that they have traveled back so well."
Thirty-seven riders from 13 nations started the dressage, in front of ground jury president Anne-Mette Binder from Denmark, plus France's Michel Asseray and Britain's Angela Tucker. They were unanimous about the outstanding quality of the superb-looking Ben Along Time's performance and gave him the only sub-40 mark of 36.1.
Lucinda was 4.1 penalties in arrears, conjuring her usual accurate, contrasting performance from the small-moving Headley Britannia. In equal third on 41.1 were U.S. rider Allison Springer on Arthur and Pippa Funnell, making a popular return to the big-time with her only four-star horse, her mother's diminutive Thoroughbred ex-racehorse, Ensign. Springer was among the refugees from a cancelled Blenheim CCI*** (England) the weekend before.
Olympic team gold medalist Frank Ostholt was best of a strong German contingent, still riding the wave of their wonderful Hong Kong performance. He finished fifth on his old faithful and WEG gold medalist, the 13-year-old Air Jordan 2, who seems back to his best.
Compatriots Kai Ruder on the 9-year-old stallion Le Prince des Bois, a son of Marie-Christine Duroy's Olympic stallion Yarlande Summersong, and Fontainebleau CIC*** (France) winner Michael Jung on the 8-year-old Irish-bred La Biosthetique Sam FBW, by Stan The Man, came next. Many felt the latter was robbed with his mark of 45, which had been widely expected to be 10 points better.
It is often the fate of the World Cup Final for riders to bring whatever they have left to ride after the major events, so horses ranged from a Badminton CCI**** (England) winner—Nicolas Touzaint, best of the home side in eighth on 45.7 with Hildago de'Ile—to youngsters.
William Fox-Pitt, fresh from his Burghley (England) triumph, was aboard the 9-year-old Kaleidoscope, who had never seen a competition of this stature before. He lay equal ninth after dressage with Andrew Nicholson on 2006 Bramham CCI*** (England) winner Henry Tankerville, who has had a year's layoff through injury.
Not Much Time To Relax
At the completion of the dressage, riders headed off for some end-of-term relaxation: Fredericks made for the golf course, the Brits for a ride on the beach, and all the owners enjoyed the French markets.
But France's master course designer, Pierre Michelet, had produced a track to keep everyone on their toes. Within the confines of the racecourse, he had produced a veritable cat's cradle, which wove back and forth and contained a vast number of his trademark angles and narrow fences, few of which had alternatives. Funnell described the drop in the water, at fence 20, as the "biggest I've seen."
The early part of the course was innocuous—even dull—but it contained one significant test, a massive corner at fence 4. This claimed notable early scalps: Fox-Pitt retired here and caught a plane back to compete in England on Sunday morning; Nicholson also ran out here, as did Britain's Rodney Powell on Zin Zan ll.
There were a handful of run-outs at the arrowhead in the aforementioned water, and the winner himself lived dangerously here, when Ben Along Time landed steeply, pitching his jockey up his neck. Somehow Fredericks managed to straighten up, but he continued minus a stirrup and progressed sideways up the mound at fence 21.
Here logs were perched on two consecutive, man-made mounds, and the complex was the downfall of U.S. rider Clark Montgomery, who won the first of the 2008 World Cup qualifiers, at Red Hills (Fla.). Montgomery, who has spent the summer in Britain, based with Mark and Sandy Phillips, shot over Up Spirit's head when he stopped at the first log and was eliminated for a fall.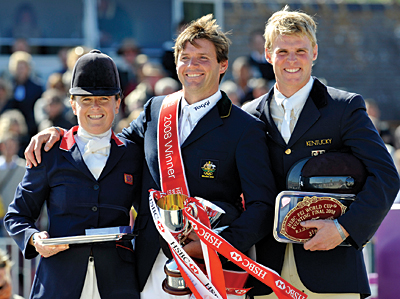 Springer's chances also went, with an unfortunate run-out near the end of the 26-fence course, at 23, and she eventually ended up in 20th. The third U.S. competitor, Stephen Bradley, rose 14 places on Brandenburg's Joshua, who missed Burghley due to an abcess in the hoof, with an impressive performance for 12.4 time penalties.
Only three riders achieved the optimum time of 7 minutes. Pathfinder Kevin McNab on Gameplay, making his first appearance in Europe, showed just how it should be done, producing an exemplary front-running performance, taking all the direct routes without hesitation and finishing bang on time.
McNab, who led the 2008 World Cup rankings, had traveled over from his Queensland, Australia, home, and was unimpressed to find himself drawn first to go. Generally, the rankings leader earns the privilege of going last, as the points order should determine the draw. This was one of a few details that will need to be sorted out before the 2009 season.
"Obviously I didn't have anything to go on," said McNab, who rose from 28th to 10th, "but my horse is an absolute jumping, galloping machine. My plan was always to be up on time at all the minute markers, and it worked; I was 10 seconds up by the third one."
The other two to follow McNab's example were Jung and Touzaint, who rose to second and third places, respectively. There were 20 clear rounds from the 28 finishers, with problems well spread and no horse falls.
"It was quite challenging, non?" said Michelet with a twinkle. "I think one or two riders misjudged it."
Next morning, after a fine HSBC party in the casino, everyone came forward for the final inspection, bar Sara Algotsson and the 19-year-old Robin des Bois, lying 14th after cross-country. Cedric Lyard's Jessy Mail, ninth, and Andreas Ostholt's Lady Lemon FRH were sent to the holding box, but both passed.
Lots Of Rails
Swiss designer Rolf Luedi had built a big show jumping track, as befits a World Cup Final. The middle part of the triple at fence 5, a spread at which most horses seemed to dive, proved the bogey. There were only three clears, two of which had time penalties: Bradley (eventual 18th) and Nicholson (26th).
The only complete clear came from the youngest rider in the competition, 19-year-old Brit Laura Collett, who had been lying second after dressage at the rain-soaked Blenheim. A former dual European Junior Champion, she was only in Deauville because, due to a technicality, her mount, the former hunter Fernhill Sox, was not qualified for the Young Rider Europeans. She gave some of her seniors a lesson in beautiful, quiet riding to finish 13th.
Fredericks had a fence in hand over the rest of the pack, but the riders grouped from second to sixth were covered by 1.9 penalties and could not afford a mistake. One by one, they faulted, Funnell, frustratingly, at the last, and Fredericks ended up with a two-fence luxury. But Ben Along Time is a reliable jumper, by the Irish jumping sire Cavalier, and he only needed the one rail, the trappy second part of the double at fence 7.
"I'm so relieved my rail didn't count or I'd have been kicking myself all the way back to England," said Funnell, who moved up from fourth to second, a fitting result for a rider who was lying third in the World Cup rankings with placings at four qualifiers on the same horse. "I'm just so pleased with the way my horse coped with those big fences; he has really earned his keep this year."
Ostholt moved from sixth to third on Air Jordan, who has benefited from being dropped down a level since his failure to complete Luhmuhlen CCI**** (Germany) or last year's European Championships. "He will have a winter's rest and then be back at four-star level and, I hope, in contention for the European Championships," he said.
Touzaint, winner of the 2006 final and the 2007 points champion (there was no final), had to settle for fifth, separating Jung, fourth, and Ruder, sixth.
Thanks to HSBC's timely sponsorship, the prize fund at Deauville was a handsome $175,500, with $51,000 to the winner. Next year, there will be attempts to make the series more manageable and meaningful to riders; there will be fewer qualifiers—one per nation—and HSBC will support each one plus the rankings.
Kate Green