On a day of doubles Team Belgium posted a back-to-back win in Europe Division 1 when coming out on top in the Longines FEI Jumping Nations Cup of the Netherlands in Rotterdam this afternoon. There were seven double-clears in the gripping competition over a really testing course set by Ireland's Alan Wade. And the man who clinched it for the Belgian side, 22-year-old Jos Verlooy riding Igor, had already scooped the honors in Friday's Longines Grand Prix with his other top horse Caracas.
However perhaps the most important double of all was the fact that this was only the second time in the 70-year history of CSIO Rotterdam for a Belgian team to take the Nations Cup honors. Their only previous victory was back in 1950, and they did it in great style today, under pressure in front of a packed stadium and under the watchful eye of Dutch royal family member Princess Beatrix when posting a score of zero.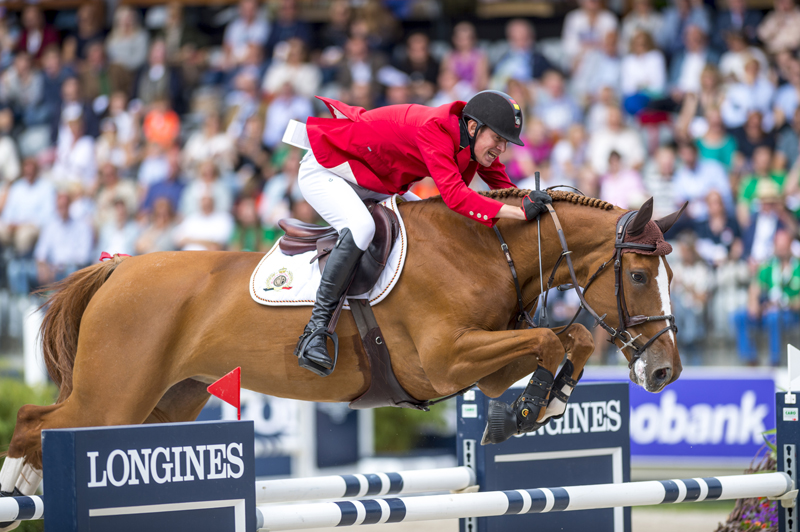 The Belgians are the form team right now, and they know it. "Our horses and riders are very strong this year; we are working towards the [FEI World Equestrian Games] in September, and I think we can produce a great result there!" said Verlooy. And his Chef d'Equipe Peter Weinberg was thinking even further down the line, to the Longines FEI Jumping Nations Cup 2018 Final in Barcelona in October.
Wade will be course designer at the WEG, and the world's best are very happy to get experience over his tracks. As always it was built to maximum height and he tested riders more than horses, demanding straightness, balance, control and complete concentration from start to finish.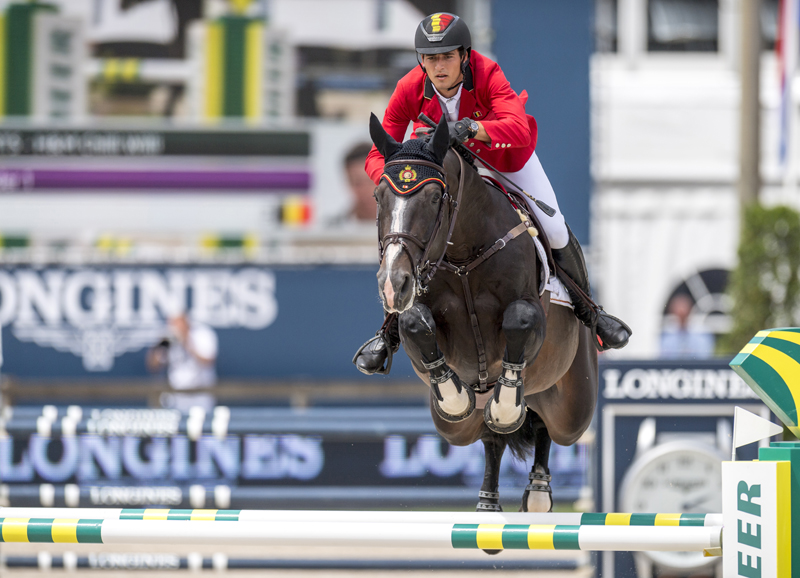 Belgium and Germany shared the lead on a zero score at the end of the first round, with Switzerland and the U.S. close behind each carrying just four faults and the hosts and Great Britain next in line with eight apiece. Sweden couldn't recover from a 15-fault first-round effort, and although the French completed with 16 they, like the British, showed evidence of the development of a very exciting string of newcomers.
Mistakes from Marcus Ehning (Comme Il Faut) and Markus Beerbaum (Cool Hand Luke) undermined German chances, but a double-clear from pathfinder Nicola Philippaerts with H&M Chilli Willi got the Belgians off to a great start in the second round. Niels Bruynseels' lovely mare Cas de Liberte was one of several horses to misinterpret the triple bar at fence three in round one, and they went on to collect an uncharacteristic 13 faults. But second time out they were pure perfection, so when Verlooy also left the course fully intact it was game over and Belgium's second win in a week following success in Sopot (Poland) last Sunday. Pieter Devos who had stepped in to rescue the situation with a brilliant first-round clear from Espoir didn't have to jump again.
Verlooy was thrilled to have been the one to seal this historic success and was quick to thank his long-time trainer and current world No. 1 rider, Dutchman Harrie Smolders.  "Harrie told me 'Don't think about the result, think about jumping every fence correctly and only look at the result when you are over the finish line. Stay focused on what you are doing all the way!' " Verlooy said.
For the U.S., Chef d'Equipe Robert Ridland led the team of Beezie Madden and Breitling LS, Adrienne Sternlicht and Cristalline, Laura Kraut and Zeremonie, and McLain Ward and Clinta to a tie for bronze.
"We come in expecting to medal and hoping to win, and of course it doesn't always work out that way," said Ridland. "But if we come out of it like we did this week, with a third-place finish with a totally different group of riders than our third-place finish last week [at Lotto CSIO Sopot], then it was a good day at the office."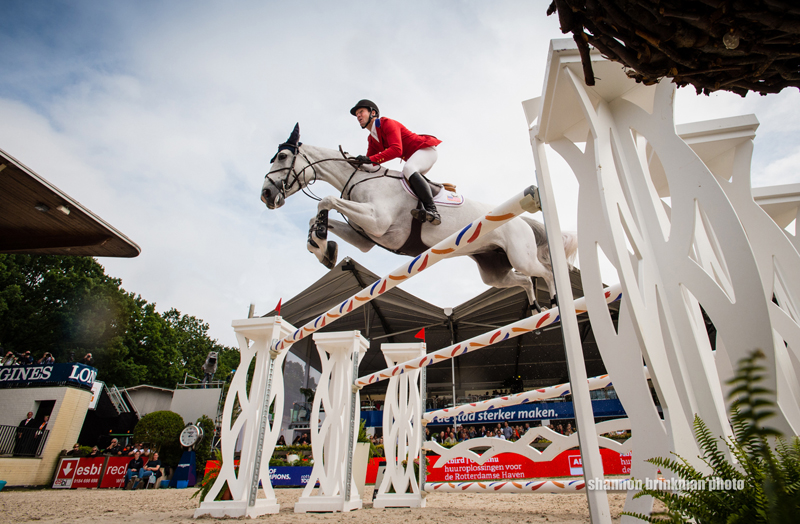 Madden led off in Round 1 with just one rail with Breitling LS, Abigail Wexner's 12-year-old Dutch Warmblood stallion, and then Sternlicht turned in a clean round riding Cristalline, Starlight Farm LLC's 10-year-old Bavarian Warmblood mare. "There's a lot of pressure that Adrienne hasn't experienced before," said Ridland. "I thought she had a good, solid day. Alan Wade didn't make it easy; it was a tough enough course for sure."
Laura Kraut had four faults in the triple combination riding Zeremonie, Old Willow Farms LLC's 11-year-old Holsteiner mare, and Ward anchored the team's first round with a clean round on Clinta, Ward and Sagamore Farm's 11-year-old Oldenburg mare.
In Round 2, Madden and Breitling LS had eight faults and Sternlicht four faults, then Kraut turned in a crucial clear round with Zeremonie to keep the U.S. riders in the hunt for a podium finish. "Laura's been building Zeremonie up, and she took her to Rome to get some classes under her belt and get her fitness up and she was very good there, but today for sure she looked great," Ridland said.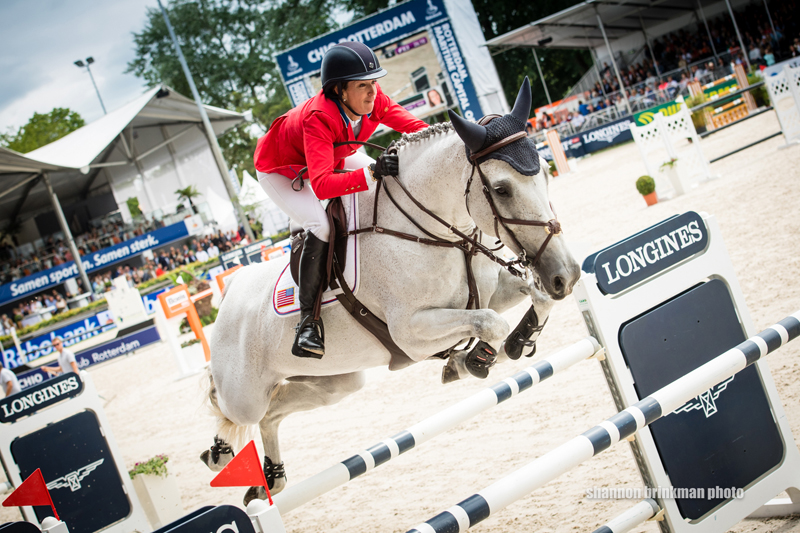 Ward and Clinta picked up four faults as the anchor rider, putting the team on a total of 12 faults to tie with the Dutch and Swiss teams for third place. "McLain was able to have HH Azur in the grand prix and Clinta today," Ridland said. "This was his first Nations Cup with the horse; McLain learns a little more about her every time he goes out, so it was a very productive day for that mare."
"I was thrilled with her," Ward said of Clinta. "I thought she handled it spectacularly. I don't know her at that level so well yet, and every class is another benchmark to reach. First round, she basically did everything perfectly, second round I came into the triple not quite the way I wanted and had B down because of it. It was just me learning how to tackle different combinations with her, but she jumped great."
The Longines FEI Jumping Nations Cup Netherlands is one of the observation events for U.S. riders on the short list for the FEI World Equestrian Games™ in Tryon, N.C., in September. "This summer is all about trying to peak in the fall for the WEG as well as a separate group for the Longines FEI Nations Cup Final in Barcelona, so we're trying out different combinations," said Ridland. "Horse-wise, they have to be different teams because the two are so close in the schedule. So, we're putting a lot of pieces of the puzzle together. I think we look back now on our whole short list that we had at the two shows, and I'd say it was a very useful two weeks for us."