When Belgian Olympic team bronze medalist Grégory Wathelet started planning out his winter season, he started thinking beyond his typical European stomping grounds and instead looked across the Atlantic.
"I'd been thinking already about having that kind of experience, to try something else—another tour, another place," he said. "I've been doing the same tours for about 25 years, and I was thinking I could try something else, and it was the right time."
But when he settled on a location, it wasn't Florida, where the who's who of show jumping often congregate, but instead California. It might seem an odd choice at a time when many riders chasing Fédération Equestre Internationale points have migrated East—some even permanently—but for Wathelet, the desert made perfect sense.
"I want to combine the sport … and also a good time on the side," he said. "Here it's a little bit easier for that, nicer for that. I prefer this part of America.
"And also to be honest, the level here is [such] that I could also bring some really nice horses to be competitive," he added. "[If] I was going to Florida in the U.S. [you have] to bring the main horses, or your first horse, otherwise you have no chance to compete against the others."
The 42-year-old from Clavier, Belgium, shipped over four horses: Ace Of Hearts, Clarity, Argentina De La Marchette and Berline Du Maillet Z. Each has been responsible for the playing of the Belgian national anthem during the Desert Circuit in Thermal, California, since arriving at the showground on Jan. 7.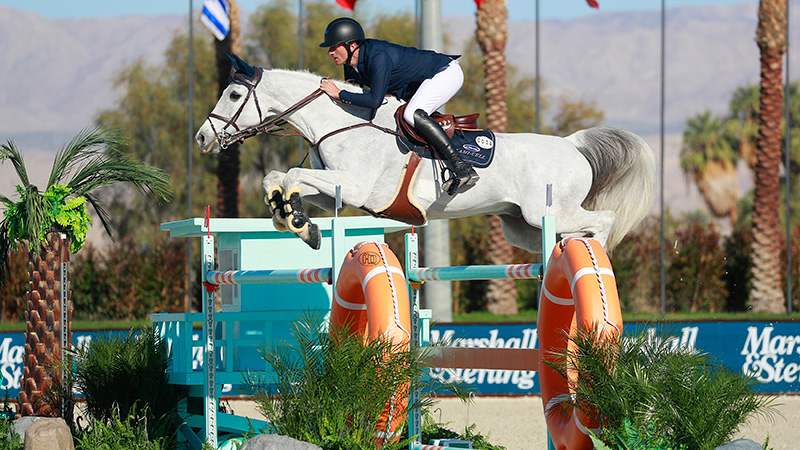 Ace Of Hearts, a 13-year-old Estonian Sport Horse (Aliandro B—Rachel, Ra Ex Ramanov Esh 17), who Wathelet has owned since age 5, topped a $30,000 1.45-meter Open Classic. While the stallion is older, Wathelet still considers him to be fairly green because he was out of the show ring for four years due to injury. Wathelet's homebred Argentina De La Marchette, an 11-year-old Selle Luxemberougeois mare (Acajou De La Marchette—Callysta LN, Del Piero PB) picked up a pair of wins in the $38,700 1.50-meter FEI Speed CSI3* and $38,700 1.45-meter FEI Classic CSI3*. Berline Du Maillet Z, a 12-year-old Zangersheide mare (Berlin—Gitania, Action-Breaker) owned by her breeder Delphine Mambour, also earned a pair of blues in the $5,000 1.40-meter FEI Two-Phase CSI3* and the $38,700 1.45-meter FEI Classic CSI3*. Most recently, Clarity, a 14-year-old Holsteiner gelding (Clarimo—Viny Egetofte, Ephebe For Ever) owned by AN Breeding, picked up a win in the $145,100 FEI Grand Prix CSI3* after finishing third the week prior.
"My idea was to bring four horses who were very competitive," said Wathelet. "That's why I wanted to bring these ones. Right now they have been very competitive in the 1.50-meter classes in Europe, but maybe not the grand prix. The idea was to take four that maybe I could switch every week and take two every week so that I don't overuse them."
After two weeks competing in Thermal, Wathelet will head toward the coast to compete in Del Mar, California, for two weeks. He'll then repeat the process with two more weeks in Thermal followed by another two in Del Mar.
"The idea was to do two weeks, two weeks, and I also don't stay too long in one place for the horses," he said. "I think it's quite fair that they don't jump all the time at the same place."
Wathelet left his top mount Nevados S back home, but said the stallion is staying in work with his staff and will return to the show ring once he returns to Belgium in March.
"I want to keep him fit, and I want to try to keep him for good events, the best events in Europe," he said. "I can't say there's one event or one goal, but I would like to have horses now ready for May, June, July, August. There are plenty of good Nations Cups, Aachen [Germany], Rome, La Baule [France]. All these events I'd like to be there and try to do something good, but I don't have one goal."
While Wathelet came to California to compete, he also wants to enjoy the sights around the shows. His previous experiences vacationing in California were a factor in choosing the West Coast.
"I haven't spent a lot of time in Del Mar," he said. "I'll travel around and visit things, and do as much as possible."