It's just six seconds of video, but a clip of Michael Radich jumping a pretty extreme gymnastic exercise has gone viral on Facebook, with more than 600,000 views and more than 8,500 shares and 5,500 comments.
"It amazes me," said Radich, who is a bit astounded at the attention the video is getting. "I think it just shows that when you love what you do and you're blessed to be able to get to do that, you find yourself in good situations."
Radich was just playing around with exercises while riding Harper, a 10-year-old Hanoverian mare owned by Radich's student, Hannah Schwartz. "Her show name is Super Star, and she really, truly is that," Radich said.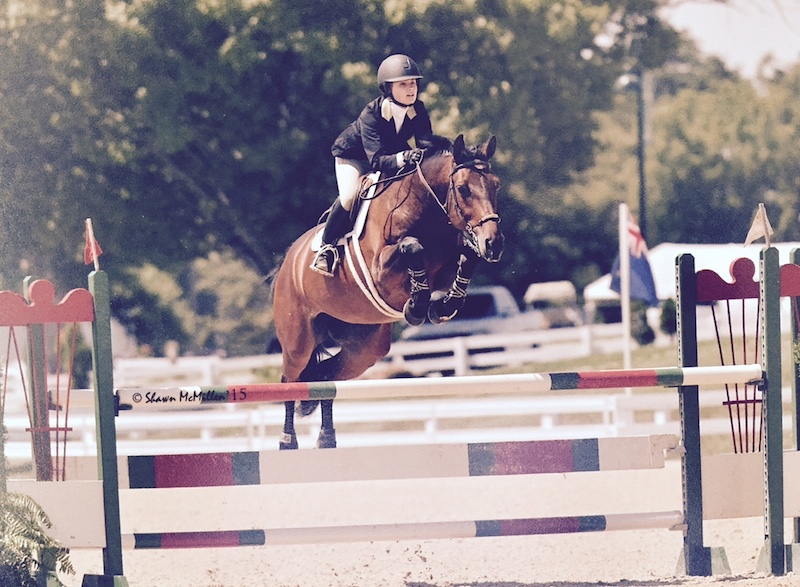 Harper showed with Radich in the schooling jumpers and with Schwartz in the amateur-owner jumper division, but has been taking a bit of a break from showing as Schwartz graduated from college and started her career.
"One of my assistant trainers and I were coming up with different ideas of exercises to do. We saw this dressage exercise that had poles laid on the ground in this pattern with multiple different ways you could do them," Radich said.
"This particular horse is just so handy. I was riding her around the patterns and it didn't seem that anything I did was challenging her mind. She's always finding a chance to 'be elsewhere' in her mind. So I said, 'OK, you want to step it up, we'll step it up.' And we just started having a lot of fun. I looked down the line and thought 'I could do that with her.' We got in there and it was such a cool exercise.
"If you've ever gone skiing, you know that your hips go one way and your legs move another way and your hands go another way. That's literally what riding that bounce exercise felt like. It was just split-seconds moments of control from one step to the next."
Radich runs his Radich Hunter & Jumpers out of Clarence, N.Y., in the Buffalo area. He spent 10 years in Louisiana, but returned to the Western New York area where he grew up a few years ago in order to be closer to his family. He bought the facility from Nancy Bechtel, who was a legendary horsewoman and instructor in the area for more than 40 years, in 2016.
"It was a long process for Nancy to decide to step away, but it happened, and we've been rebuilding and revitalizing the facility, which has been a huge joy," said Radich. "Last year we put in 25,000 feet of fencing alone. We just want to reinvigorate it. At least once a month, someone stops in here and says, 'Oh my God, we're so happy this is staying a horse farm, my grandmother took lessons here,' or 'I took lessons here when I was a kid.' "