Imagine: You're taking your green mare into her first Fédération Equestre Internationale 1.50-meter class. You're nervous, but you've prepared her as much as one can to make the step up a positive experience. But then, mid-course, you spot the end of your martingale where it definitely should not be, namely swinging like a pendulum between your horse's legs. What do you do?
If you're Mavis Spencer, 30, Santa Monica, California, competing last week at the Las Vegas National, you keep your cool and harness your inner polo/gymkhana skills.
After a successful 1.45-meter class the day before, Spencer decided to enter her 9-year-old Westphalian mare Vulcana (Vulkano—Corlanda, Coronado 3) into the 1.50-meter $40,000 FEI Welcome Jumper Speed Classic on Nov. 18 in Las Vegas.
The sensitive mare initially came to Spencer as a sales horse for Martin Fuchs and Paris Sellon's Twin Flame Horses. The plan was for Spencer to campaign her until the mare found her next home. But "V" tugged on Spencer's heartstrings, and eventually the 30-year-old caved and purchased the mare herself.
"I've always been a big mare person," she said. "One of the best horses I ever had growing up that taught me so much was a mare. So, I've always sort of gravitated towards them. I just liked that every time she went in the ring, she never made the same mistake twice, for how green she was experience-wise; she always went in the ring and gave me 100 percent."
Watch the polo move:
The mare had never showed in an FEI class before last week in Las Vegas, and Spencer's tentative goal, if the week started well, was to help her take solid first step into the FEI and the 1.50-meter level. All was going to plan until they landed off fence five, a large oxer, in their 1.50-meter debut.
"I turned back to the vertical, and she was being a little fussy down that line," she said. "And it wasn't until I turned the corner, about two jumps later, and I went to set her [up] and take a pull, that there was suddenly like nothing. I didn't feel the same contact in my hand."
That's when Spencer glanced down to see that the bottom part of her martingale—which was supposed to be fastened to her girth—had somehow came loose and was dangling in between V's front legs.
"I figured if I could jump the next fence, then I could kind of have time," she said. "I was going to go around, and I would have time to hopefully, in theory, grab it or circle until I was able to get it out of her way."
Cue the Wellington, Florida, polo lessons from years past: After jumping a vertical at the end of the ring, Spencer made a big reach down to V's chest, grabbed the flapping leather and continued seamlessly through her corner to the next fence.
"Because she's only 9, and it was her first week showing FEI, and it was her first 1.50 [meter], it was like, 'This poor mare,' " said Spencer. "In the span of a couple of jumps, I was like, 'I shouldn't go [on]—she's going to have a bad experience.' That was the last thing I wanted. But it worked out that I was able to time it and reach down and grab it. And I just looped my pinky through it and kept going."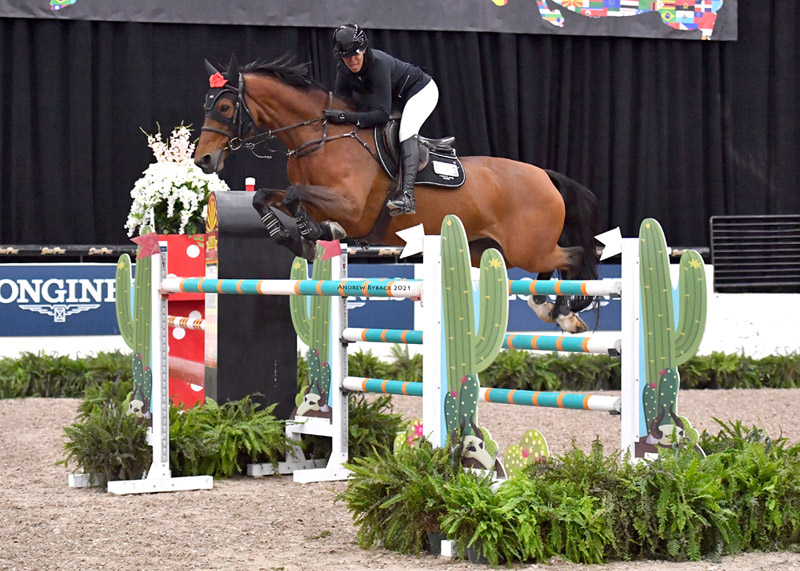 Coming out of the ring with just two down, Spencer and her team looked at the martingale and, to their surprise, no part of the tack was broken.
"Whatever way she jumped the oxer—she actually jumped it really well—she must have just hit it in the most perfect way," she said. "It's not a carabiner; it's actually like a loose kind of buckle that you fasten. And she undid somehow.
"We came out of the ring, and we're all looking at this like she must have just, in the air over that jump, hit it," she added. They had jumped several fences in the warm-up, and she was fairly certain it was properly in place going into the ring. "She throws her head up—she's quite strong—and it held up that whole time so it was kind of the only thing that we think must have happened. I watched the video a hundred times now, and it's hard to see, but that's sort of the only answer because the girth is perfectly fine."
To Spencer's delight, the fluke incident didn't seem to faze V.
"She was perfect and totally fine," she said. "A lot of times, more in our heads, we create that 'Oh god it has to go well and this and that.' And she was just like, 'Eh.' I do think she appreciated me grabbing it to be fair, but I also think for me it was slightly more traumatizing than it was for her.
"She's used to my antics, to be fair, because she is kind of a pet," Spencer added. "So I think when I went swinging off the sides, she's like 'Ugh, this idiot again!' "