Tamra Smith has worked with many talented horses in her career, but Wembley stands out as the one who brought her back to the four-star level after a nine-year hiatus.
The 16-year-old Dutch Warmblood gelding (Lester—E-VIP, Cantus) was campaigned by Tim Price through the two-star level in England before amateur rider and former U.S. Eventing Association President Kevin Baumgardner purchased him. Baumgardner rode him to the CIC3* level before he handed the reins over to Smith in 2017.
The pair secured two top-15 finishes in East Coast CCI3*s before placing 14th at the Land Rover Kentucky Three-Day Event in 2018. Smith is aiming for a spring five-star this year.
We went behind the stall door to learn more about Wembley.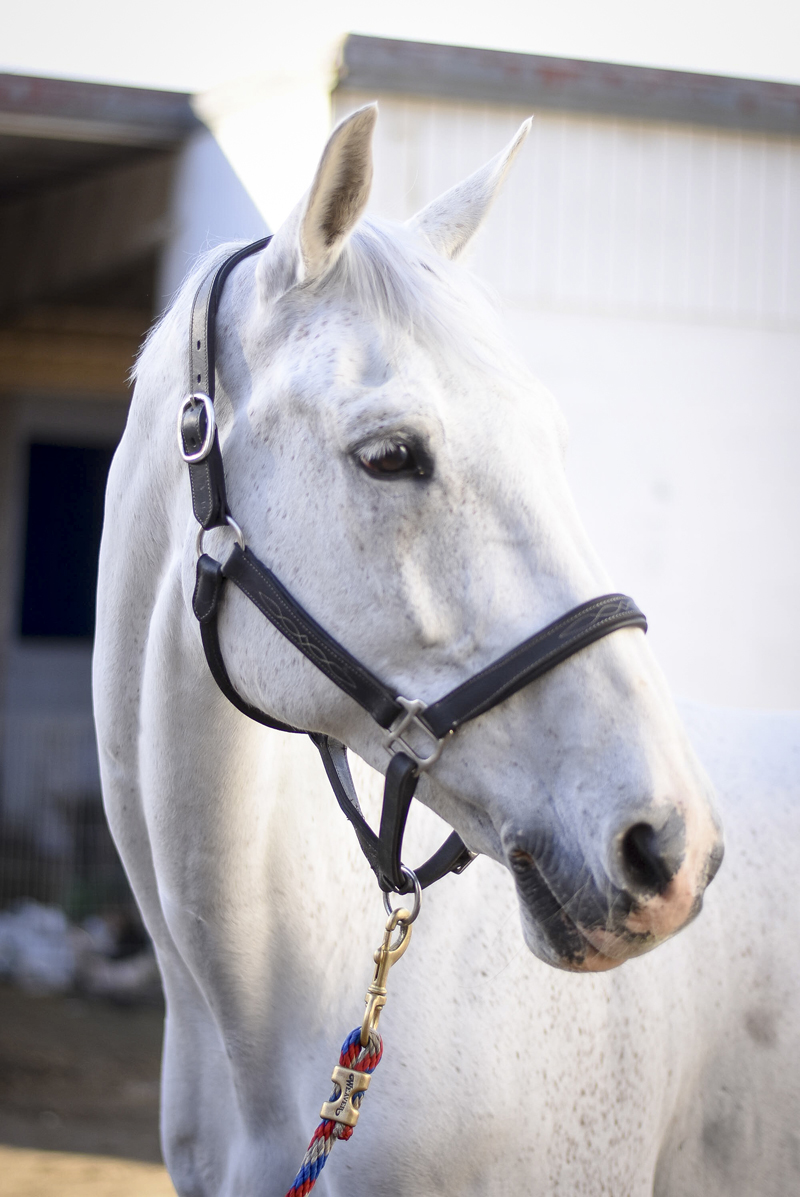 • One of the first things you notice about Wembley is his size. He uses every bit of his 17 hands in the barn and on the cross-country course.
"He's so tall, and he uses it to his advantage all the time," Smith's groom Monique Coston said. "Whenever you go to do anything his head is straight in the air, and you're like, 'Please come back down to earth.' For a large horse, he's very quick off the ground. He's very quick and knowledgeable where his feet are."

 • If height is the first thing you notice, his snow-white coat is the second. But what's the secret to keeping him spotless? Unfortunately, there are no shortcuts there.
"Never let him get too dirty," Coston said. "I try to make sure his tail is washed at least a couple times a week. I try to wash his legs every time they get mud on them, so nothing ever stains. He's pretty much all white now; there's no darkness to him, so you can't let anything stain. I try to make sure nothing stays on him for very long."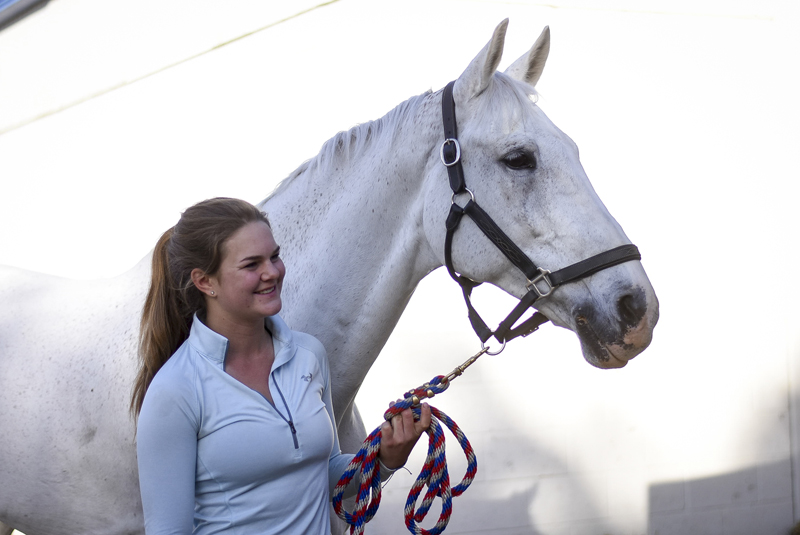 • He's Wembley on paper, but a horse of many names in the barn. "We call him the Unicorn, the White Giraffe. He's got all kinds of nicknames," Smith's former groom, Clementine Nostrant said.

Wembley's spirit animal is probably half magical unicorn, half grumpy old man. 
"He's a grouch. He reminds me of a grandpa," said Nostrant. "When I go to feed him grain he pins his ears and throws his head. I feel like he's yelling at me to get out of his yard."
Coston agreed. "He's definitely an old man at heart with a young man's body," she said. "He's very particular on what he wants and what he does not want, and he will let you know very quickly. Deep down he's a sweetheart. You have to have that relationship with him in order for him to come out of his shell or else you just think he's a cranky old man who doesn't like anything, but he's a complete sweetheart once you get to know him."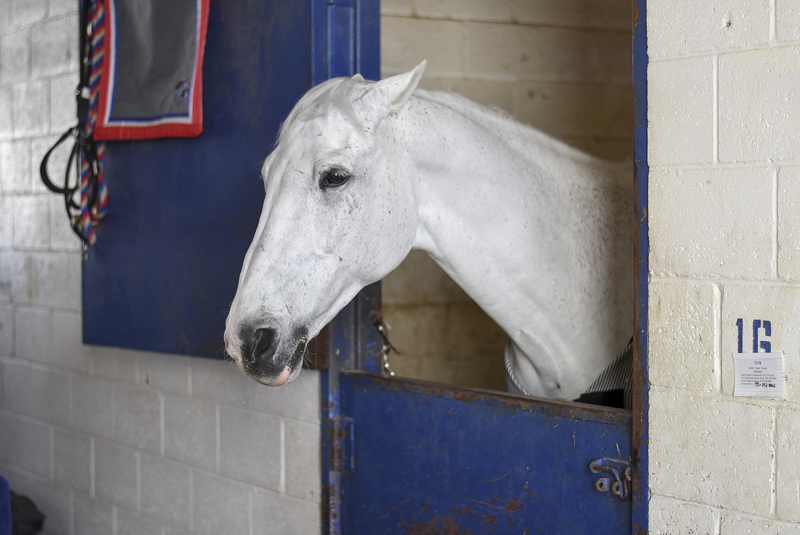 • Speaking of that cranky face, it has a name. "They call that his cookie face," Coston said. "Every time he wants cookies he pins his ears and raises his head in the air like a giraffe. It works; we all come to him."

 • Wembley is particular and can take a while to warm up to a new person. 
"He doesn't love people, but once you know him he's really good," said Nostrant. "When I first came, he wouldn't let me touch his mane or his forelock. I couldn't touch a thing. He is better when he really knows a person and he trusts you more, but it takes a while to earn his trust."

 • He's also picky about his buckets. "We have to feed him in a special bucket that we scrub every time because he doesn't like the smell of old grain," said Nostrant. "The stalls in our barn have metal feeders in them, but we can't use that because he doesn't like the smell."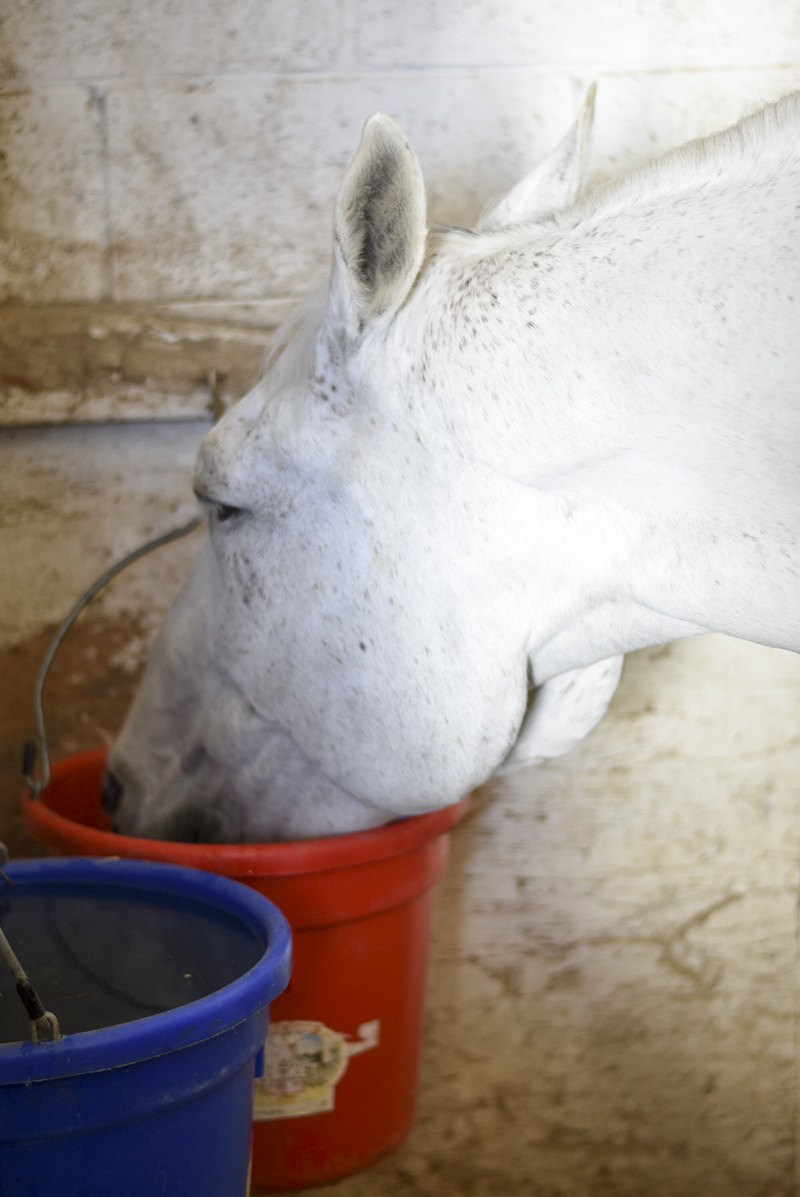 • Getting to know Wembley is a bit like learning a new love language.
"He does show his affection in an odd way," said Coston. "That cranky pinning his ears—you think he's a mean horse, but he's a complete softy. He definitely internalizes it a lot more than the other horses. You go up to them, and their ears are pricked, and they're happy to see you. He shows the polar opposite, but he means the same thing.
"If you turn your shoulder like you're not paying attention to him, he pricks his ears at you," she added. "But if you turn back around he'll pin them again."
 • When it comes to feeding, Wembley can be a hard keeper, especially during the competition season because his body struggles to process carbohydrates properly. A nutritionist evaluates his diet regularly, and his crew is constantly measuring his carb, sugar and protein intake to find a good balance. They have found success with Nutrena ProForce Fuel and Nutrena Empower Topline Balance, as well as using a Haygain steamer.

"He's not the best eater," said Coston. "We struggle keeping weight on him, especially when he's doing a lot of fitness work. Once competitions start we have to feed him less more often because he decides he doesn't want to eat anymore.
"We like to take samples from the food and play around with the hay and see how much carbs, protein and sugars come out using the steam. We try to keep him on a strict diet, so that he can perform at his best because he is so picky," she continued.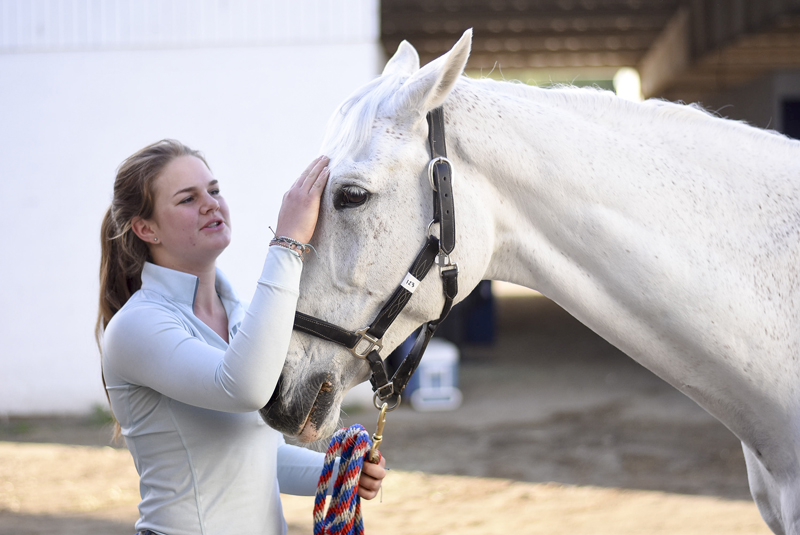 • Wembley may have the most accomplished résumé in the barn, but he's neck-and-neck with Smith's advanced horse Mai Baum for biggest ego. "He definitely gives Mai Baum a run for his money. He thinks he's the diva, but I think Wembley's going to take the cake," Coston said.