Vancouver K, the dressage superstar who helped Ireland secure its historic first Olympic team berth, will not be going to the Tokyo Olympic Games himself.  He has been retired at age 19, his rider Judy Reynolds announced Tuesday.
In 2019, Reynolds and the Dutch Warmblood, nicknamed "JP," secured Ireland's first team qualification for an Olympic Games at the FEI European Championships, where they finished fifth individually.
"I know I've always said that JP would decide when it was time to retire but I've had to make that decision for him," Reynolds wrote on social media. "This horse has more heart than anyone can imagine and at 19 he still tries to give me everything. Too much. I've decided that it's time to stop asking. What a trip it's been. A good horse can carry you all around the world and back again."
Listing some of his career highlights—making the finals at one Olympics, one World Equestrian Games, one European Championship and three World Cup finals—"[a] good record for any horse but a great one for a horse that many thought wasn't good enough," Reynolds continued:
"Many people may ask why I've waited until now to make this decision but the fact is JP still wants to work and we have given him every chance to be able to perform on the world's biggest stage one more time but alas it is not to be. 
"It has been a massive team effort over the years to allow JP and I to perform, my Parents, Patrick, Libby, Johann, farrier Errol, my vets the late Dr Stihl, Dr Hülsey, Dr Beeke, Marcus & Davide and many many more people along the way."
In honor of his trailblazing career for Irish dressage, we are taking a look back at the time we went behind the stall door with JP.
---
The darling of Irish dressage, Vancouver K (Jazz—Phantastia, Ferro) has been making headlines for several years as Ireland's only Olympic dressage horse. U.S. fans may remember him for winning both the Rolex Central Park Horse Show (New York) CDI4* Grand Prix and freestyle and the CDI-W Grand Prix and freestyle at Dressage At Devon (Pennsylvania) in 2016.
The 17-year-old Dutch Warmblood and Reynolds have also represented Ireland at the 2016 Reem Acra FEI World Cup Final (Sweden), 2016 Olympic Games (Brazil), the 2017 FEI World Cup Final (Nebraska) and 2018 FEI World Equestrian Games (North Carolina).
Recently the pair smashed their own record for best dressage score by an Irish rider when they scored an 80.29 percent in the freestyle at the CDI-W Amsterdam, then quickly broke that record with an 82.75 percent at the CDI-W Neumünster (Germany).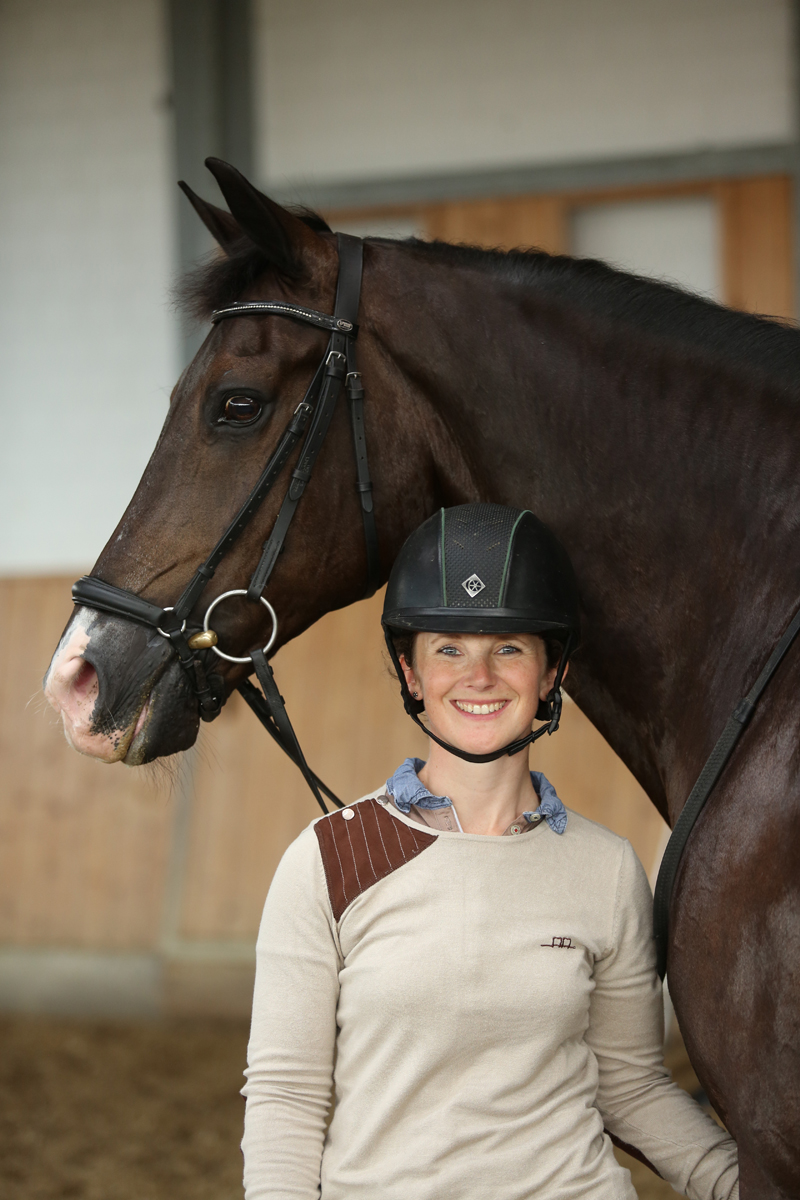 Vancouver K is not only Ireland's dressage sweetheart, but he's also a quirky diva who likes things at the barn run just so. Reynolds, who hails from County Kildare but is now based in Dorsten, a small town in Germany, said "JP" is the man in charge at home in the stables at Gut Hohenkamp.
• "Every morning it's first things first: JP's hay net gets filled and his water buckets emptied, cleaned, filled and rehung," said Reynolds. "His hay net has a hole in it, and he flips it around until he finds the hole, as this allows better access to the food!"
• To keep his athletic physique, JP goes on the horse walker for about 30 minutes, and then he likes to be ridden first of all Reynolds' horses. "He gets quite humpfy if another horse gets more attention than him!" she said. "He also gets longed approximately once a week and some days will go on the gallops to keep his fitness up and give us a change of scenery. Later on he will either get turned out in the field with his buddy Fritz or go on the walker again if the weather is bad."
• Reynolds also jumps him a bit at home for fun and hacks him now and then. "I don't have to work him hard at home, which is great," she said. "When he's on downtime he really relaxes into it. I just keep his condition up, and I can pick him up two weeks before a show. The movements are there; he knows his job; it's just about keeping him happy and wanting to do the work. It makes it easy for us."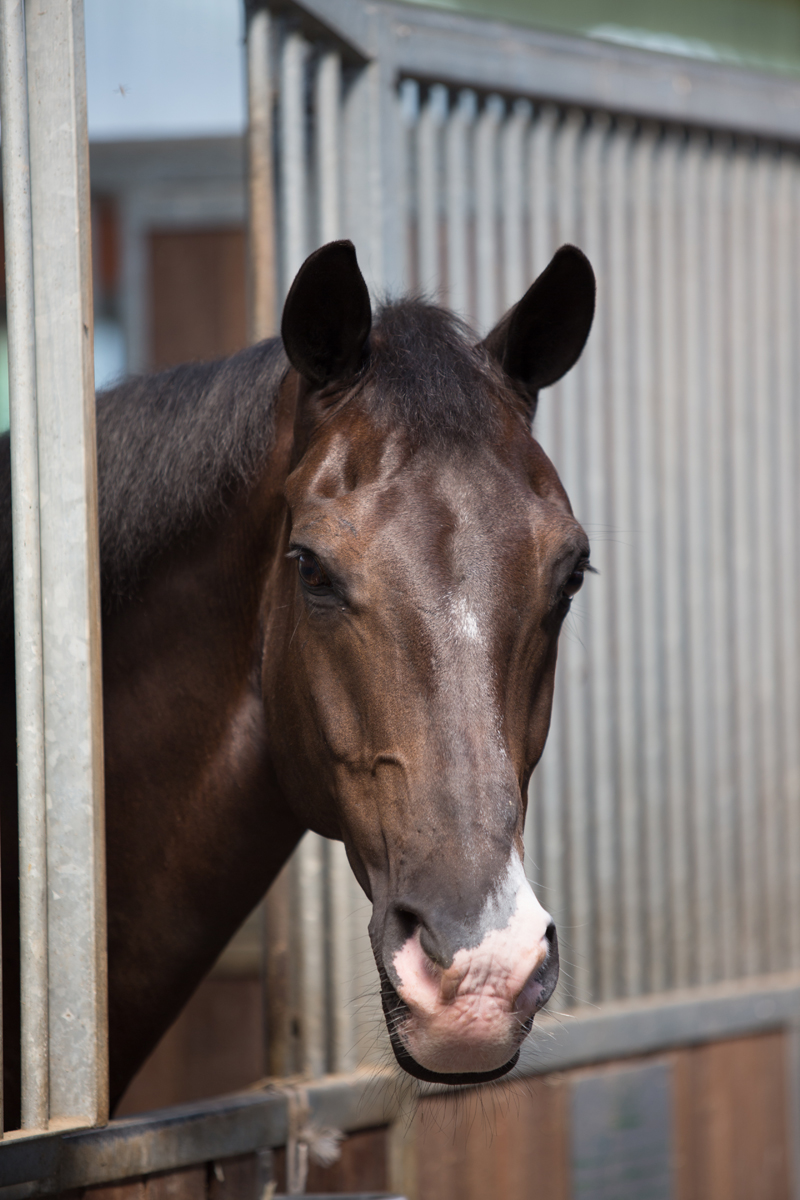 • Reynolds says JP is very demanding and quickly lists some of his quirks:
He must be allowed to drink from the hose before being washed.
He will come into the tack room after riding to demand his treat.
He will park himself in the tacking up bays to be prepared to work.
• Putting on the halter is always a game; he tries to bite it, and you have to wrestle it on over his nose. If he doesn't do this, you know something is up.
• Of course every superstar needs his rewards after a hard day training or competing, but this is where he's really not picky. "He likes carrots, apples, sugar, sandwiches, anything really!" said Reynolds. "One day recently I was taking him out to hand graze and had a raisin bread sandwich in my hand. Minnie, my dog, always 'shares' my sandwiches with me, but this day I had to split the sandwich three ways because JP refused to eat grass until my food was all gone."
• JP also receives packages of treats in the mail. "He has a lovely fan in the USA, Helen Ditchkus, who sends him over boxes of horse-friendly donuts and paddock cakes sometimes," Reynolds said. "He loves getting this post! And he really loves sloppy mash."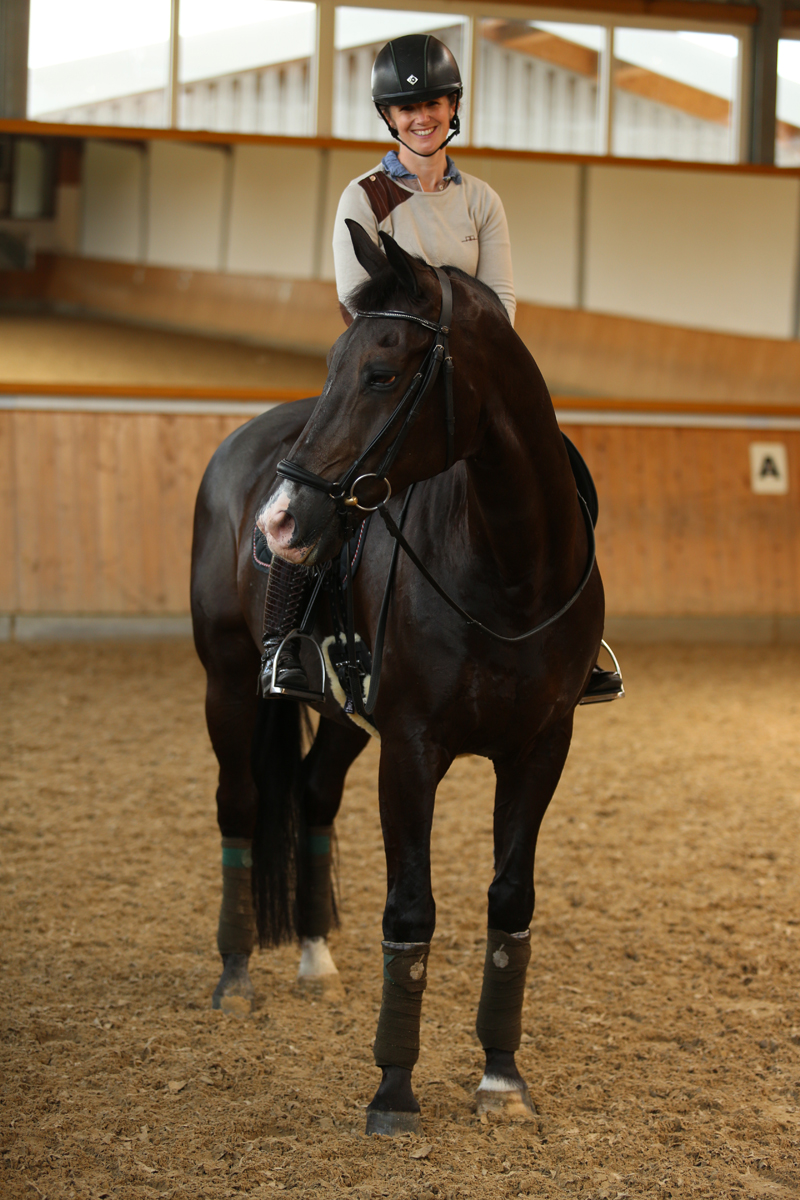 • Much as he adores treats, JP also loves his Gain feed. "They have a great variety of feeds to cater for all diets and requirements," said Reynolds. "In between the shows when JP is not working so hard he eats Sustain Plus Mix, which isn't too high in energy, and then in the build-up to a show we add in 14 percent mix to give him the extra energy needed for more demanding work. The nutritionists at Gain really help me to keep his diet balanced. He can be a bit of a fatty, so we have to be careful about that, hence the hay net with small holes to try to slow him down. His feed is supplemented with [Thoroughbred Remedies Manufacturing] products, such as electrolytes, GNF to keep his tummy feeling happy, and whatever else he might need."
• JP is a social animal and makes friends with everybody, though Reynolds said his best equine friend was her former Prix St. Georges mount Zigal, who is now in the United States with young rider Chase Shipka and in 2017 won the young rider freestyle gold at the Adequan FEI North American Junior and Young Rider Championships (New York).
Still, so long as he has a horse or a human for company, JP is happy. "He probably thinks he is human. [My husband Patrick Heavey] and I often joke we wish we could take him home and park him on the sofa," said Reynolds. "He'd be like, 'Yeah, bring me a beer; bring me the chips.' He'd be quite happy to do that, and when we go to bed the dogs would be in the bed, with JP in the middle, and Patrick and me hanging off either side."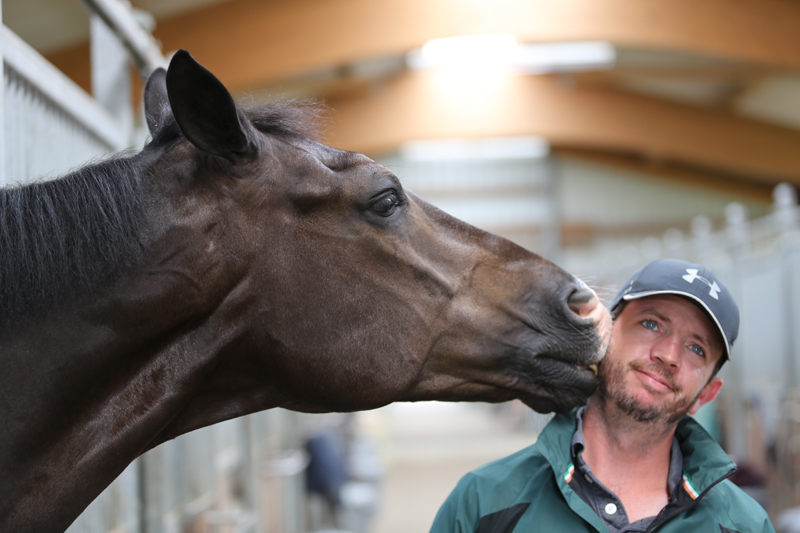 • His playful personality can get a little too enthusiastic sometimes. "He has had many toys but tends to behead them; he is a vigorous player!" Reynolds said. "He has a few teddies that travel to the shows with him, most importantly 'Little P' who was given to us before Rio and is JP's mini-double. We have to be careful that JP doesn't play too rough with him!"
• When JP is done working he must be allowed to scratch his nose; this is followed by drinking from the hose. He also loves a good scratch around the withers and shoulder. He is in heaven if someone will do this for him every day before riding.
• JP is an attention-seeking champion. He stomps, digs and paws at the door. While he is on the cross ties he'll dig the floor if someone is not constantly talking to him. He can go through a set of shoes in four weeks doing this; the farrier loves him!
• JP much prefers flying to regular truck transport, as he always has a buddy when he flies. He finds traveling alone very tedious.
• He gets fan mail addressed to JP Reynolds and is a world traveler. Reynolds points out that he's probably been to the United States now more times than he's been to Ireland, most recently to represent his country at the FEI World Equestrian Games.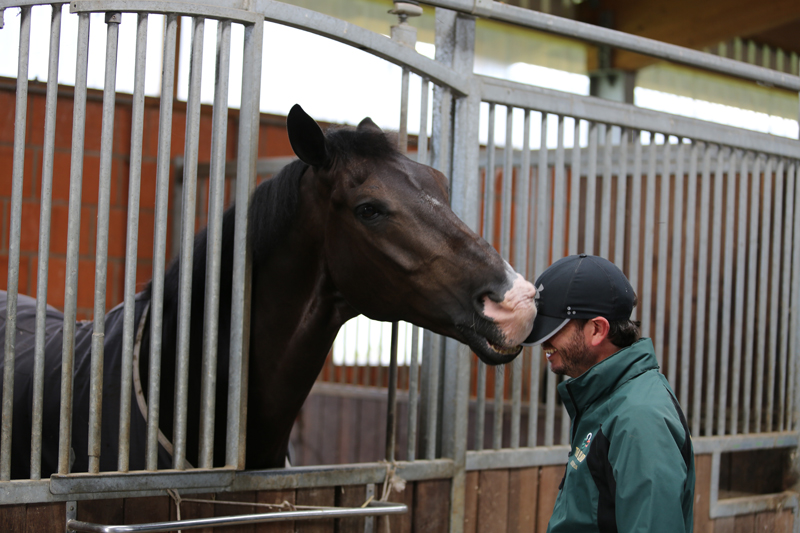 • Reynolds and Heavey take care of JP at home, but at shows they hire a freelance groom, Libby Dudman. "We've worked together for over 10 years, and she knows JP as long as I have had him," Reynolds said.
"JP is definitely the center of attention, and if he's not the center of attention he gets very annoyed and sort of pulls you back into his circle," she added. "You're not allowed to stand anywhere near his box and not be focused on him. If you're not, he'll be kicking the door and nudging you; if you turn your back to him he'll start nudging you and eating your clothes or hat if you have one on. He really wants to be the focus, and he really enjoys the shows because he gets one-on-one attention from Libby. We joke that when he's not getting enough attention, he's like, 'Ahem, Staff…' If he gets annoyed he'll pull his rugs off the door. When he finishes his food, he'll throw the bucket into the aisle so that somebody comes and picks it up. Because every time someone comes he gets a pat, and if he's annoying enough, he'll get a carrot or an apple. He really has it worked out down to a T, and during shows he gets his own body weight in carrots and apples."
• In late 2017 JP had a superficial flexor tendon injury that took more time to heal than expected. Now he's back and better than ever. Reynolds said he's feeling good in his body and doesn't require any special treatment. His physio does come to Germany from Ireland on a regular basis, but Reynolds says she doesn't have to be careful with him as the injury healed completely. "We did various therapies as part of his treatment, but not now as part of his maintenance, as such," she said. "We just aim to keep his body going; he's a fighter and likes to work. I think he'll be around for a good few more years."