Solitaer 40 bobbed his head over his temporary stall at Wheatland Farms in Purcellville, Virginia, making his opinion about delaying his dinner for a photo shoot very clear.
Kate Shoemaker made the journey from her training base in Wellington, Florida, to Virginia to compete in the USEF Para-Equestrian Dressage Invitational Event, July 6-8, which served as the final selection event for the 2018 FEI World Equestrian Games team. We took the opportunity to get to know "Soli" a little better.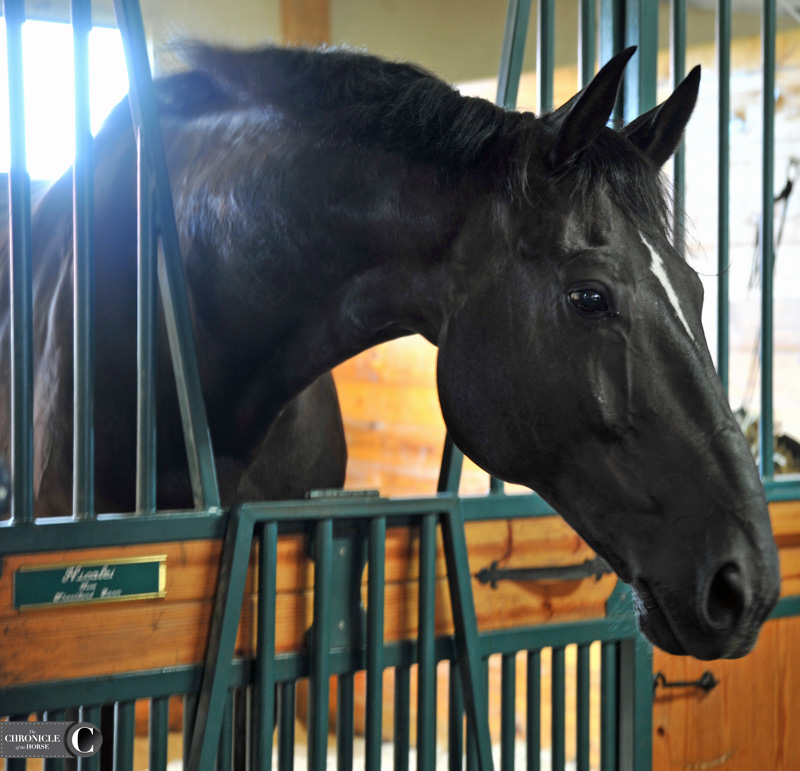 Solitaer 40, an 11-year-old Hanoverian stallion (Sandro Hit—Dynastie, De Niro), and Shoemaker have been a high performance pair since 2015, and although they did not make the Paralympic team in 2016, multiple top finishes in CPEDIs at Tryon (North Carolina) and Wellington (Florida) this year earned them a ticket to the WEG.
• Shoemaker admitted part of her reasoning for choosing Soli as a partner was his look. She's living her "The Black Stallion" dream, and Soli certainly knows how handsome he is. "He also has just the perfect temperament and world-class gaits," Shoemaker added.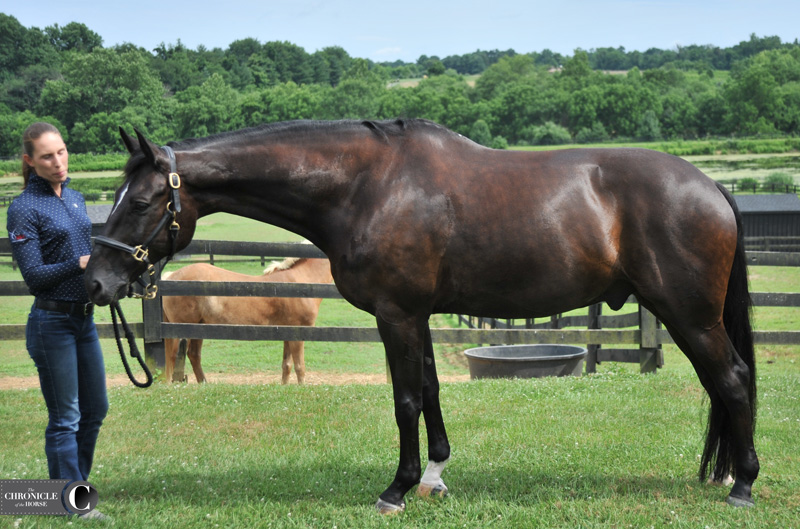 • People call him "King Soli" at home for a good reason. "He's very demanding in the barn," Shoemaker said. "He wants to be first all the time, and he wants all of the attention. He doesn't take no for an answer."
Soli stretched his neck out and almost snatched a bag of treats from Shoemaker's groom, Alexus Sisley. Point made.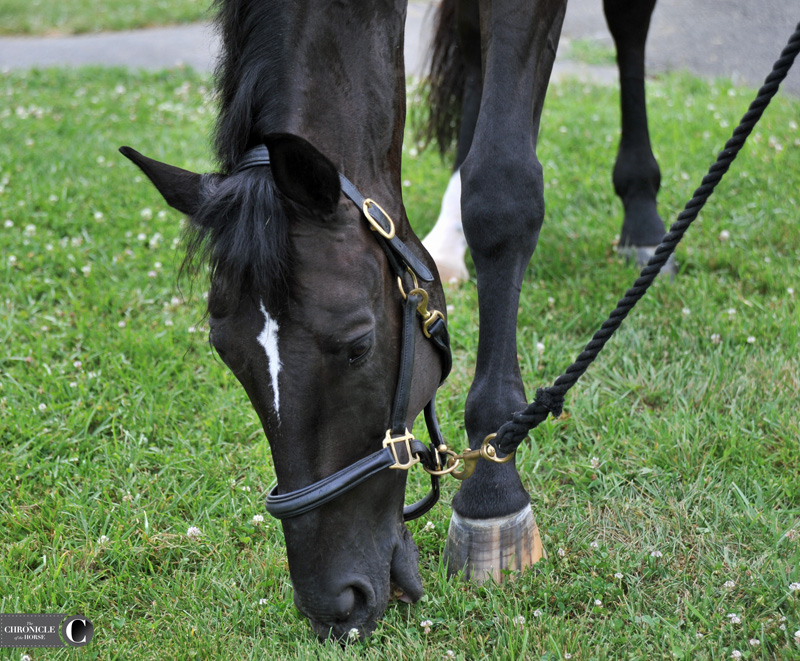 • Speaking of treats, Soli has a notorious sweet tooth. "For the first year I had him he got two sugar cubes before each ride," Shoemaker said. "Then at his first dental appointment he had a cavity, so he's no longer allowed to have daily sugar. He gets healthy treats; his favorite right now is a peppermint cookie, and we save sugar for competitions."
• Shoemaker lives in Phoenix, Arizona, but has been based in Wellington since January 2018 for training and competition opportunities. She said Soli's familiarity with traveling and habituation to extreme heat were useful. She didn't think the 85 degree, 70 percent humidity weather in Virginia was especially trying.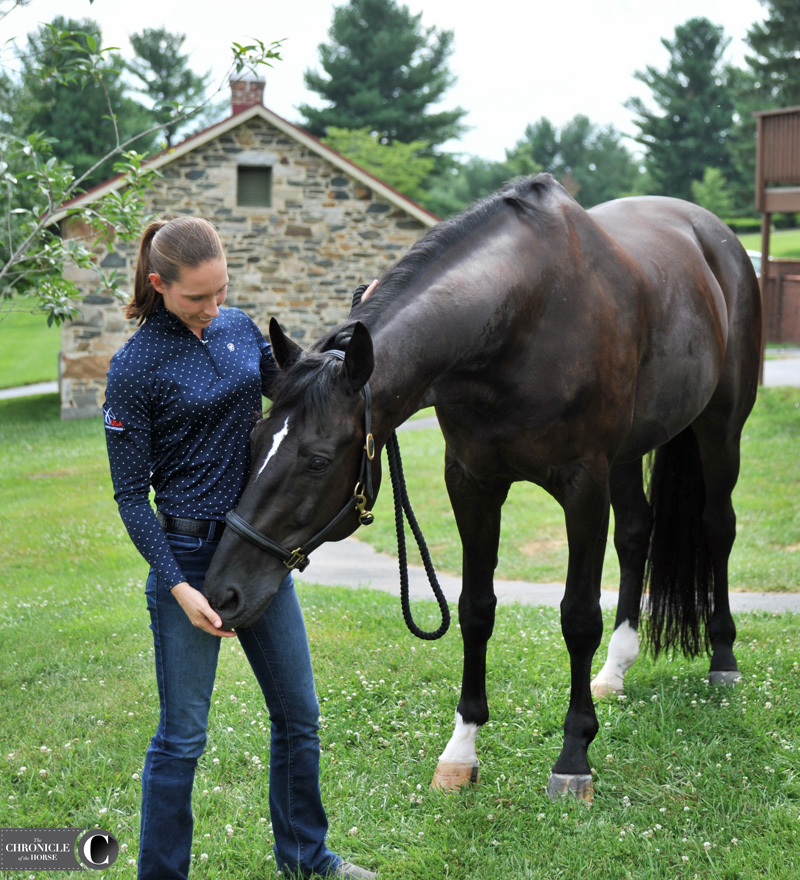 • Despite his familiarity with heat, Soli can be a non-sweater, which makes the 100 degree (or hotter) summers in Arizona even more difficult. "Interestingly, Wellington has been good for him," Shoemaker said. "For whatever reason he's started sweating more since he's been there."
• As far as traveling goes, Soli is pretty easy. He and Shoemaker's other horse, Dolton, did have some special accommodations for the trip to Virginia though. "We had the air conditioning from the living quarters blow into the trailer because of the heat and because we weren't able to travel at night as much as we wanted to," Shoemaker said. "So they came off really fresh, and I think that's helped them perform well here."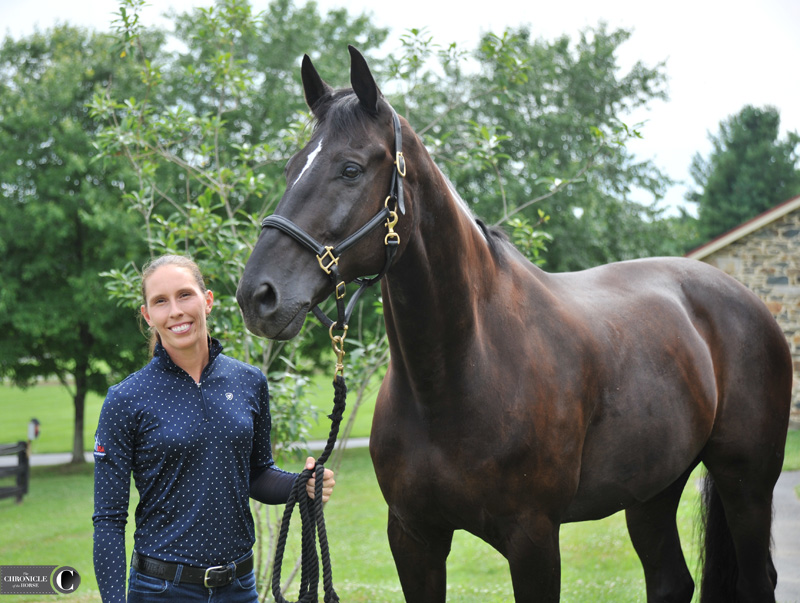 • Soli has an additional job at horse shows. He serves as a companion horse for Dolton, whom Roxanne Trunnell competes in the Grade I division. "Grades I through III can have a companion, which is basically another horse outside of the arena that gives them some support and some comfort," Shoemaker explained. "I think that's really helped Dolton do as well as he has, and of course I love being there to support Roxi."
Trunnell and Dolton were also named to the 2018 U.S. WEG squad.