For those who lament that dressage horses successful in the young horse classes rarely make it to the top levels of the sport, Sanceo offers cause for celebration.
Trained by German-born, California-based Sabine Schut-Kery and owned by Alice Womble-Heitmann, the Hanoverian stallion (San Remo—Rivera, Ramiro's Son II) represented the United States as a 6-year-old in the World Championship for Young Dressage Horses in Verden, Germany, and was on the gold medal-winning U.S. Pan American Games (Canada) team in 2015.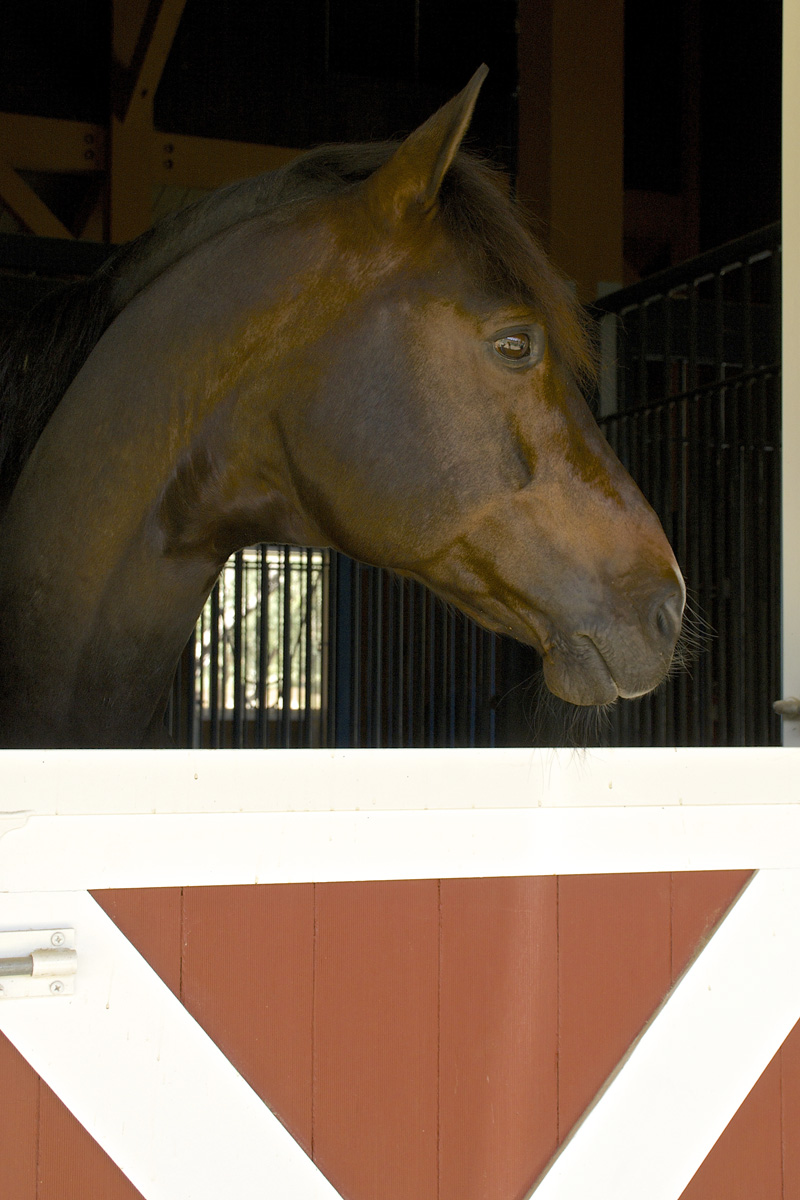 Schut-Kery and Sanceo made their international Grand Prix debut this year and rode for the United States on the winning Nations Cup team last weekend at the CDIO*** in Wellington, Forida.
On a quiet morning at El Campeon Farms, a rolling property in Hidden Valley, California, dotted with oaks and anchored by picturesque barns, the elegant 12-year-old munched hay in his roomy stall while Schut-Kery brushed him. "This has been his home since he was 3," she said. "He moved right into the Four Seasons!"
For Schut-Kery, training is about creating a relationship with each individual horse. "My goal with all my horses—geldings, mares and stallions—is that they participate in the work mentally, she said. "I really try to interact with their brains. I don't want a relationship where I ask, and they answer like a soldier."
Sanceo has proved to be a quick study, figuring out tempi changes after only a few sessions. "He is really intelligent," said Schut-Kery. "When I work with him under saddle, I feel like it's on an intellectual level."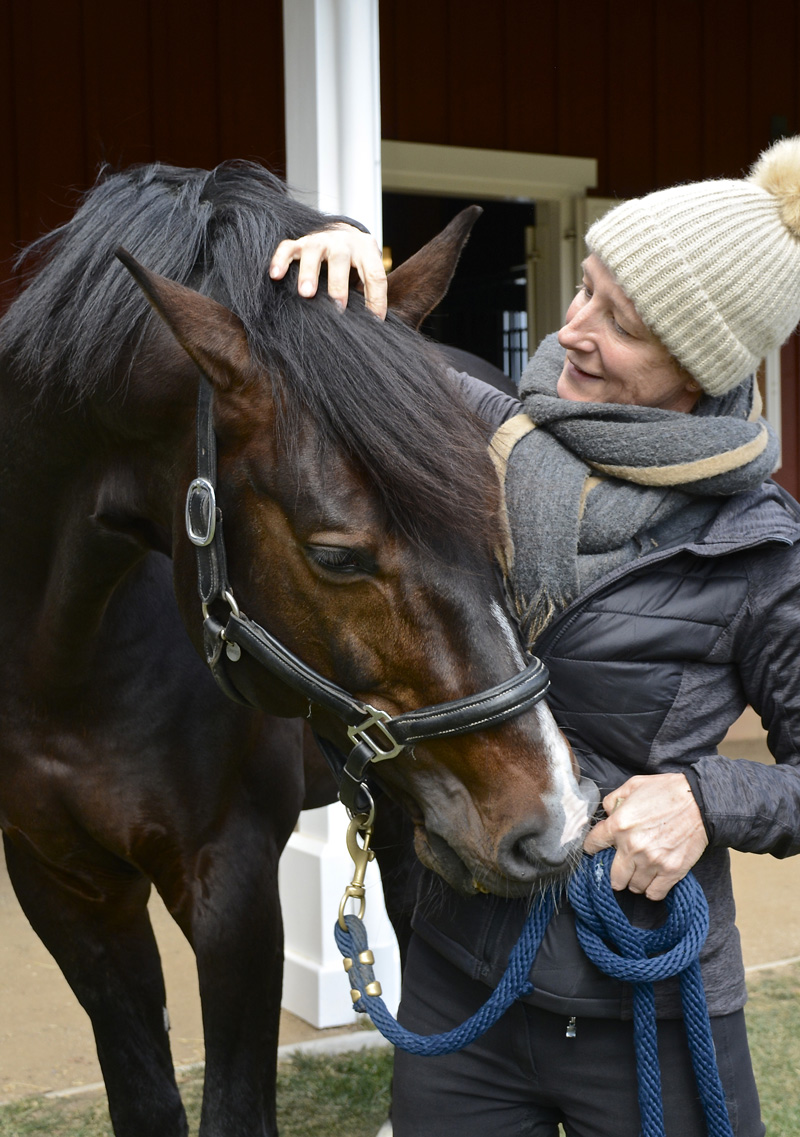 Respect, both on the ground and under saddle, is key. "That's something I teach and need with a stallion," Schut-Kery said. "When I open the stall door, Sanceo's very respectful. He isn't pushy. And when I'm working under saddle, I can't have two minutes of arguing. Stallions must learn to take correction."
The Andalusian stallion Marques, whom Schut-Kery also trains, has a more laidback personality. "Marques is more the surfer guy; he'll bump into you," she said. "Sanceo is very polite with his space. When he walks, he's very aware of himself. He's sophisticated, and he cares how he looks. He's the metrosexual guy—very hip, but very sensitive."
Noticing a withered clump of hay, Schut-Kery plucked it from the flake he was eating. Sanceo stopped and stared, a look of worry clouding his face. "I stole a crappy piece of hay, Sancy," she told him. "He's saying, 'You took something. Why did you do that?' That is Sanceo."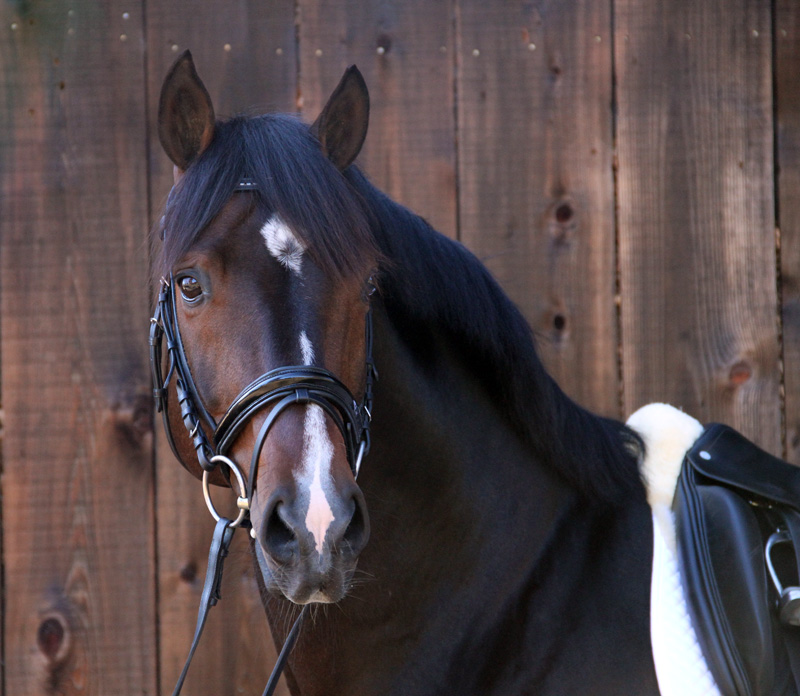 Schut-Kery was happy to share his likes and dislikes:
•  His surroundings may be top-of-the-line, but Sanceo is no bubble-wrapped, pampered pet. Rather than isolate him from other horses with solid walls, he's housed alongside amiable geldings that he can interact with through the bars of his stall. "He's a herd animal, and he needs that social contact," said Schut-Kery. "Sunshine is really important too. He gets hand-grazed and turned out for one to two hours every day."
•  Sanceo is nevertheless a guy who appreciates the ladies. Among his favorites are two Friesian mares who are stabled at El Campeon.
At a CDI in Del Mar, California, earlier this year, Sanceo reared up in the FEI jog, excited by being in the company of so many mares. And in one class, Schut-Kery and Sanceo followed Steffen Peters and Akiko Yamazaki's Rosamunde—a situation that Sanceo had opinions about. "She left the arena, and he was whinnying in the walk," Schut-Kery recalled. "Something was leaving that he liked.
"But you never know," she added. "In Germany, where we trained last year, he was an angel. I thought I had a gelding for two months. We did a competition at a small showgrounds, which can be tricky with a stallion, and he did nothing. So I'm always on my toes."
•  Don't bother plying Sanceo with apples, bananas, sugar or peppermints. He prefers carrots, along with homemade horse treats.
•  Sanceo is very particular about where he walks. Rather than step in manure, he'll hop over it. He travels well, but he likes to be first in line when coming off a trailer or a plane. "If he comes off last, that can set him off, because he thinks everyone's leaving," Schut-Kery said.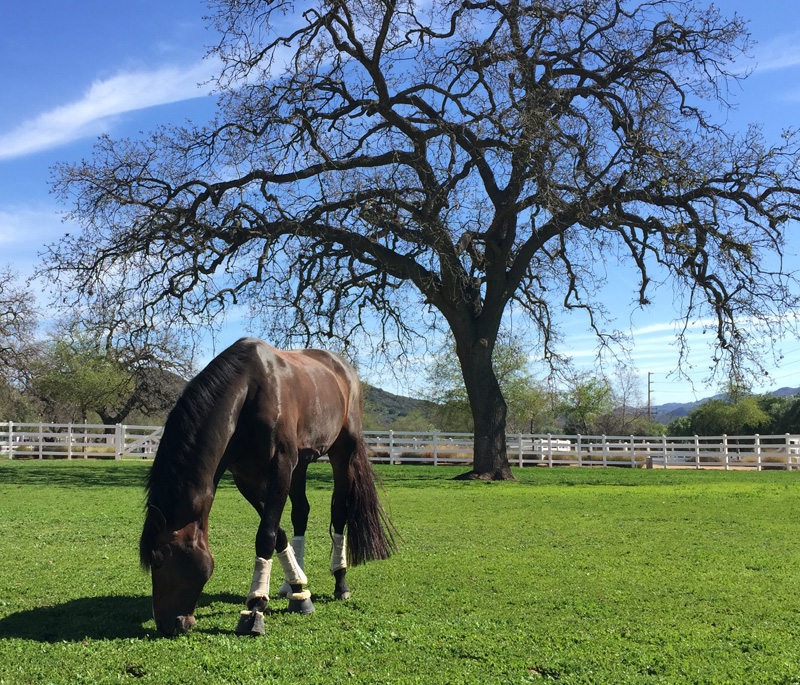 •  Crowds at shows don't bother him, but he's not a show-off. "He's so honest in his work. He's like, 'Let's do this,' " said Schut-Kery. "If Sanceo were human, he'd be the honor student, maybe the one the other kids don't like because he's good looking and gets good grades."
•  Schut-Kery has ridden Sanceo in the same spur since he was 4.
•  He and Schut-Kery have worked with the same coach, Christine Traurig, from the beginning.
•  He took a year off after the Pan Am Games and spent time at his owner's Horsegate Ranch in Texas, where he had a double stall that opened to a lush pasture with his very own sand pit to roll in. He loved watching the ranch's Gray Brahman cattle.
•  He'll tolerate grooming, but 30 minutes with the farrier is enough.
•  On weekdays, he and Schut-Kery do sessions in El Campeon's big jump arena or in the covered dressage ring, and he works regularly over cavaletti and ground poles.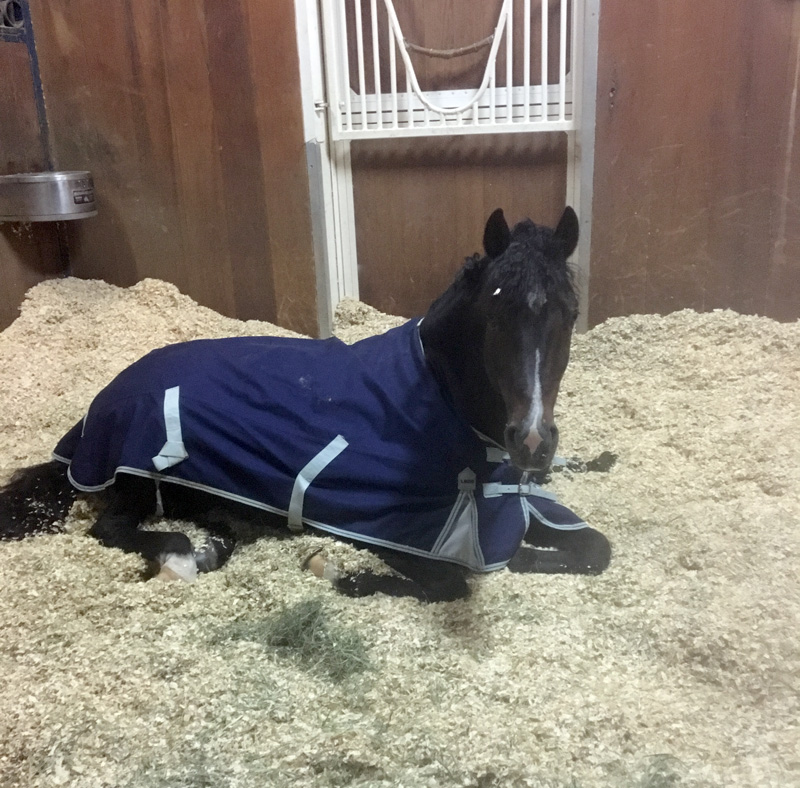 •  On Saturdays he goes out on a trail ride around the property with Jackie Rogers, a student of Schut-Kery's who helps her a few days a week. For variety, he also gets longed over ground poles.
•  Sundays are his days off—he gets turned out or hand-grazed. He'll often stand and observe horses jumping in the big arena.
•  Sanceo isn't one for alternative therapies. "I'm grateful for all the new technologies, but when I learned to ride in Germany, dressage was supposed to keep the horse healthy and fit," said Schut-Kery. "At home I do ice boots, and at shows he has [equine physiotherapist] Tom Meyers work on him to release any tension in his body."