Even though small pony extraordinaire Rico Suavé is 22 years old, he doesn't look or act his age.
"Ironically he's getting younger-looking, not older!" trainer David Belford said with a laugh. "Everyone always stops to tell me that at the horse shows."
Translated from Spanish to English, the phrase "rico suavé" roughly means "rich and smooth," and this describes everything about "Rico" right down to the color of his dappled liver chestnut coat. The Welsh pony of unrecorded breeding, owned by Ponies and Palms Show Stables LLC, has lived with Belford and Chris Payne at their New Hope Farm (Batavia, Ohio, and Wellington, Florida) for six years, flourishing in their program.
"His name suits him completely," Belford said. "He's a one-of-a-kind pony; he's the king on a whole different level."
Three years ago when Ava Barnes came to ride with Belford, he thought she and "Rico" would make a great pair. Prior to riding at New Hope, Barnes, who is from Cincinnati, did not have much experience competing in the rated pony hunter divisions. Belford and Rico have changed that, guiding the now 12-year-old rider to wins at prestigious horse shows throughout the country.
"Rico has been great for Ava because he stays cool and calm at the bigger venues," said Ava's mom, Tiffany Barnes. "He's taught her to remain calm as well. That's really helped her confidence overall."
Some of the pair's top placings include the blue ribbon in the WCHR Pony Challenge at the 2021 Capital Challenge Horse Show (Maryland), the small pony hunter championship at the 2021 Pennsylvania National Horse Show, and the win in the $5,000 USHJA Pony Derby at the 2022 Winter Equestrian Festival (Florida). And the pair are finally about get their chance to ride in the Devon Horse Show (Pennsylvania), which starts Thursday and runs through June 6, as it returns from its two-year COVID-19 hiatus,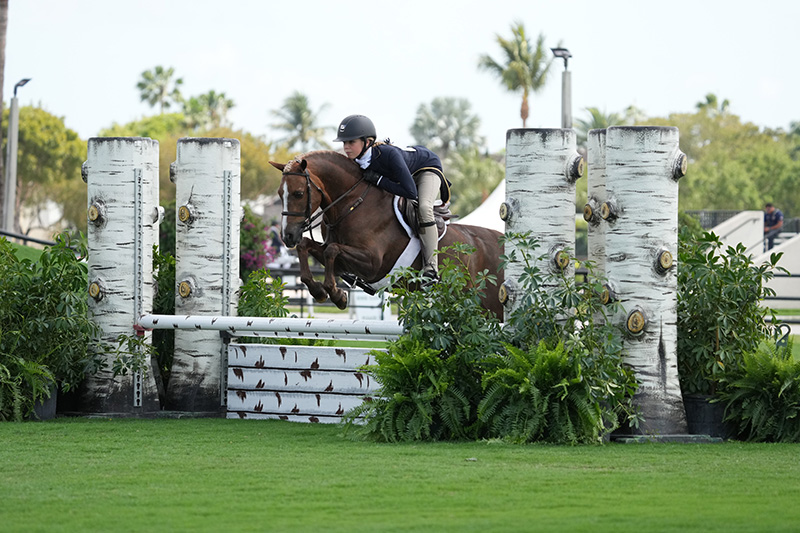 "My favorite win to date with Rico is the WEF pony derby," Ava said. "It was outside on the grass at [the Adequan Global Dressage Festival showgrounds], and it was really fun to compete in."
Belford was extremely proud of Ava's poise and confidence during the WEF pony derby.
"When we went to do the handy round, I said to Ava before she went in, 'No one else can handy better than Rico can. Just go in and have fun,' " Belford said.  "And Ava did, she laid it down. Rico is like a little grand prix horse; he curls right around the jumps in the handy and keeps going. He makes all the distances match and everything look effortless."
Go behind the stall door to learn more about pony ring star Rico Suave.
• Rico has quite a personality in the barn.
"He just wants you to go about life his way," Belford said. "The look in his eyes tells you if he's happy or not. If things aren't going his way, he tells you. We always try to make every day his best day. And that comes from the inside out, always. My first and foremost priority for Rico is his happiness."
• Belford believes in the details and always strives to have Rico looking and feeling his best.
"I'm a fanatic about his coat—I always want it to be extra shiny when he shows!"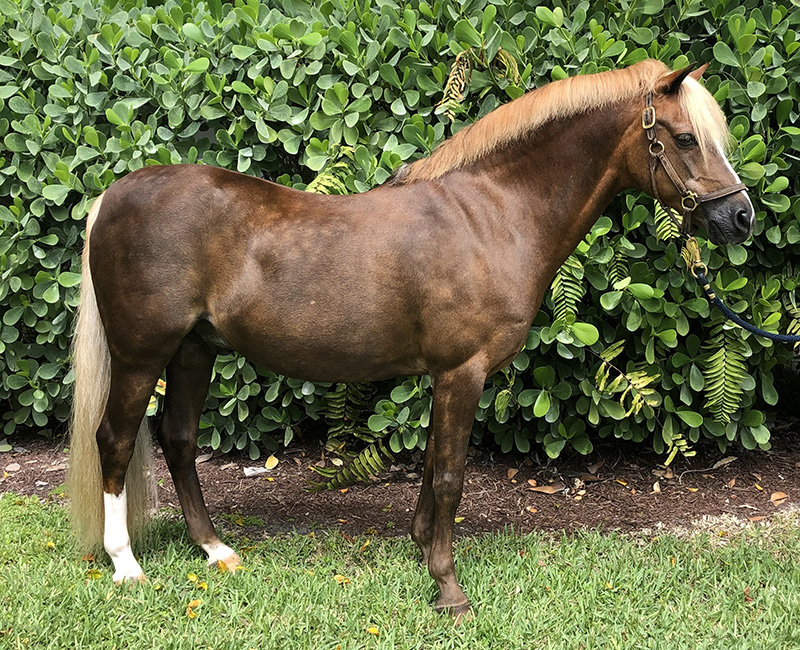 • Experience tells us that horses should mellow with age, but Rico's personality dictates otherwise.
"When Rico is sassy, he's still able to be very sassy," Belford said with a laugh. "After the COVID quarantine, we went to a small show in Columbus, Ohio, with five ponies. We thought it would be a nice show because it was more laid-back and relaxed. The course designer put out this tiny trot jump with flowers sticking straight up out of it. Rico thought he was being tricked and literally jumped the top of the standards.
"He still has that part of him that he's never lost; he has a very strong zest. It's what makes him a winner. Every jump still means something to him. He still goes in to jump the oxer the best you've ever seen. No one is saying to me, 'Hey, remember when he used to jump the oxers in amazing form?' because Rico is still doing that to this day."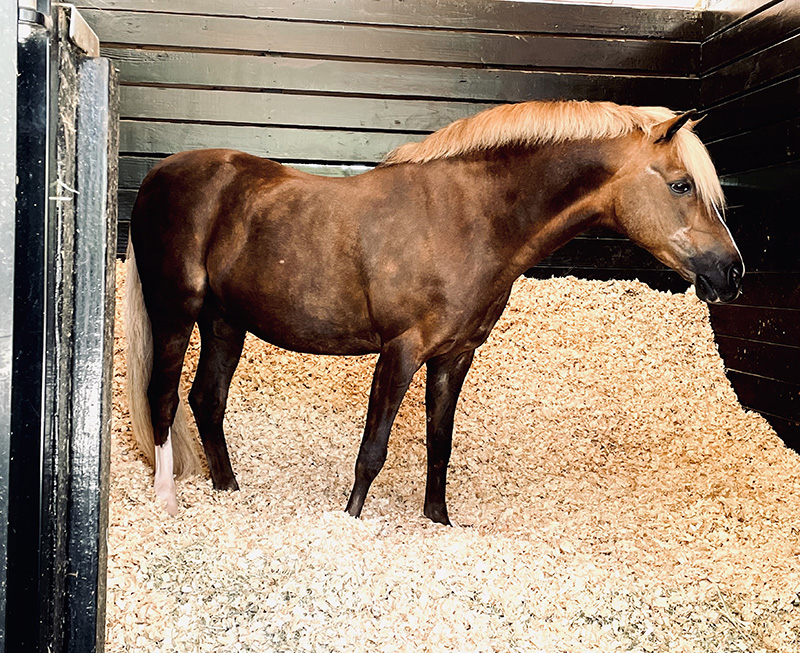 • Rico has a little pouch in his right cheek, and he sometimes saves his food in there.
"Early in Ava and Rico's partnership, Tiffany came over to me and was upset," Belford recalled. "She told me Rico had a huge bump on his cheek, and she was very concerned about it. I laughed, and I had to explain to her that is normal for Rico—that's where he keeps his snack for later!"
• When Rico is done showing, Ava always has a treat waiting for him. She likes to get him Snaks 5thAvenchew cookies, but she said he's not picky.
"If it's a treat, he'll eat it!"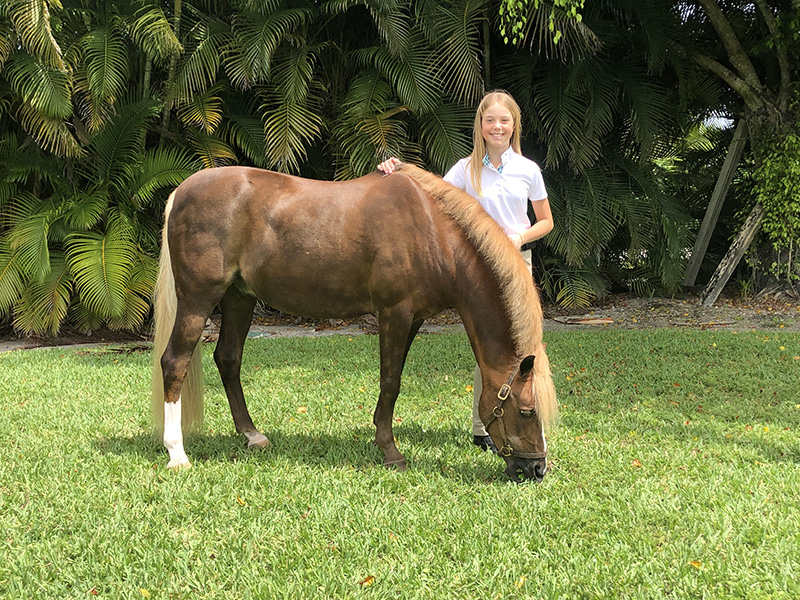 • Belford strives to keep Rico's routines as predictable as possible.
"I don't like changing something if it's working," he said.
At their farm in Wellington, they have a grass field and a riding ring, and they swap between the two for riding Rico.
"He likes the change," Belford said. "Rico stays consistently in work, and he is always flat-fit. We do not jump him at home."
Belford's former assistant, Sarah Sturges, is working for herself now but still came to indoors last fall just to ride Rico in the ring for his 10-minute flat in the mornings.
"I don't mess with what works, so I have Sarah come everywhere with Rico and I. It's part of his show routine," Belford said.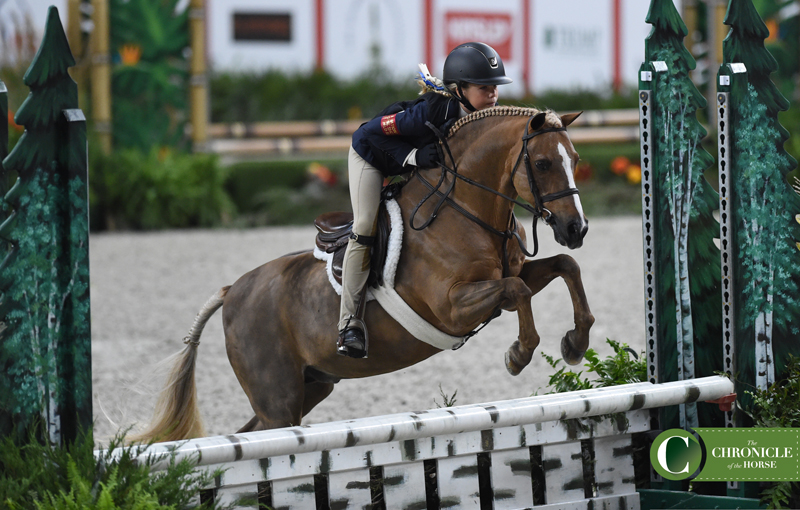 • Rico enjoys his turnout time, but Belford doesn't think he's ready for retirement yet.
"He likes to be a part of the show group," Belford said. "He's like an old grand prix horse; he still likes going and performing. He still takes an interest in what everyone is doing, and he wants to be a part of it. We really understand him—some days he works less, some days he works more."
• Rico's list of favorite people include his long-time groom, Leo Marin and Ava.
"Leo plays music to pump Rico up for when he goes to the show ring," Belford said. "We love it! I'm so lucky that I have Leo for Rico; he knows the ins and outs of that pony."
Rico also appreciates Ava for giving him the ride he likes.
"Rico loves Ava," Belford said. "I think that Ava and Rico being available at the same time was key because Ava rides him exactly the way he wants to go. As Rico has gotten older, Ava's way of riding him suits his style. The culmination of the two of them—it's great that they have each other."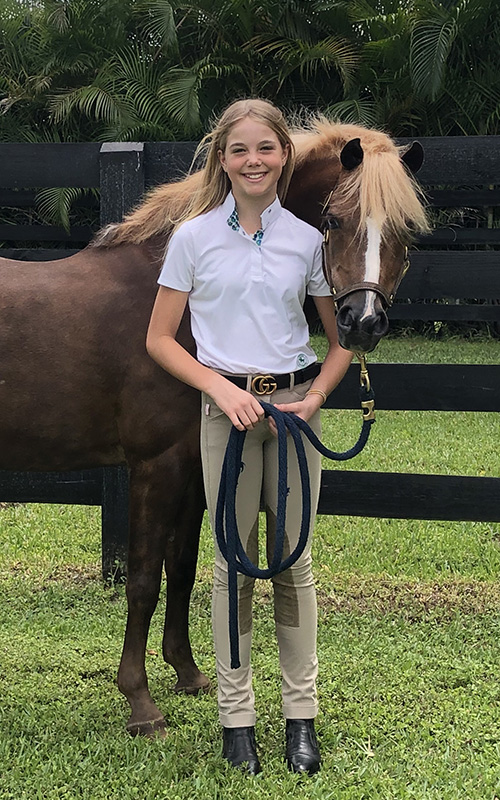 • Ava's goals for Rico this year include "staying consistent with Rico and having fun," she said.
Rico only showed four times during the entire 2022 WEF season, culminating with their Week 9 victory in the USHJA Pony Derby, as Belford likes to save him for the important horse shows. He and Ava already are qualified for the USEF Pony Finals in Lexington, Kentucky, and the Devon Horse Show also is on their calendar for this year.
"Ava has never been to Devon because it's been canceled the past two years due to COVID," Belford said. "To have Rico and her first Devon as another moment of firsts is exciting. I'm looking forward to that. I would love to have a consistent indoors again; she was great last year. I look forward to that as well."