Quimby is no stranger to the winner's circle.
The 11-year-old bay Holsteiner gelding (Q Verdi— Zanna I) owned by John & Stephanie Ingram LLC has won some of the largest equitation championships in the country, including the 2021 Dover Saddlery/USEF Hunter Seat Medal Final (Pennsylvania) and the 2021 Palm Beach International Academy North American Junior Equitation Championships (Maryland). He also regularly cleans up in the hunter divisions, including being champion in the small junior hunter division and reserve grand champion overall at the 2020 Adequan/USEF Junior Hunter National Championships—East (Michigan) and ninth in the 2021 Platinum Performance USHJA International Hunter Derby Section A and fourth in Section B (Kentucky) with Grace Debney.
This year, Martha Ingram took over the reins, and the pair earned the amateur-owner hunter, 18-35, championship during Week 6 of the Winter Equestrian Festival (Florida), qualifying for the $100,000 WCHR Peter Wetherill Palm Beach Hunter Spectacular and helping Martha earn the WCHR 3'6″ Amateur-Owner High Score Award.
While Quimby may be on the smaller side at 15.3 hands, his stride is monstrous.
"He's little, but he has maybe one of the—if not the—largest stride in the barn," Martha said. "He's like an ultra-deluxe Cadillac but with a sports engine."
Martha purchased Quimby from Debney and professionals Samantha Schaefer and Kate Conover of Shadow Ridge Farm, where his trial was short and sweet.
"I got on and trotted around, cantered a couple laps, jumped two practice jumps, and then one course at 3'3" and that was it," Martha recalled. "We didn't need to see anymore after that. We just knew."
Go behind the stall door to get to know the talented Quimby.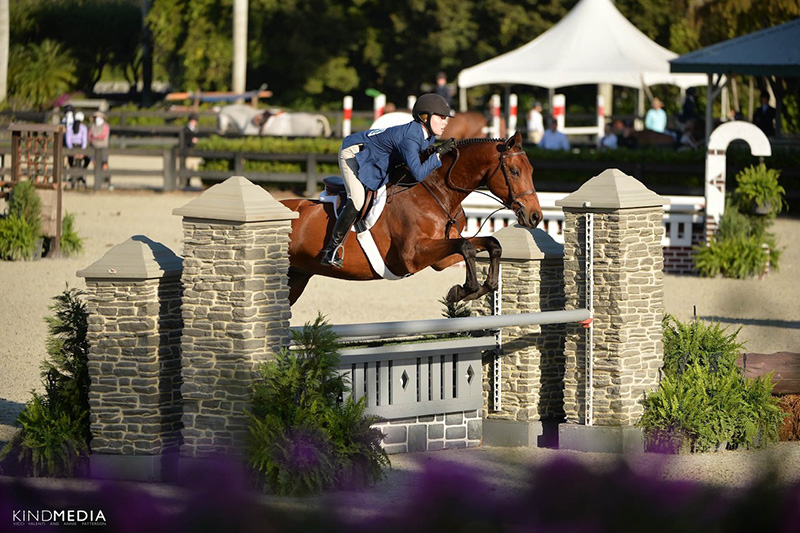 • Quimby lived in Kuwait at one point.
"He was born in Hungary and sold to a rider in Kuwait as a young jumper," said Conover, who first heard about the horse when he was showing in the Middle East. "An Austrian friend of mine was course-designing in Kuwait and thought he was a beautiful little stallion competing and that he really stood out because he's such a handsome guy. The rider had bought him as a young jumper, but he was too slow to be a top show jumper. The rider was selling him, and it was perfect luck that he was going to the Netherlands to show that summer, when Quimby was 7 years old. Samantha Schaefer and I went to Holland right away to look for horses for Grace Debney and met up with my European business partner, Robert Baade. I got on him and jumped four jumps and knew right away. Quimby was an unbelievable horse to not only do the job but also win a final."
• Quimby is Kate and Martha's heart horse.
"He loves people, but I think Kate Conover is his favorite person at the horse show," Martha said. "He's her heart horse, too."
He was special enough to capture her professional's heart in a barn full of quality horses, Conover said.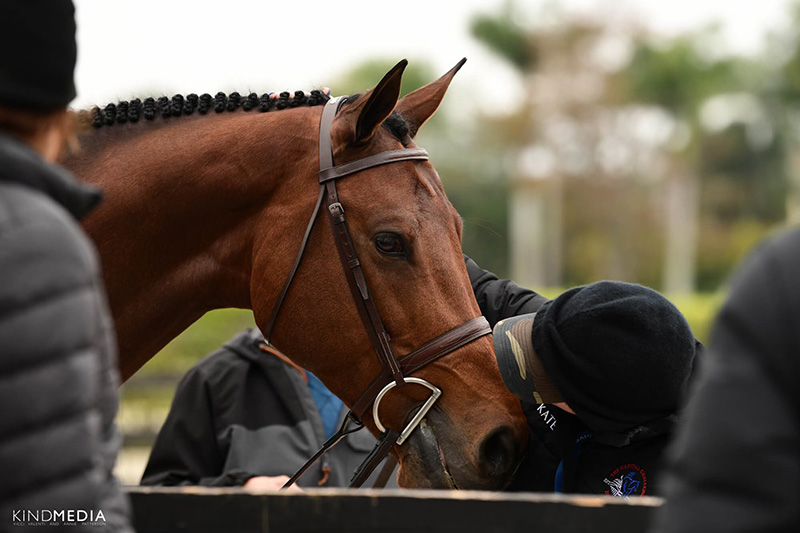 "I've grown up in this industry, and it's part of the business that they go when they're sold, but I cried when he left," she recalled. "I miss every day with him. Watching that one go was tough. But he has the best life with the Ingrams. He gets a forever home there; you couldn't ask for a better home with the Ingram family."
• Quimby is a total pro.
"He's very stall-to-ring," exercise rider Jared Depermentier said. "He doesn't see the jumps; he doesn't see the ring. We longed him maybe once because it dropped 20 degrees, but that's it."
Quimby is a partner who makes her job as a rider easier, Martha added.
"He's very smart. I swear he kinda knows the course because he's always looking for what to do next. I think that's why he was so good at the equitation," she said. "He's very attentive, always waiting for you to tell him what to do. You never have to worry about him not paying attention. He knows his job. He notices everything but not in a bad way. He just knows what he's doing."
• If he's not being groomed or ridden, Quimby is most likely napping. Or cuddling with his BFF, Baxter.
"He loves to sleep: he loves to take naps," Martha said. "He's always sleeping. If he's not being groomed or being ridden, he's most likely sleeping. He also loves my trainer Tom Wright's dog, Baxter."
• Quimby can be cheeky when he wants to be.
"He knows exactly where his cookie box is!" Martha said.
Conover added that when Quimby shows, "he likes to have fun. It's a game for him in a good way. He knows he's great, and he's cocky and has an ego and wants to be the best."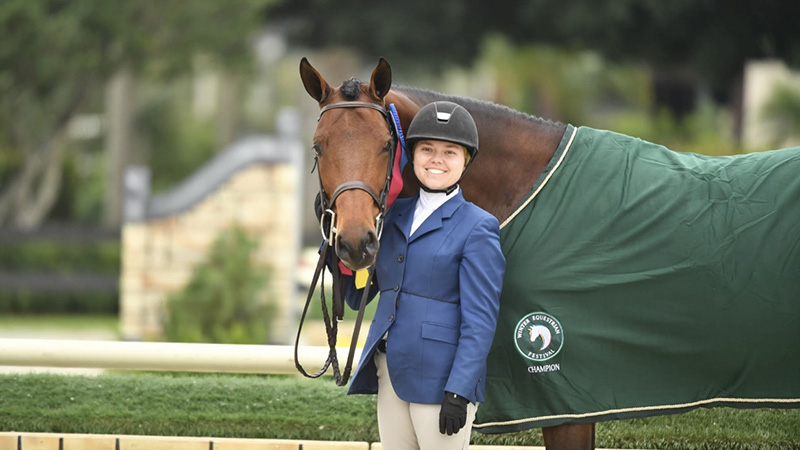 • Quimby reminds the Ingrams of another of their other top horses.
"He reminded us of Airport 48, who retired at the end of last year," Martha said. "His look and jumping style are similar, and they are both professionals. 'Airport' was the same way in the ring. Every time someone who we know sees Quimby, they say he looks like Airport."
• Quimby is geared up for the 2022 show season.
Martha is showing Quimby this winter during WEF in Wellington, Florida, where over the weekend they achieved one of their goals, which was to qualify for the WCHR class.
"I'm just looking to be consistent. Maybe—to my trainer's dismay, ha ha—doing some of the adult medal classes," she said. "I'd like to qualify for indoors and Devon [Pennsylvania]. But mostly just keeping him happy and trying not to get in his way."