When you think of a top-level event horse, you might think of one who's a fire-breathing dragon in the start box and quirky and difficult to handle on the ground. It might be described as "not an amateur's ride" or "a little bit wild."
Not Sydney Elliott's QC Diamantaire, at least not always. He'll be tackling his first CCI5*-L at the Land Rover Kentucky Three-Day Event next week, but he doesn't always fit the profile of a top event horse.
"Q," an 11-year-old Oldenburg gelding (Diarado—Lantana, Sandro Hit), has developed from a shy 5-year-old into a successful competitor under Elliott, but his personality can still change from day-to-day.
We went behind the stall door with Q, Elliott and his temporary groom Emilie Mudd to find out more.
• "He's quite shy, but he does have a bit of an edge to him, which has developed," Elliott said. "I used to always think he was too sweet. He's very to himself. He doesn't like too many hands on him. He's very quiet and mellow, and everyone has to be like that around him, otherwise he gets very panicked."
But he's come out of his shell as he's gotten older. "It comes and goes," Elliott said. "Some events he'll finish cross-country, and you can tell he's really proud of himself. He'll try to paw down the stall door, and his eyes just look so bright and alive. Other times he's a little taken aback about what he just did, and he'll hide in the back of his stall. It's definitely event to event. He's evolving."
"He's been quite a joy to work with," Mudd said. "He's very unassuming in the barn. I don't expect him to come out and be this big showman. Once you put his braids in, and he takes his little nap, and then she gets on, he's a totally different horse. He loves his work. When he gets off cross-country, all he wants is to get all the attention. He goes from this shy horse in the corner to, 'Oh my goodness, did everyone see what I just did? I was amazing.' His whole persona changes. But he's also easy to work with on the ground compared to a lot of the upper-level horses. He comes off cross-country, and he grazes while we ice him and rinse him off. That's all he wants. No antics, no craziness. He's just happy to do his job."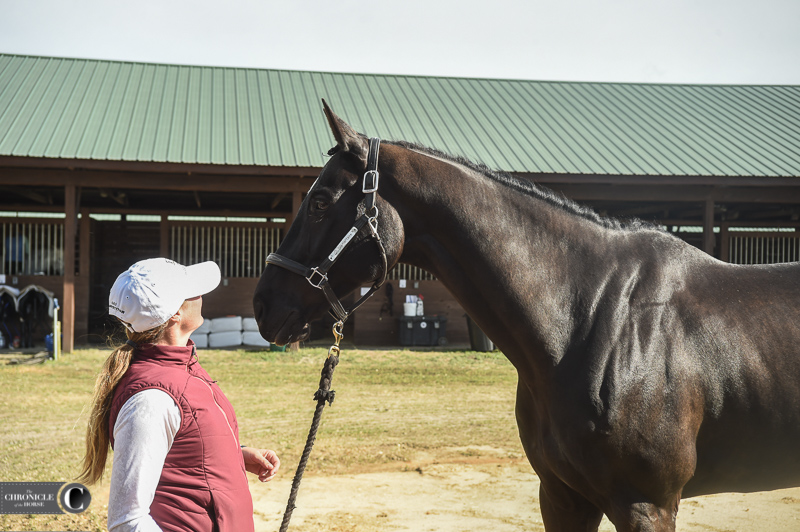 • Treats are a no-no for Q. "He loves treats, and unfortunately I will not give him treats because he just starts nibbling all over you," Elliott said. "He loves carrots and all the typical treats. He's not too picky."
• Q is not a fan of water. "He very much dislikes water of all sorts—baths, puddles, rain, water jumps. He would rather stay clear of water. Any and all forms of water," Elliott said.
"Do not rinse his face. Heavens no," said Mudd, who's caring for the gelding while she recovers from an injury and is unable to ride.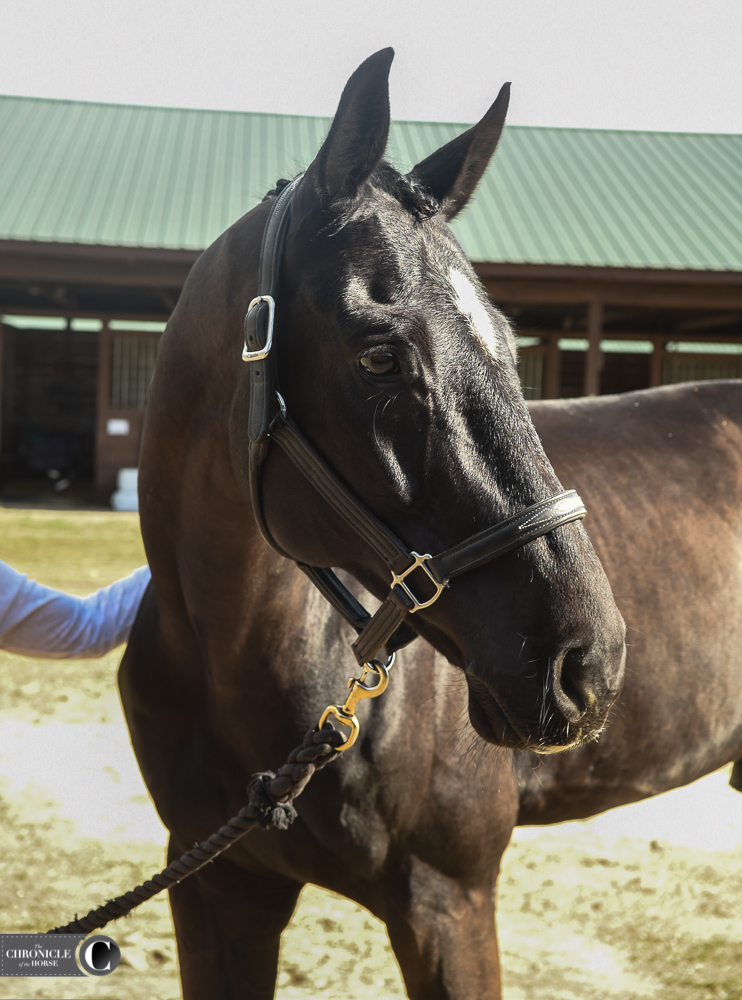 • Q is 17.2 hands, but he doesn't realize it.
"He thinks he's the size of a Shetland pony. He has no idea he's that big," Elliott said. "He will knock you over with this head; he will step on you, not realizing it. He doesn't mean anything by it."
• Keeping his beautiful dark bay coat dark is a constant struggle. "We battle with that," Elliott said. "We're in Louisiana in the summer. When we're traveling, he'll have day turnout, and if the sun kisses his skin, his coat is rust colored. He is really funny about food, so any supplements he won't touch. It's hard keeping him dark. Usually the three-days are just when his summer coat is blooming, and then the fall three-day, his coat starts to bloom."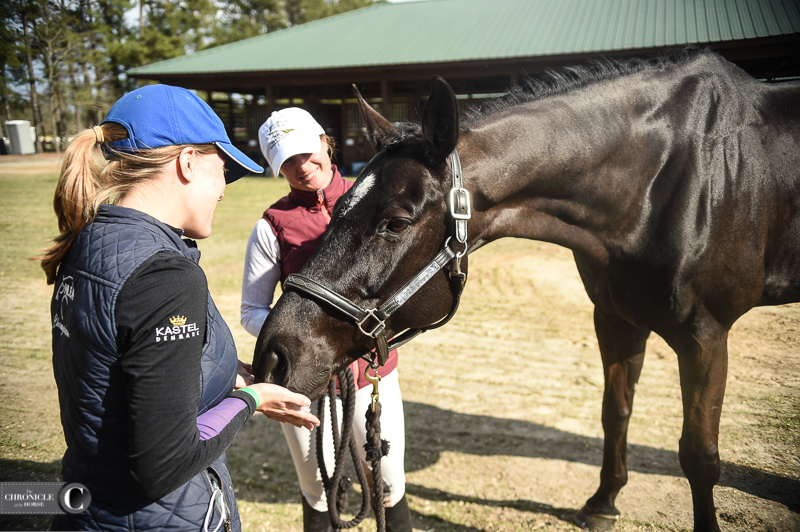 • Despite his sweet nature with humans, Q goes out alone in the paddock 24/7, weather permitting, because he can be a bit aggressive with other horses.
• Q loves his upper-level job, but he'd be fine for the lower levels too. "He could go run a four-star today and pack an amateur around tomorrow," Elliott said. "He's so good-natured. His owner [Carol Stephens] will ride him. He's really the perfect horse."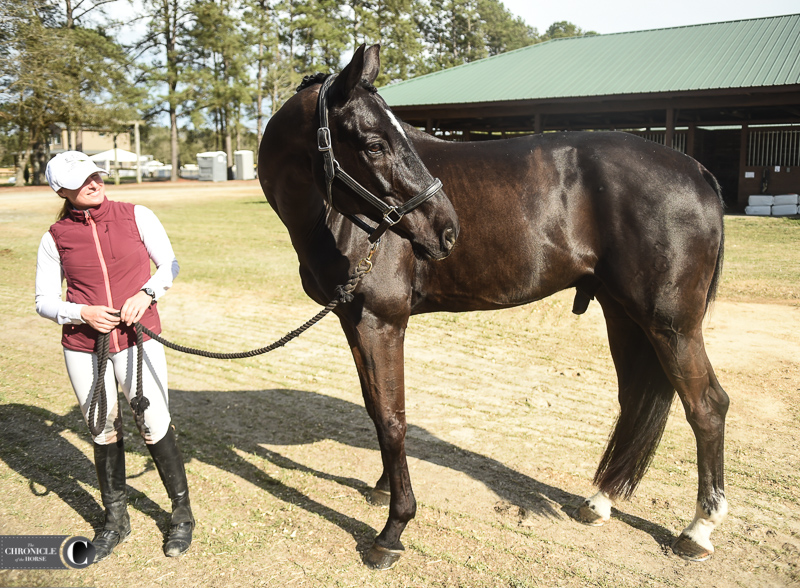 • At home in Shreveport, Louisiana, Elliott is Q's groom, which has helped them bond.
"I think it makes a difference with me having a small barn and feeding him twice a day and just being around him. I think he's always searching for me. Carol can come in, and he's just such a good boy. He'll follow her around like a dog," she said.
"He loves her so much," Mudd said. "They're really close. Anything Syd says, he's like, 'Oh, OK, it's fine then.' When I started grooming for her at the shows, he wasn't so sure he could go in the wash rack because he didn't know me. Sydney can walk up and be like, 'Get in the wash rack,' and he's like, 'OK.' Happy as can be. He trusts her 100 percent."