At 17.2 hands, Polaris is hard to miss when he's out eventing with his owner and rider, the diminutive Sara Gumbiner.
But they've become a perfect match over the seven years Gumbiner's brought the now 14-year-old Irish Sport Horse gelding (Brandenburg's Windstar—North River Lady) along.
"He and I know each other so well now that it's good, and it's bad," she said. "I think he's got my number a little bit, but we have more of a partnership than I think a lot of people do because I've had him for so many years. I swear he knows English."
Gumbiner, 31, and "Larry" completed the Land Rover Kentucky CCI5*-L last year for the first time, and she's looking ahead to another crack at it this year.
We caught up with Gumbiner to learn more about her longtime partner.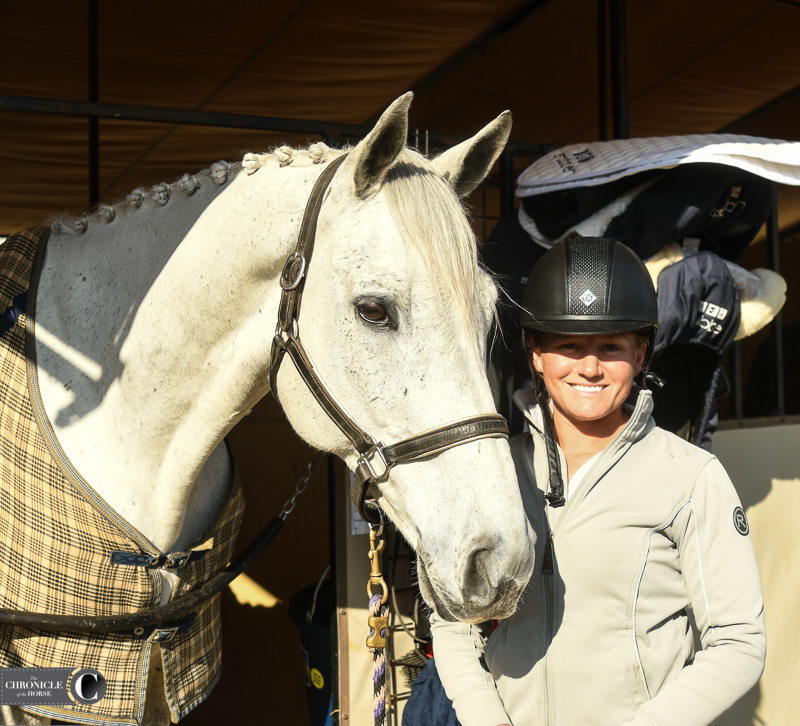 • He's king of the barn but without the ego. He's just a little curious and likes to keep an eye on absolutely everything.
"He is like a big puppy dog," Gumbiner said. "He definitely has a ton of opinions, but he knows his name. He's the king of the barn; he always makes sure that everybody comes to see him first. He always has his head hanging out and always wants to know what's going on. He knows where every horse is, he knows if there's new horses around, but he just always has to be in everybody's business and know what's up."
• Larry likes his routine. "He's still like a baby in the fact that he takes a nap every day," said Gumbiner. "He lays down in his stall every day at noon, and if he doesn't lay down I'm worried about him."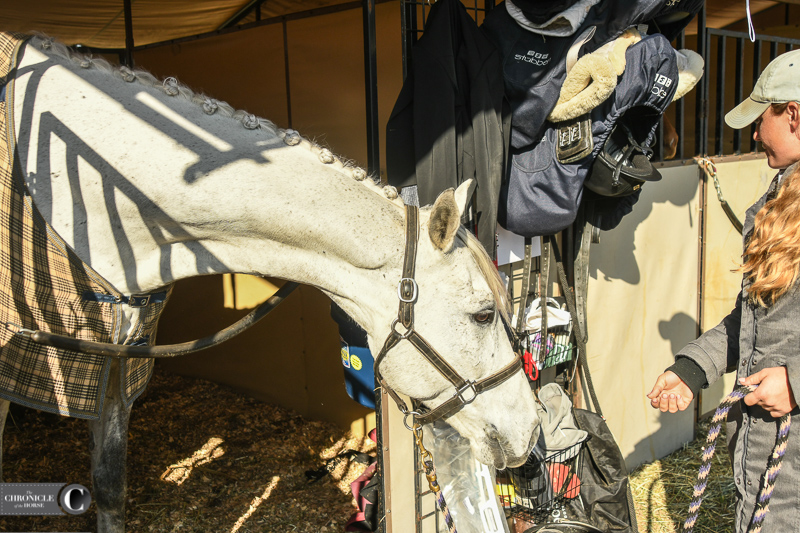 • Where did the name Larry come from? "When we went to go look at him for the first time, he was in Virginia at [his breeder] Phyllis Dawson's place. He was the king of the barn there as well, and everybody talked about him—he was Polaris," she said, emphasizing the magnitude of the name. After all, when you're named after the North Star, you're probably pretty special. "I peeked in his stall, and he was kind of big and dopey, and he had big ears and was real skinny, and I took one look at him and said, 'We have to call him Larry.' As soon as I saw him and fell in love with him; he just told me his name was Larry."
• Gumbiner is her own groom at all but the biggest of competitions, where she tries to find some extra help. So what's her secret to keeping Larry clean?
"He's stayed pretty dark as he's gotten older," she said. "It's just been in the last year that he's gotten really white, and he's really tough to keep clean. It used to be that I didn't have to worry at all because he was nearly black. In the summertime he would turn almost brown. Now it's a battle.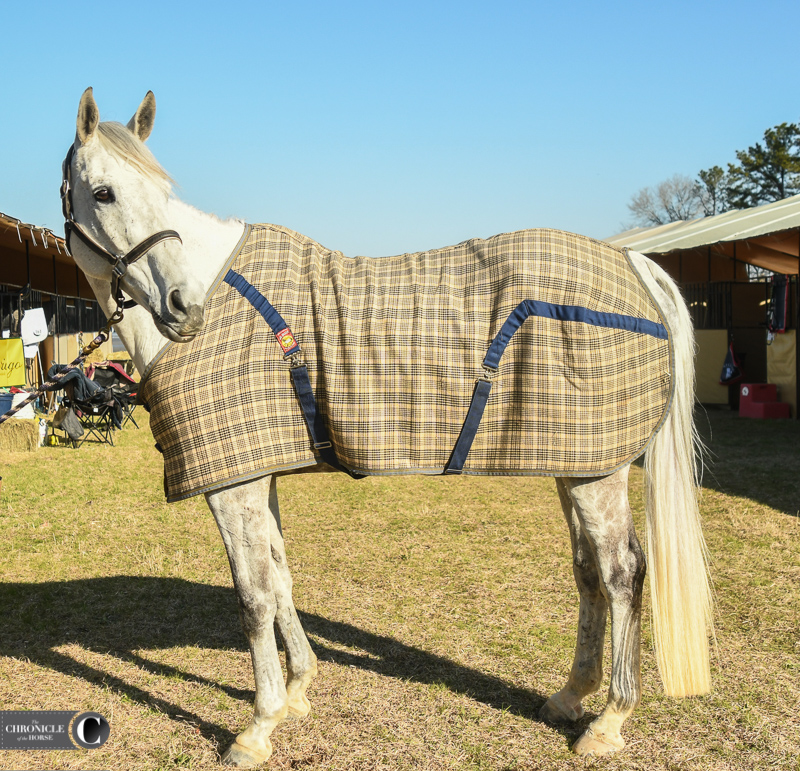 "I use a lot of blue shampoo, the Quic Silver," she continued. "At Kentucky last year we found a concoction of baking soda and a blueing shampoo, and we rinsed it with white vinegar, and that seemed to do a really good job. It's just a matter of giving him tons of baths and keeping on top of it."
• Being hands-on with Larry is important to Gumbiner. She does all the work herself at home in Cochranville, Pennsylvania.
"I do the stalls and the turnout," she said. "It makes for long days sometimes, but it's easy to forget about all that stuff. It's easy to have someone help you and forget how to do that and how much work it takes and the blood, sweat and tears that goes with it, so being able to compete at the upper levels and still have my hand directly in the everyday I think is actually really valuable to my business and to my horses."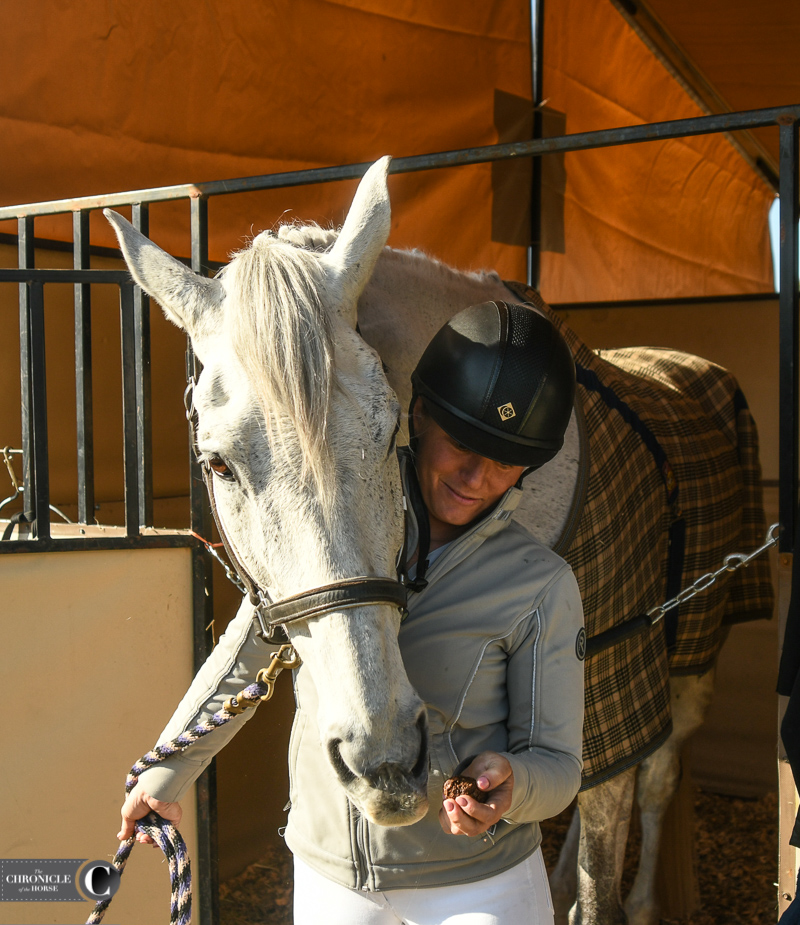 • Larry's day begins at 7 a.m. with breakfast. "I try to give him some time in the morning because he takes a nap and takes a really long time to eat," said Gumbiner. "He's tough to keep weight on. He gets ridden six days a week. Two of those days are fitness days; one day a week is typically a jump day, and the rest are flat days. If he's real wild he'll get ridden twice in a day.
"He takes his noon nap every single day. If I interrupt that nap time it usually messes with him a little bit, so I try to work around his napping schedule!" she continued "He goes out at night. He has his one friend, a chestnut horse named Happy, that he goes out with at night. He likes his herd."
• Larry has a lifetime supply of his favorite treats.
"His favorite treats are green apples; he goes nuts for green apples, and then my mom [Lindsy Gumbiner] makes a treat called Canterbury Cookies, which is a molasses treat with a mint inside," said Sara. "He loves those. The problem with those is that after he eats about five or six of them he starts spitting the mint out."
• Find his favorite scratching spot, and he'll be your friend. "He loves his eyes scratched," said Sara. "He's funny about his ears, but if you go up to him and put your hands out, it's his favorite thing in the world."