Pfun had an incredible jump from the start.
Will Faudree first saw it in 2010, when the 3-year-old gelding arrived at Bobby Costello's Southern Pines, North Carolina, farm, jumped out of a dirt pen, took two strides across the driveway, and popped into a field to get grass.
"Teddy" had scope, but not everyone saw long-term potential in the horse that, under Faudree, would be short-listed for two Pan American Games and finish in the top 25 at the 2017 Rolex Kentucky Three-Day Event and the 2019 Land Rover Kentucky Three-Day Event.
"It's been a really fun journey," said Faudree, 39, of Hoffman, North Carolina. "When he first arrived here, I don't think anybody thought he would've jumped around Kentucky. We always knew he could jump around, but would he have been able to do it in a competitive way? If I had a dollar for every time somebody told me, 'Oh, he'll make a good intermediate packer,'—I always knew that he had some big events in him, and I still think he's got a few more in him as well."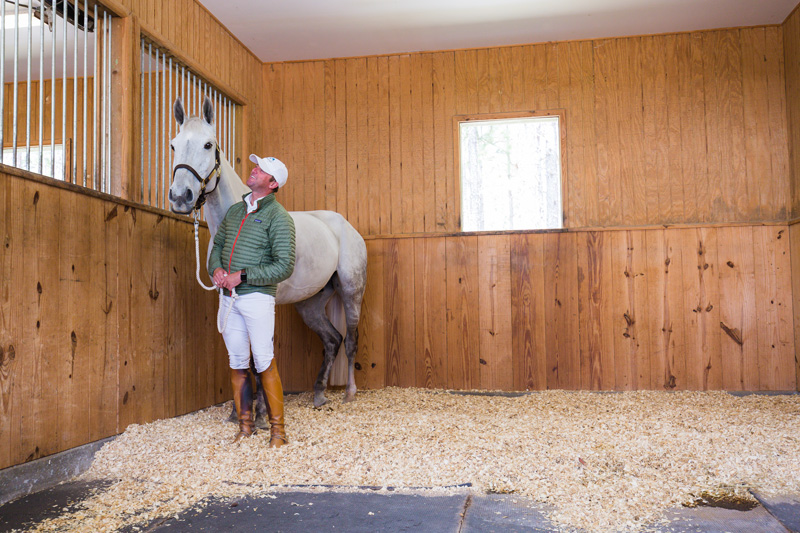 The 14-year-old Irish Sport Horse (Tadmus—Celerina, Cento) was imported from Ireland as Costello's sales project, and Faudree rode Teddy periodically as the horse progressed from novice to preliminary.
In 2013, Faudree began campaigning the horse for sale. "I had him about two weeks," said Faudree, "and I was like, 'This is a good horse. There's a really top horse in here.' "
When Teddy didn't sell that summer, Faudree's friend and longtime sponsor Jennifer Mosing stepped in to purchase him.
"Everybody that watched him go, it's like, 'Yeah, he's a good jumper, but I don't know if he's going to be fast enough,' or, 'I don't know if he's going to be fancy enough on the flat,' " said Faudree. "He's a good mover, but he's very business-like. He's not a real flamboyant mover, but he's got an amazing brain, and I just said, 'Well, I'm going to keep going with him.' "
Go behind the stall door with Teddy.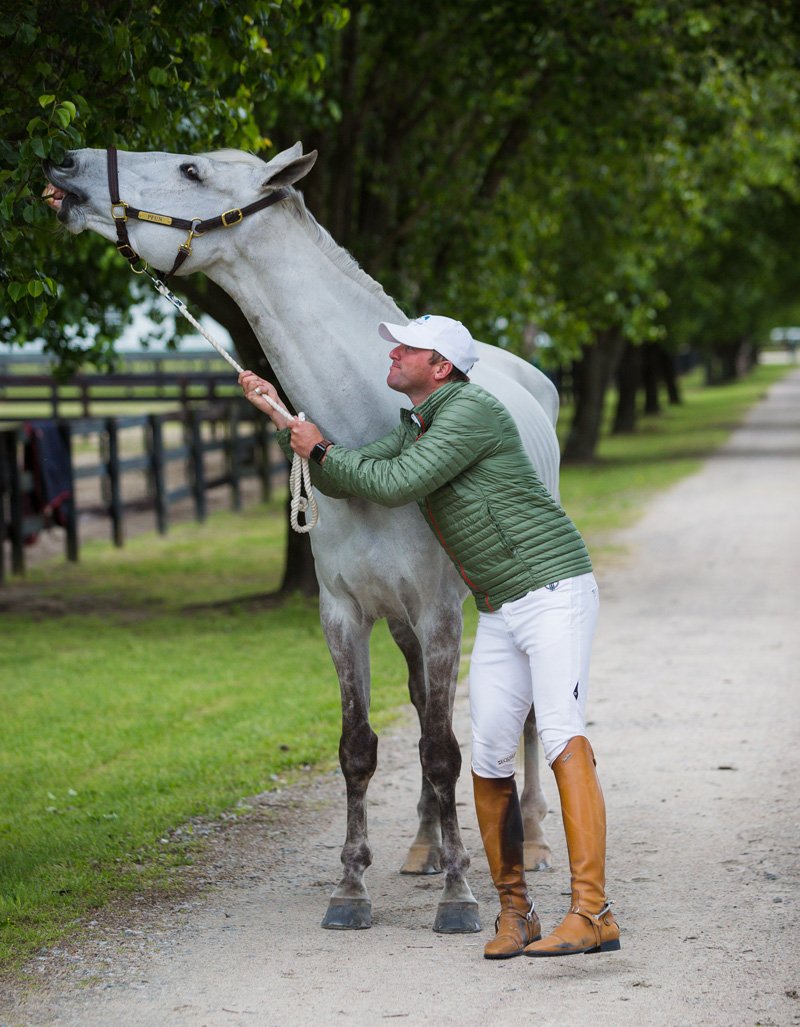 • There's a reason why Teddy's show name is Pfun.
"He's just a fun horse because he's the same every day you get on him," said Faudree. "He always shows up for work, and he does his job. It makes my job really fun because he's always up for whatever you present to him."
• Teddy isn't necessarily a quick study, but once he's learned a skill, he's got it for life.
"[When] he got to a question or something he didn't understand, his reaction, when he was younger, was, 'I can't do that. Let's move on to something else,' " said Faudree. "But when I would dissect any issues and show that to him in a different way, he enjoyed that journey, that process of working through stuff that he didn't understand."
• When Faudree started riding Teddy, he had to teach him how to gallop like an event horse.
"Some horses have that natural speed gear, and Teddy did not have that," said Faudree. "He could canter quick, but he never really opened up his stride. He is not a competitive horse in the sense that, if a horse in front of him takes off, he doesn't care. He's like, 'You go ahead.'
"My horse Pawlow, whom I competed to the five-star level, was another horse that had to learn how to gallop at speed," Faudree added. "When I would feel that gear, it was backing off so that they could learn to breathe while they were going fast. That started to educate them about their gallop, that they can go quicker than they think."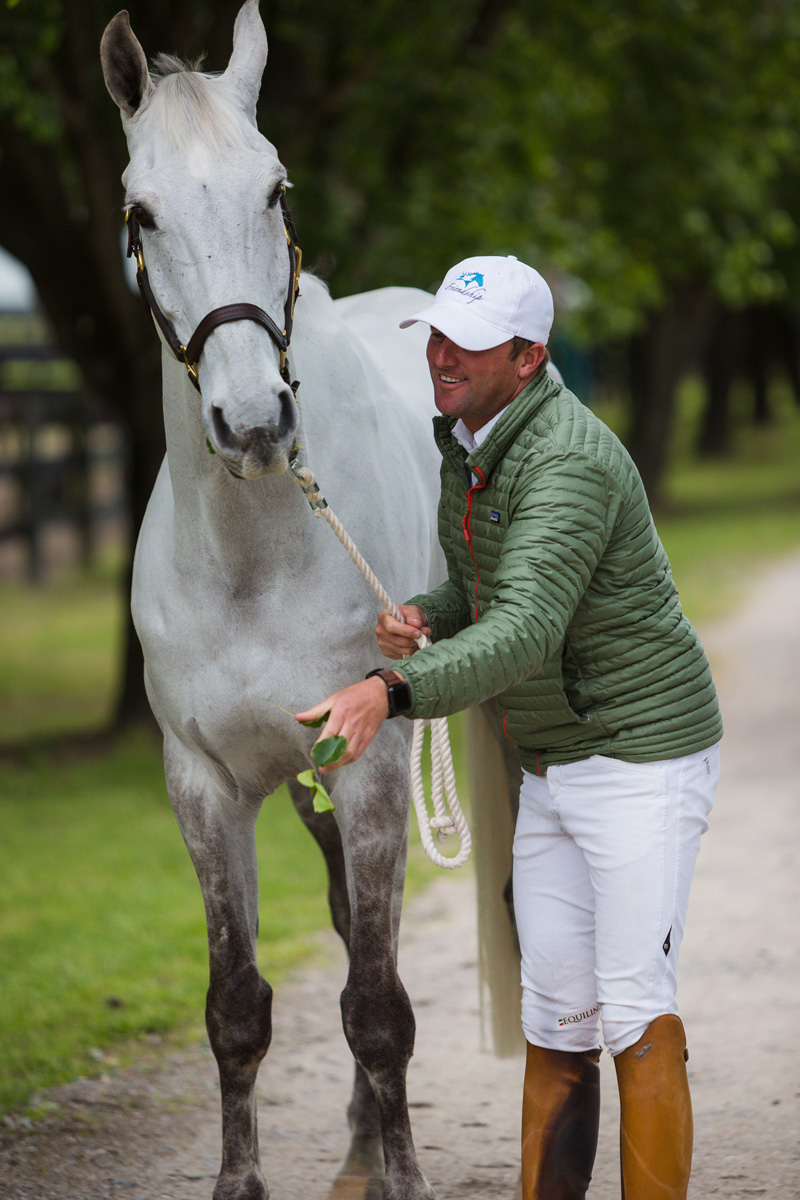 • Skip the toys. Give Teddy a peppermint.
"He's not a big toyboy," said Faudree. "He's always on alert, ready for a treat, ready for a peppermint. He hears the crinkle of a paper, and he's right at the front of his stall."
• Christina Curiale, Faudree's groom, is one of Teddy's favorite people.
"If somebody else is hand-grazing him, he'll drag people around. Christina, he'll do anything for," said Faudree. "They have a great relationship, which is really fun for me too because she looks after him. I think he would probably eat anything that she gave him. He loves everybody, but he knows Christina feeds him, and that's about his favorite thing in the world, is to eat."
• Faudree has enjoyed going back to basics with Teddy during the hiatus caused by the coronavirus.
"He loves the challenge of working hard," said Faudree. "During all this COVID downtime, it was really fun because I did a lot of dressage with him and started to put some new gears into his flatwork. Teaching him piaffe and passage and really trying to get more life into his trot work. He loves the challenge of that.
"He's got a pretty good base level of fitness just from his years of competing," Faudree added. "He is a little bit of a heavier horse, so I tend to run him quite light. He's not a hot horse, so I can feed him and pump him up with the energy stuff, but we do a lot of trot sets, a lot of walking, and he does some interval training in his gallop, but he mainly does speed work."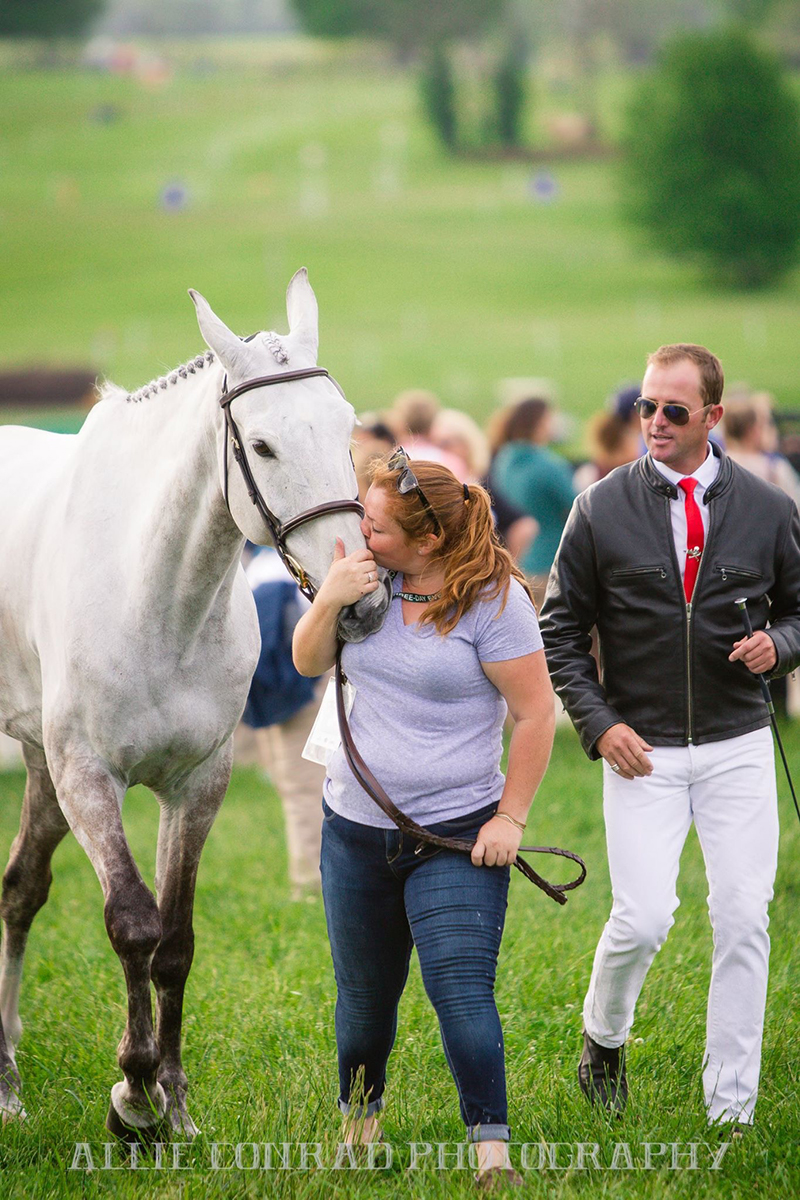 • If Teddy was a celebrity, he would be Hugh Grant.
"Stoic, handsome, talented," said Faudree.
• Teddy isn't the horse you'd use for jousting.
 "He was a really tricky young horse," said Faudree. "He's very spooky; he does not like horses coming at him in the warm-up or the arena at all. He would go into the dressage ring and almost feel claustrophobic. [I taught] him that when he does feel like he's out of room, he can actually take a deep breath and that there is room. He gets very reactive from his surroundings."
• Teddy helped Faudree learn the value of patience and perseverance.
"I know I can always count on him," said Faudree. "We call him 'Steady Teddy.' He always shows up; he always does his job. He may not blow your socks off, watching him do a dressage test, but it's very accurate; it's very steady. He can put in a good test. He's very reliable in all three phases; he's just a solid citizen. Nothing gets gifted to that horse. He's worked for every result that he's produced."