Some might say that Emily Beshear has a type: big, powerful and gray. She's had a few horses that meet that criteria at the top of the sport, and her newest upper-level ride, Olney Uncle Sam, is cut from the same cloth.
"Sam," a 12-year-old Trakehner gelding (Sonset Seiger—Aerial, Starman), moved up to advanced last year, snagging two wins in his first season, and Beshear believes there's much more to come. Most recently they finished sixth at the Jersey Fresh CCI4*-L (New Jersey).
We went behind the stall door to learn more about this gorgeous gray.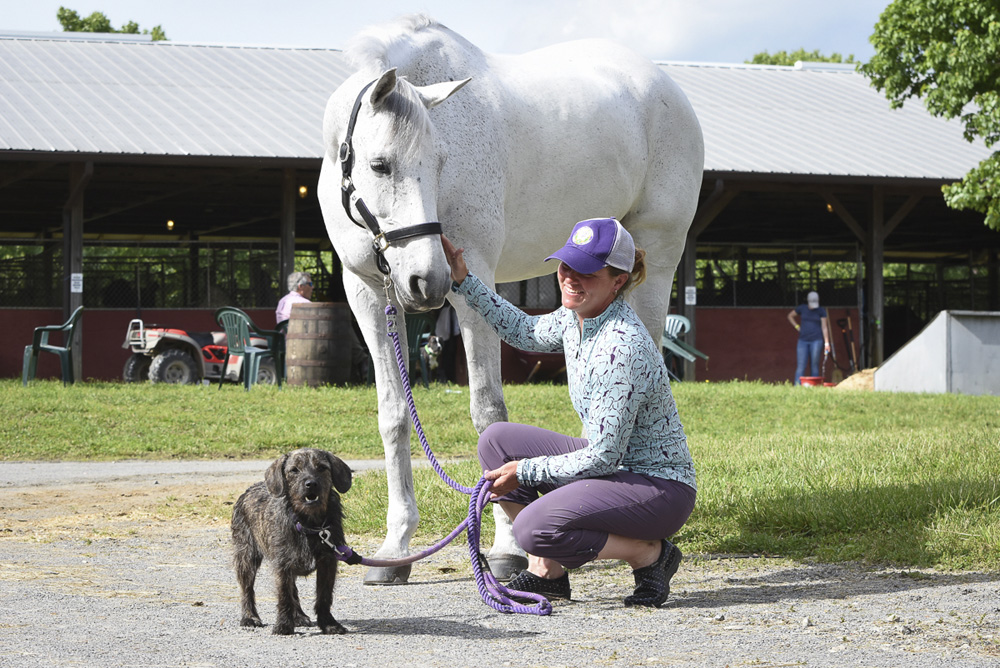 • Sam was bred in the United States by Ami Howard at Olney Farm in Joppa, Maryland, and he shares a sire, Sonset Seiger, with another of Beshear's top horses, Shame On The Moon.
His owner Jennifer Ward grew up riding at Olney Farm and brought Sam up through the CCI2*-L level, while Beshear admired him from afar.
"She knew him as a young horse, and I know Jennifer because when she got out of college she was a working student for us for a while," said Beshear, Somerset, Virginia. "So it's a long history, but I've only known him a short amount of time. I would always joke when I'd see her on him, 'You know if you ever need someone to ride that horse, you've got my number.' "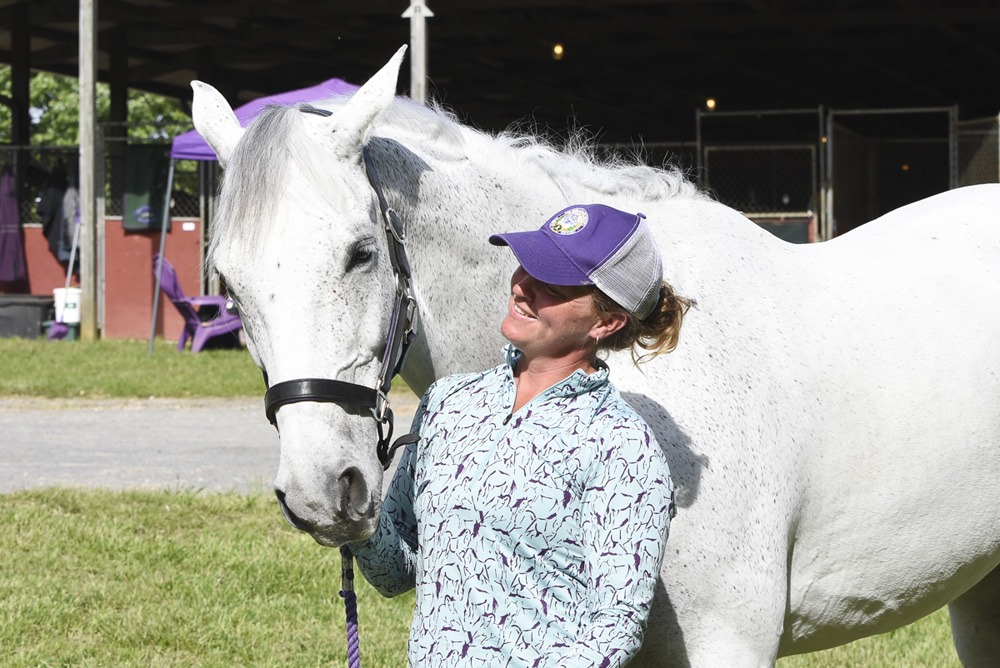 • Sam and Beshear's partnership is still young.
"Jennifer called me up in December a little over two years ago and said that she'd just gotten really busy with work and life, and he was a little bored, and [she] wanted to see if I'd take the ride over for a little bit and just see where it goes. I started sort of a short-term plan, and it's blossomed into a long-term plan as we've gone on and seen what he has to offer," she said.
• Sam is laid back, but he's got a quirky side.
"Sam is a very genuine, sweet, kind horse until the moment that he doesn't trust or doesn't like something," Beshear explained. "For example, he has a serious farrier phobia, so our biggest fear is that he might pull a shoe on cross-country because it is not an easy process to get a farrier near him.
"We have a great farrier at home that's worked really hard with him, but he has to be sedated to be shod at home," she continued. "He can't wear chaps—[Sam] knows the smell of chaps. He knows the smell of their box, and he is just out of there. It doesn't matter how many people try to hold him down. He's a funny horse because he's Mr. Calm, Cool and Collected all the time except for very few things."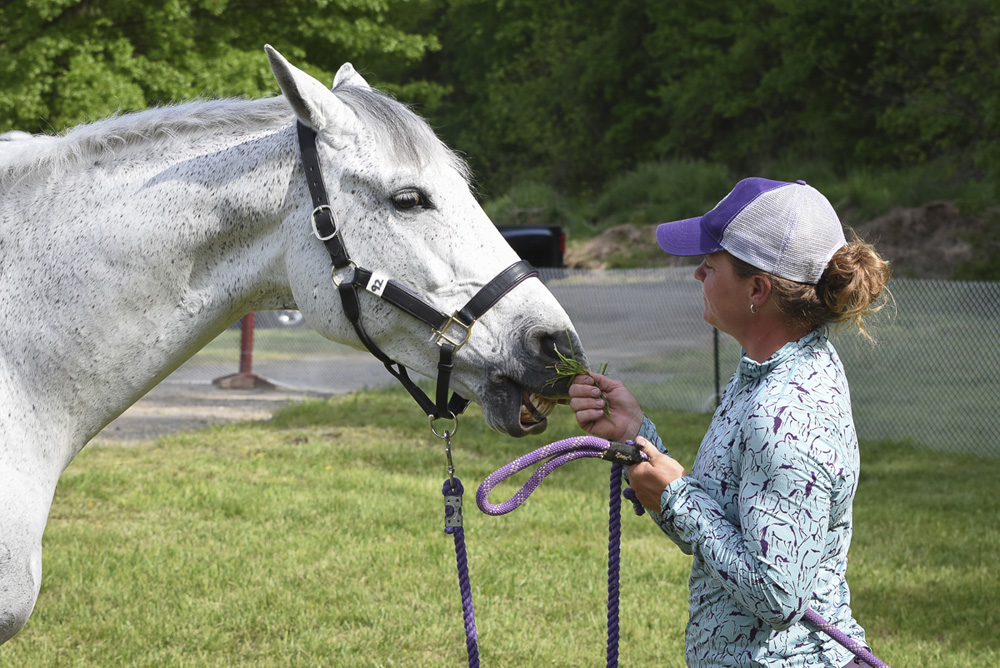 • One of those other things? A well-known cross-country fence at the Dutta Corp. Fair Hill International (Maryland).
"He took pretty serious offense to the duck at Fair Hill when he did the [three-star]. It caught me off guard, and then he did the same thing at his first advanced last year, so we bought a duck," she said. "Eric Bull made us a duck, and we painted it the same colors as the one at Fair Hill, and he learned to be happy with the duck. We're good with ducks now."
• In every other way, he's one of Beshear's easiest horses. "He's incredibly laid back. He's quiet as a mouse. He's the kid huddled in the corner when the others are misbehaving. He's very easy in that way," she said.
• Beshear is very hands-on with her upper-level horses, including Sam.
"I feel like it's nice to have horses like that to get to ride every day, so why not spend the time on them? It does make the days a little longer with all the extra hacking and work they need to do, but I tend to end up on horses that tend to be more on the sensitive side, so I feel like that goes a long way in building a partnership," she said.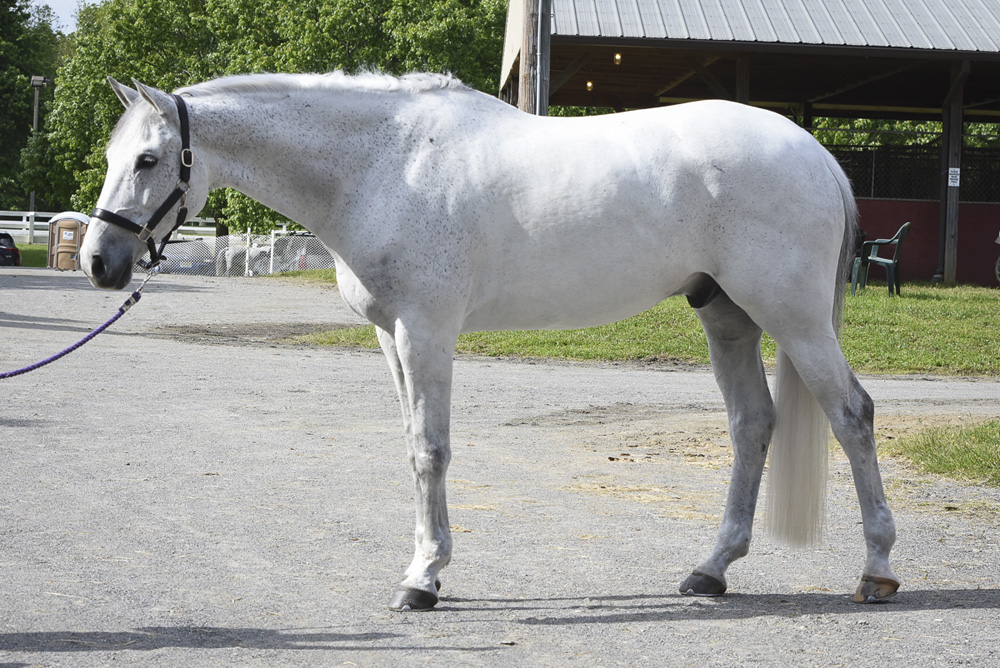 • With so many grays in her barn, Beshear has gotten used to the challenges of keeping them clean.
"I will tell you if you come by my barn on a day-to-day basis, he is not gray all the time," she said. "We definitely are realistic about that and let them just be horses. My horses are almost all turned out overnight as much of the year as possible. He's not as bad as the girls are as far as trying to turn into a paint, but we just make sure we do a lot of prep right before the competitions."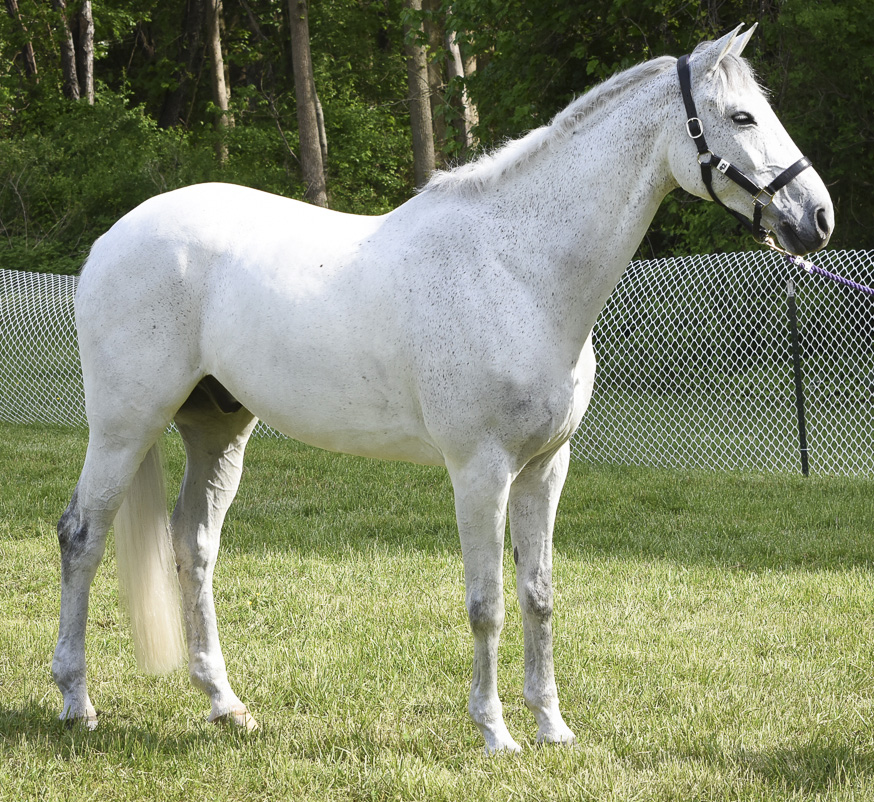 • Sam is a reliable eater, but like a picky kid, he doesn't want his food to touch.
"We feed our horses Triple Crown Alfa-Lox, but he's funny because he doesn't want that mixed with his food, so he has two buckets," said Beshear. "Most days he has a mouthful of that first, and then he eats his feed, and then he goes back. He won't clean it up when you mix it together."
• Beshear has no doubt in Sam's ability, but her focus has always been on his education and understanding of the sport.
"We've just really let him tell us what he's ready for," she said. "He's not a horse that I ever feel gets backed off or tries to avoid questions on cross-country, but he doesn't always read them the way he's supposed to yet. His mind gets going really quickly, and a lot of times he's trying to guess and react to things rather than really listen to me and understand them. We've really gone back and forth in making sure that if he does make a mistake we take the time to make sure he understands how to answer that correctly the next time.
"If you get after him and make him think it's uncomfortable in any way he'll just say no," she continued. "We know he has that side to him. We're always looking to make it enjoyable and fun, and he wants to figure it out, so we're going along that path of letting him tell us, which is why we waited until this spring to contest one of the long four-stars. We originally thought of doing it last fall, but I felt like he was still at the point where he felt like it was a little bit of effort for him over the big courses, and I didn't want him to go into an even longer course feeling like it was maybe harder than he wanted it to be. He definitely has it in him. He's a super cool horse and definitely one of the nicest jumpers I've had."