OBOS O'Reilly has been in Will Coleman's barn since he was 5, and they've been around the world together during their partnership.
Now 15, the Four-Star Eventing Group's Irish Sport Horse gelding (OBOS Quality 004—Omard Clover Queen, Clover Hill) proved to be one of the most rambunctious young horses in Coleman's program, but also, through time and training, one of the most competitive.
They won the Volvo Bromont CCI*** (Canada) in 2013, finished sixth at the Rolex Kentucky CCI**** in 2015, 11th at the Blenheim Palace CCI*** (England) in 2015 and 12th at the Luhmühlen CCI**** (Germany) in 2017.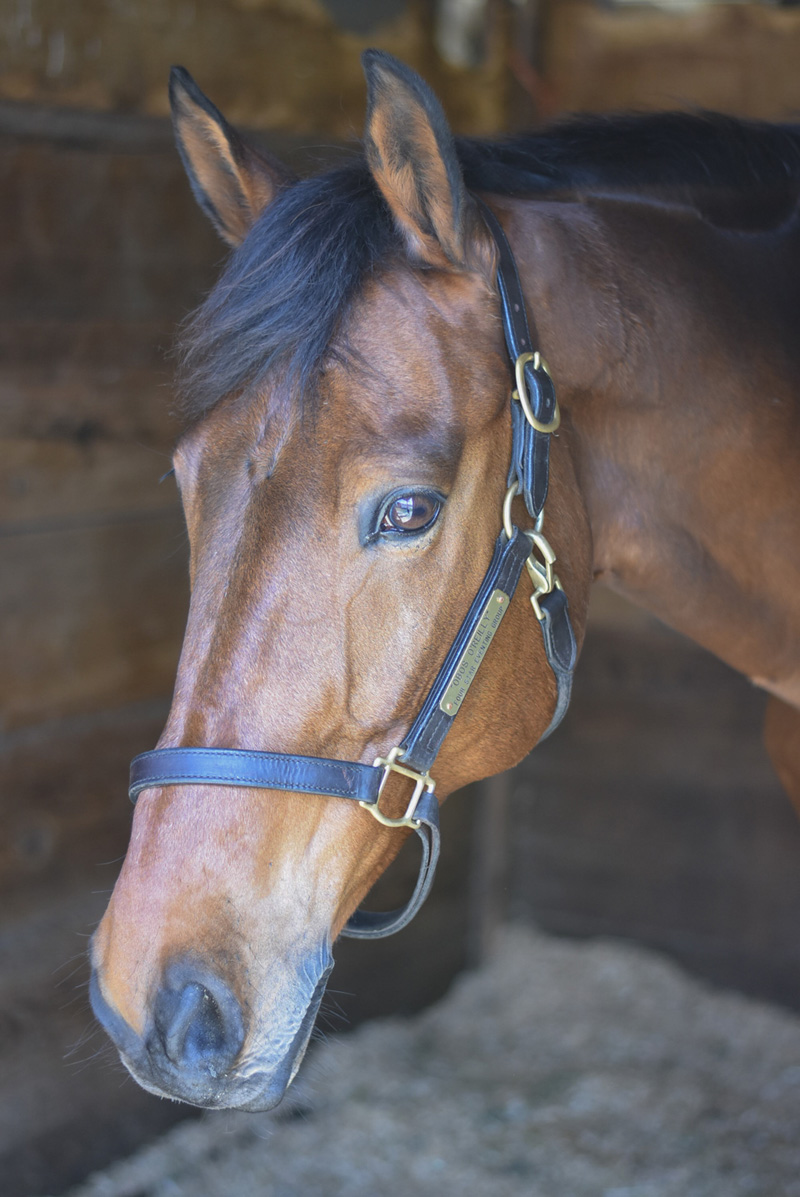 This spring they retired on course at the Mitsubishi Motors Badminton Horse Trials CCI**** (England) after a runout, but Coleman rerouted "Oboe" to the Tattersalls International CCI*** (Ireland) this weekend where they finished fifth.
Go behind the stall door with Oboe. All photos by Shelby Allen.
• Coleman has endless stories about Oboe, most of which are focused on his wildness as a young horse. "I would've given him to you for a ham sandwich when he was 6 or 7 years old," he said. "He was just feral. He would just run off. He bucked nonstop."
He told the tale of one wild schooling session at a rented farm in Aiken, South Carolina:
"There was about an 8′ hedge around [the ring]. It was about 6′ thick, and you couldn't see over or through it. I jumped this grid, and I stopped him, and he backed up at me a little bit, so I put my leg on, and he just ran right through the hedge with me on him. I just remembering thinking, 'This thing is nuts!' "
• But it all turned around—eventually. "When I moved him up to advanced he finally started to grow up," said Coleman. "He was rank as a two-star horse. You would've never thought he'd turn into anything. I think bigger jumps made him more respectful, and then we started to really work together, and that's when everything turned around. He still has his own opinions, but he's more malleable now. Now he's like an old man. He's a little more gentlemanly and subdued. He likes the girls. He likes the attention he gets."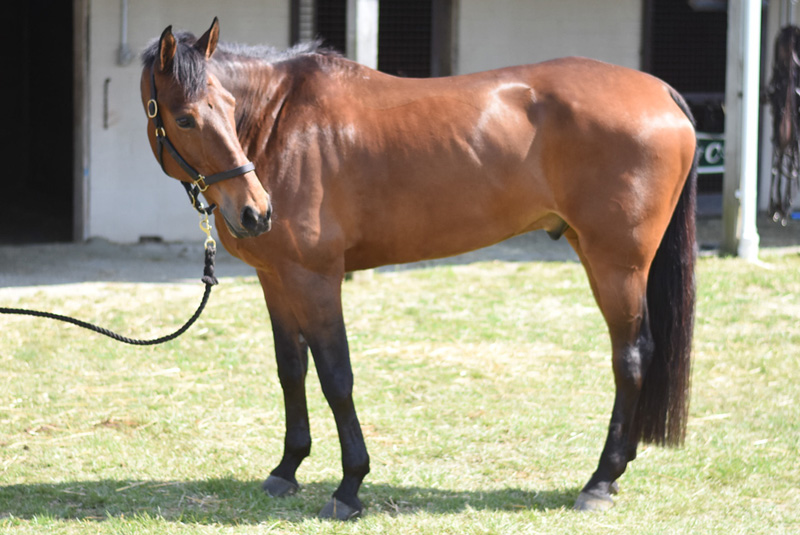 • There's almost nothing Oboe loves more than his night turnout, which he enjoys year round. "He goes out at night in a really big pasture," said Sarah Rupert, one of Coleman's grooms. "He goes out with his girlfriend."
His girlfriend is Rupert's gray mare, Mouse. "He loves his ladies!" she explained.
• It's no coincidence that Oboe loves Mouse. "He gets very attached to gray horses it seems," said Coleman. "He's very attached to Tight Lines, very attached to [Sharon White's gray four-star mount] Louie [Cooley On Show] when they went to Luhmühlen, and very attached to my mare who's a gray."
• Oboe has struggled with respiratory problems throughout his career, but Coleman has found that using a nebulizer before and after every ride helps keep him in top form.
"His wind has always been an issue," he said. "He's prone to IAD—inflammatory airway disease. It's just something we have to watch. The nebulizer is kind of a precaution, but we have to stay really on top of his wind because if I've ever had trouble on cross-country that's been the reason. The nebulizer has been huge. He doesn't have very much Thoroughbred, so I need every bit of his lungs to get him around."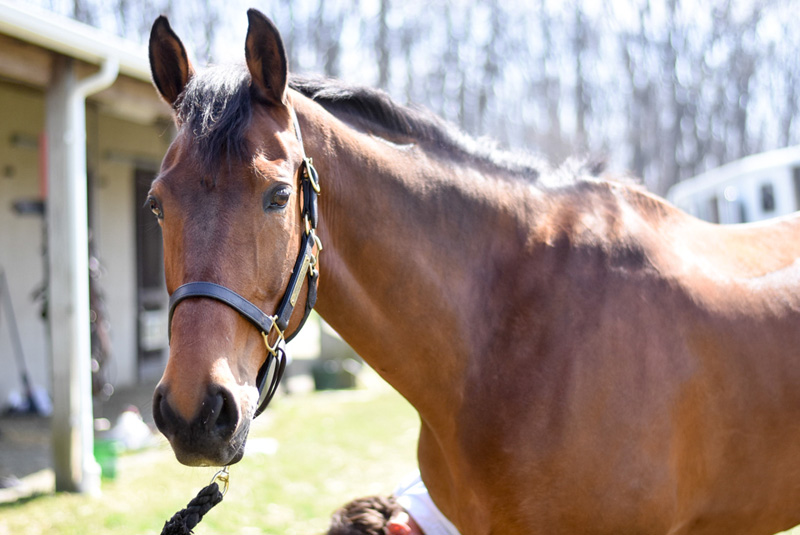 • Catching the cheeky gelding in the morning is hit or miss. "Sometimes he'll let you catch him, and sometimes he's like, 'No I don't want to come in!' " said Coleman.
This is a longstanding habit. "We turned him out at the end of one season, and we couldn't catch him for three weeks," said Coleman. "He had all his rugs on. We could catch the other ones every day to take their blankets off, but we couldn't touch Oboe. We'd come out the next morning, and he'd shed all the blankets. They'd be strewn all over the field."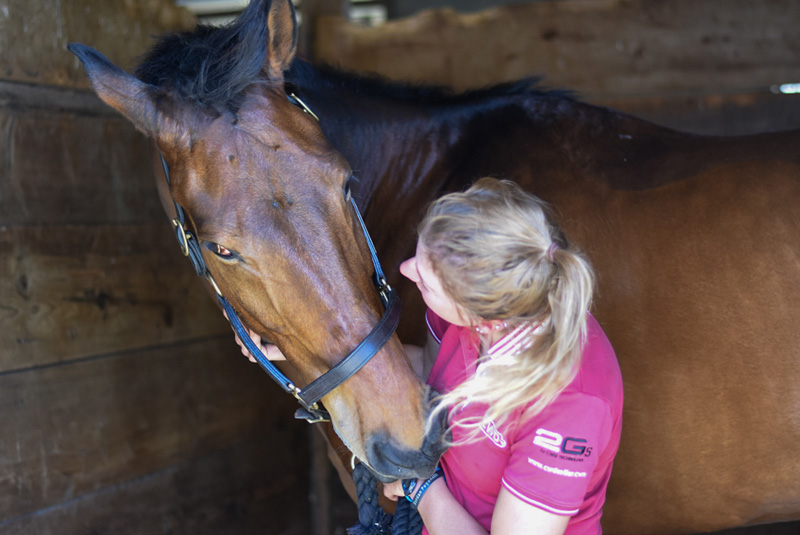 • Oboe is known for his sweetness, and he's easy to win over with a carrot in hand. "He loves his carrots," said Coleman's other groom, Sara Holtz. "All the horses do carrot stretches after they ride. We go through a lot of bags of carrots during the week."
Oboe is gentle and kind—until Coleman puts a leg over the saddle. "He's this big four-star horse, but he's pretty chill and relaxed," Holtz said. "Anyone can handle him. He's really sweet on the ground, and then sometimes you see Will ride him, and he's just so cheeky. We can hack him out, and he'll be an angel, and then Will will get on him, and he'll try to pull these little moves because he knows it's Will."
• If you ever meet Oboe, take a close look at his face, and you'll notice quite a few whorls of hair, which some believe dictate a horse's personality.
"What do they say about a horse with two whorls? They say two whorls is a bit of a temperamental horse. He has seven whorls on his head," Coleman said. "He's got three in a cluster, then four are higher up under his forelock. They should study these; it's got to be a record."