Developing a successful grand prix horse is a huge accomplishment, but to have one that you bred yourself, from a sire and dam you rode, is a rare feat. For Georgina Bloomberg, this is her homebred, Manhattan, an 11-year-old American Warmblood gelding (Metropolitan—Lumina 2, Lancer III) that she's brought up the ranks to the top level of show jumping. Bloomberg showed Metropolitan to the CSI5* level and Lumina 2 in the amateur-owner jumper classes.
This year, Manhattan's been campaigned by Spencer Smith and Bloomberg and has earned top-10 placings at grand prix at the Winter Equestrian Festival (Florida), on the Global Champions Tour, and most recently, at the prestigious CHIO Aachen (Germany).
Bloomberg selectively breeds for a few foals each year and either brings them along or finds good homes for them when they're ready. Go behind the stall door to get to know Manhattan.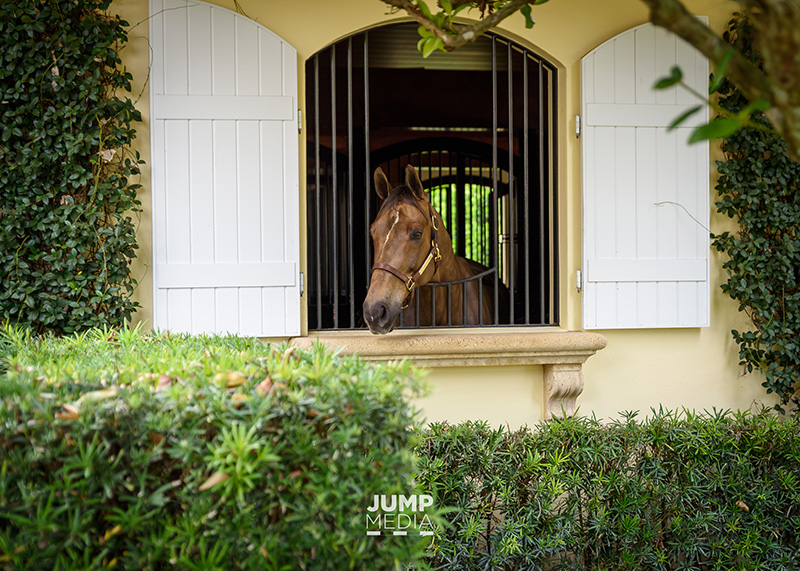 • Manhattan, or "Luke," grew up in the Garden State of New Jersey. He moved from Dr. Brendan Furlong's farm, where he was born, to Bloomberg's barn when he was 5.
"Dr. Furlong and his team have facilitated the breeding of my horses and have done a great job of giving the babies a good start, including preparing them to come into our program when they are ready to start jumping," Bloomberg said.
Bloomberg likes to take things slowly with her homebreds and let them develop at their own rate.
"I find this is something that a lot of breeding programs don't—or can't—do," she said. "Manhattan was a slow learner and late developer, and most people didn't think he would amount to anything. We gave him time and, soon enough, we saw the quality that we had hoped for—but I think that most people would have given up on him."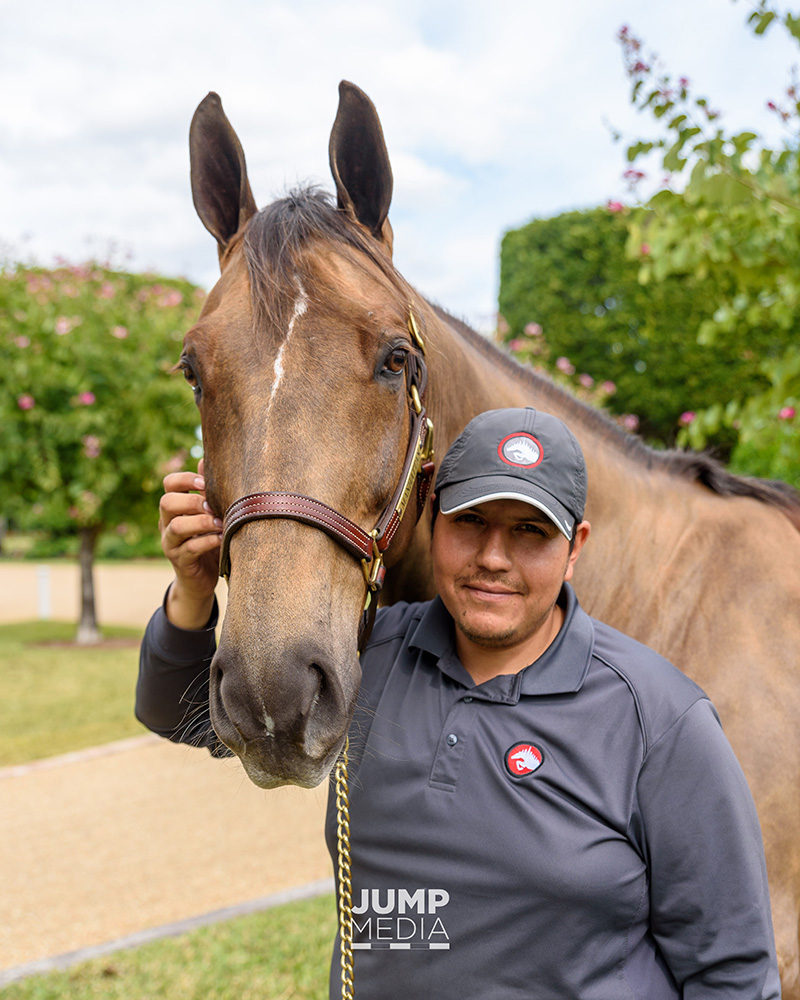 • Luke is a little unconventional in his style.
"He goes in a very different way than a lot of jumpers," Bloomberg said. "He carries his head low and out, exactly like his father did, so I find that he's a very similar ride. I knew right away how to adapt to the feeling of not having anything in front of me. It can be a bit odd to be at the base of a big oxer and not see anything other than the jump, but Metropolitan was a good teacher, and since I did hunters for so many years, I find that I knew the feeling of riding a horse with their head and neck held low."
• When getting ready for a horse show, Luke is a minimal prep kind of guy. "He is very easy to get to the ring, and we rarely have to worry about him having too much energy," she said. "We do a lot of gymnastics and cavaletti work at home to keep him focused and to work on his rideability, but other than that, he is always ready to go. He has a great mind, and nothing frazzles him, so he is a pleasure to ride. I feel at ease going into the ring with a horse that I know is trying his best for me."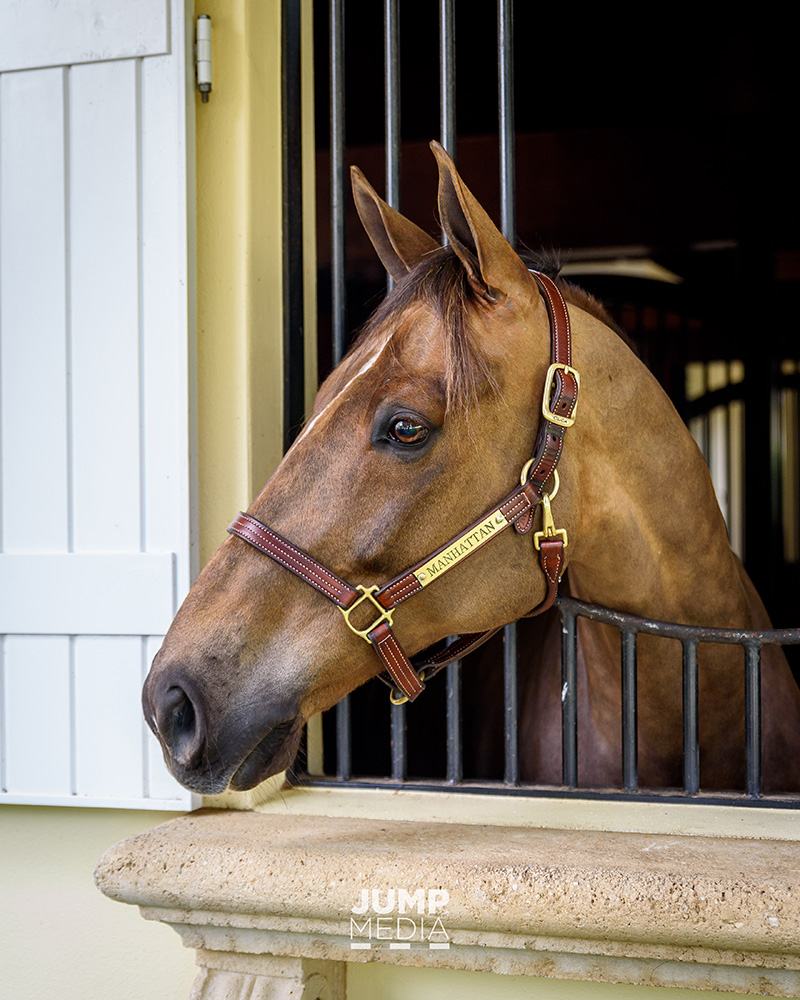 • While Luke is a low-key kind of guy, he does have something he's quite sensitive about: "He doesn't like spurs," Bloomberg said. "I have to be very careful not to touch him unless absolutely necessary and to get him to move forward with my leg but not my spur or he will leap into the air and throw a big buck."
• He's a total pet at home.
"Manhattan is more of a pet than a show horse," Bloomberg said. "He's very laid-back like his father, Metropolitan, was, and you would never know from seeing him in the stall or the paddock that he is able to jump big jumps or that he likes to throw out a buck or two when he is feeling a bit full of himself. He is much sweeter than most horses and is very spoiled and used to getting treats. If he was loose, he would follow us around looking for something to eat and waiting for a snuggle. He lights up in the ring and knows his job, but as soon as he comes out of the ring, he goes back to being a pet."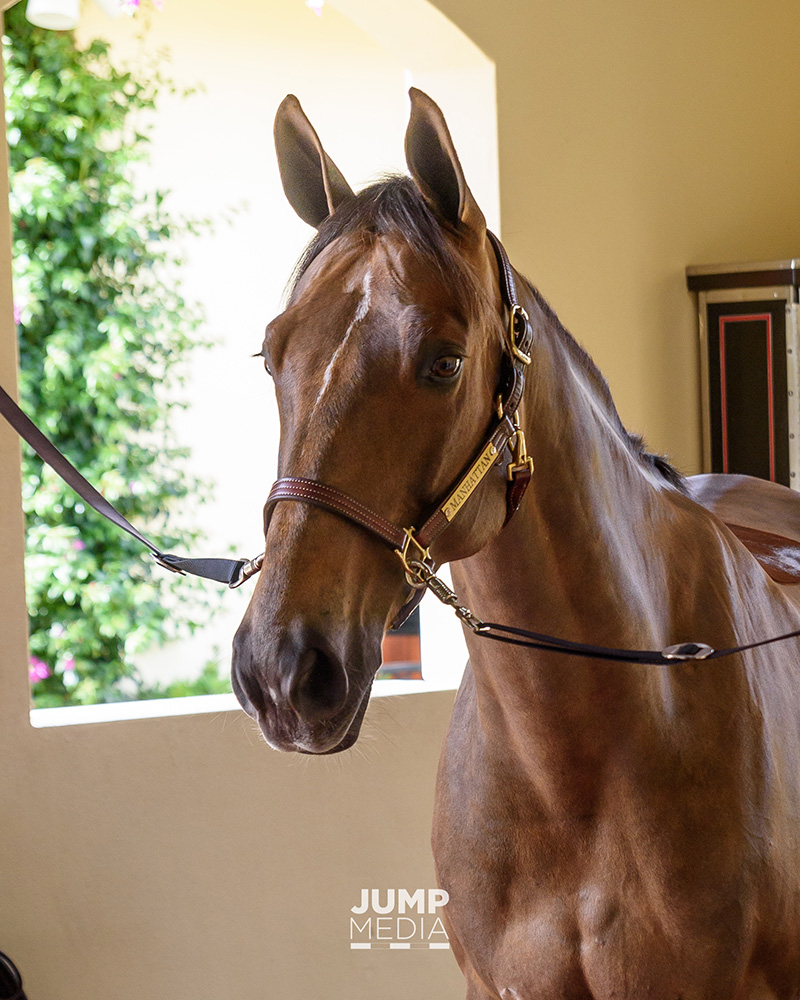 • He shares a special bond with Bloomberg and his people.
"He wants to be loved and get treats and will follow you around and bug you until you give him something," she said. "We are definitely attached to each other because he's a homebred and because he has been with us his whole life. Our other homebreds aren't like him, though. I have never had a horse that really thrives from being treated more like a pet and who recognizes me and requires so much attention and love.
"Our grooms love my horses and have unique relationships with each of them," she continued. "Cristian [Pichardo, Manhattan's groom,] is wonderful at his job, and the horses love and trust him. He has a special connection with Manhattan because he has been in our barn for most of his life, and now that he is jumping bigger classes and doing so well, Cristian is really proud to work with him. I appreciate the fact that Cristian understands how special the horse is to me and how much it means to have him be a homebred."