In the annals of eventing history, a few equine monikers are instantly recognizable. Charisma, Murphy Himself, Ready Teddy—their names conjure up a golden era of eventing horsepower, equine heroism and oddballs-against-the-odds, an unspeakable something that defines the sport. But none of those brilliant animals could count quite the plethora of accolades of modern-day eventing's most formidable talent: La Biosthetique Sam FBW.
The 18-year-old gelding (Stan the Man—Halla, Heraldik) might be dressed in a plain bay wrapper, but the 16.2-hand Baden-Württemberg has never needed flash. Instead, rider Michael Jung says it's his limitless heart and highly trainable brain that have led to the living legend's almost total domination of the sport.
And what a domination it's been! He was second in the 6- and 7-year-old World Championships at Le Lion d'Angers (France) in 2006 and 2007, before winning his four-star debut at Luhmühlen (Germany), finishing on his dressage score as he has done an incredible 19 times in his international career.
In 2009, he made his senior squad debut at the FEI European Championships (France). There, he finished third individually after a pole down cost him the win—but he was only going to get better. The following year, he and Jung became the world champions at the Alltech FEI World Equestrian Games (Kentucky), winning with 9 points in hand.
In the four years that followed, he never finished outside of the top three in his 17 international runs. He would add the title of European Champion to his record in 2011, before taking his first Olympic gold at the London Games in 2012, making him the first, and only, horse to ever hold all three titles at once. What's left to do at that point?
A Rolex Grand Slam, of course. Despite suffering a broken ankle in a fall from FischerRocana FST, Jung piloted Sam to a win at 2015's Land Rover Burghley Horse Trials CCI**** (England). Victory at the Rolex Kentucky CCI**** in 2016, aboard Rocana, meant that everything rested on a Mitsubishi Motors Badminton CCI**** (England) win, and Sam delivered it, finishing on his dressage score and scooping the Grand Slam for Jung.
In 2016, Sam was drafted to the German team once again when Jung's first-choice mount, FischerTakinou, was sidelined with an injury. Once again, Sam finished on his dressage score, retaining his Olympic title with a 7-point winning margin.
It's just the tip of the iceberg, really, in a career that has, so far, spanned 63 international starts and 53 top-five placings. That career is coming to a well-deserved close now, with Jung announcing that the horse will no longer compete in team events. We caught up with Jung and Sam to find out more about the horse behind the heroism.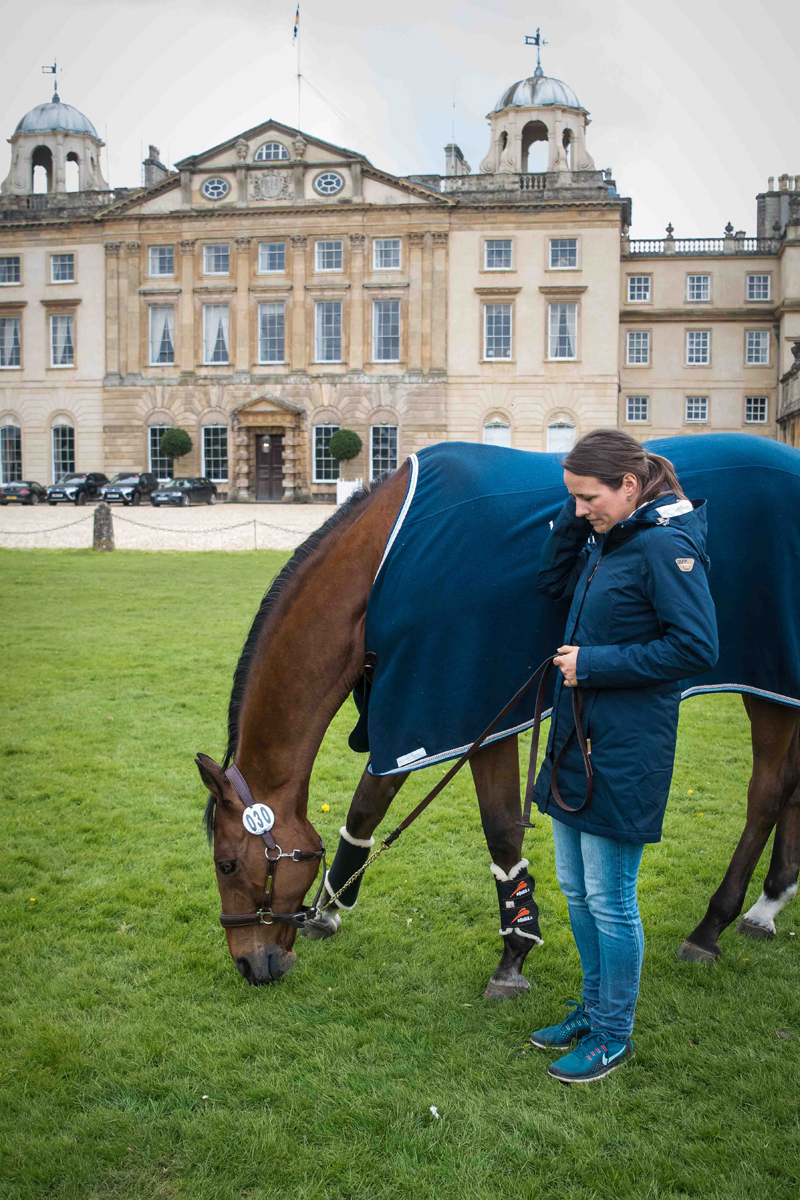 • Sam has learned everything about eventing from Jung, who spotted him as a youngster and was impressed by his willingness to learn.
"We have a little place in Germany where breeders or owners can bring their young horses, and then we can ride them and see what's there," said Jung. "We're usually there looking for horses who could go to the young horse championships. Sam was quite good as a young horse, but he wasn't really a special horse from the beginning; he was always just good enough. But then we started to train him, and he just kept going and going, and learning always, and then, after three or four years, he had grown up and kept getting stronger and better. He was always very trainable."
• Sam is as consistent at home as he is at competitions, although he sometimes needs a bit of extra motivation.
"He's very good to ride and very good to train, but he's sometimes a bit lazy at home; it really depends what you're doing with him," explained Jung, whose sprawling Horb-Altheim base in Germany also houses a riding school and a string of top-level show jumpers.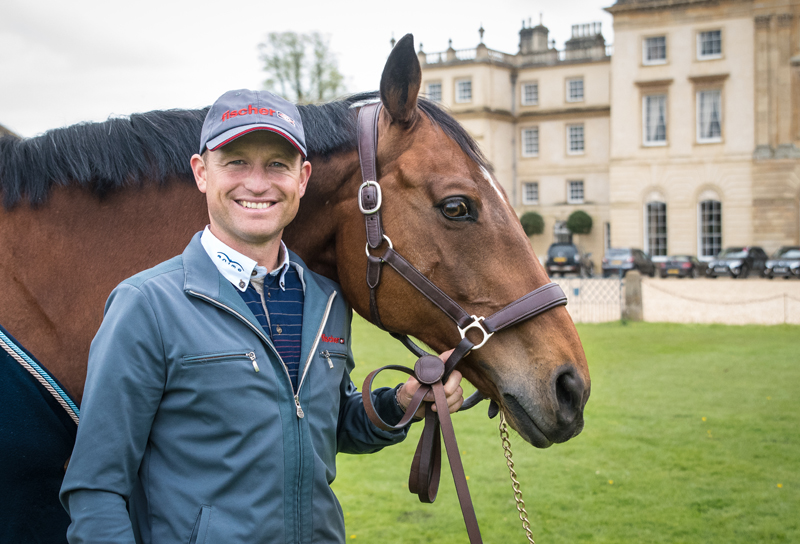 • He knows what he likes.
"His most favorite thing, what he likes the most, is the cross-country," said Jung. "When he gets to go galloping, or cross-country, or jumping, this is what he really loves to do."
It's an easy craving to fulfill, as Jung has a well-stocked cross-country field at home where he utilizes innovative training techniques. He can often be found in the water jump, longeing horses into and out of the water, letting them find their balance and confidence up, down and over questions.
• Sam's picky about his people, and he prefers the company of women to that of men. Jung is, of course, the obvious exception, although with his calm, patient and friendly manner, it's hard to imagine a horse taking offense to his company.
• He's a bit of a loner and relishes the opportunity to enjoy some quiet time.
"He doesn't like other horses so much, and other people," Jung said. "He really likes when he's alone in the field. He's not at all interested in the other horses."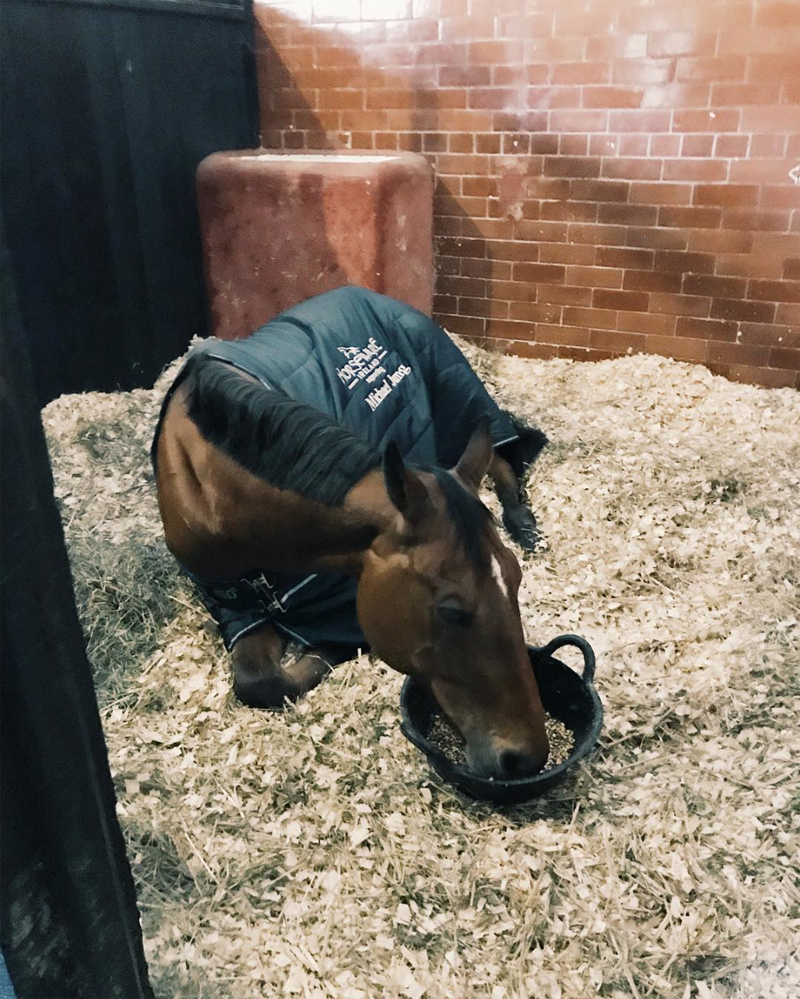 • He benefits from regular physio, as administered by Jung's partner, Faye Füllgraebe, who also events up to two-star level, and she accompanies Jung to most competitions.
"He's not a horse who needs it every day, but we're lucky that she checks all of the horses and makes sure they're comfortable," said Jung. "It's very good for them, and he sometimes needs a bit of help."
• Although he's won nearly every title there is to win, Sam doesn't like to bask in his glory. In fact, Jung has to borrow horses for prize givings, as Sam gets worked up when he's in an atmosphere without a job to do. Similarly, Jung can often be found working the horse early at events, before the collecting ring gets too hectic, so that he can spend less time warming up with everyone else before he heads into the ring.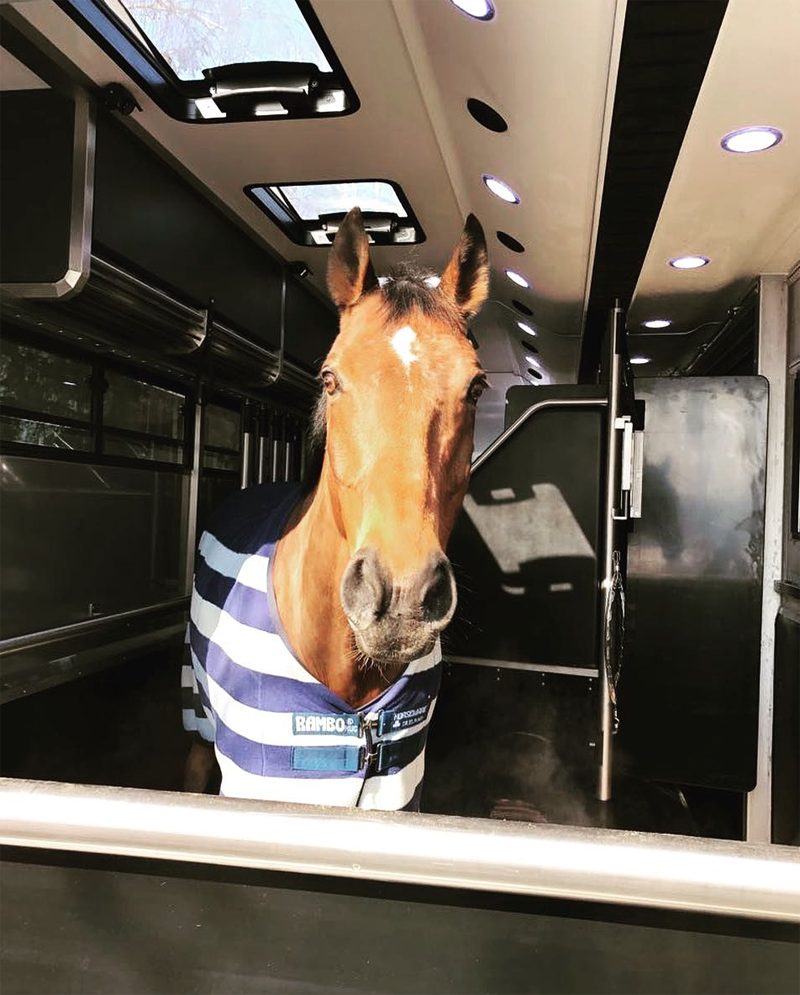 • Sam's travel arrangements are unique and have been fine-tuned over his long and storied career. Rather than traveling in a traditional partition in Jung's enormous Fischer-branded lorry, his team creates a box stall in the back to allow him a luxury suite on the long road to competitions.
"He doesn't really like when he doesn't have much space; he's very nervous about it," explained Jung. "With this set-up we found he traveled very easily and was very relaxed. He can get his food from the floor and move around, and if we stop somewhere he has much more space to be comfortable."
• He settles in easily at events and sticks to his routine—midday is nap time, and he can be found nestled in his bed, sleepily picking through his lunch. He needs these breaks—even in the stables at Badminton, he has plenty of fans who stop by to peer over the door at him and take photos.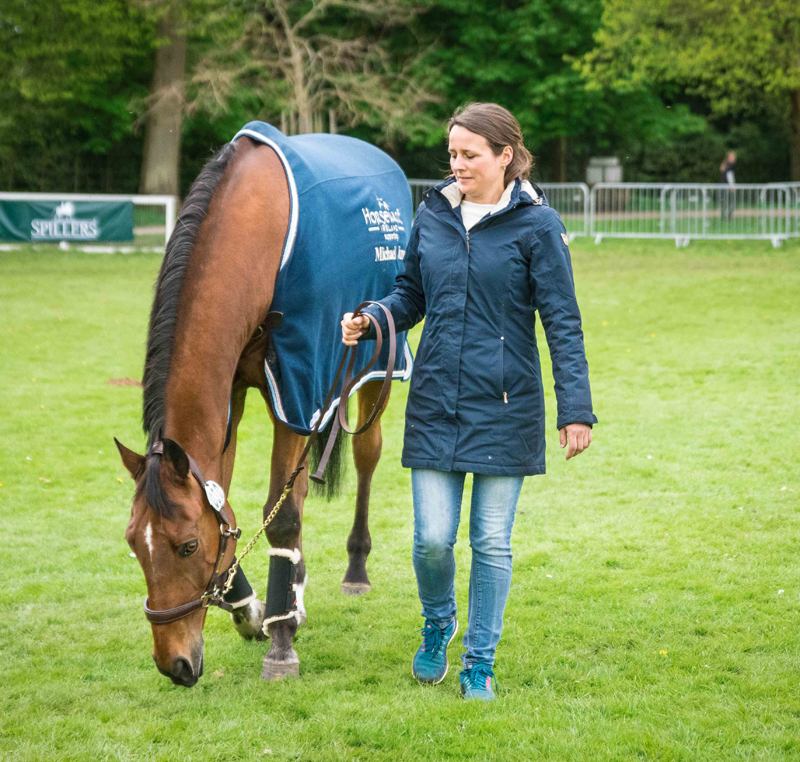 The eventing history books could have told a completely different story; in 2011, Jung nearly lost the ride on his top horse when his former owner decided to sell. Fortunately, the German Olympic Equestrian Association stepped in and purchased the majority share, allowing the exciting partnership to continue to grow. Is 47 percent of a horse a fair price to pay for world domination? We reckon so.