In a sport built on partnerships, there's something to be said for the rider who has known his or her horse since the very beginning. For Andrea Baxter and her speedy Thoroughbred Indy 500, their success is built upon a relationship nearly a decade in the making. Now 13, "Indy" (Cromwell—Tensofthousands, Spend A Buck) has lived with Baxter at her family farm, Twin Rivers Ranch in Paso Robles, California, since she was 4.
"She really has been under my thumb her whole life," Baxter said. "She was bred at a Thoroughbred farm, but the farm sold right away when she was a weanling, and then a friend of mine bought her before I got her. I broke her and did everything with her."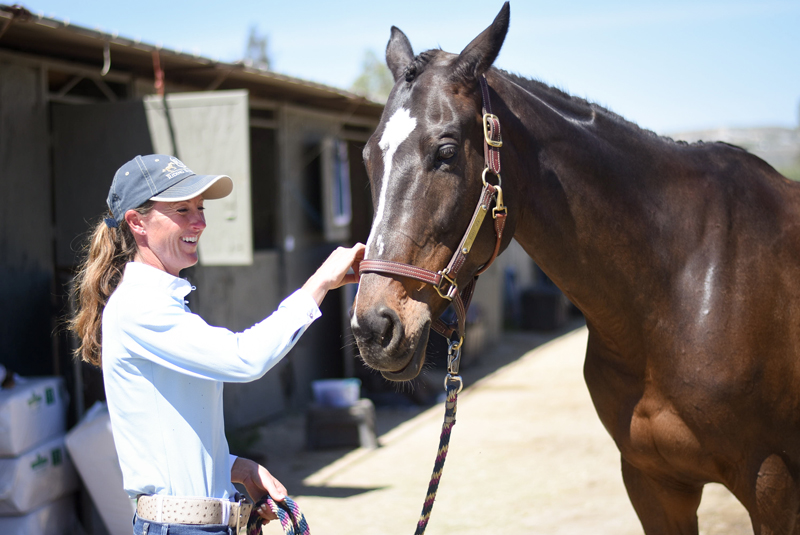 Indy wasn't initially an upper-level prospect, but she stepped up and answered every question before making her debut at the advanced level in 2012. She's proven a reliable partner for Baxter ever since, with seven CCI*** and three CCI**** finishes. Most recently they were 31st at the Land Rover Kentucky CCI**** in April and 36th at the Land Rover Burghley Horse Trials CCI**** (England) in August.
Go behind the stall door with Indy 500.
• Though she never raced, Indy was registered with the Jockey Club as My Gifted Indyanna.

• Shortly after beginning to event the mare, Baxter bred Indy to the Holsteiner stallion Linaro. Unfortunately for her foal, Indy wasn't very maternal.
"She was a terrible mother. Absolutely terrible," said Baxter. "He's like the friendliest ham sandwich there ever was because he was basically bottle fed and raised by us because I had to hold her in the corner with a stud chain and ace to let him nurse. To this day she won't let the vets take her temperature because she's afraid she's going to get bred. She was not into the baby thing."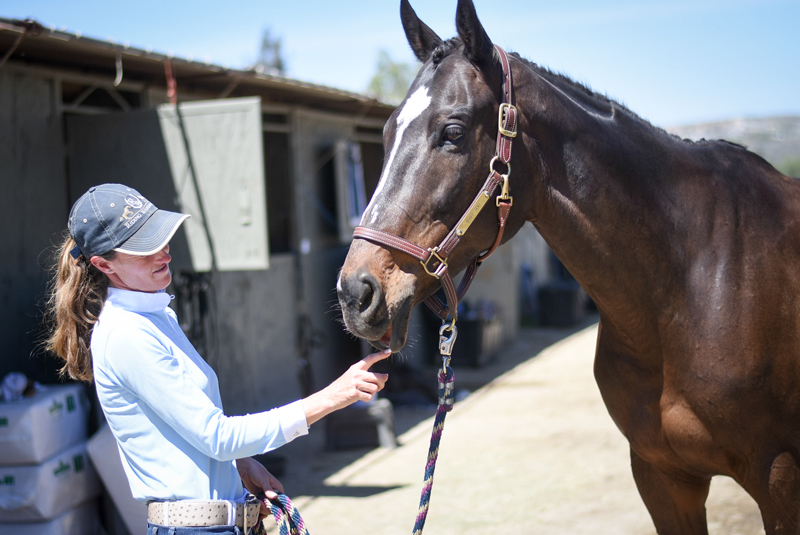 Now an 8-year-old, Laguna Seca has also taken to eventing and has competed up to preliminary with Tamra Smith.
"Whenever 'Junior' sees her at the shows he knows," said Baxter. "At Montana [The Event at Rebecca Farm] their stalls were back to back, and he's so big he would just stand in the stall looking over just staring at her the whole time. She would pin her ears—she wasn't interested—but he definitely knows it was her."
• Though not mareish, Indy likes things her way. "She's not very good with change or new environments, new types of shipping or hauling or stables, but when she's in her normal pattern at home she's really good," Baxter said.
• For Indy, the most difficult part of any horse show is settling in. "She gets over it, but the first day she'll literally kill herself," said Baxter. "She's beyond reasonable. She'll get into trouble; you just can't leave her alone. I just somehow have to have time to be on the end of the rope all day long."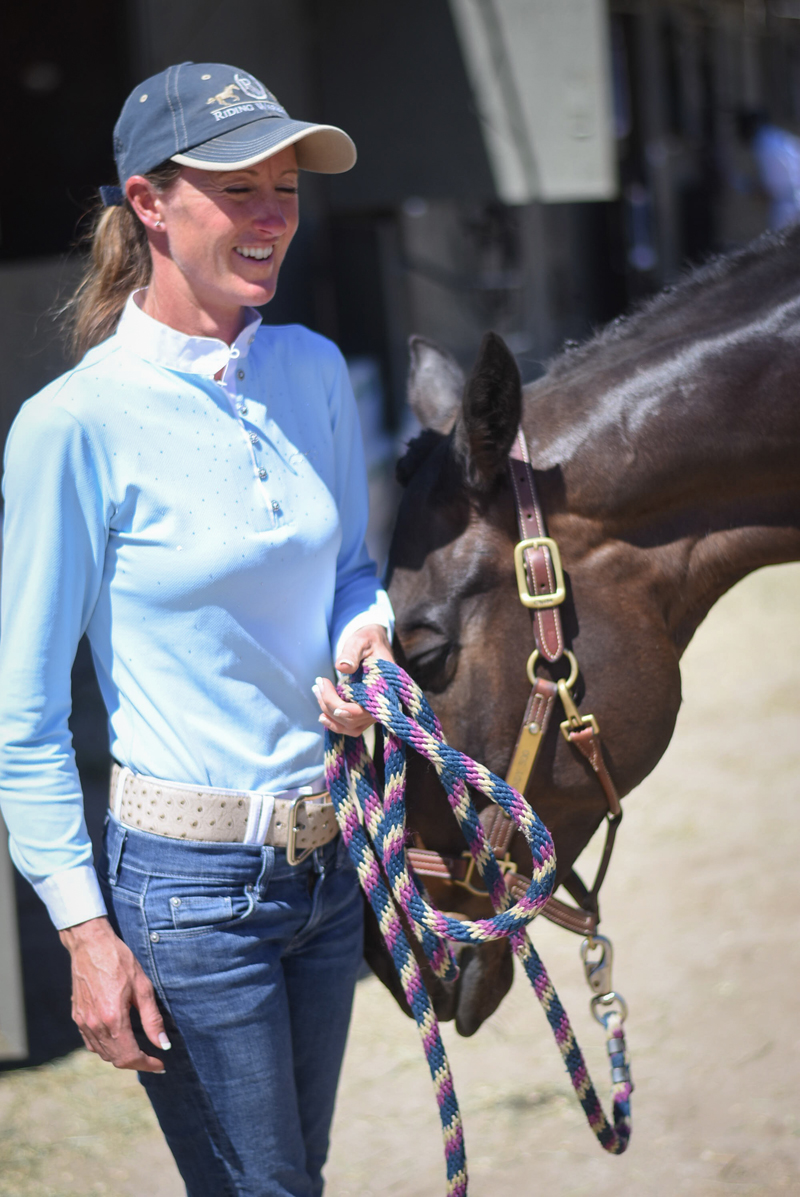 • Despite her pre-competition craziness, Indy earns her worth on the cross-country course. "For how crazy she can be on the Thursday of every event, by the time I get to cross-country day, she's probably the most chill horse out there. She doesn't get worked up in the warm-up. She'll literally just walk around on the buckle in a loose ring snaffle. She doesn't even get weird around the box. You just go out of the box and press start. She picks up her rhythm, and I never have to speed up, and I never have to slow down," Baxter said.
• Though she is mostly a "point and shoot" cross-country horse, right corners are her bogey fence.
"She never had any cross-country penalties ever all the way through advanced, and then once I took her advanced she'd sort of here and there have a right corner issue," Baxter said. "Even now it's become such a mental game that I see them on her, and I know what her reaction is going to be, so it's hard to remain clear minded when you know you have that history, but she is going way better, and she's gotten a lot better with it."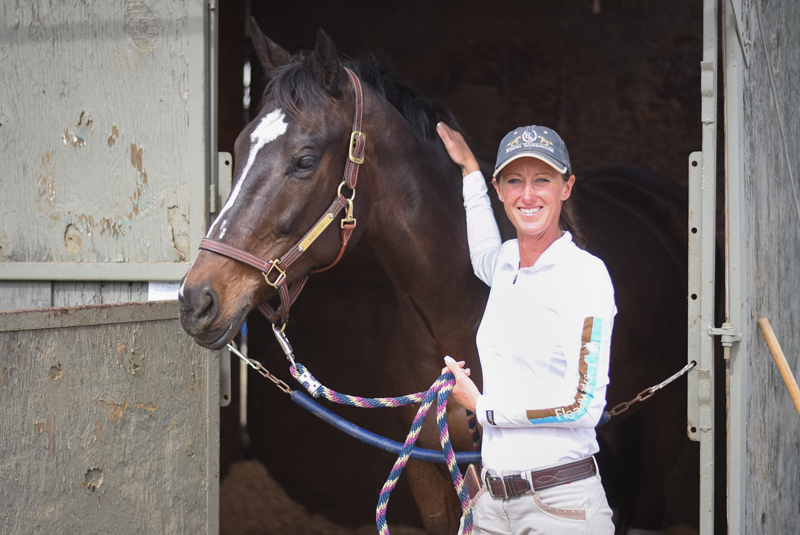 • Indy has a pretty unique dressage preparation. "I've relegated her to gallop at every show before dressage," Baxter said. "We don't even bother with dressage until the gallop is out of the way, and then she's usually pretty quiet for my tests."
• Only a handful of others have had the chance to ride Indy. "When I was at Rodney [Powell] and Alex [Franklin]'s in England, I think Alex riding her was one of the first times anybody had really been on her," said Baxter. "It was really cool for me to see. She had her using her topline in a way I didn't even know she could. It was a good visual for me to see that there's more there; I just have to figure it out."
• Indy's favorite treats are Tasty Treats made by Baileys Horse Feeds. "She found some treats in England that were just the best things since sliced bread," said Baxter. "They gave us a big bin of them at Burghley, and she was obsessed with them, so I even paid the freight to bring the damn thing home with me."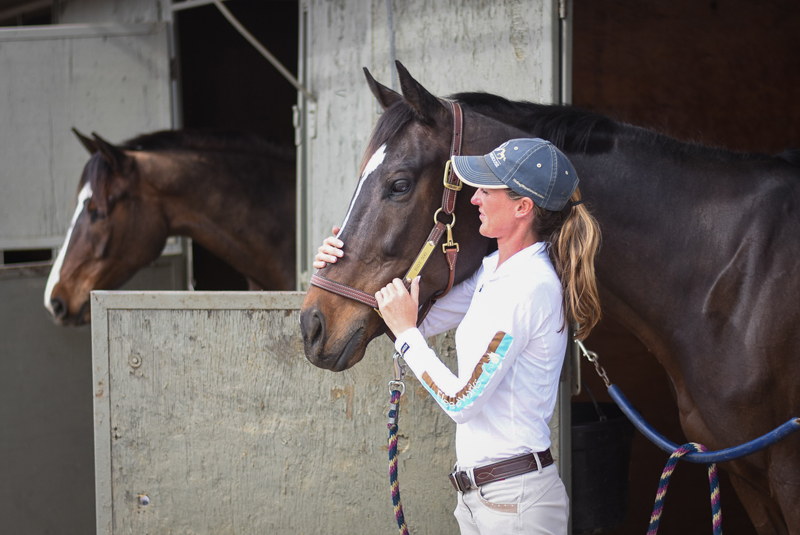 • Indy is a confident, self-assured kind of girl. "She's just sort of independent. She does her own thing. She doesn't go out of her way to get attention and doesn't really care if she doesn't get any," Baxter said.
There is one exception to this—Baxter's up-and-coming horse Enfinity. "She's clingy," said Baxter. "I try not to take her anywhere with her girlfriend. [Enfinity] doesn't care. She's not involved, but she is involved because [Indy] is attached."
• Despite the mare's quirks, Baxter wouldn't trade her partner for anything. "She's a challenge all the time, but she sure is worth it," she said. "She's so quick, and she's so smart cross-country, and she loves show jumping too; she's a really good show jumper. And in the dressage she's gotten to the point where she's really rideable. She's not gifted necessarily in her physical attributes, but she really does try hard."