Harbour Pilot has a sparkling career spanning 15 years, and he demands a certain level of respect for his accomplishments.
"He's a bit of a prince," longtime rider Hannah Sue Burnett said. "We call him Sir William Mars of Stonehall. He knows he's special and expects to be treated with respect at all times."
"William," a 19-year-old Irish Sport Horse (Cruising—Shannon, Catch On Fire), is owned and was bred by Jaqueline Mars and grew up at her Stonehall Farm in The Plains, Virginia, under the tutelage of David and Karen O'Connor. Burnett took over the ride on the dappled bay gelding in 2010, and together they've had 10 CCI5*-L starts. In 2011 they earned team gold and individual silver at the Pan American Games (Mexico).
Burnett and William are preparing for a fifth appearance at the Land Rover Kentucky Three-Day Event, to be held April 28-May 1 in Lexington, Kentucky. We caught up with them at Chattahoochee Hills (Georgia) where the pair won the open intermediate.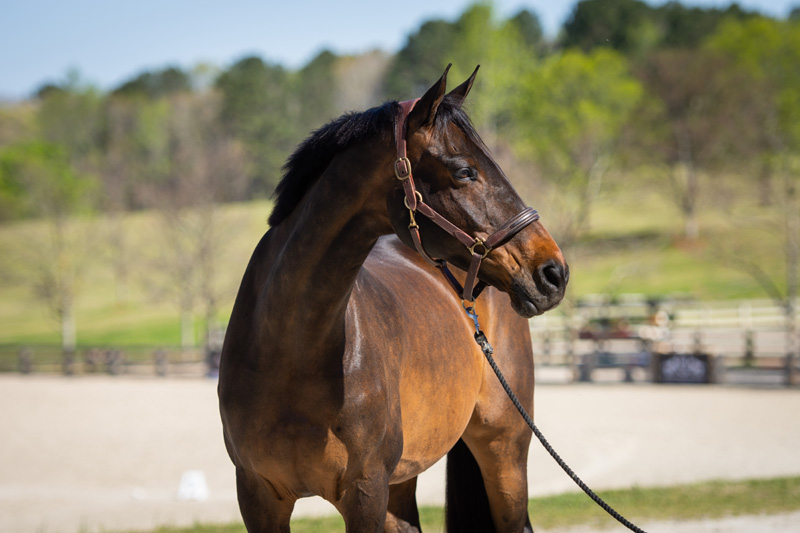 • Burnett's entire team takes William's claims of royalty very seriously.
"He's the king," she said. "Everyone calls him the king. He and my dog Jackson, they're like the mascots of the whole team. They rule the land."
• William's best friend is Capitol H I M, another upper level ride of Burnett's, who she'll also be competing at Kentucky this year.
"In the last two years we've started turning him out with Captiol H I M—'Cheeto' is what he's called," she said. "He's this big, beautiful teddy bear; he's so sweet, but he's actually the boss in the paddock with William. Which I think has actually been really good for William because it's humbled him a little bit. They love each other.
"I was at Ocala [Horse Trials (Florida)] doing the combined test, and William was neighing the entire test," she added. "He wasn't doing anything wrong, but he was screaming for his friend, so he's gotten kind of attached, which I think it's really sweet that they're friends."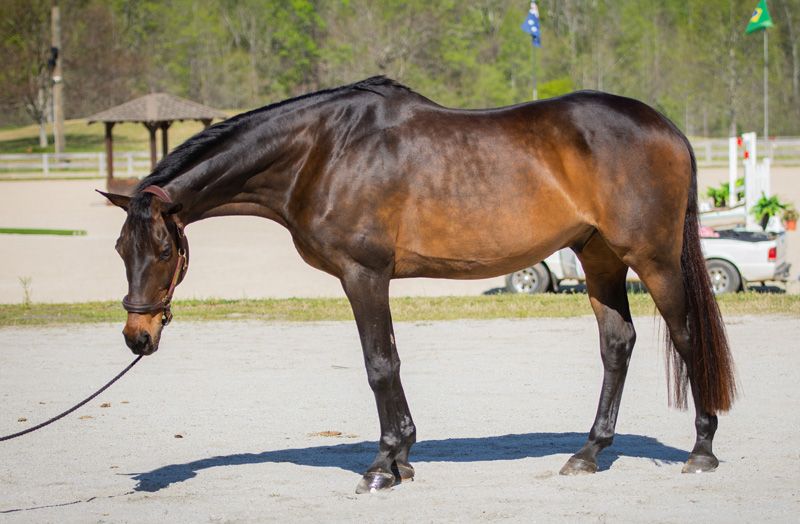 • The king expects to be chauffeured in style.
"He's not a very good traveler. He does it, but he weaves," Burnett said. "He's gotten better since Cheeto is in his life now as a more stable partner, but he prefers airplanes. He's like, 'Where's my plane? Why are we taking a trailer again?' He travels perfectly on a plane. In a trailer he kind of thrashes around a bit."
• Because William has had such a lengthy and varied career, he often has a "been there, done that" attitude at shows.
"He's been everywhere so he's actually better at the places he hasn't been because he kind of gets a little excited," Burnett said. "When he's been to a venue a million times, he knows what he's there for. So when I took him to Aachen [Germany] he was kind of like, 'Where am I?' and was a little easier to ride."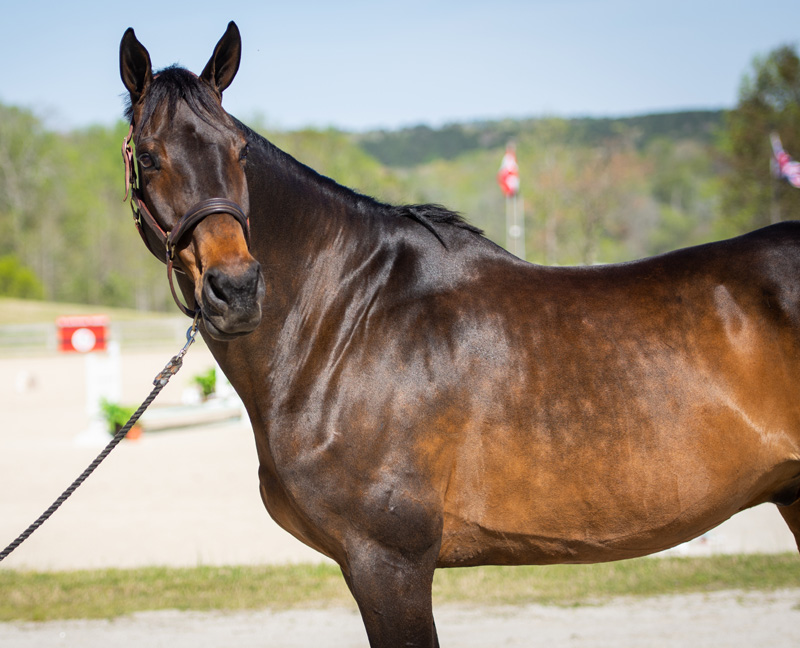 • He's a very laid-back horse, but does have a spook in him, especially at a trot-up.
"He's always had a pretty strong flight response when he's scared of something, but he's just really reliable in most ways," she said. "The first trot-up he's really well behaved, but after cross-country at a five- or four-star, you can see his eyes are different. He's wild. The second trot-up can be quite exciting. One time we couldn't get his boots off because he was just running circles around my groom. I was screaming for David, and he had to lead him down there because it was like flying a kite. I couldn't lead him."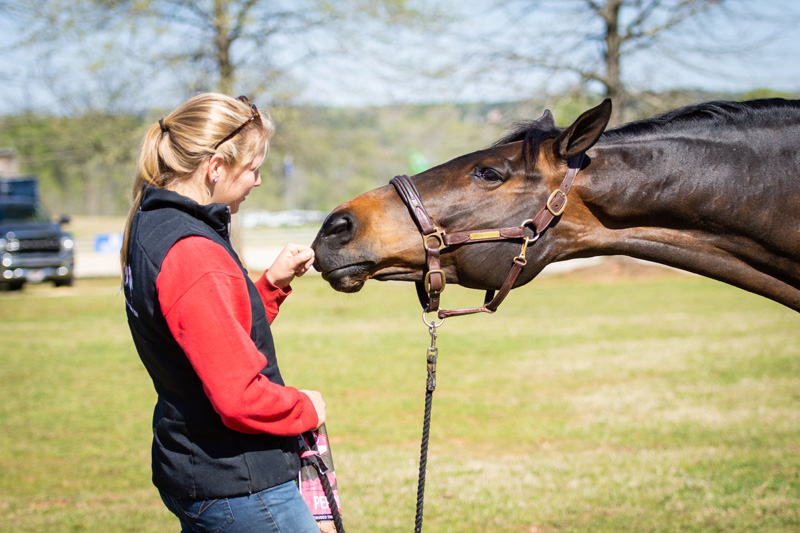 • William has a bit of a fear of enclosed spaces.
"He's a little claustrophobic, so [the] roping to get to the start box is a bit of an issue for me," she said.  "I have to plan a different route, which I've learned. You can't lead him when I'm on him for cross-country. He won't allow it. He feels kind of trapped I guess.
"I have to go around things, especially at Kentucky," she continued. "The last few times I've taken him it's been a complete disaster getting him to the warmup. I've thought, 'Maybe I'm not actually going to get to do this.' And then I would go all the way around and finally get down there."
Hannah's husband, show jumper Matthias Hollberg, helped her figure out a solution: "My husband actually learned that if you walk in front of him he wants to follow you, but you can't lead him. If you just walk in front of him and you're totally cool he keeps his eye on that person."
• William enjoys his treats, but he's pretty specific.
"He likes Mrs. Pastures, Buckeye treats and carrots, but that's about it," Burnett said. "We tried to give him a pretzel the other day, and he was very offended. He was like, 'What is this? Peasant food?' "
• At Burnett's base in Kennett Square, Pennsylvania, William is always fed first.
"I swear he has a clock in his stall. He knows what time it is, and he'll weave a little if you're not perfectly on top with the feed," she said.
While he eats first, he also finishes his food first because it's a surprisingly small amount for his level of work.
"He is naturally quite an easy keeper. He gets like a handful of grain even at the five-star level," Burnett said. "Like last night he was so good, and I'm like, 'I really want to give him some more food, but I don't want him to be too fat for Kentucky!' "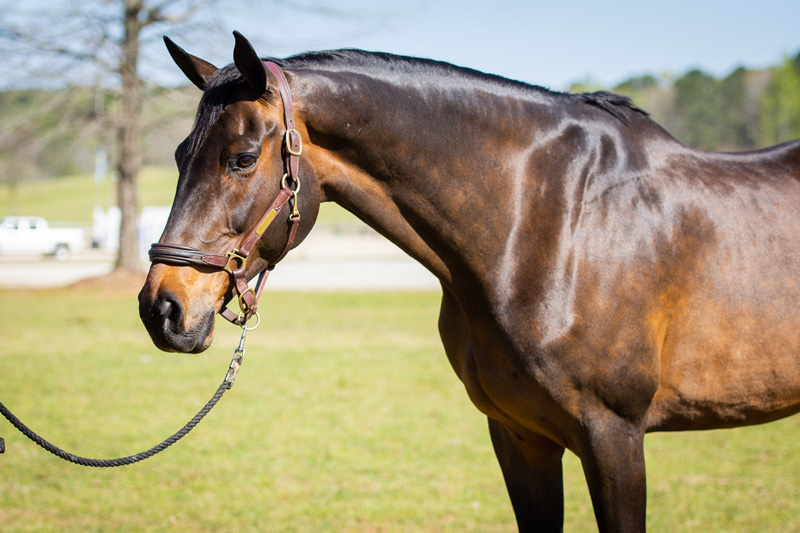 • William has a luxurious coat which requires frequent maintenance.
"We call him Woolly because he grows hair nonstop like a woolly mammoth. He has to get clipped all year round. He doesn't have Cushings, but he's just like a little Irish pony, I guess," she said.
• If this eventing thing doesn't pan out, he's got a backup plan.
"David did all the Parelli training on him—the groundwork—so he could be a trick horse probably. I think David would love that. He does all the round pen stuff, and he's really trainable, he just loves to work," she said.
• After so many years together, Burnett says she's just really thankful for every single ride she gets with her friend William.
"I've been saying for years that if he wants to not keep going at any point, that we won't do it anymore, but he's just getting better and better," she said. "He's like a fine wine. My husband calls him Benjamin Button because he's just getting younger and younger."