After notching an impressive list of accolades in under-25 competition, Anna Buffini found herself 26 years old and suddenly without a top horse to ride into the next stage of her career. Until a video led her to take a chance on a redheaded mare.
Buffini's résumé includes winning the 2014 AGCO/USEF Young Rider Dressage National Championship, the 2016 USEF Young Adult "Brentina Cup" Under-25 Grand Prix National Championship and 2019 reserve championship, and a 2017 U25 Nations Cup team gold medal.
But after the retirement of her top horse Wilton II,  Buffini found herself unsure she would even be able to compete in 2021. In an impulse coronavirus purchase, she imported FRH Davinia La Douce from Klaus and Anabel Balkenhol in Germany. Buffini felt comfortable buying the 14-year-old Hanoverian mare (Don Frederico—Anneliese R, A Jungle Prince) without sitting on her because she'd ridden her on previous trips to Germany.
This winter, they picked up several top-10 finishes in CDI competition at the Adequan Global Dressage Festival (Florida), most recently finishing third in the CDI3* Grand Prix and Grand Prix Special at AGDF 10 in March.
We went Behind the Stall Door with Buffini's new partner to learn more.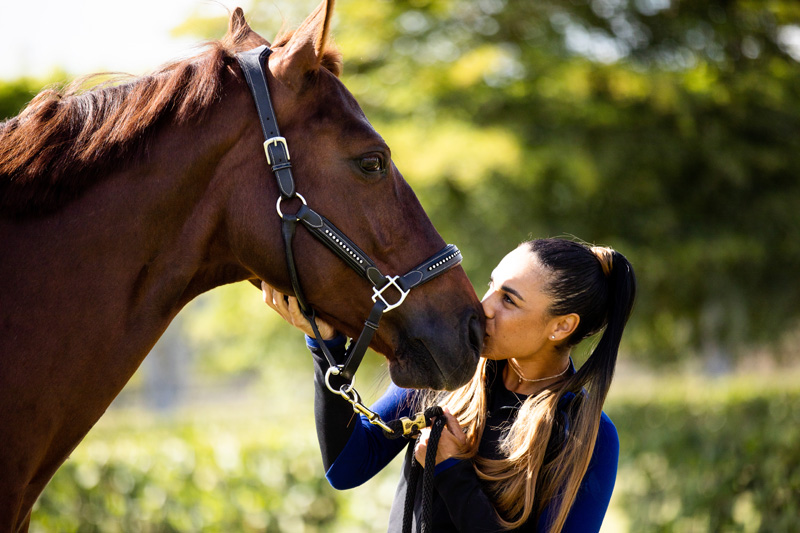 • Though FRH Davinia La Douce is her competition name, this redhead has earned the nickname "Diva" around the barn. "Her name is so beautiful," said Buffini. "I love Davinia. But I really like shorter names, and everyone was like, 'Just make it shorter. Just call her Diva!' I thought that was a little cliché, and it seems as though everybody's named Diva. But, then I got to know her, and that's totally her. I can't not call her that now!"
• Buffini calls Diva her "Corona Miracle." "My trainer Guenter [Seidel] is great friends with the Balkenhol family, and we had tried this mare a few years ago. I ended up coming home with a different horse at that time, but she was always in the back of our mind," Buffini said. "This year, I had to retire basically all of my horses, and I was left with zero hope for a 2021 season, and possibly no 2022 season either. When we found out that she was still for sale, we bought her off of a competition video. Normally we wouldn't do that; we'd go try the horse. But she's my miracle, and it's shown me that beautiful things can still come out of hard times."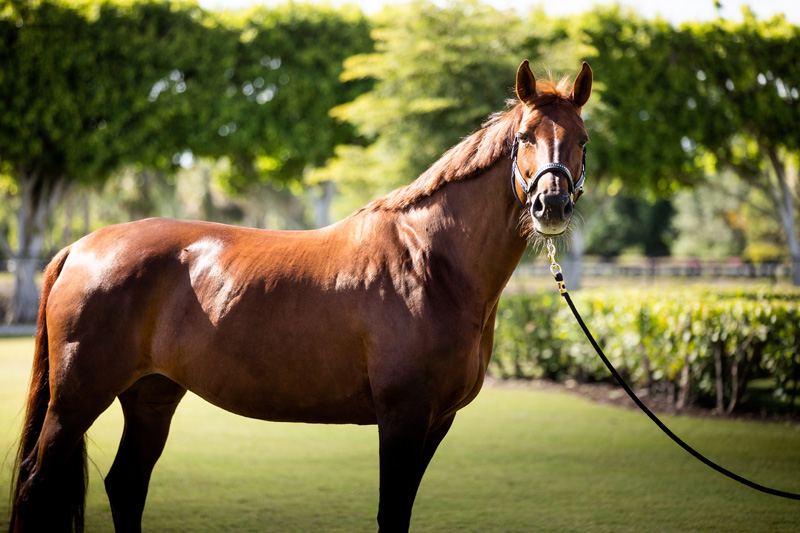 • Diva is a horse that prefers people to animals, and she's always in your back pocket. "She's easily the sweetest horse I've ever owned," Buffini said. "She loves to cuddle. She's like a puppy; she'll jump in your lap. I almost feel like she wants to try to speak English sometimes. She's so expressive with her eyes and her ears, and she's like, 'I just want to talk to you.' "
• Buffini appreciates that the mare's training is similar to her own, since Seidel is a student of Klaus Balkenhol. "With her, I just understood her buttons, I understood how she moved," she said. "We have the same feel—classical, from your leg and your seat up into your hand, and push from behind. She understood it right away. With so many horses you have to change their buttons a bit, but with her we just had to get in sync. The foundation of the training is the same, and I got very lucky."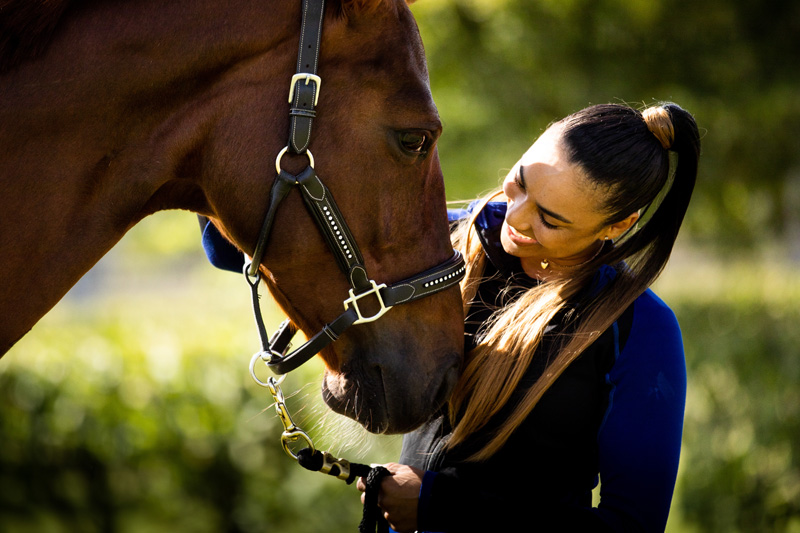 • "If she was in high school she would be like the cheerleader," Buffini said. "The popular girl who just knows she's all that. She's so pretty, and she'd be dating the star football player."
• "She's what I think every woman strives to be," Buffini said. "She's sweet, but she's confident, and she's strong, and she just has a heart of gold. She's a role model."
• In the competition arena, Diva has a knack for the collected work. "Her strength is her passage," said Buffini, "and especially that passage-piaffe line at the end of the Grand Prix. It's my favorite. It's so powerful, and she gets so springy. So many horses get tired at the end, and she lifts her legs so high. I remember looking at the judge and seeing her knee out of the corner of my eye, and I was like, 'Dang, girl.' It was so great."
• Speaking of the competition arena, "She tries so hard in there," Buffini continued. "It's exactly the feeling you want in a competition horse; especially since we showed so much in Florida, I've gotten to see the consistency. I think consistency is one of the biggest keys you want to see in a top athlete. Every time we show, even though I may make mistakes because we're still green together, she comes out, and she tries her hardest. Honestly, I couldn't ask anything more. So even if we don't have the best test it's still a good feeling. She tries so hard."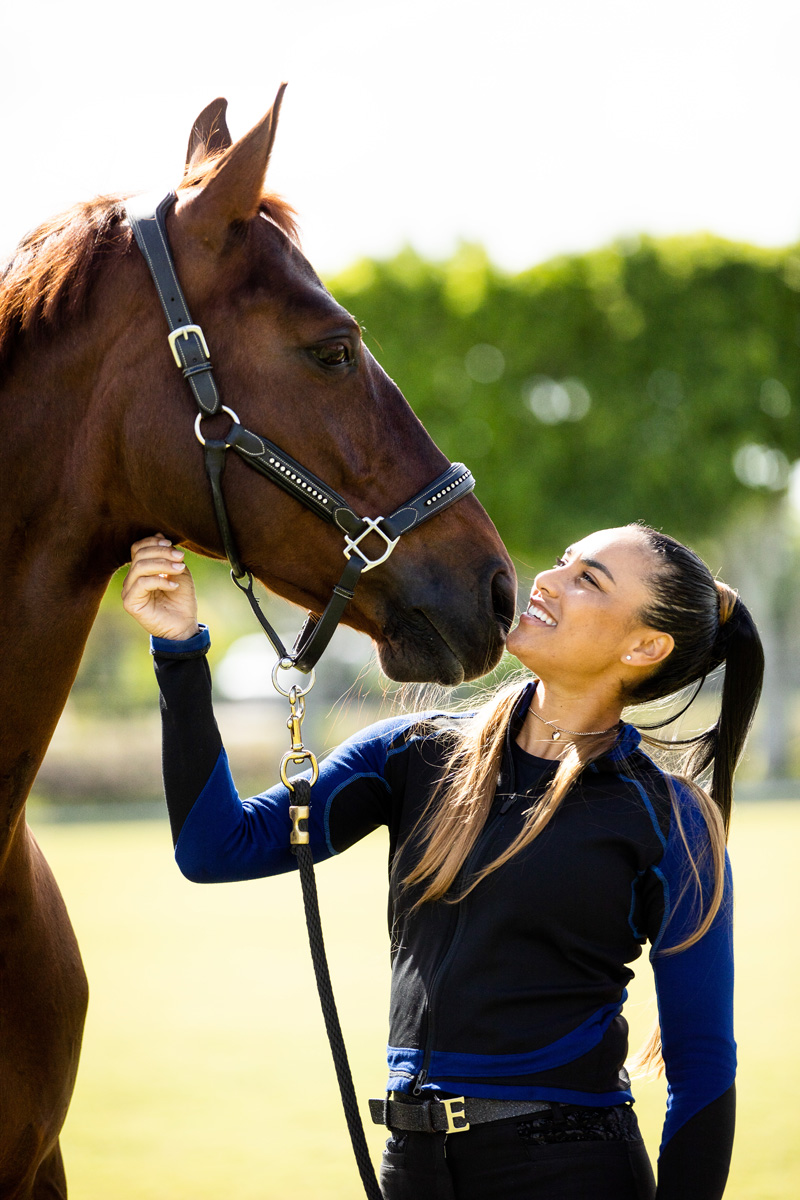 • Diva is the hungriest horse that Buffini has ever met and, "she eats more than any horse I've ever met. She eats so fast, and she's very, very treat-oriented."
• In training, less is more with Diva. "A hundred percent," Buffini admitted, "every time I want to do more, every time I feel like I'm not going to get something, I want to push more; the answer is always less. It's not taking everything away, but being cleverer, and having better timing, and figuring things out, giving smaller aids quicker instead of bigger aids more often. That's the biggest thing I've learned working with her."
• With Diva, listening is key. "I know a lot of mares can be a little bit difficult, and she's definitely opinionated," Buffini said. "I'd never owned a mare before she came along. With the geldings, you can kind of tell them to knock it off, but with the mare, she's like, 'No this is my thing, and you're going to listen to me.' It's such a strong opinion. Once I understood how similar we were, it made more sense. She's sweet, but she doesn't like to be pushed around, and if she has something to say, you need to listen to her."