When you're in the business of bringing along young horses, part of the plan is that they sell. Valerie Vizcarrondo Pride had lots of promising young event horses that she'd trained and sold along, but it had been a long time since she'd had a horse in her barn that she could ride at the upper levels.
So with the help of her supporter Elizabeth Bonner, she set out to find one. And after looking up and down the East Coast and in Europe, she found her partner on the opposite coast, in California. Bred by Anita Nardine, Favian is a 13-year-old Oldenburg gelding (French Kiss—Risiko, Relevant) that was being brought along by Tamie Smith and Heather Morris. He won the 2015 Nutrena/USEA American Eventing Championships (Texas) novice horse division, and then Pride purchased him in 2016.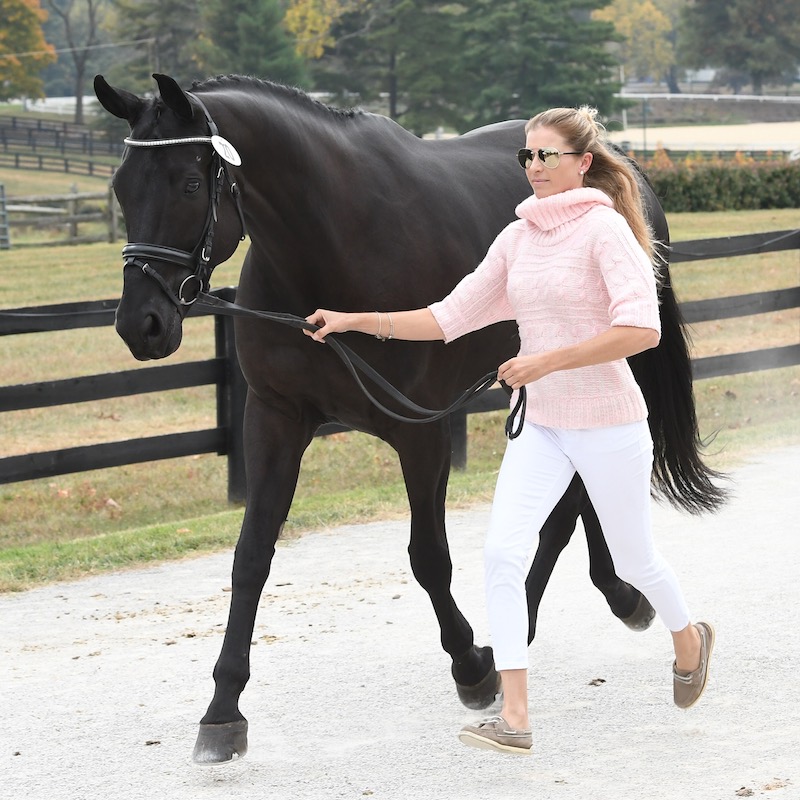 After moving up to the four-star level in 2019, Pride was worried the pandemic would dash her hopes just as she had a horse ready for the big time, but fortunately Tryon International Equestrian Center (North Carolina) stepped up to host a four-star long in 2020, where they jumped clean on cross-country with some time penalties and finished 37th.
Favian and Pride moved up to the five-star level in 2021. After a fall cross-country in their first attempt, the Land Rover Kentucky CCI5*-L, the pair regrouped and completed the Maryland 5 Star at Fair Hill with a clean cross-country round and three rails in stadium in October, earning them a respectable mid-pack finish en route to minting themselves as a five-star team.
In 2022, Pride hopes to take another crack at Kentucky and try to make her first international trip (if the pandemic allows), perhaps to Pau (France) or Luhmuhlen (Germany).
• Around the barn, 16.3-hand Favian's nickname is "Black Beauty." "He's a beautiful, big, black warmblood," Pride said.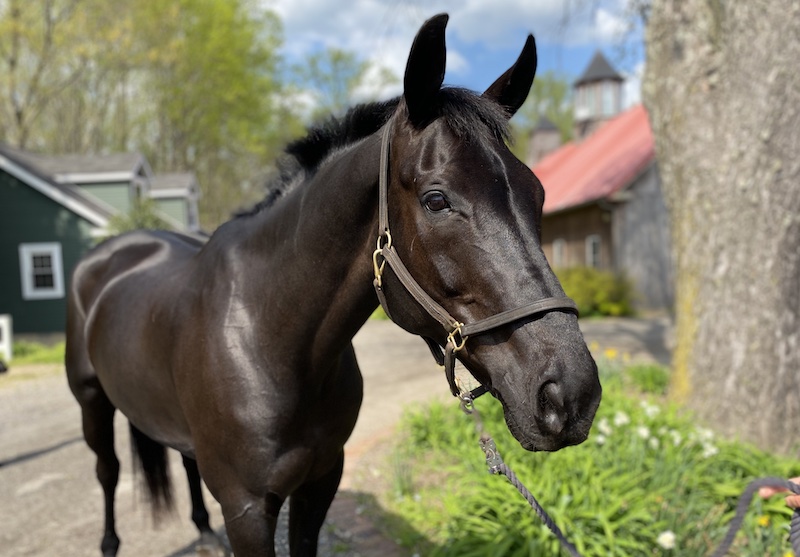 • After riding lots of spicy off-track Thoroughbreds and opinionated Irish- or Australian-bred horses, Pride wanted an uncomplicated ride when she went shopping for an upper-level prospect of her own. She loved Favian from the moment she saw his videos. "He was straightforward for an upper-level event horse, if there is such a thing, and I was like, 'You know, this is going to be my horse; it's not for sale. I want to enjoy riding it,' " she said. "On cross-country especially, he's just the most honest horse. Our partnership is great and I saw that in him from the beginning, that he just wanted to do the right thing all the time in a very casual and confident sort of way that was really refreshing."
• His biggest challenge on cross-country is making the time, so that has been a focus for the pair. "He is a lot warmblood, he is not very much blood," Pride said. "My young riders horse was a little 15-hand, off-the-track reject Thoroughbred mare that was like a little pixie that would just fly around. This guy couldn't be more opposite! There was definitely a learning curve to figure that out, to go to the most extreme warmblood ride that you could imagine, and I say that very lovingly because I love him dearly!"
• Pride's conditioning plan for Favian for the Maryland 5 Star: sprints, sprints and more sprints. "I had to totally redo my fitness schedule for him. Which was great, I learned a lot!" Pride said. Having grown up eventing in Maryland (Pride is based in Harwood), she was very familiar with the Fair Hill property and as details started to emerge about the brand-new cross-country track, "I thought, oh my gosh, it's all one big hill," she said. She got advice from conditioning from other riders, who compared it to the track at Burghley (England) and shared their conditioning programs for that event. And it worked out. "I kept checking in with him [on the Maryland 5 Star cross-country] thinking he should be tired, but then I'd realize, 'Nope, still good!' "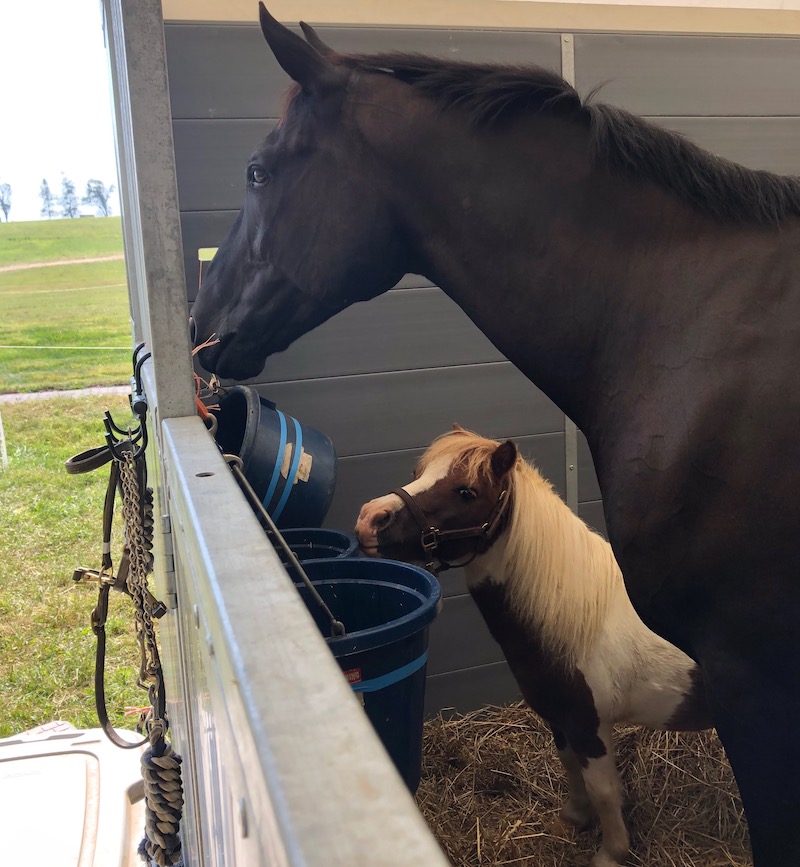 • Favian absolutely hates to be alone, so he has what Pride calls his "emotional support mini," Theodore. Theodore has a Fédération Equestre Internationale passport and travels everywhere with Favian. "He lives in the stall with him, goes on the trailer with him. Theodore goes to the competitions and basically keeps Favian somewhat sane," Pride said. "Dressage is the hardest. He's a very good boy—he's a beautiful mover, he's soft, correct, all of that stuff. But you have sometimes these little windows when he realizes that he's all alone in the world, and you have to be able to deal with that. It's the saddest thing in the world when he's done and he can't wait to sprint back to Theodore. You can hear Theodore squeaking to him out of the stall, and Favian will be whinnying down the aisleway."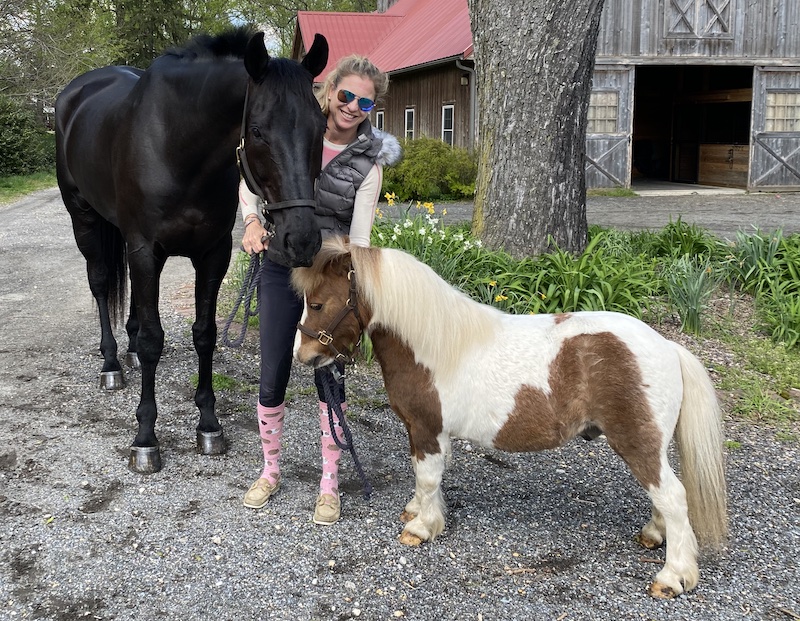 • Pride considers show jumping her own weakest phase, and Favian's too. "I am realistic that he's a one-rail horse in show jumping. If I jump a clean round at advanced, I'm always thrilled," she said. "Obviously, if you are an eventer, you love cross-country. Show jumping is the one thing I would say together we've had to work on the most. You have to work hard to keep his confidence. It's a little bit tricky in that he's a different horse in training versus a lesson versus a competition, and it took a real long time to figure out what horse you had that day." They're spending the winter in Ocala and will be attending dressage and jumper shows at the World Equestrian Center to tune up for 2022.