There are pretty horses, and then there's Empire.
If horses had super models, he'd be one—the glossy, dark mahogany bay coat, the bright amber eyes, and don't even get us started on his neck. Empire invented cresty.
You see all of this before Empire even takes a single step, and when he does pick up a canter on his way to forming a perfect knee-snapping arc over a fence, well—let's just say if he didn't capture your heart on looks alone, he has it now.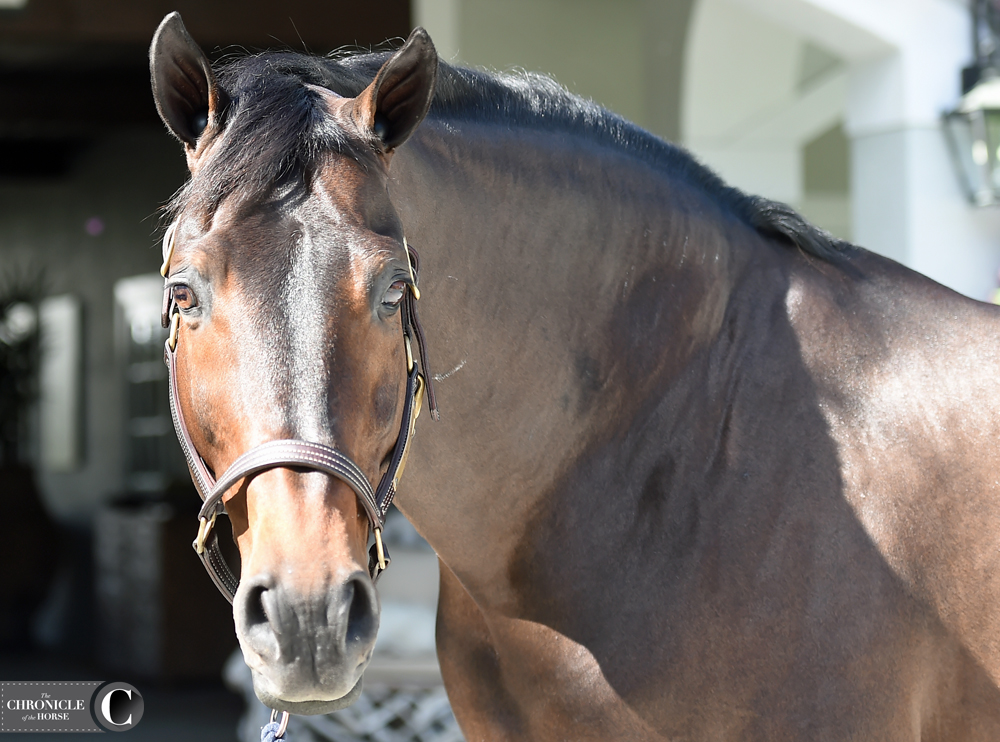 Empire burst onto the hunter scene as an 8-year-old in 2011 with Scott Stewart in the irons, taking the championship his first show out at the Winter Equestrian Festival (Fla.). He also took second in the $50,000 USHJA International Hunter Derby that year in Wellington, a testament to his unflappability as a young horse. Empire doesn't show in derbies anymore, but he's continued collecting division tricolors in both the professional and amateur-owner hunters at shows up and down the east coast, including the Devon Horse Show (Pa.) the Hampton Classic (N.Y.), the Winter Equestrian Festival and the Washington International Horse Show (D.C.).
This year, Becky Gochman passed the reins on Empire over as he started competing in the junior hunters with Becky's daughter Mimi.
We visited to the Gochman family's Baxter Hill Stables in Wellington, Fla., to go behind the stall door with Empire:
• Empire is currently a gelding, but most of his life he competed as a stallion. His most notable offspring is Evermore, a now 8-year-old gelding in Empire's spitting image and also owned by the Gochman family.
"He was great as a stallion. When we had a lot of ponies we used to go on trail rides and I would be on him and Amanda would be on this small gray pony mare, and he didn't care at all," said Terence Prunty, who grooms for the Gochman family.
Empire, who's by Contendro, was gelded two years ago.
"Nothing changed," Prunty said. "He went in, got castrated, two days later they said yeah get on him, start riding him,' and he was the same horse."
• When describing Empire, the word Prunty uses most often is perfect, and it's easy to see why. There was no prancing, side-stepping, pawing or even a loud horse-y sigh when Empire realized he was going to be in the aisle for however long the two humans with him jibber jabbered away—Empire promptly started to doze off (presumably dreaming of large, quiet jabber-less fields).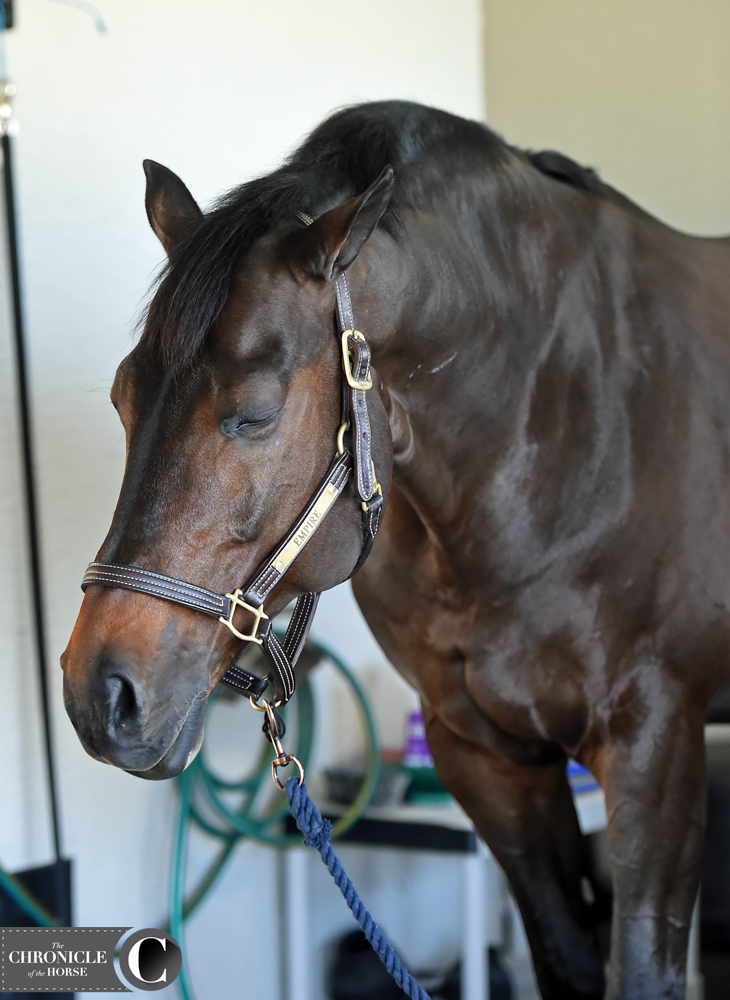 • When he's not in the show ring, you can find Empire blazing trails with his amateur owner Becky Gochman in the irons.
"Becky goes everywhere on him. She'll get on and go out by herself on the trails, for hours on end. She's always says she wants to put a western saddle on him, and I tell her you could if you want!"
• Empire embodies stud muffin to the nth degree. The glossy dark bay coat, the huge cresty neck, the near perfect form over fences—Empires physique is an easy 10/10, and Prunty can't let that go to his head!
"We always joke, 'Oh Mimi, it's such a shame you're on such an ugly horse,' " Prunty said with a laugh. (Don't worry, Empire had ear plugs in, we're pretty sure he didn't hear).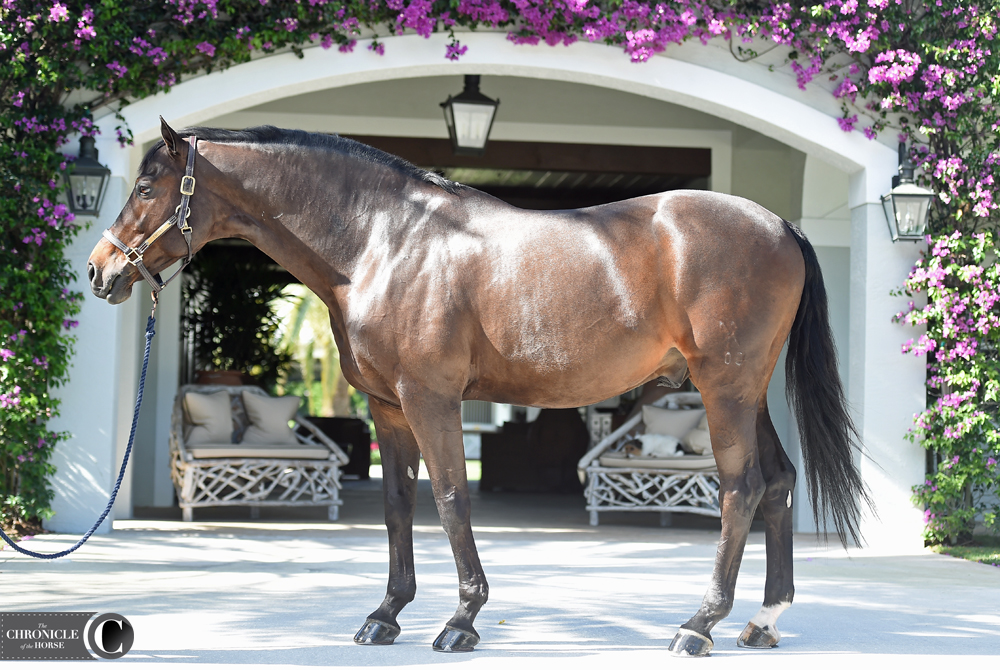 • There's some sass behind that pretty face—Empire is the king of his corner of the barn, and he lets everyone know he's in charge. "He's got a little personality in his stall, like around feeding time he'll put his ears back," Prunty said.
• He also objects to covering up his magnificent body—a groom came into the stall to put a cooler on him for the unseasonably brisk Florida morning, and Empire put on a show of his displeasure, all ear pinning and head swinging (but no follow through—he's more bark than bite).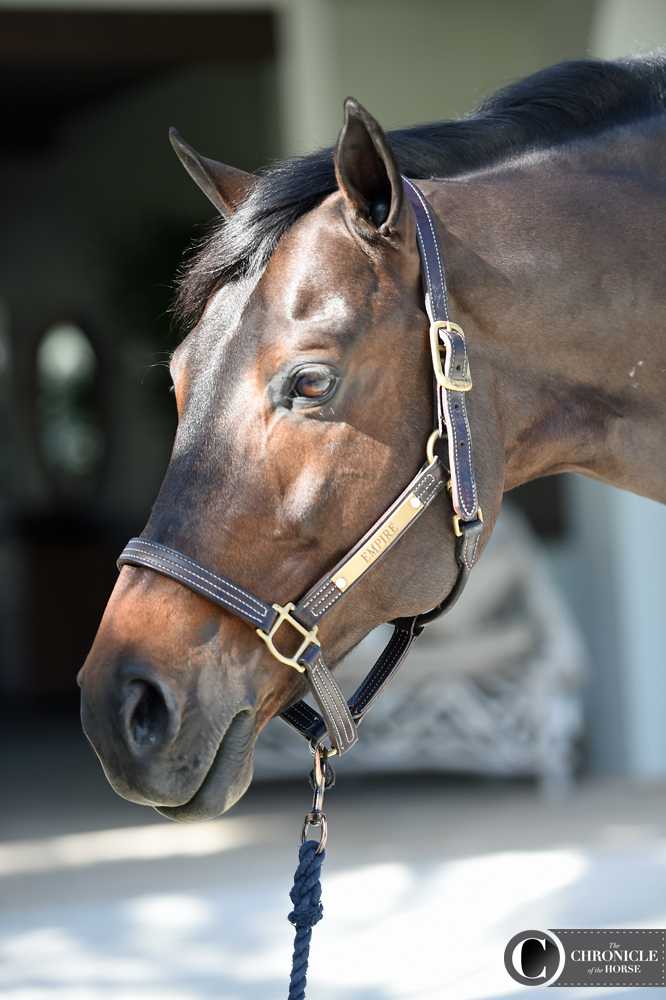 • Outside of his stall, it's like Empire is running for Mr. Personality of the year. He seems more interested in hanging out with Prunty and occasionally flicking an ear toward the camera than in munching on the lush grass all around him on the farm.
"He just wants you to love him and hug him and hang out with him," Prunty said.
As we looked around the barn to find the perfect place for his close-up, Empire ambled along at a slow, swinging walk, keeping perfect pace with Prunty, and his nose pointed eagerly from Prunty to me, gently touching our arms to see if we could spare a treat for a certain hunter with a sweet tooth. It's a very polite request, but Prunty assured me it turns more insistent on his way out of the show ring after a winning round.
"When he comes out of the ring he's like TREAT! Give it to me now!" Prunty said with a laugh. "He's so spoiled."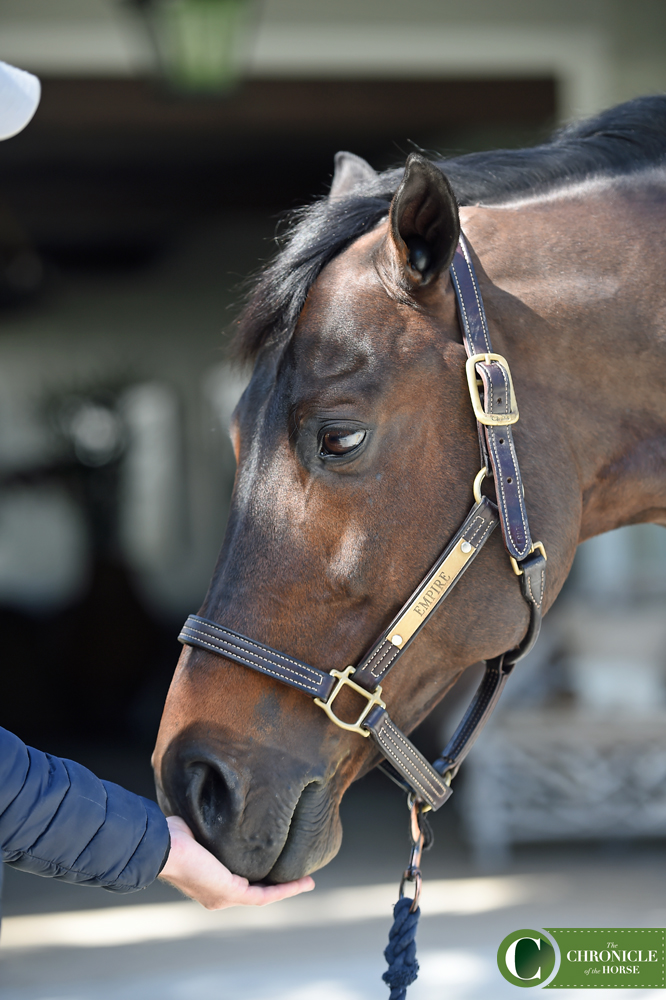 • After we took Empire out to get some sunshine for his photo shoot, we walked back into the barn to the very insistent whinnies of Touchdown, Empire's chestnut neighbor. Becky Gochman shows Touchdown in the 3'3" amateur owner hunters.
"He and Touchdown are like two peas in a pod; they're always next to each other, on the truck and in the barn," Prunty said.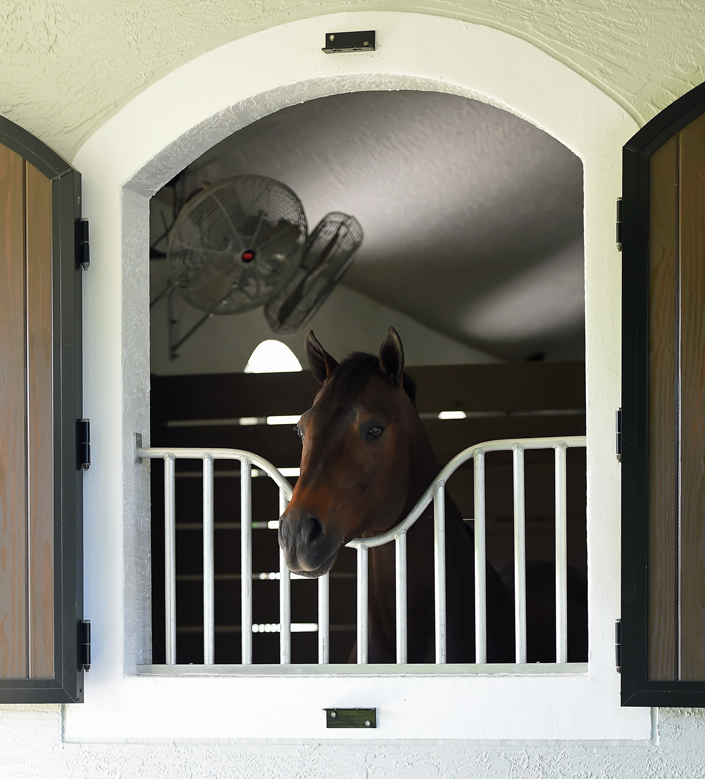 • If Empire starred in a Marvel comic, his mortal enemy would be an innocent little boat.
"He's not spooky, he's lovely to ride, he's your steady Eddie that's always there for you no matter what, except for this one thing at Scott [Stewart's] farm in Kentucky," Prunty said. "There was a canoe we brought out one day, kind of as a decoration. Some of them would jump it, and he wanted no part of it.
"We were like, 'You don't have to jump it, just flat around it,' and he said, 'No. no, no,' " Prunty continued with a laugh. "And then we went back this spring and he remembered where it had been. It wasn't even there anymore, but he was like 'oh, it's at the end of the ring.' Other than that, he's bomb proof!"