It's easy to fall for a chestnut stallion with chrome. And it's even easier when he's as talented as he is flashy, with a big heart and kind disposition as the icing on top.
Emerald N.O.P.—known as Emerald around the barn—really needs no introduction. The 13-year-old Belgian Warmblood (Diamant de Semilly—Carthina Z, Carthago Z) showed early signs of brilliance as the runner-up in the 6-year-old division at the World Breeding Jumping Championships for Young Horses in 2010.
Since then, he's blossomed into an international superstar alongside his longtime partner, the Netherlands' Harrie Smolders. In 2016, arguably Emerald's breakout year, he helped the Dutch show jumping team to gold at the Furusiyya FEI Nations Cup in Rotterdam (the Netherlands). A couple months prior, Emerald and Smolders finished second in the Longines FEI World Cup Jumping Final in Gothenburg, Sweden. And in the same year, Emerald made his Olympic debut at the Rio Games.
The momentum from this past season has carried over into the current, and Emerald's performances have contributed to Smolders' leading position in the Longines Global Champions Tour season rankings. In July, Smolders and Emerald topped the Longines GCT Grand Prix of Chantilly (France); they've been in the top 10 of Longines GCT grand prix classes this year at Miami Beach (Fla.), Cannes (France), London and Valkenswaard (the Netherlands).
To keep Emerald in the best condition possible, Smolders entrusts the stallion's care to groom Alex Tyler-Morris. The close bond between horse and caretaker is evident: in the stall, Emerald pretend-bites whatever he can while Tyler-Morris works around the antics with an easy smile. Outside the stall, Emerald is a gentleman, unfazed by activity that buzzes around him.
The handsome jock with an A-plus attitude, there's so much to love about Emerald. And to learn everything about the stallion on many a show jumping breeder's wish list, we went behind his stall door:
• Emerald came into Smolders' string one week after Tyler-Morris started working with the rider, 7 ½ years ago.
• A normal day at home begins with a morning feed around 7:00 a.m., and then as Tyler-Morris and the other grooms begin mucking out, Emerald will get his hay.
"He's fed a little bit of competition mix when he's at home, but he doesn't get it at shows because then he's too fresh," explained Tyler-Morris. "The horses get hay in the morning and in the evening, and at shows, they get it late night, as well. At shows, they also get lunch. At home, we don't feed lunch, it's just the way we work."
•  After a show, he'll do two or three days of just going out in the woods and a little hand-walk or lunge, or so, and then a little work later in the week.
"Emerald will normally always go in the woods in the morning with an old guy who's 75 or something," said Tyler-Morris. "He'll take Emerald out for a hack, and then in the afternoon, Emerald will get ridden or go for a lunge, depending on what he's done earlier in the week."
"We don't use treadmills or walkers, honestly," Tyler-Morris added. "We have a spa at home, and after a show, he'll go in that, but we don't use treadmills."
• Emerald is often out of his stall, stretching his legs and going for hand-grazes with Tyler-Morris, but according to his groom, his field time is limited.
"Although he would be good in the field, I think, we don't really have the facilities at our place to put the stallions out because we have a lot of breeding mares around," explained Tyler-Morris. "It sends the stallions a little crazy."
•  Speaking of breeding, Emerald is collected at the beginning of the season, when he takes about six weeks off from competition. He's collected off-site three times a week, and always returns home after a day at work. He's currently only offered as frozen.
•  The stallion has a temperament to match his performance to make him a much sought-after sire.
"He's pretty relaxed at shows," Tyler-Morris said. "I never have a problem in the stables. If you can find somewhere to give him grass, he's happy with that. He's quite chilled."
"If he sees a pony, of course, he's a stallion, so he gets quite excited," Tyler-Morris added. "Normally, he's fine. I don't have any problems with him."
•  Even in the warm-up ring, Emerald isn't looking for any fights or problems.
"In the warm-up ring, he's OK," Tyler-Morris detailed. "When he gets a little bit of [acting like a] stallion, he will have a buck and a kick. Normally, he's quite aware of the other horses and it's not like he tries to kick the other horses, he just bucks. He is a bit of diesel horse—you have to warm him up a little bit before everything starts flowing."
•  If Tyler-Morris were to identify a quirk of Emerald, it would have to be Emerald's ears.
"One thing he does that's quite funny is, at home in the solarium, he'll stand and try to put his ears in the solarium," said Tyler-Morris. "He's got this funny thing with the tips of his ears. He loves it if you scratch them for him."
•  He doesn't have very sensitive skin that can plague many other chestnuts, but not all fly sprays are made the same in his eyes.
"He is allergic to some fly sprays," Tyler-Morris said. "Normally, I use one fly spray—the UltraShield. That is safe for him. With others, he will get lumps and bumps from it."
•  Emerald goes in a single-jointed, twisted snaffle with latex around it. "Otherwise, it's a little too sharp," Tyler-Morris explained. "But a normal snaffle isn't enough."
•  One of Emerald's special features is his white spots—on his belly and cheek.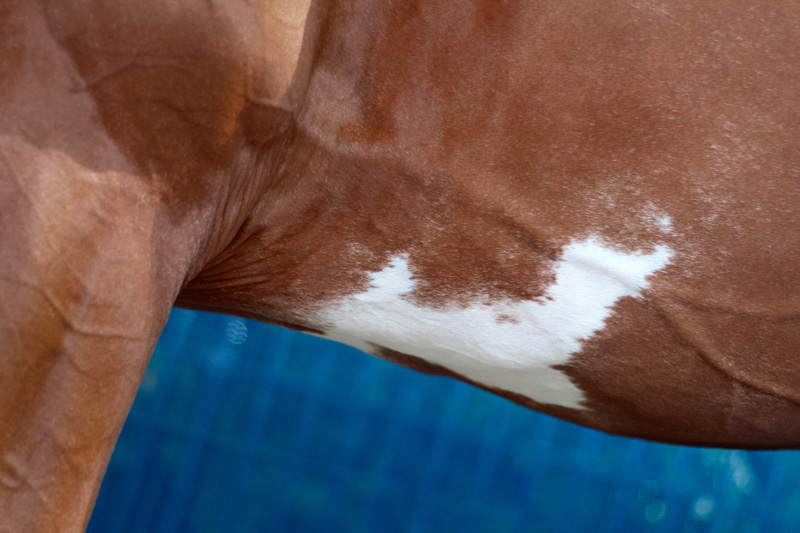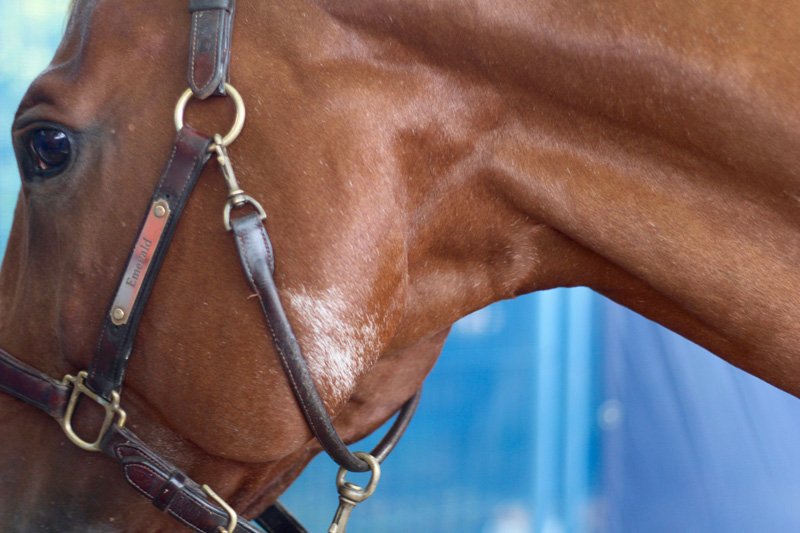 •  When asked what kind of person Emerald would be, Tyler-Morris said that he'd be "one of those that you'd know exactly what kind of mood he's in—someone that could get out the wrong side of bed quite easily."
"But I think he'll always be one of those little kids that could do something but will always still look cute and get away with it," Tyler-Morris added.
•  There's an Emerald son in the barn: a 9-year-old, chestnut gelding, Igor (Emerald x Nabab De Reve).
"He's a 9-year-old that Jos Verlooy is riding and doing really well," said Tyler-Morris. "He's still a little green but I think in another six months, he'll be jumping in grand prix [classes] and getting placed. He's already jumped a few grand prix [classes] and been a clear a couple of times. He's just not quite ready to go and win one, yet, but soon enough, he will."
"The one we have is quite a lot like Emerald," Tyler-Morris continued. "There's an old saying in English: give them an inch and they'll take a mile. [Emerald and Igor] always push and see how far they can go. They're exactly the same."
•  Emerald prefers apples to carrots, but both treats work well for keeping the stallion hydrated on the road.
"He doesn't normally drink an awful lot," Tyler-Morris explained. "I've never found a problem with it, but noticed he maybe drinks half as much as the next horse. But carrots and apples are a good way to get water in him."
•  Simplicity is Tyler-Morris's mantra with everything there is to do with the superstar stallion.
"I keep everything simple with him," Tyler-Morris said. "I find it the easiest way. All we do work wise at shows is lunging. Many times, Harrie won't ride him before a grand prix. He'll just go for a ride. If I can find grass for him, it just calms him down in the mind. The problem with him is the mind overtakes the body, and he gets too far ahead for himself, in the mind."