If you surrounded Concerto with a bunch of strangers, it would take approximately five seconds for him to win over half the room. If he were a person, you'd invite him to your parties knowing he'd be the guest to instantly put everyone else at ease.
And while Concerto is a horse, not a person, his outgoing personality has made him a favorite amongst those who meet him at shows and at his home at Hap Hansen Stables in Rancho Santa Fe, California, alike.
"His stall faces the parking lot, so he sees everybody coming in, and he's just like ears [forward]," said owner and rider Caroline Ingalls. "He thinks everybody is coming to him for a treat. You walk up to his stall, and he'll start neighing and get really excited and do some circles and then come out the other side, and he'll just kind of stare at you expecting a treat. He's just really goofy."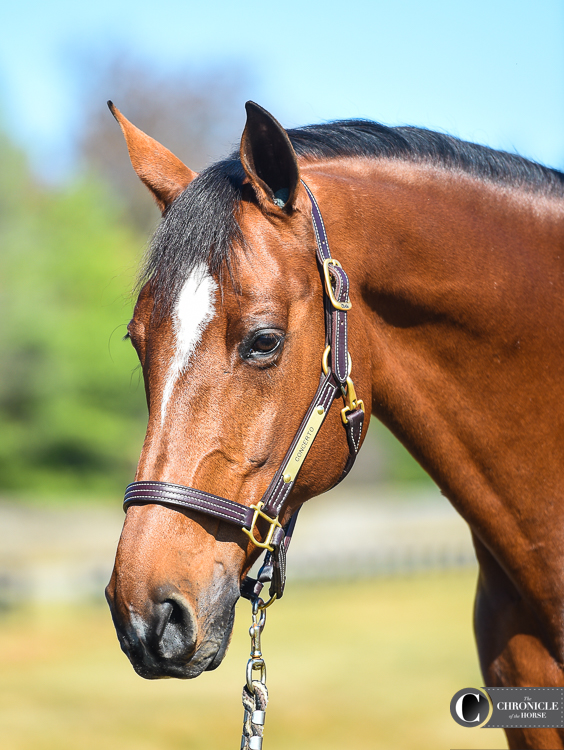 The 11-year-old gelding's talent isn't limited to making friends. He's also formidable in the show ring.
The Westphalian (Cathanos—Chevelle La Feme) started his hunter career under Gavin Moylan's saddle before Ingalls purchased him in 2016 thinking he'd be her adult equitation mount. Hansen's assistant Trudi Fletcher continued developing him in the pre-green division while Ingalls showed him in the 3'3″ amateur-owner hunters and the equitation to give him mileage. In 2017, Ingalls rode "Bolo" to second in both the Ariat National Adult Medal Final and the North American Adult Equitation Championship at Capital Challenge (Maryland).
But as Bolo did more amateur-owner hunter classes, the more obvious his talent for that ring became. In 2019 he was champion in the 18-35 division at the National Horse Show (Kentucky). He repeated the feat in 2021, adding the grand champion amateur-owner title and a third-placed finish in the $50,000 NHS Hunter Classic to his significant resume. That year he also took reserve at the Pennsylvania National.
He continued his dominating performances this year, winning reserve champion at Devon (Pennsylvania), champion and grand champion at Pennsylvania National and champion and grand champion at the National.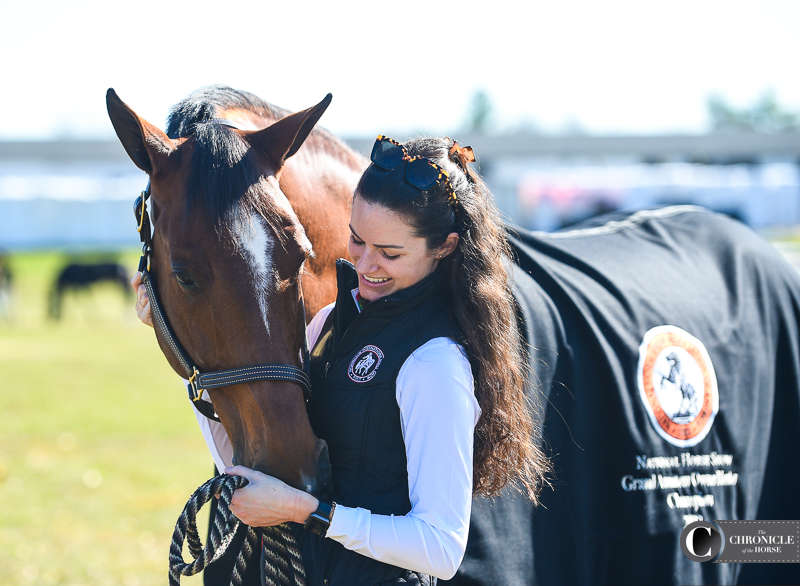 While Bolo's talents lie in the hunter ring, Ingalls said she could still call on him to do an equitation class if she desired.
"He can go in and do an equitation work-off easy still," she said. "He'll hold the counter-canter easy. He just knows he has to do it. Counter-canter, doing all the tests, half-passes and everything."
We went behind the stall door to get to know him better.
• Bolo is a sucker for a good scratch. He's pretty proficient at scratching his butt himself, but he prefers when his human friends give him a good scratch on his face or shoulders. At home where he can stick his head out, he'll fall asleep while you tend to his itchy spots.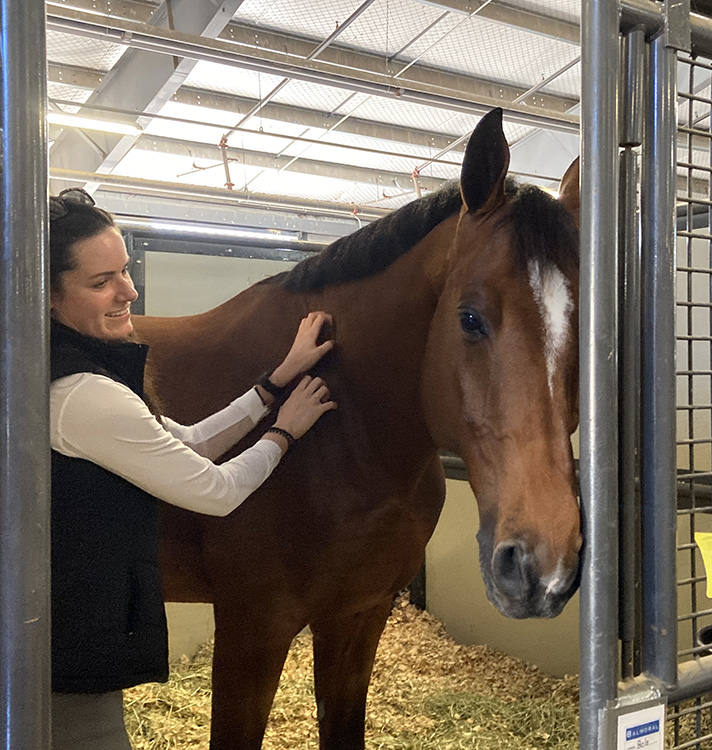 • Just as he's never met a person he doesn't like, Bolo hasn't found a treat he wouldn't eat either. Paddock Cakes and A to Z Horse Treats are amongst his favorites. If you're going for natural, carrots are good, but if you really want to make him happy, feed him banana or watermelon.
He's not shy about asking for treats either, even from strangers.
"He loves to just play with his lips and punch people, when he wants a treat, in the stomach," she said.
"Anybody who's ever given him a treat or attention, his radar is up and gives that cute look, like 'come here please,' " said Ingalls' mom Kate Williams.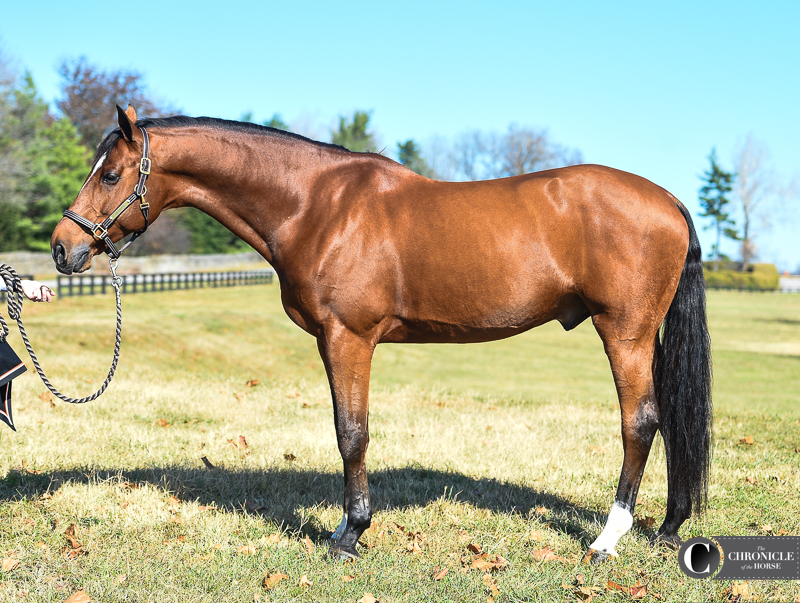 • He's also a big fan of grazing—so much so that he doesn't want to leave. Grass rings can be tricky because he's convinced they're meant for eating, not jumping.
"Going out on a grass field is great," said Ingalls. "It's difficult to get him off. It takes a lot of effort. So that's hard when we compete on grass because we're mostly focused on eating. He's a food monster."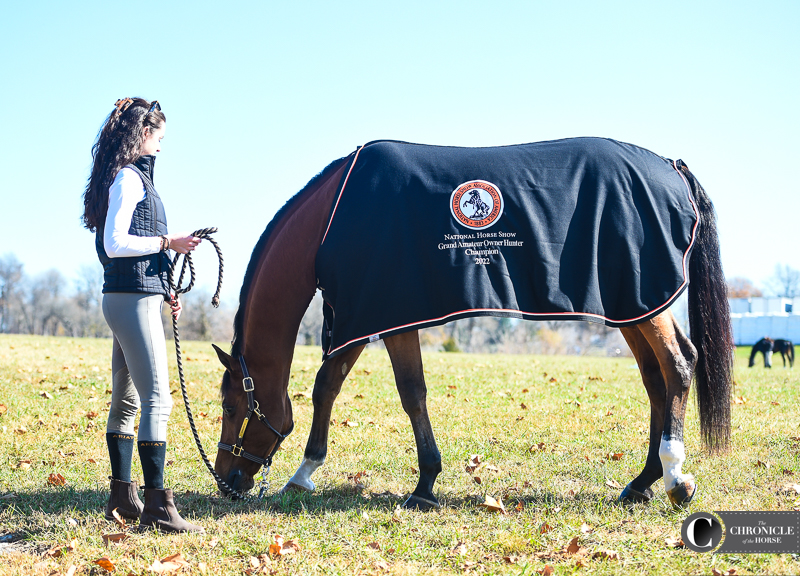 • Bolo is a natural observer, so horse shows are right up his alley.
"I think he feels really comfortable being with other people and horses," Ingalls said. "He loves this environment here at the show. He's a natural show horse. He loves to just watch and stare at people."
• While he's not generally a spooky horse, there is one thing that can put him a little on edge.
"If there's a horse statue, he might [spook] because he's like [what is that?]" she said. "That is questionable sometimes, but once he sees it, he realizes it's OK."
• When he's feeling particularly frisky he does have the tendency to perform a few airs above ground as if he were a Lipizzaner stallion in the Spanish Riding School.
"He likes to play a lot. He is really good at doing dressage moves when not asked. Or like Spanish Riding School [moves], like tempis, or when he spooks he'll jump all four legs in the air and kick out," said Ingalls. "It's like, how do you have all of that in you? I think he's just super full of himself. But he's really good. I've never felt afraid while riding him."
• He's not the cleanest horse in his stall. While he generally poops in one spot, it's often against—and sometimes on—the wall. And that neat pile isn't for the benefit of whoever's cleaning his stall; it's for him to sleep in.
• "He loves to shake his head on course, and I think that's just all him having fun," said Ingalls. "He's just super proud and super full of himself, and he knows when everybody's looking at him."