Ashlee Bond announced on July 23 that she's retiring her top horse Chela LS at 15.
"Retirement is never an easy choice, but once the decision is made, there's no better feeling than knowing you're doing what's right for your horse," she wrote on Facebook.
In Chela's final show, the pair helped Israel earn 2020 Olympic qualification at special qualifier held in Moscow on June 30.

"She's made multiple comebacks throughout her career, but now, at the age of 15, it's time for her to enjoy relaxing in a large field with her future babies to come," Bond wrote.
Ashlee Bond's longstanding partnership with the chestnut mare Chela LS has produced numerous top results. Before even celebrating their one-year anniversary together, the pair rode to the win in the AIG $1 Million during the 2014 HITS Thermal circuit (Calif.).
The same year, they competed at the Longines FEI World Cup Jumping Final in Lyon, France, then remained in Europe to campaign and consistently placed in grand prix classes and appeared on Nations Cup teams.
And yet, as the 2014 season ended, Bond noticed that Chela was not quite right.
"Her mouth was falling apart so we talked to a vet, and the dentist came out and found that she had cracked a tooth," said Bond. "So she went home [to California] to have the tooth removed. Richard [Spooner] rode her a little bit after because she was stopping, and he felt like she wasn't wanting to play the game anymore.
"Our dentist came out again and said she had a major infection so we got that under control. She was better, but still not great. Then we injected her after competing at Thunderbird [in May 2015]." Rather than making the situation better, the injections caused staph infections in both hocks.
"It was a long process to get her healthy," Bond said. "Dr. Doug Herthel, the founder of Platinum Performance, and Alamo Pintado [Equine Medical Center] saved her. She lived there for eight months, turned out in a paddock while they were treating her.
"Saving her life was one thing, but nobody thought she would be sound again and able to compete again—let alone at the top level and winning,"  Bond continued.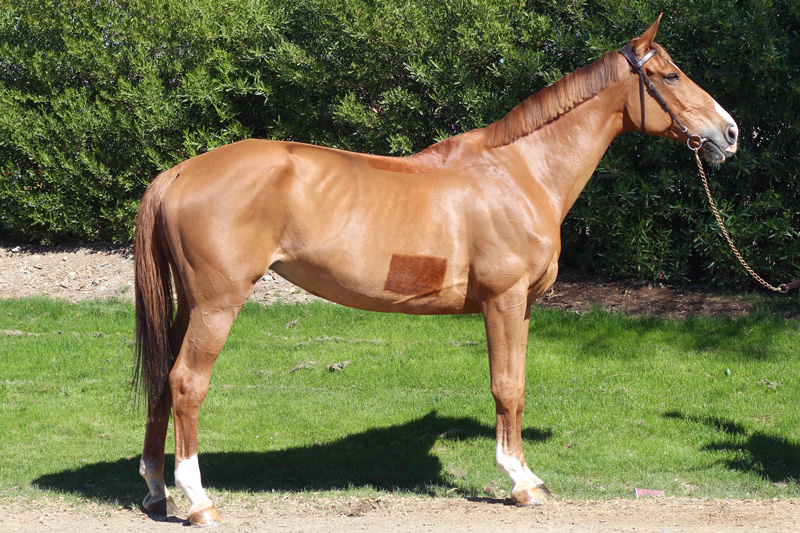 Chela had different plans. She started back slowly, first with light treadmill work then with hacks with Bond's father, Steve, in the saddle. There was no rush since Ashlee was pregnant with her first child.
"By the time I had my daughter [Scottie Meeus Bond], Chela was ready for me to get on her, but I couldn't," said Ashlee. "She was feeling so good that I waited until I felt like I could really ride to get on her. She was a fire breathing dragon—she was feeling so good."
To mark their collective return to competition, Bond and Chela won the $100,000 Longines FEI Thermal World Cup Jumping qualifier in February. And most recently, the pair won the $100,000 Grand Prix of Del Mar at the Del Mar National Horse Show on May 6.
To learn everything about the fiery chestnut mare with the heart of gold, we went behind her stall door:
• The LS suffix stands for La Silla, as she was bred by Studbook La Silla in Monterrey, Mexico. Chela LS is by Chapultepec La Silla—Elisa LC, Tlaloc La Silla.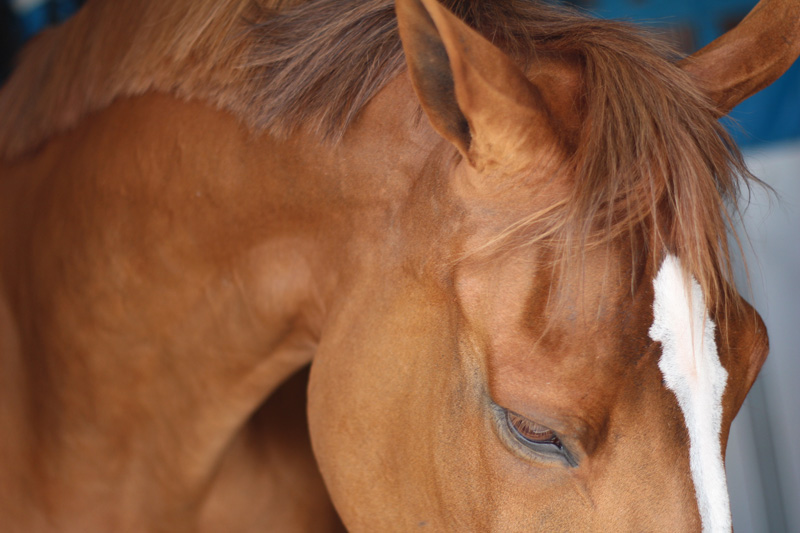 •  Ashlee first saw the feisty chestnut at Spruce Meadows in the summer of 2013. Shortly after, Ashlee couldn't help but notice the mare again, when she and her horse Wistful were joined in a grand prix jump-off by Chela and then rider Simon Nizri.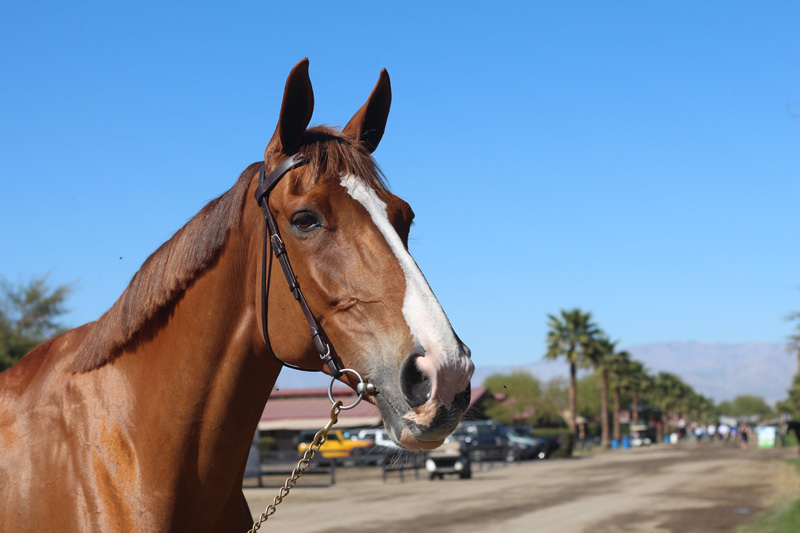 •  The opportunity to purchase Chela arose when Ashlee sold Wistful.
"Somebody was buying Wistful so, all of a sudden, we were open and in a situation to get another horse," remembered Ashlee. "Another barn had just tried Chela but passed on her. So I tried her and my mom was there. We've never bought a horse that didn't work out if Mom was with us."
•  Chela's home routine includes a lot of turn-out and a morning treadmill session. Working around her baby daughter's schedule, Ashlee usually rides around 1p.m., and then Chela goes back to her turn out or on the treadmill for a cool down.
"We used to go on trail rides, but she's a little too excited these days," said Ashlee. "There are hundreds of acres right off our property [outside of Los Angeles, Calif.]. I used to do a lot of hill work with her, twice a week."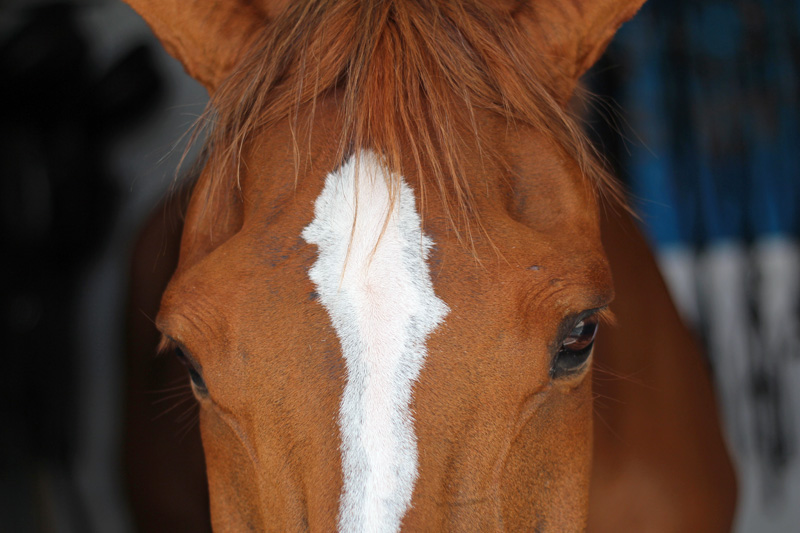 •  Ashlee doesn't believe in a lot of gimmicks for maintaining her horses. Instead, she and her team do a lot of carrot stretches, use ice boots, and schedule the occasional chiropractic adjustment.
"My main belief is conditioning," Ashlee said. "She walks every day for an hour, gets ridden, and is treated like a human athlete. The better condition she's in, the less chance there is of her getting hurt."
•  To supplement Chela's feed, Ashlee uses Platinum Performance and Equine Matrix supplements. Chela's favorite treats are Leovet Leoveties.
•  Chela shows in a long shank pelham, with a half moon that's shaved down so that there are no sharp edges. It's the same bit that she won the $1 AIG Million in—except Ashlee has experimented with not using a noseband.
"Dad started riding without the noseband while I was out of the saddle," said Ashlee. "We noticed how much better the horses were going without them so I tried it on all of the horses. The last one we tried it on was Chela."
"It's not like Chela is a soft, sensitive mare—she's a big, strong mama. But she was better without the noseband. And when we loosened the chain [on the pelham], she was even softer that way."
•  True to the chestnut mare stereotypes, Chela is cranky in the stall and when in the grooming stall. She will even kick when the girth goes on.
"But the minute you get on her, her ears go forward and she's happy as a clam," Ashlee said. "She loves her job."
•  Chela's nickname is Chelly Bean