Eve Jobs is on a roll. In the last month, she's taken top honors in CSI-rated events at two consecutive shows on her summer schedule .
First, she notched her first grand prix victory in the $130,000 CSI*** Grand Prix at Split Rock Farm (Ky.) on May 28. Then, on June 17, she sped to victory in the 1.45-meter, CSI**** speed class at Bolesworth International (England), besting a competitive field of 57 starters.
Both wins came aboard Charleville, a 10-year-old, Dutch Warmblood gelding (Quasimodo Z—Wickyville, Lancelot). Developed by Norway's Johan-Sebastian Gulliksen, "Charley" joined Jobs' string in December. They began the year in the high amateur-owner division before stepping into the CSI-rated divisions toward the end of the Winter Equestrian Festival (Fla.) circuit.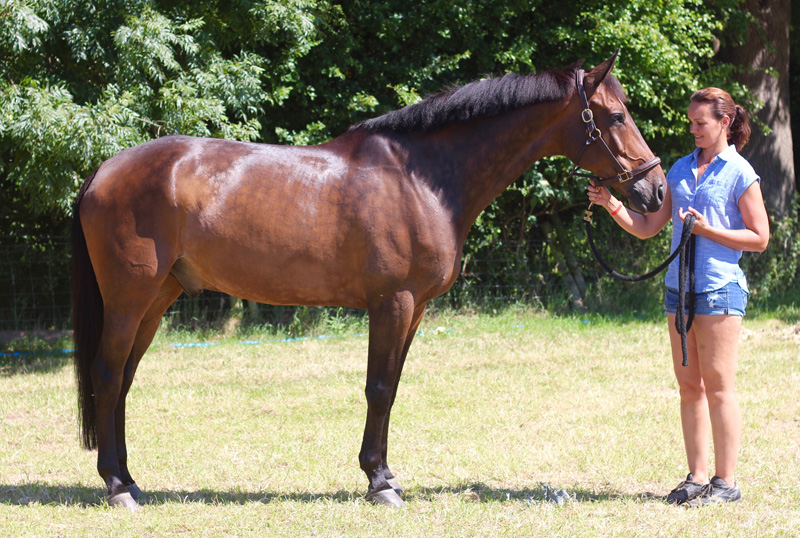 Jobs will matriculate from the University of California—Los Angeles in the fall. But before then, she's competing in Europe with her trainer, Irish show jumping legend Eddie Macken. Her first stop abroad was Bolesworth, which certainly proved to be well worth the trip.
To learn everything that there is to know about Jobs' winning mount, we went behind the stall door with Charley and his groom, Franca Maas:
• Charley is the barn name that he came with, but Jobs and Maas also call him "Fluffy" because of his bushy mane.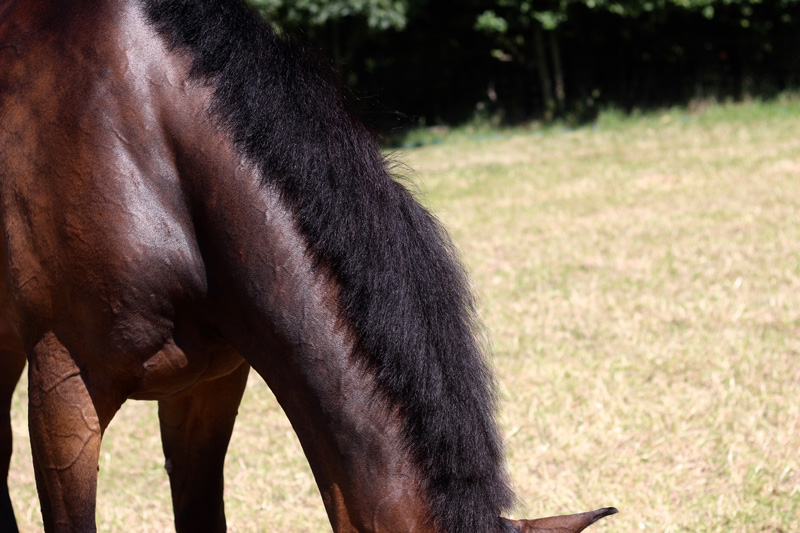 •  He's also earned his second nickname because of his reluctance to have his ears handled—meaning, they don't get clipped and remain nice and, well, fluffy.
"We managed to clip them one time, but as he's wearing a bonnet anyway, we don't want to bother him too much with clipping," said Maas. "He really, really hates when you go near his ears."
•  Because of his aversion to ear handling, he doesn't go in ear plugs. But Jobs likes to show him in the Kentucky Horsewear Soundless Fly Veil with neoprene-lined ears to dull sounds.
"He'll still manage to fly to the back of his stall, sometimes, when putting it on," said Maas.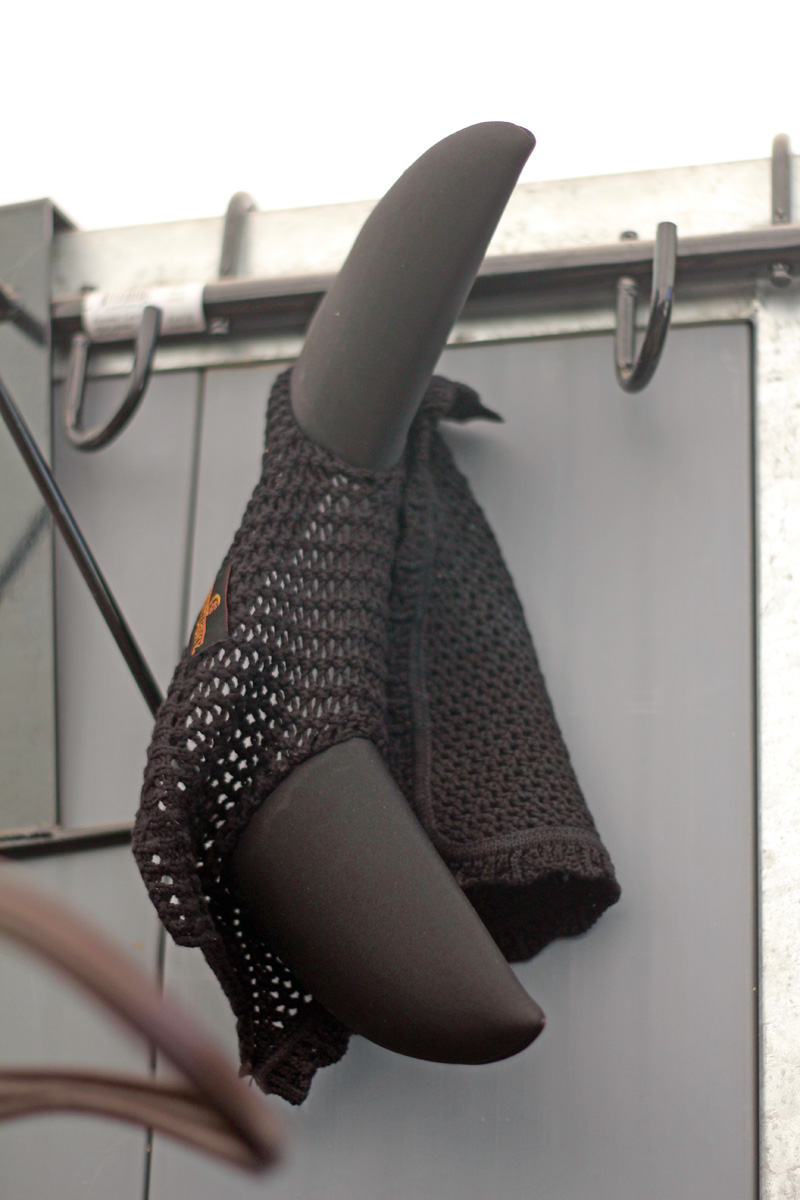 •  There's yet to be a person who doesn't like Charley.
"He's really easy to take care of, he has a really good character," Maas said. "He's very friendly. Everybody loves him. There's not one person that doesn't like him."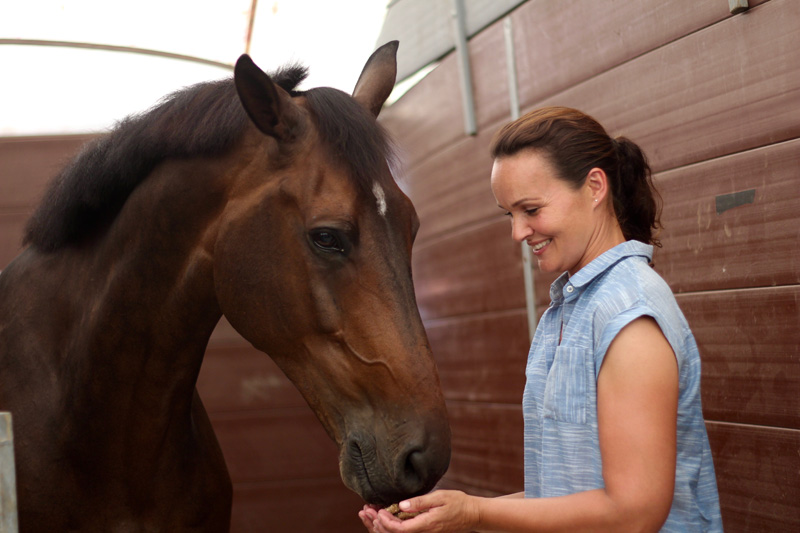 •  But sometimes, the feeling isn't mutual.
"He can be a bit nervous sometimes, but if you're really quiet around him, he's fine," explained Maas. "He doesn't like a very active person. He responds to energy.
"So you have to take your time when getting him ready," she added. "Calculate your time right because if you rush around him, he doesn't like that. He gets more nervous. It's just too much for him."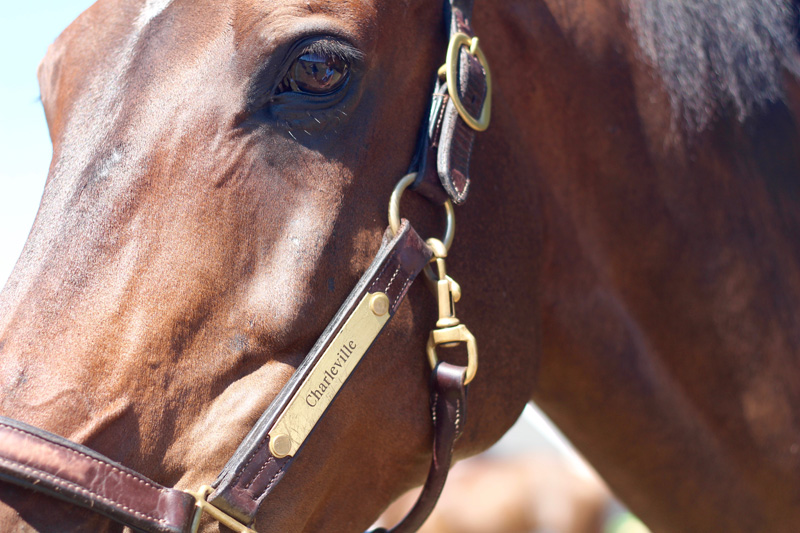 •  Because he's a nervous horse, he's on a regular dosing of Gastrogard.
•  He's also a picky eater.
When he first joined the string, Jobs' manager (and first trainer since she was 6 years old) Ben Hey tried at least 10 different types of hay to find the right one.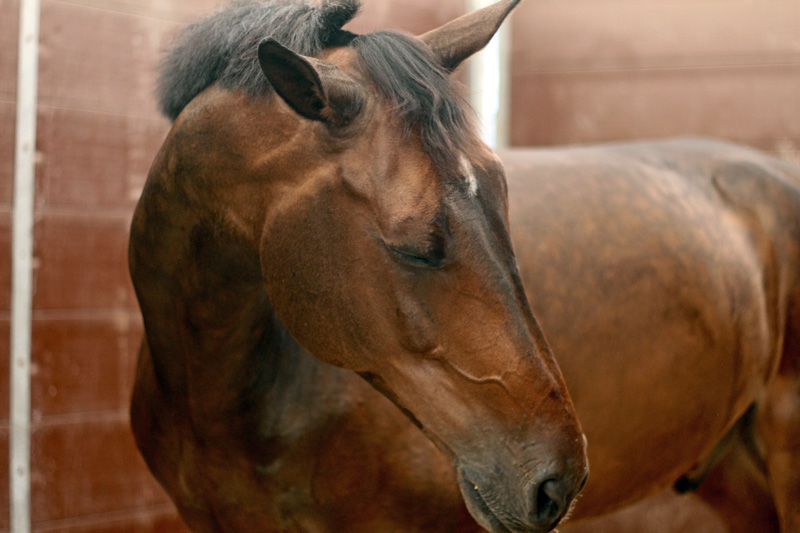 •  At home, his schedule revolves around feeding, riding or hacking out, and going out for grass in the paddocks or for a hand walk. At shows, Maas will take him for a hand walk and then he'll stand in a magnetic blanket before a class.
"He's really calm and level headed and he's super to take on the trails," Jobs said. "He loves to go new places and explore. He's very sensible.
"He does like to run and buck in the prize-giving," she added. "I think I'm going to fall off one of these times."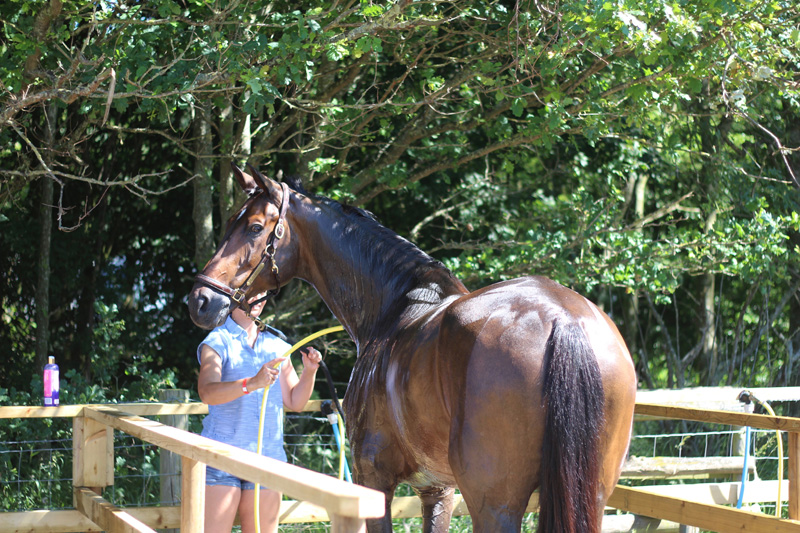 •  He always stands in ice boots after he jumps. Maas also adds an ice pack to his lower back.
"When he first came, he was really stuck in his back," Maas said. "It's so much better now just from riding and exercise."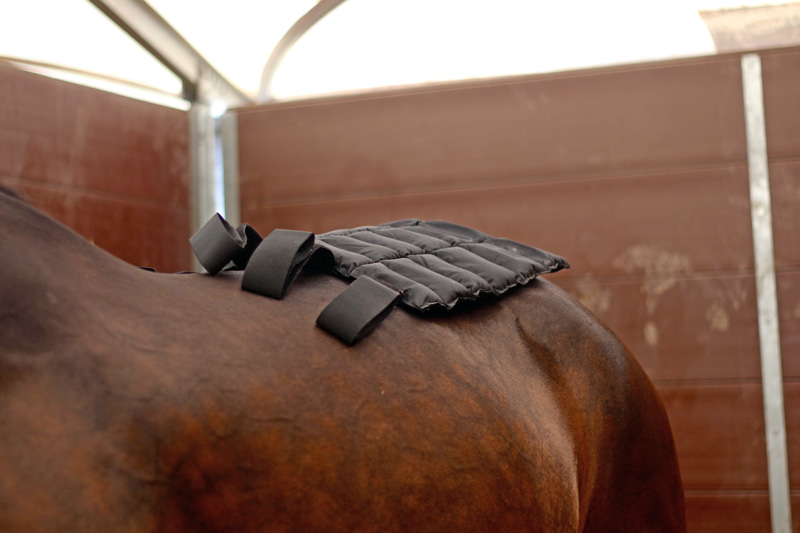 •  Charley arrived at Jobs' with the Bridle High Jump Revolution from PS of Sweden, which features a unique, ergonomic noseband. For the bit, Jobs likes to ride Charley in a twisted loose ring snaffle.
"He always yawns before we put on his bridle, every time," Jobs said.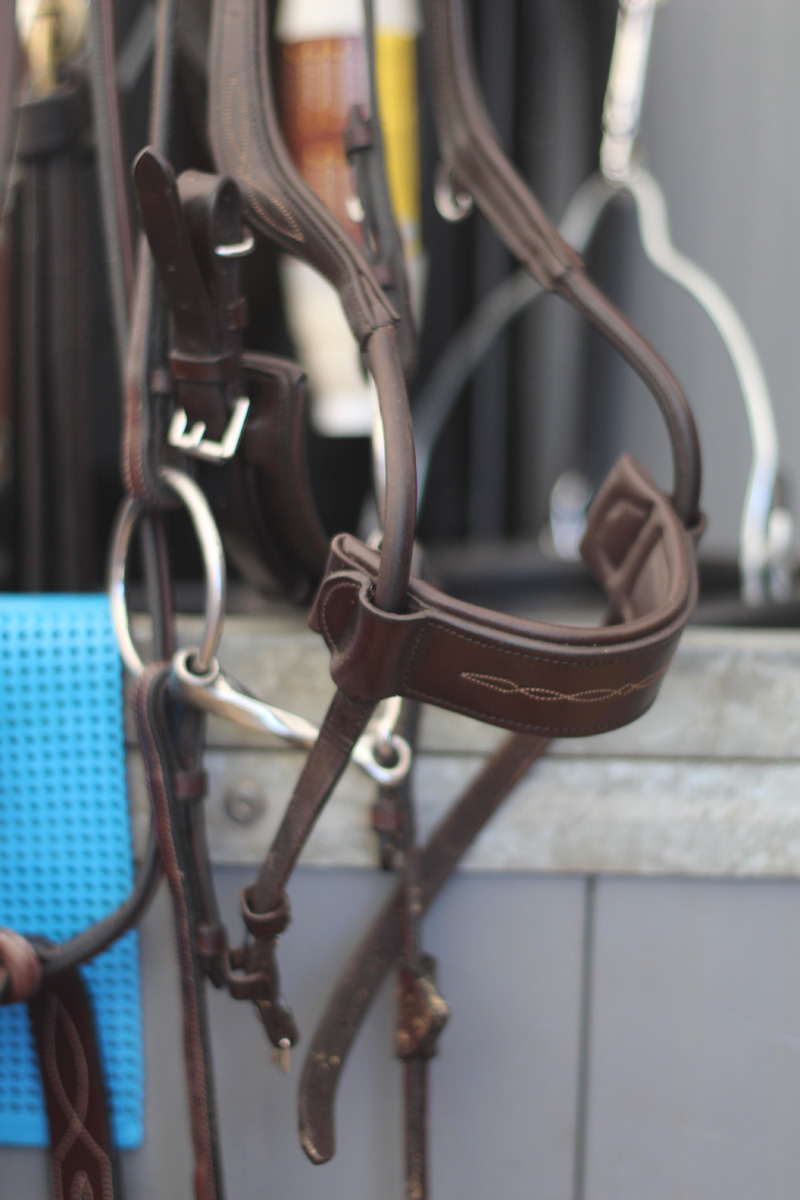 •  To combat flies, Maas uses fly spray.
"We have a really good fly spray," she revealed. "I've tried everything on the market. The one from Absorbine works the best. For him, I always put on a fly mask. He gets a special one because his skin is so sensitive so he needs one that's really soft.
"We don't really use fly sheets because they gave [the horses] too many rubs when they sweat. I just try to keep them very clean so the flies aren't attracted to them."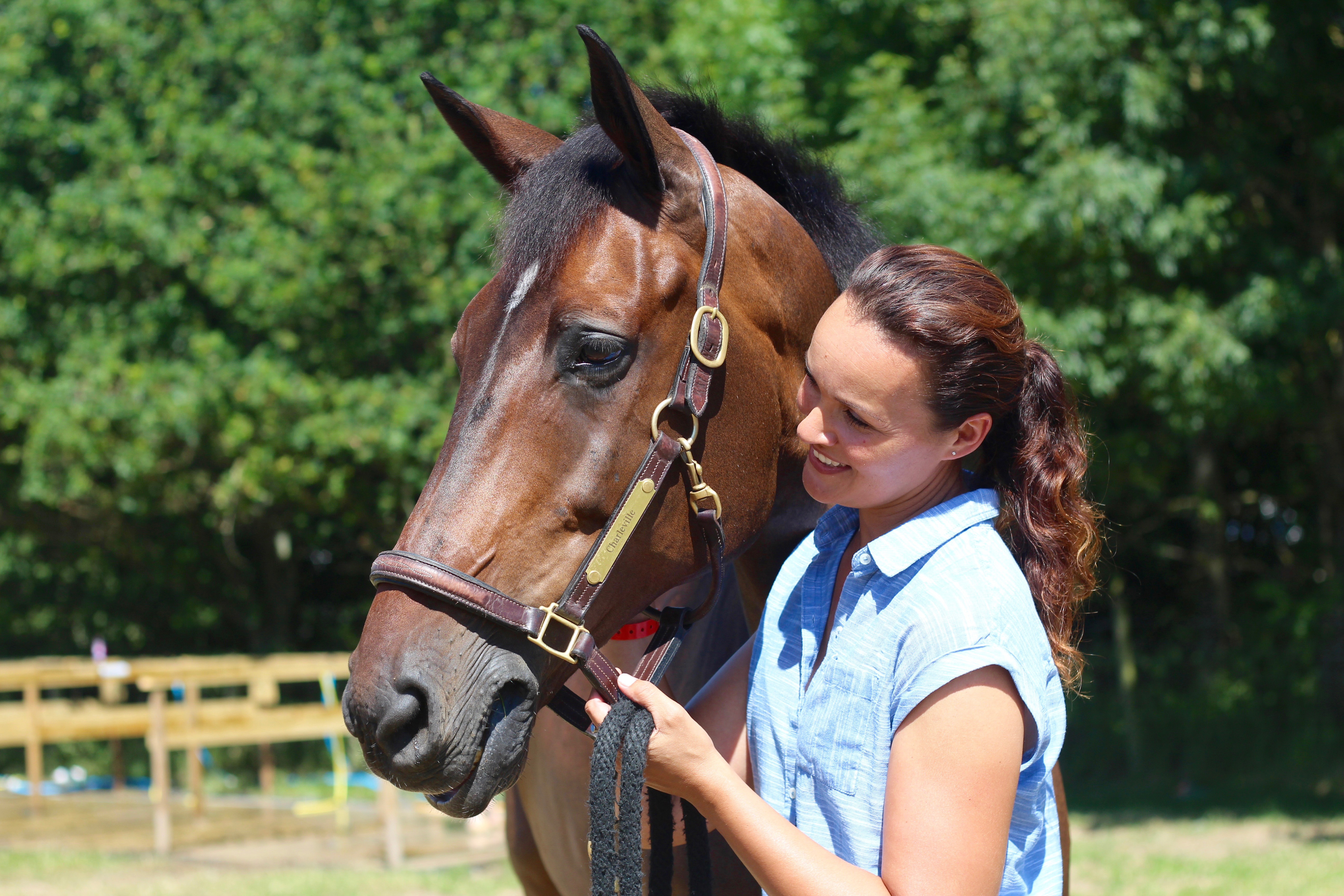 •  She's also a big fan of Traumeel gel for sore muscles.
"I go through bottles of it," Maas said. "I'd rather use more than less. When I'm done and still have it on my hands, I rub it into wherever I'm sore."
•  Although Maas isn't one to pick favorites, she still said that Charley would be, if she had to choose. "He's just easy in every way," she said. "I have a real connection with him."