When top hunter rider Greg Crolick competed Chappy in his first $25,000 USHJA International Hunter Derby Hunt and Go at the 2021 Winter Equestrian Festival (Florida), he knew he'd found a special horse.
"He made a couple of green mistakes, but he was freaky good over everything else," Crolick said with a laugh. "I remember thinking, 'Oh my gosh, what am I sitting on?!' I could feel it; Chappy had so much potential to succeed."
At the time, Chappy, a bay Mecklenburg gelding (Chacco Blue—Chakira Z), was a new ride for Crolick, as owner Carole Chase had just purchased the horse three weeks prior. Southern Arches of St. Louis, Missouri, imported Chappy in 2017, and his job was supposed to be in the jumper ring.
"But I think he was a little too slow to be a jumper, and he was very green when they got him," Crolick said. "At the time, they had a lot of other prospects, so Chappy sat on the back burner for a bit."
He spent two years in the 3′ and 3'3″ green hunters first with Amy White, then Callie Schott. Crolick spotted Schott competing Chappy in the 3'6″ green hunters at WEF 2021 and tried him with Chase in mind.
"When I tried him, I never even jumped Chappy over 2'9"or 3'—we weren't looking for a derby horse at all," Crolick said.
However, Crolick and Chappy immediately clicked. The pair won the $50,000 USHJA International Hunter Derby at WEF Week 12 two months later.
"I think that win was the most special for me," Crolick said. "We had only had him for two months. My goal was to just go gallop on the field at [the Adequan Global Dressage Festival showgrounds], have some fun and hopefully be a contender in the class. And then, we ended up winning the class. It was unexpected, fun and exciting for everyone at the same time."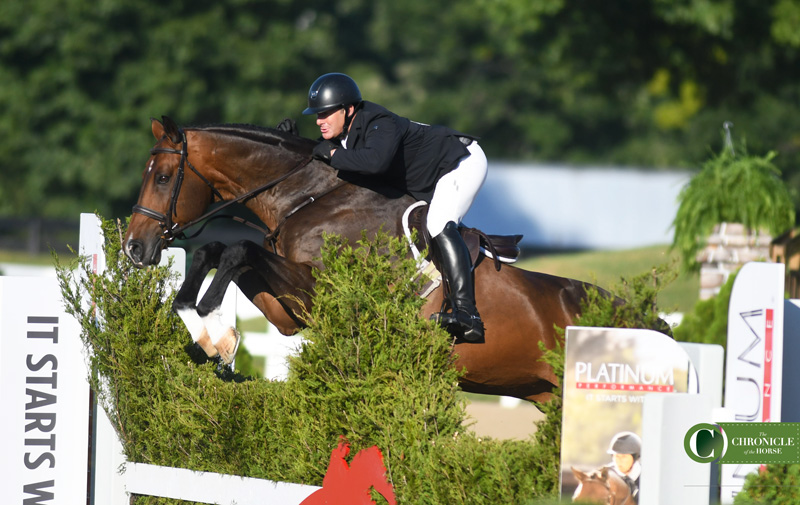 Most of his business at his Greg Crolick Stables in Clarkston, Michigan, and Wellington, Florida, revolves around green sales horses, so Crolick was well prepared to bring Chappy along.
"Chappy was greener at the beginning, but he was a clean slate with a great mind," Crolick said. "You can do a lot with one like that; they're hard to find."
Under Crolick's training, Chappy, 11, has risen to the occasion. Last year he won the $20,000 USHJA International Hunter Derby at the 2021 Split Rock Jumper Classic II (Kentucky), and he's continued his winning ways in 2022. He finished second in the $25,000 USHJA International Hunter Derby at the Devon Horse Show (Pennsylvania); fourth in the $150,000 Hunter Grand Prix at the 2022 Split Rock Hunter Jumper Classic II (Kentucky); third in the $25,000 USHJA International Hunter Derby at the 2022 Great Lakes Equestrian Festival IV (Michigan); and won the $100,000 Pro Derby Final at the American Gold Cup (Michigan). Most recently, the pair topped the $10,000 professional division 3'6″-4′ winners stake Oct. 18 at the Pennsylvania National.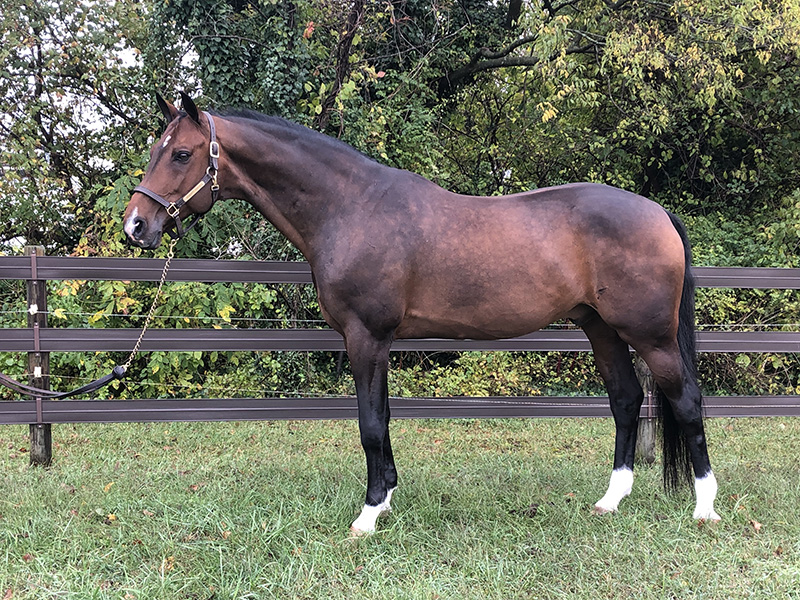 "He's a very special horse," Crolick said. "He's the complete package: great mind, great heart, super athletic, great technique, great athleticism, and not spooky. I can focus on finding the jumps and setting Chappy up to succeed, which is a wonderful thing."
Even though Chappy was supposed to be for Chase, she's handed the riding duties to Crolick. "She's is having a lot of fun being Chappy's owner and watching him do all of the big classes," said Crolick. "It's different for me to be able to keep such a nice one and continue to develop him. I'm very grateful for the opportunity."
And now, we bring you behind the stall door to meet Chappy:
• All of Chappy's gear is labeled with "Chappy Chase," even the nameplate on his halter.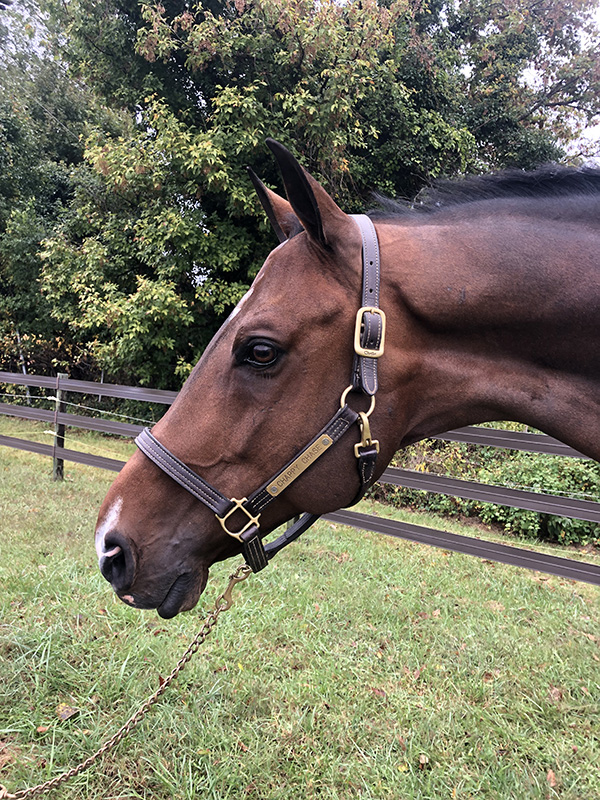 • Chappy really values his alone time in his pasture. "We have beautiful pastures at our farm in Michigan," Crolick said. "He goes out close to the barn, and he doesn't run, buck or spook. He just wants to graze."
• Taking care of Chappy is a group effort between Crolick's sister-in-law and barn manager, Katie Hogan; his wife, Jessica; his assistant trainer, Maggie Ridenour; and his groom, Antonio Clark.
"Katie and Maggie are always at the ring with me for Chappy," said Greg. "Antonio just came to us about six weeks ago, and right away he had a fondness for Chappy and became attached to him. Antonio really likes to take Chappy to the ring when he shows."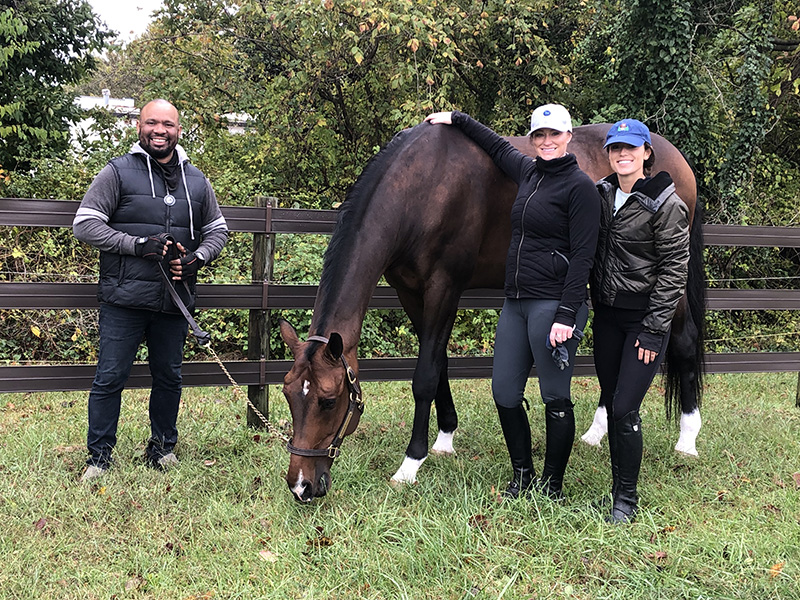 • Chappy's sweetness extends into the barn, too. "My kids Brady [8] and Ava [12] can pet him and walk in the stall with him," Greg said. "His one little quirk is that he'll go from licking you and nuzzling you for 10 minutes, and then he'll just grab your coat and give you a quick little nip. Almost like he's suddenly bored snuggling you and getting pets, and he's like, 'Pay me more attention!' It's never mean; his ears are never back. He just loves people."
• Chappy is not a fan of peppermints, but he does like spearmints, carrots and apples. "Every so often, I try to see if he will change his mind and eat a peppermint," Hogan said. "He'll try to crack it, and then he spits it back out. He says, 'No, thank you!' "
When Chappy finishes showing, Hogan always makes sure to have his spearmints waiting on hand at the in-gate.
• Even though Chappy is spoiled with his favorite treats, he loves eating his ribbon. "Every time he has to do a presentation for a ribbon, and we walk in to get pictures and do a victory gallop, the moment the ribbon is put on his bridle, he's chewing on the ribbon," Greg said with a laugh. "We wrap it around the bridle so he can't reach it, but you have to be so quick about it. One of the first times we did a presentation, he got half of it in his mouth, and he was chewing, chewing, chewing. The picture was taken with it in his mouth, and when he finally spit it out, it was torn and disgusting like it was 20 years old."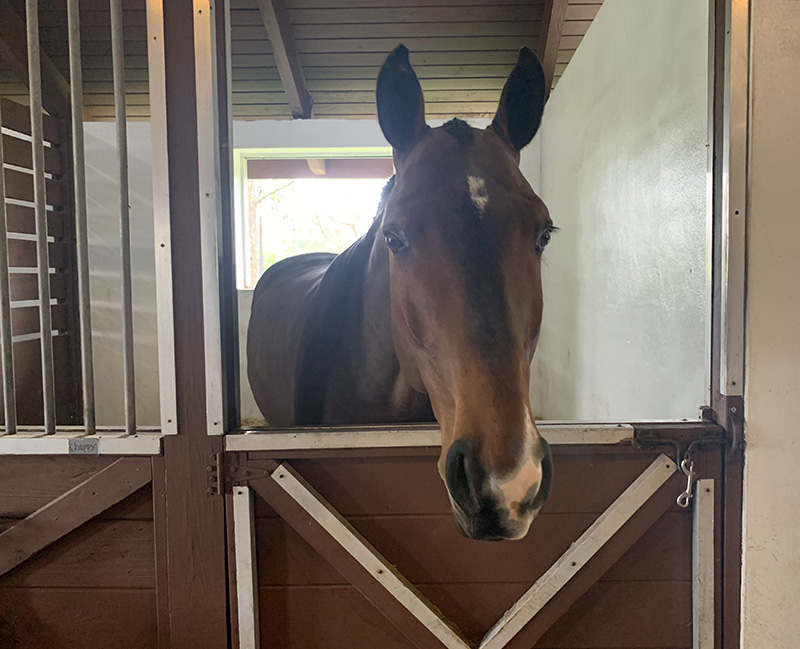 • Not all high-performance hunters will happily go trail riding, but Chappy loves it. "He really is an all-around horse," Greg said. "At our Michigan farm, he would rather be out trotting up and down the hills, around the paddocks. He's fine on the horse paths in Wellington too; Carole rides him up and down them all the time."
• Because Chappy is reliable and even-keel, Greg tries to keep his show routine consistent. "He's the same horse every day," Greg explained. "Only for big classes do I get him in the ring in the morning. On normal show days, he doesn't need to be ridden in the ring in the mornings."
Sometimes, Chappy even crosses over into another discipline.
"In Traverse [City, Michigan], to keep him more interested in the jumps because we were gearing up for the 3' pro derby class, I did him in the 1.10-meter jumpers as a warm-up," Greg said with a laugh. "He was really good; he had a great time out there. You have to keep him interested at the lower jumps. The next class we did was the 3' derby, which we won."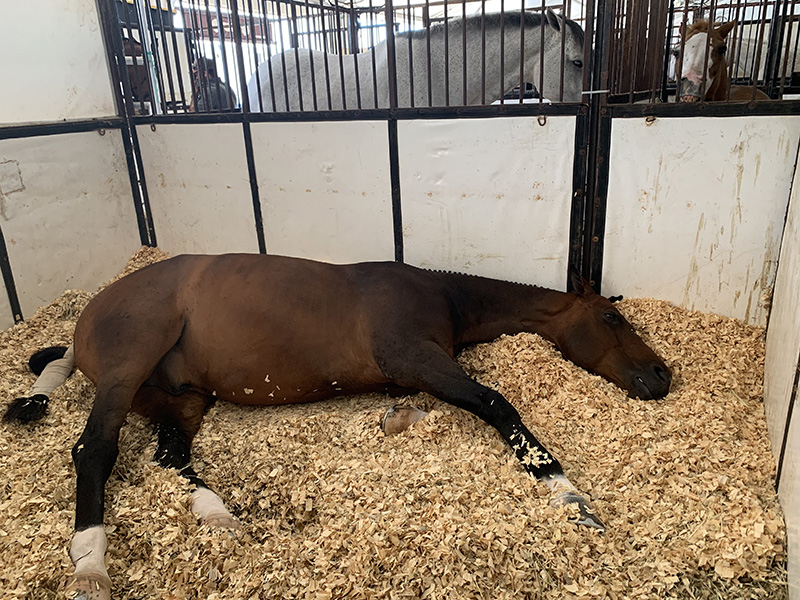 • When Greg plans Chappy's show schedule, he thinks about which rings give him the chance to show off the gelding. "Chappy really rises to the occasion when he knows it's special," he said. "I love being out on the grass at Global at WEF, and I love the Rolex ring in Kentucky for Split Rock or Derby Finals. It's so much fun to be in those rings; you have room to gallop."
• Greg's goal for 2023 is to gear Chappy toward the USHJA International Hunter Derby Championship (Kentucky) again. "When we did Derby Finals this year, we made it to the second round," Greg said. "Unfortunately, Chappy had a front rail on one of the oxers [in the handy]. But, he jumped almost every jump with such ease and athleticism that it was incredible. In the future, my goal is to be top three with him at derby finals."