Four years ago, Olympic gold medalist Will Simpson was convinced to check out a jumper for sale in Germany. When he got to the barn, Simpson went to change into his breeches but saw another rider attempt to ride the horse. The horse reared, the rider fell off—and Simpson almost changed back into his blue jeans.
Luckily, he tried Chacco P and imported him to the United States shortly after. Fast forward to 2021, where the pair have won several major grand prix classes and FEI events, including the $75,000 1.50-meter Interactive Mortgage Ticket to Ride Grand Prix (California), the $100,000 Riders Cup Grand Prix (California) and, most recently, the $75,000 Coca-Cola Beverages Grand Prix held Dec. 4 at World Equestrian Center—Ocala (Florida).
Once you've seen the 12-year-old Mecklenburg (Chacco Blue—Cera P) go, you won't forget him. The bay gelding stands at an impressive 18 hands, but you're unlikely to see him simply standing. Chacco P makes it clear that his preferred gait is the gallop.
"He's the hottest horse I've ever had," Simpson said. "I grew up riding Thoroughbreds, and he's hotter than any Thoroughbred. When you're on his back, he just wants to go forward at breakneck speed. So it's a little hair-raising, to say the least."
Simpson, who recently relocated to Ocala, Florida, to open Will Simpson Stables after spending nearly 40 years based in Thousand Oaks, California, brought us behind the stall door to meet Chacco P.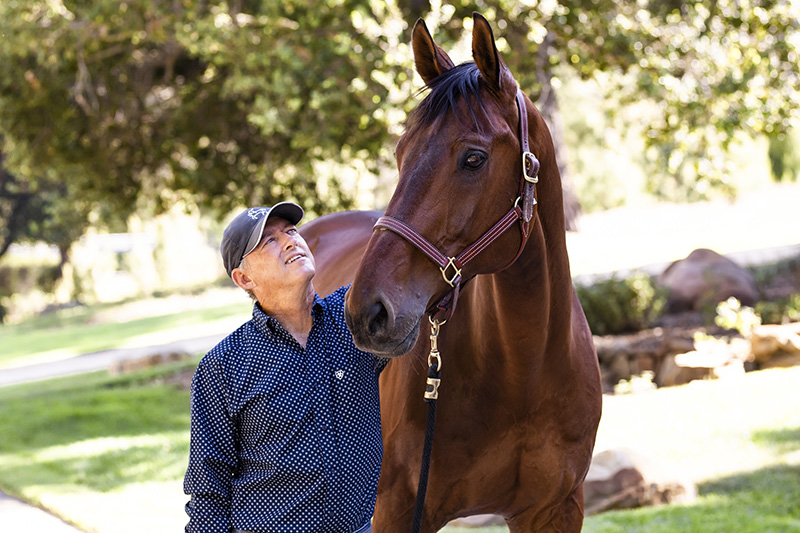 • Chacco P is quiet—as long as you stay on the ground. "He does everything on the ground really easy and nice," Simpson said. "He loads in trailers and goes wherever you want to go. He's not spooky at all."
• Chacco P is an excellent traveler. "He's got a box stall and at truck stops, we just opened the door, and I go through his stall to water and feed all the other horses. He just hangs out there. He won't jump out or anything. He just hangs his head out, and truck drivers come by and pet him."
• In addition to making friends with truckers, he's friendly to dogs and other horses and doesn't get worked up meeting new horses. In fact, he's the only horse that Simpson will allow to touch muzzles with another horse, because he never squeals or makes a scene.
• One animal he's not a fan of? Bulls. "One of the trails has bulls, and it takes a while to get him across there."
• Speaking of trail rides, for such a hot horse, Chacco P is surprisingly good outside of the ring. "He's really, really good on the trail," said Simpson. "He gets a little amped as he's coming back towards the barn but not bad. If I really concentrate, I can do it on a loose rein."
• Simpson hopes that trail riding and other cross training will help Chacco P relax. "You never know what piece is going to come together. It might be the type of thing that gets him to finally give into relaxation. If I just show jumped, I think he'd always stay amped. So I like doing a lot of different things with him."
• You may have noticed Simpson taking a short turn to the first fence or making tighter inside turns than anyone else on course. That's a strategy to keep Chacco P from going too fast. "When he sees a jump, he wants to go to it … so I try to let him only see it at the last minute. Then it's a little easier to rate him. So that's what we rehearse all the time."
• He's intelligent, and his mind is always working. "He's inquisitive and very, very smart. I'm trying to catch up to him. … I think I could come out in the middle of the night and tack him up and jump him. He's always on duty."
• He may have been a musician in a former life. When songs are playing before the grand prix or during the awards presentation, he knows when they are about to end. "He'll be fine, and then right towards the end you can feel that he knows it's coming. It can be any song, and he's like, 'Here comes the end of the song; we're ready to go.' He's always right."
• Chacco P is just getting started. "I plan on showing this horse well into his twenties… He's super sound. He's got so much energy. I think he might be at his best from 18 to 22. Some horses peak early and some are late bloomers. I think he's going to be really solid later in life. There's still a lot of work left to do to convince him how good he is, but then there's going to be no stopping him because it's effortless for him to jump 1.60 [meters]."