Canadian dressage rider Megan Lane of Collingwood, Ontario, has had a fairy-tale career with her 16-year-old Dutch Warmblood mare Caravella. Forming their partnership while Lane was still competing in the FEI Junior ranks, the feisty bay mare carried Lane not only to multiple podium finishes at the FEI North American Junior and Young Rider Championships, but then also successfully made the unlikely jump up to the Grand Prix level to continue chasing their dreams at the top of the sport.
Lane and Caravella were selected to ride for Team Canada at the 2014 Alltech FEI World Equestrian Games (France), the 2015 Pan American Games (Canada) and the 2016 Rio Olympic Games.
In March 2017, Lane and Caravella led Team Canada to win the CDIO*** Nations Cup gold medal at the Adequan Global Dressage Festival in Wellington, Florida, and also trotted away with the individual gold medal for their CDIO*** Grand Prix freestyle performance under the lights on the final weekend of the AGDF.
But then Caravella stepped out of the spotlight after Lane returned to Canada. "In Canada during the summer, there aren't a lot of options for CDIs," Lane said. "It was a non-Games year, and there wasn't a lot of pressure." Lane waited until Nov. 9 at the Royal Winter Fair in Toronto to braid Caravella again. They topped the $20,000 Royal Invitational Dressage Cup for the second consecutive year.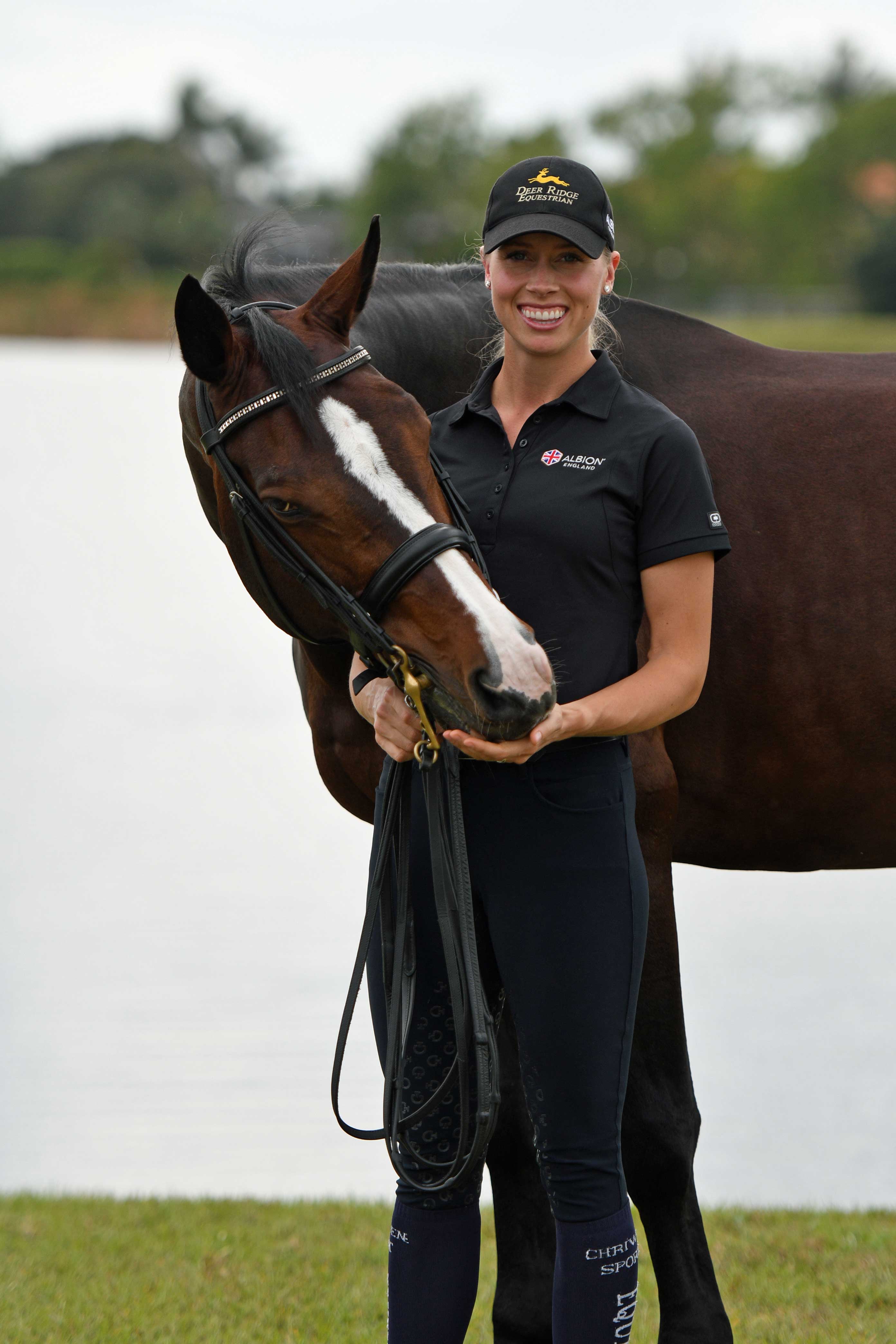 Lane and Caravella made their 2018 season debut in Week 3 of the AGDF, taking third in the CDI*** Grand Prix and then second in the CDI*** Grand Prix Special. Lane is getting the flashy mare back into her prime with the WEG in Tryon, North Carolina, in mind.
Deservedly so, Caravella is the queen of Lane's barn both at Deer Ridge Equestrian in Ontario and in Wellington in the winter. Here's how the Queen reigns:
•  She's small but mighty. "People are always surprised how small she is when they stand next to her," Lane said. "I think the way she carries herself in the ring makes her look bigger, and she has a certain presence, and that's very important in a top show horse. I say she's 16 hands, but she's actually a little less. I'm quite tall at 5'10", so one wouldn't think it's the ideal match, but it certainly works."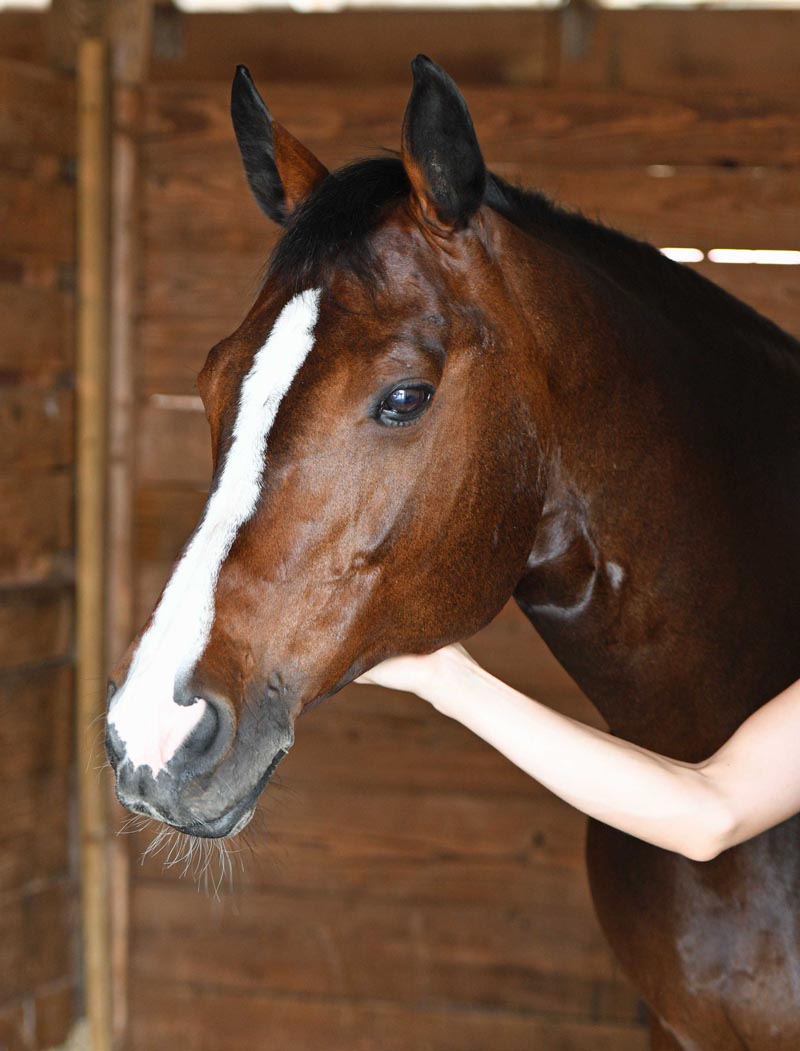 •  She must always be in a position to survey her kingdom. She owns the first stall in the shedrow (of course), and her haynet must be at the front of the stall, so that she can continue to oversee her subjects even while eating.
•  Caravella is very particular and opinionated about people, and she carefully chooses the loyal subjects who will be allowed close to her. "She's warm and sweet like a big marshmallow with the people she chooses," explained groom Evelyn Lucas. "But if she doesn't like you, you know it." If she grinds her teeth at you, consider yourself warned.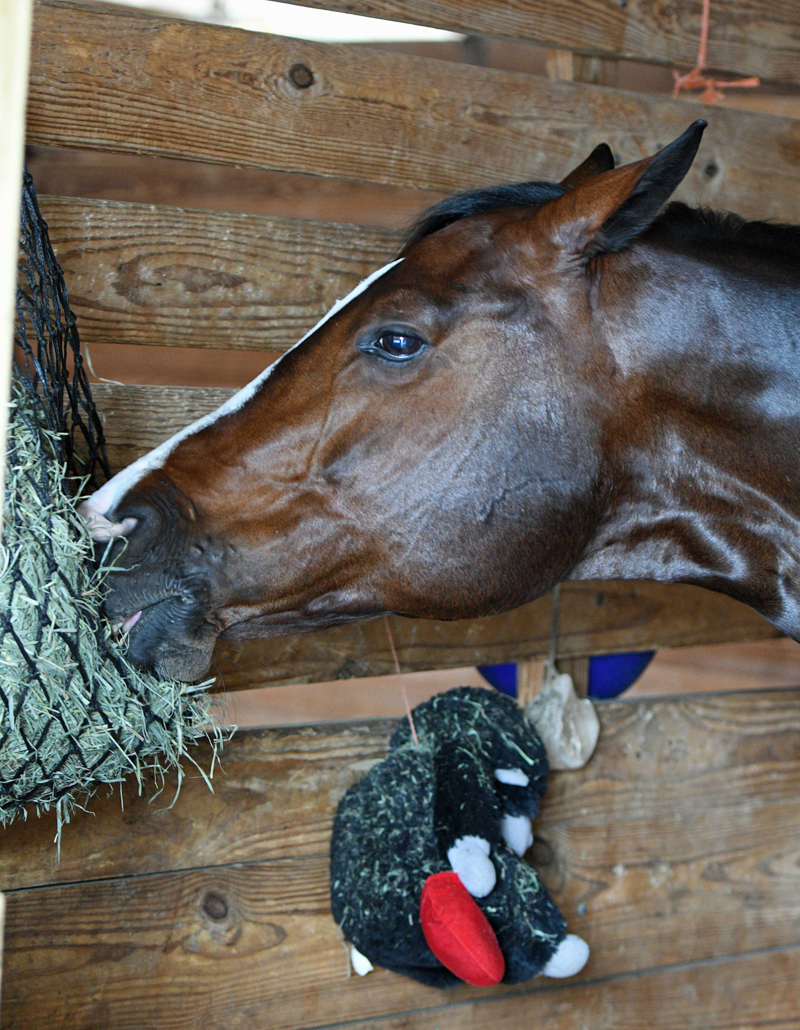 •  The bigger the atmosphere the better she performs. For example, Lane reports that in Aachen (Germany), Rio de Janeiro and the freestyle nights under the lights in Wellington, "she is so expressive and yet entirely focused on me. She is all business when it really counts, and I love that about her."
•  She knows what she wants, and things must be done her way. "When hand walking, she'll drag you around to find particular spots to observe what's happening. And when she feels ready, she simply points herself in the direction of the barn and drags you back to her stall whether you're ready or not," said Lucas.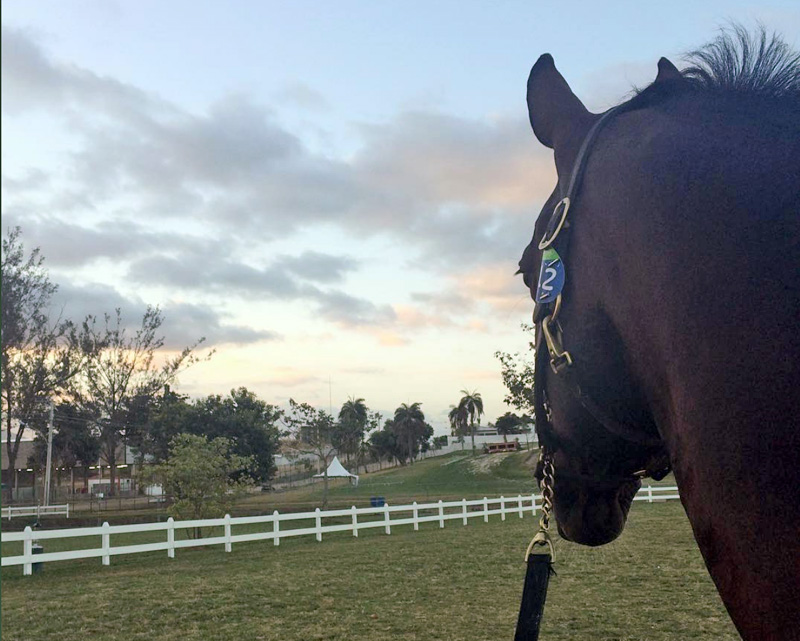 •  She may have a tough exterior, but Caravella has a softer side. "She has, well, a bit of a fetish for soft things," said Lane. "She will also pull you toward anything that looks soft and fluffy, such as fleece girth covers, and my sister's ponytail. Now she has a stuffed gorilla hanging in her stall next to her hay bag, and she just loves it. She'll nuzzle it and rest her head on it, but if she catches you watching she pretends she's not playing with it."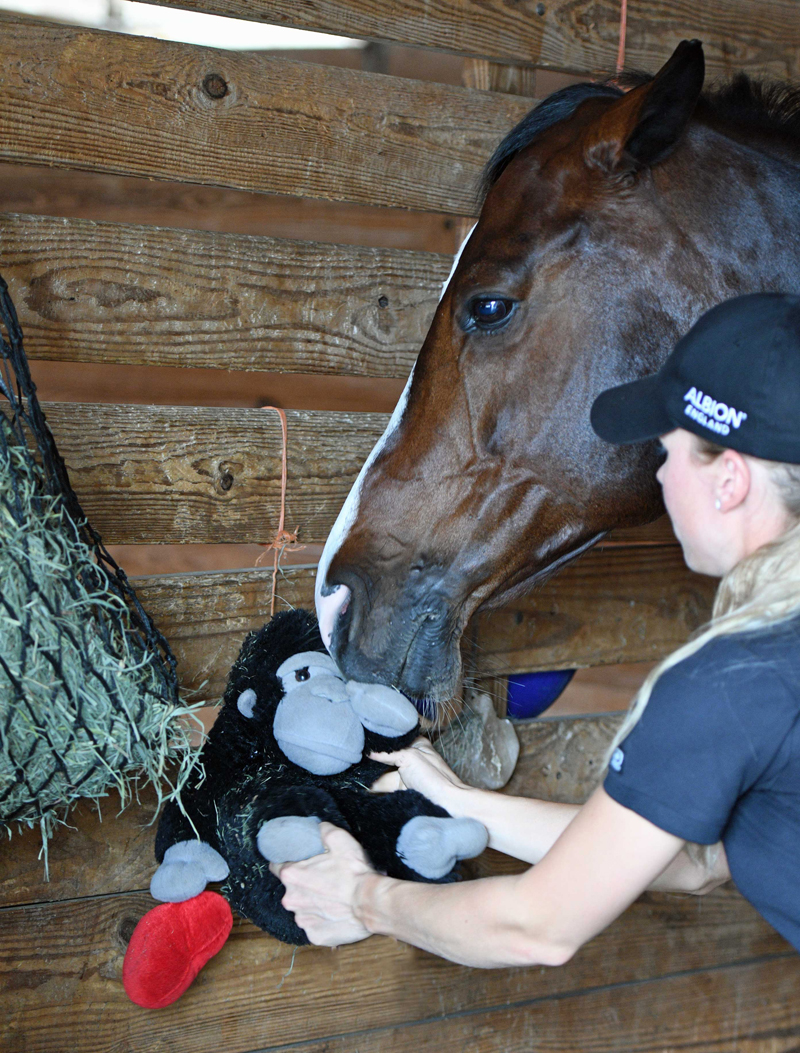 •  Caravella loves to travel, and Lane says if no one were to hold her back, the mare would gallop onto the trailer all by herself. "When she arrives somewhere she likes to see and smell everything she can. She's extremely confident and curious."
•  Like any popular girl, she has her own Instagram account complete with custom hashtags (search for #caprizzle).
•  During the off-season, she loves a good beach getaway. "Last year I took her to Wasaga Beach on Georgian Bay [on Lake Huron]. She absolutely loved the water and how the waves rolled past!" said Lane.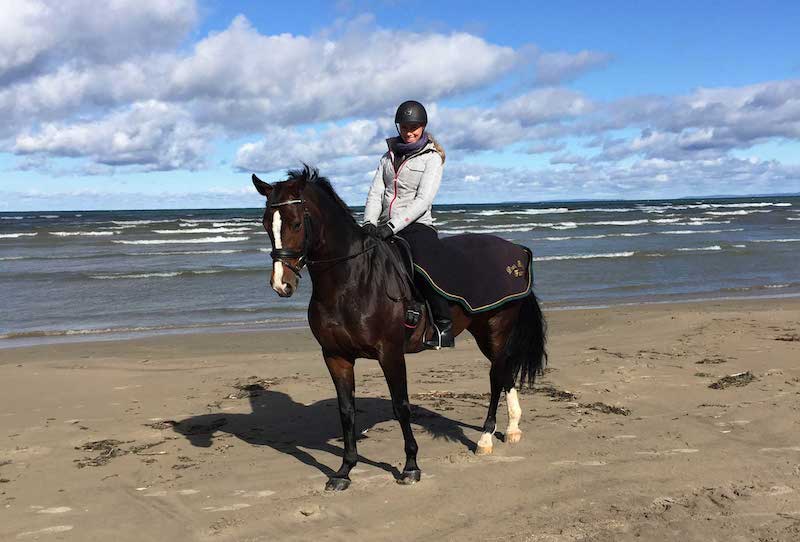 •  She's a convert from the hunter world. "It was complete coincidence that our lives crossed paths," remembered Lane. "A friend of mine was horse shopping and asked if I had a couple of hours to spare to keep her company for the car ride. I had finished the chores at my barn for the day, so I said, 'Why not?' It was at a hunter/jumper barn, and there were probably five horses working in the ring at the same time. When I realized the prettiest one there was the one for sale, I was immediately smitten. To my surprise my friend didn't take any interest in her, so I tried her instead. As soon as I sat on her I knew I just had to have her. My mom agreed to help me buy her, but even she wasn't so sure about her, not to mention the vet who did the pre-purchase exam wasn't crazy about her either. They all commented how small she was and was quite green. It was against all odds, and on paper it didn't make sense, however, when you have a feeling like I did it's hard to turn away!"