If he went to your high school, there's no doubt who Bull Run's Faustino De Tili would be—the star quarterback everyone wants to take to the prom.
The big gray-bordering-white stallion looks like he could run through a brick wall, shake the dust off, and ask everyone where they want to go for a burger or four. He is the quintessential studly stud, and it's exactly that eye-catching quality that first drew his owner Kristen Vanderveen to him.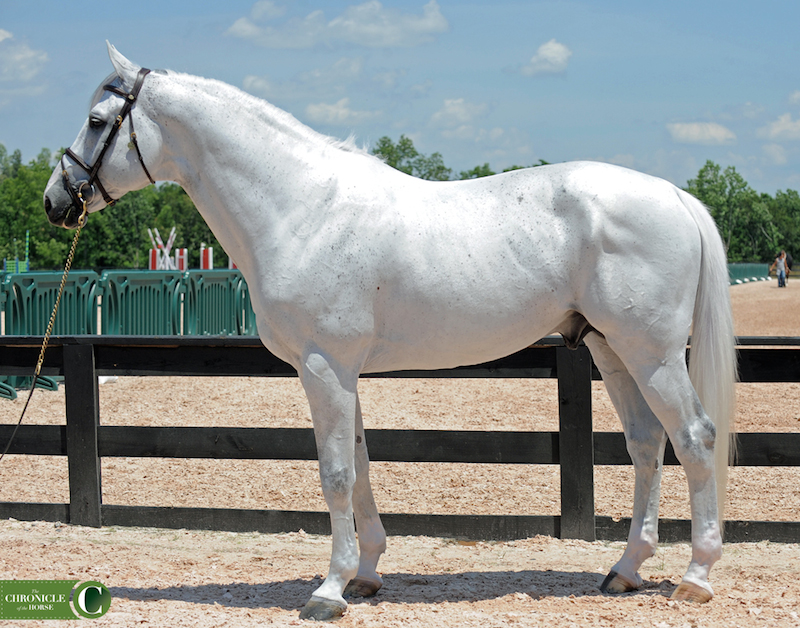 "He has a lot of presence, and just his presence when they walked him off the trailer for us to try was big," Vanderveen said. "Then riding him, he was just—I remember I think I jumped about six jumps and I looked at my dad, and I said, 'OK, this one we have to buy.' He was so, so simple and the feeling was just fantastic."
"Frosty," as he's known around Vanderveen's barn, was first campaigned by his breeder Tim Van Den Broek in young horse classes in Europe. The Belgian Warmblood (Berlin—Bijou Van De Vijfheide, Darco) was then campaigned through the five-star level by Belgium professionals Olivier and Ludo Philippaerts. Under the Philippaerts' guidance Frosty took top-three finishes at the three- and four-star level and won the puissance class at Spruce Meadows in September of 2014 before Vanderveen purchased him and began competing him in the winter of 2015.
With Vanderveen, Frosty has racked up 17 top-three finishes in FEI grand prix classes, including winning two grand prix classes and a welcome stake victory at the Tryon International Equestrian Center this year. Most recently, they topped the $86,000 Adequan Grand Prix on July 3 in Tryon. Last June, they scored the first five-star win of Vanderveen's career in the $380,000 Horseware Ireland Tryon Grand Prix there.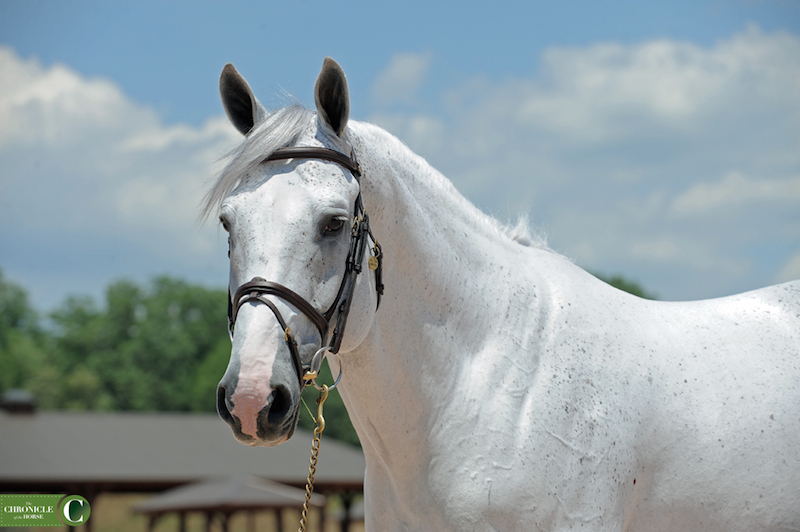 We caught up with Vanderveen while she was showing in Tryon to find out more about Frosty:
• First off, why the barn name Frosty? Not that it's not fitting—after all, the horse is rather round and very white.
"Normally I rename all the horses with biblical names, but with him since he's [an] approved [breeding stallion], I wanted to keep his name, so we kept his show name," Vanderveen said. "But Kate Bomgaars, who worked for me at the time, really loved stallions and I had never had a stallion. She was like, 'Oh no you don't understand, he has to feel like he's the man, he needs to know that you love him more than all the other horses, he needs a name that shows that.'
"She was like, 'He's Frosty the Snowman.' I mean he's the snowman, so it grew out of that," Vanderveen continued with a laugh. "And Frosty rolls off the tongue well—we holler his name through the barn a lot."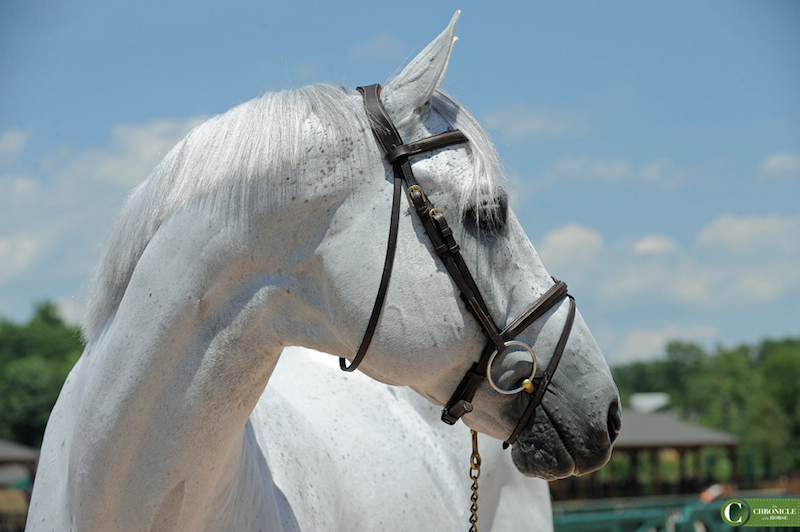 • Frosty needs a lot of quality time with his people.
"He's quite nice so in the stall. He's very friendly—he actually really, really loves if you spend time with him. He'll yawn and he'll lick his lips, he's really cute about that," Vanderveen said. "The more time you spend with Frosty the happier he seems to be."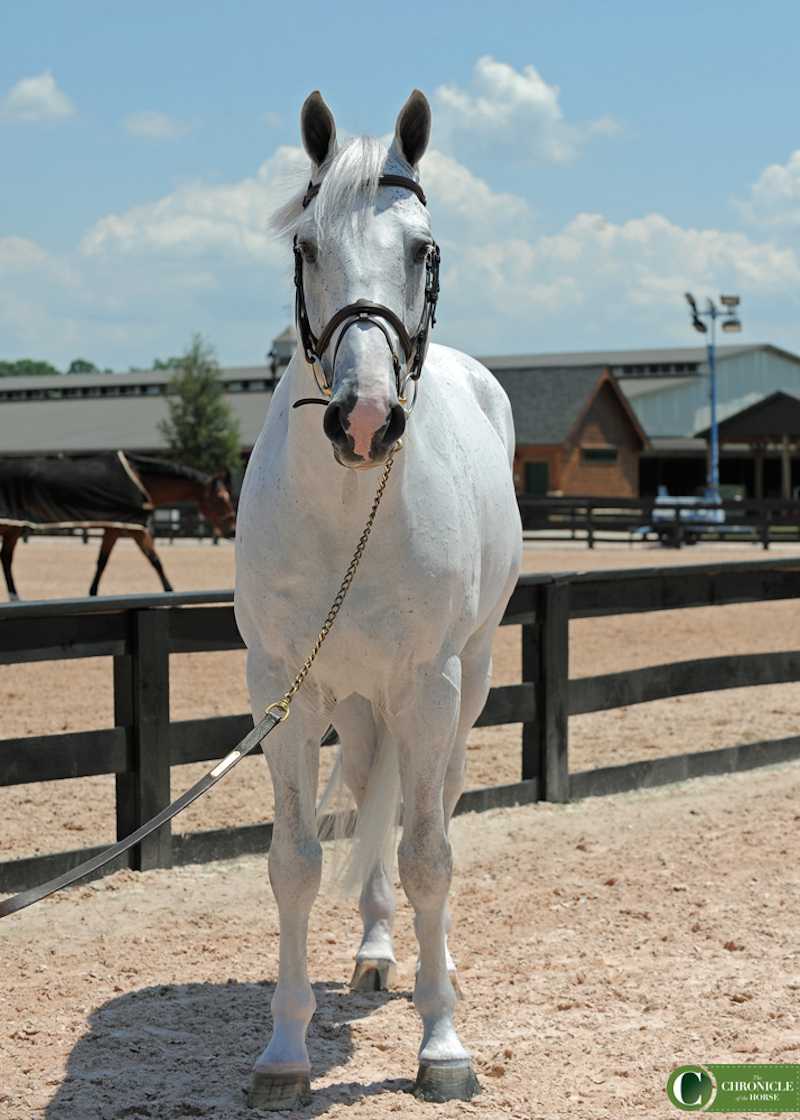 • When it comes to food, Frosty is very, ahem, stout. 
"He can be picky, like he's not a big peppermint guy, but aside from that he is a big healthy horse," Vanderveen said with a laugh. "Carrots, apples, any kind of like stud muffin cake, you can hand feed him treats and he stays pretty polite."
Vanderveen also gives Frosty free choice hay.
"He gets as much hay as he wants, I like that he's always munching on something—that makes me happier, but sometimes my groom disagrees," Vanderveen said with a laugh. "He doesn't want him to get fat, but I prefer them a little thicker than I do thin."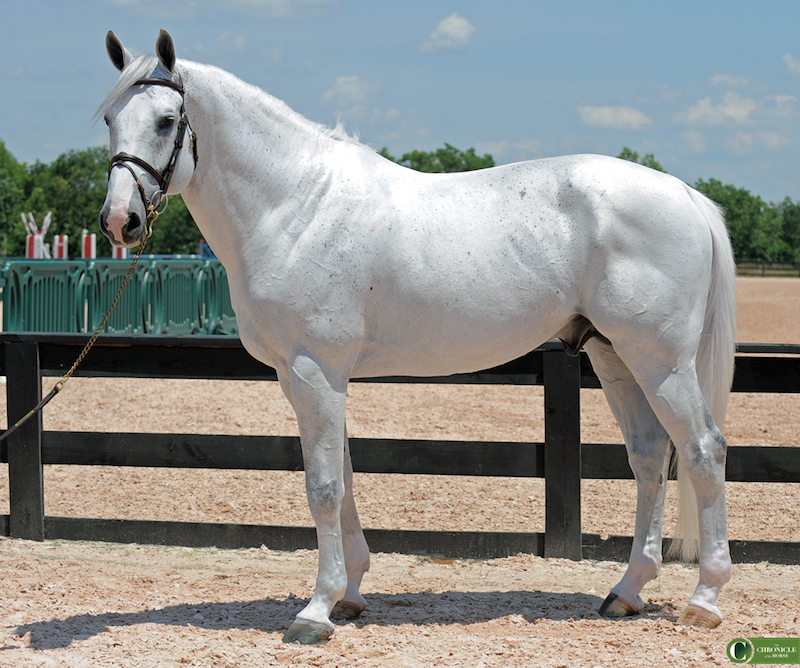 • You're not supposed to play favorite with the kids, but Vanderveen's head groom Luis Salazar can't help it when it comes to Frosty.
"He's my grooms favorite horse; he loves him," Vanderveen said. "He's white, so Luis takes great pride in getting him as white as possible. I think all Luis does—especially during FEI weeks—is take care of Frosty. That is his horse and that is his only job, that's all he cares about."
• Salazar has a trick up his sleeve to help improve Frosty's win ratio.
"He gets blue water buckets and blue grain buckets because Luis wants him to know that he should only have blue, that blue should be his favorite color," Vanderveen said. "So he literally has a blue blanket, a blue everything!"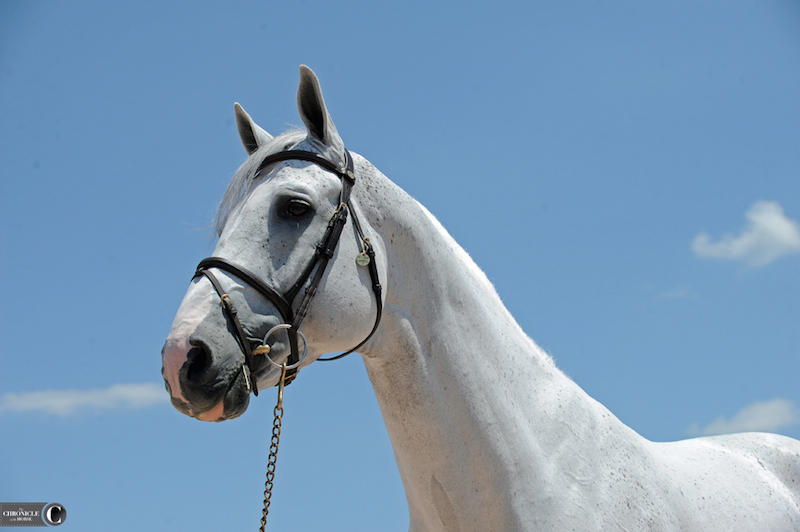 • Frosty's typical day is filled with activities and therapies to keep him feeling his best.
"He's my first horse normally to ride in the morning because I'm the freshest and he always starts the day off well," Vanderveen said. "After he gets ridden he goes on the treadmill and then gets turned out."
Frosty is well behaved in his paddock and can stay out for more than three hours before he's ready to come in for a bath.
"He stands on the Theraplate to dry. He enjoys that, he is quite pampered," Vanderveen said with a laugh.
• Frosty is a gentle soul to all creatures great and small.
"He likes my dog—he and the dog are friends," Vandreveen said. "He'll scratch her."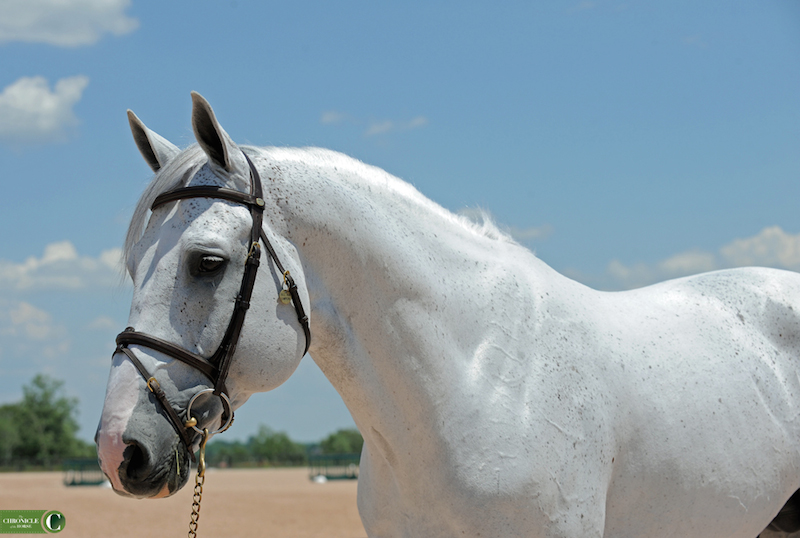 • While Vanderveen has been unable to locate any Frosty offspring in Europe from his time spent there as a stallion, she has confirmed that one of her student's mares, Bull Run's Holy Smokes, is in foal to Frosty.
"It's really new to us, we have no idea what we're doing," Vanderveen said with a laugh. "I was actually quite unsure about collecting him at all because people have told me it can change them and make them more aggressive and might even change his attitude with riding, so initially I was very, very shy about the idea."
When Frosty had over a month off between shows, Vanderveen decided it couldn't hurt to give it a try.
"He's exactly the same horse he was before. He can still go outside, he can still be next to the mares in the barn and be OK," Vanderveen said.
The foal is expected early next year.