I walked right past Breitling LS's stall at the Wellington, Florida, location of John Madden Sales not even recognizing the subject of the day's photo shoot without his signature extra fuzzy shadow roll.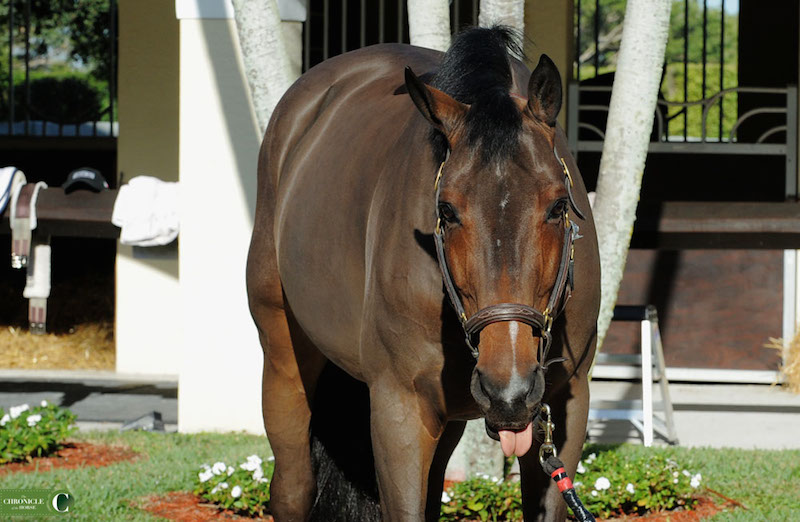 You won't spot him in the show ring with Beezie Madden without it, and it's an easy way to pick the bay stallion out of the crowd before the class starts; afterwards, just look for the horse with the blue ribbon on his bridle, because chances are it's him.
Breitling has proven a star in the Maddens' stable—the 12-year-old stallion (Quintero ASK—Armonia La Silla, Acord II) was purchased as a 7-year-old for Beezie to ride by longtime owner Abigail Wexner in 2013. Beezie competed the horse in his first FEI classes out of the young horse divisions, including his first five-star class, in 2014.
Beezie has continued bringing the horse along, and their partnership paid off with a great 2017 season—they won three different five-star classes in Aachen, Germany, at Spruce Meadows in Calgary, Alberta, and at the Valence International in Ratieres, France. They also topped three CSI-W classes and a CSI**.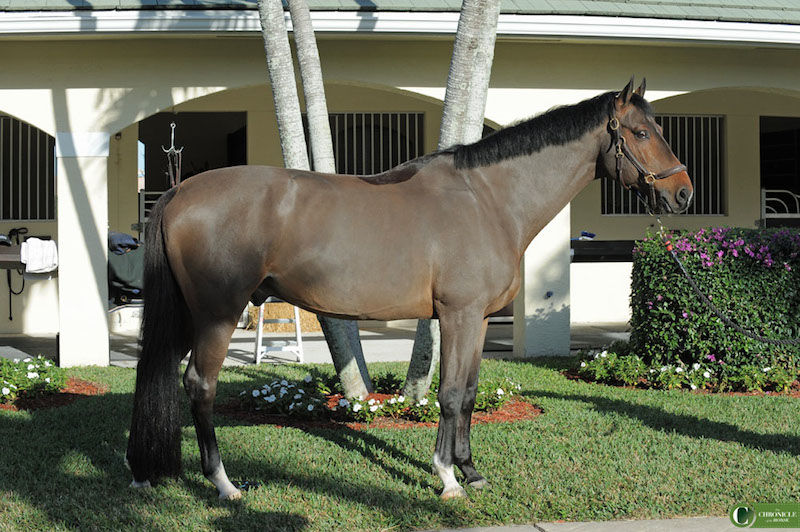 We met up with Breitling and the Maddens' longtime stable manager Clark Shipley at Wexner's farm in Wellington to go Behind The Stall Door with one of Madden's latest stars!
•  It's a wonder Breitling didn't just grab my sleeve when I skipped past his stall the first time because this is a horse who loves his people—he left his hay to nuzzle and occasionally nibble at Shipley's jacket pockets while he stood in his stall. Even though he's a stallion, Breitling is well behaved enough to have his head out in the aisle over his door.
"He actually really likes attention," Shipley said. "And he's pretty laid back for a stud; he doesn't cause trouble."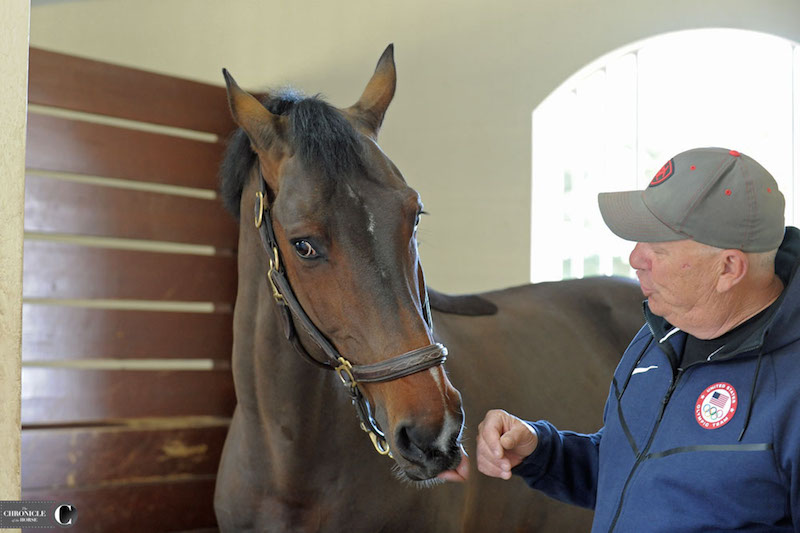 •  When he's not being ridden, Breitling spends his day either turned out, strutting his stuff on the walker or napping in his stall.
"He's good in the turn-out. He loves to chat with everybody because he's a stallion, but he's not bad, just chatty," Shipley said.
•  Breitling has a variety of allergies that require special hay and bedding.
"It's a wonder he can even be in a barn with all of them," Shipley joked. "He's allergic to straw, oats, rye—we switched him to shavings and a special Cavalor grain, and we use the Haygain steamer to steam his hay; it removes the dust to help with his allergies."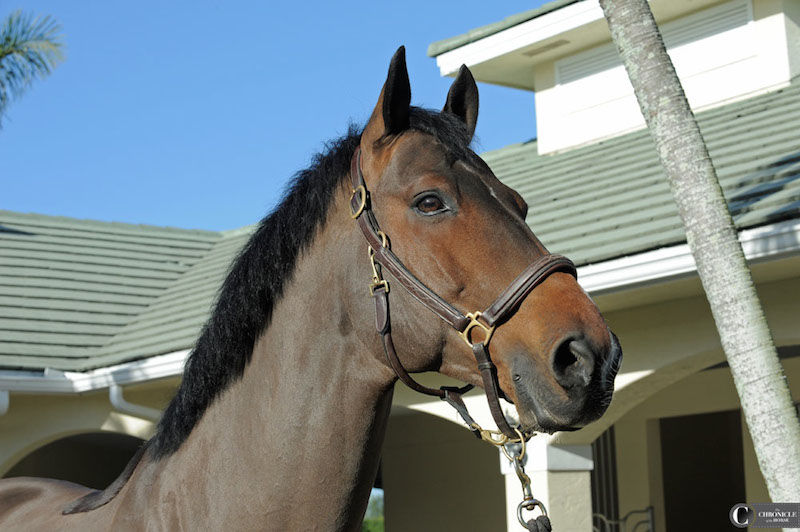 •  Breilting has a pretty limited treat palate, but he's making efforts to branch out!
"It's funny, when he first came over [from Europe] he would only eat like carrots and horse cookies," Shipley said. "And then all of the sudden he decided he eats peppermints too."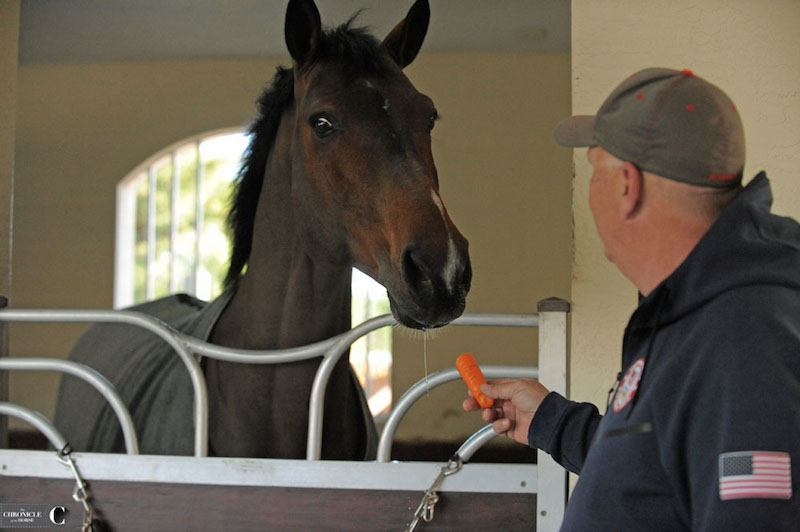 •  Many studs require special stall walls between them and their neighbors, but not Breitling—instead, he got some etiquette lessons from Beezie's other top horses.
"Normally a lot of times with stallions you have to put plywood up on the stalls to keep them from going over the walls, but he doesn't need any of that," Shipley said. "He had a hard lesson—he used to live between Cortes and Simon, and if he put his head over the wall they were good for him, they would correct him, so he's actually pretty good!"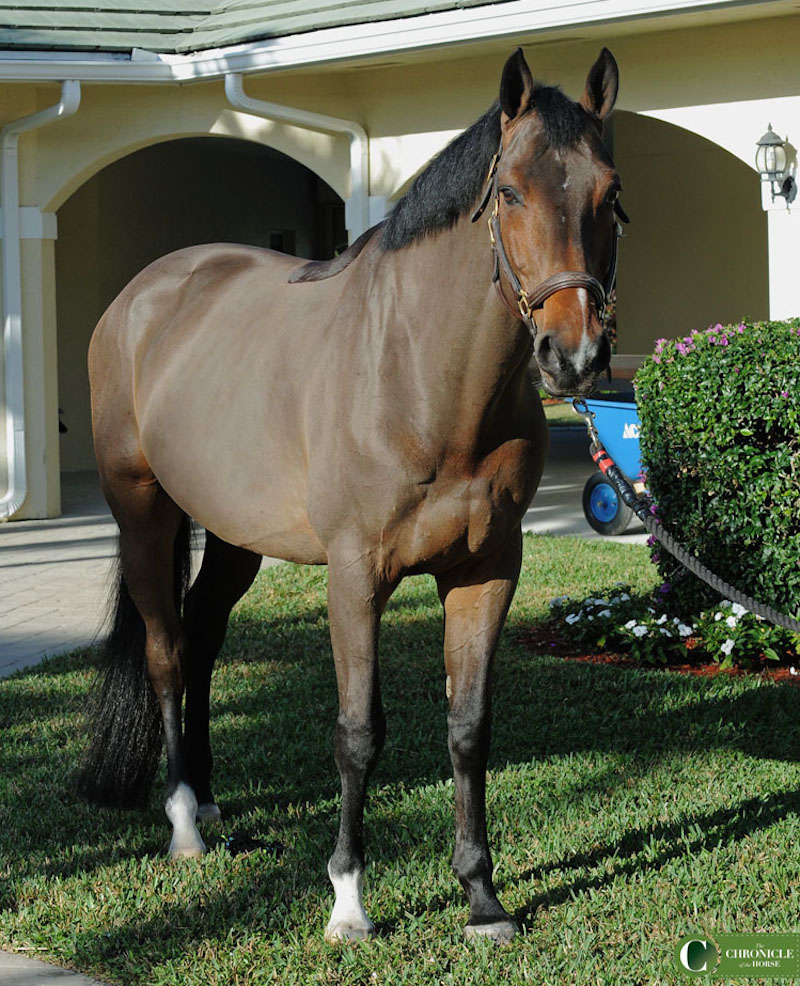 •  After a hard day of showing or jumping, Breitling has a couple of different sports therapies he enjoys.
"He does we have a Respond blanket he wears and a footboard he stands on, those are magnetic," Shipley said. "And he likes to stand in ice, just a rubber tub of ice for his front feet. You hardly even need to tie him, he just stands in it and eats hay."
•  Fun fact: Breitling wears heart bar shoes on his front feet.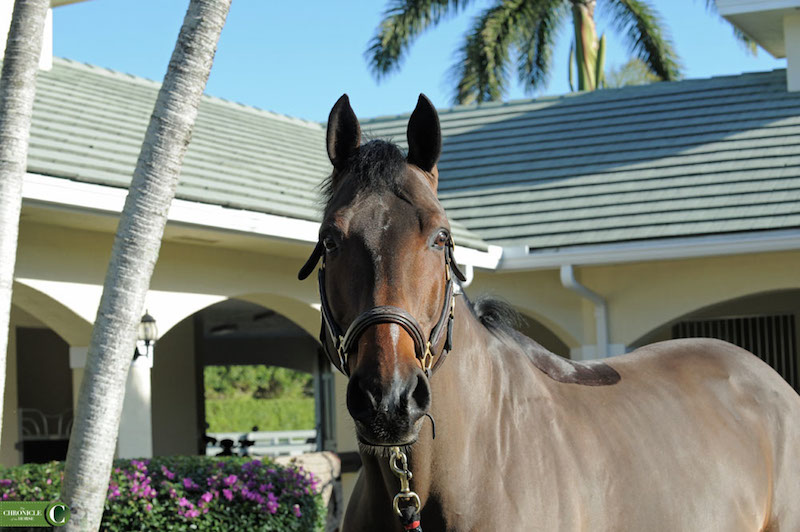 •  Breitling gets especially playful on the ground when it's been a while since his last show.
"He can be a little nibbley and he's a little fresh right now because he hasn't shown yet this year," Shipley explained. Breitling's first show of the year will be HITS Coachella (California) where Beezie plans to compete him in the $100,000 Longines FEI World Cup qualifier class.