Balia may not be a household name yet in the dressage world, but Sarah Lockman hopes it's only a matter of time.

The 9-year-old Westphalian (Belissimo—Felina, Florestan I) was accepted into the Kundrun USEF Dressage Development Program and is an exciting prospect coming up behind Lockman's 2019 Pan American Games (Peru) individual gold medal winner First Apple.
Balia began her show career in Germany, finishing in a tie for sixth at the Bundeschampionate for 5-year-olds under Eva Möller in 2017.
Soon after, Lockman's sponsor, the late Gerry Ibanez, purchased Balia. In her first year with Lockman in 2018, Balia finished in the top 10 at the Markel/USEF Young Horse Championships (Illinois) in the 6-year-old division and won multiple times at the national Prix St Georges level with scores over 73 percent. They returned to the national championships in 2020 to compete in the developing horse Prix St. Georges.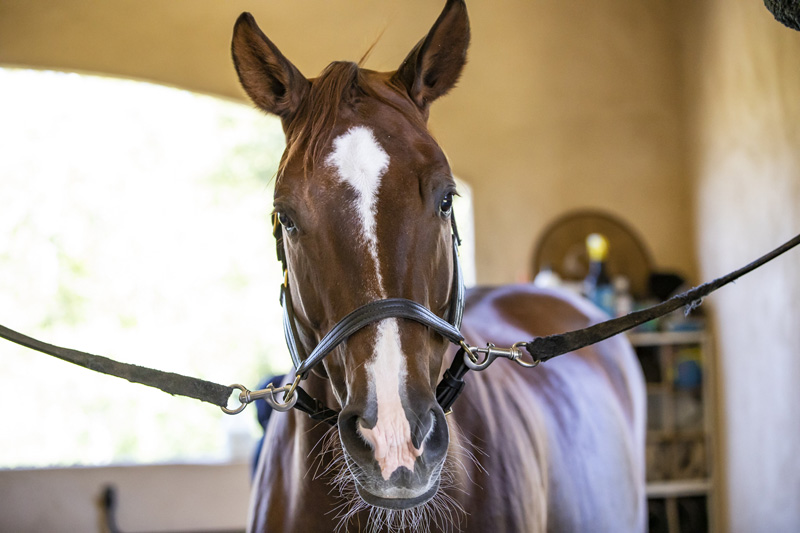 "When I came back after the third European trip, I told Gerry, I said, 'You know what? Let's stop looking so hard for a trained horse, for a finished horse. Let's go get the best young horses we can and just build them. That's what I'm good at. That's what I know. And if something else comes into our path, great,' " said Lockman.
Not long after that conversation, Lockman's coach Scott Hassler found Balia. "It was love at first sight," said Lockman. "I mean, the mare has such incredible work ethic and energy, really controllable energy inside of her that you just know, for sure, she's going to piaffe and passage."
We wanted to learn more about the virtuoso chestnut mare's personality, so we went to her home base at Summit Farms in Murrieta, California, to investigate.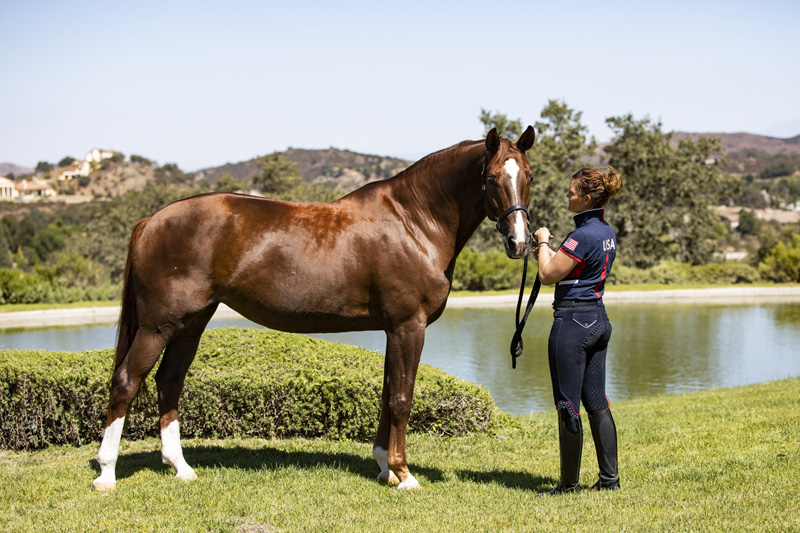 • Chestnut mare stereotypes aside, Lockman loves Balia because she's a mare, not despite it. "It's true what they say, you can't beat a good mare," she said. "They really want to work for you. And there's a difference between mares and stallions. Mares will go until their legs fall off, and that's kind of her. I have to be the one to say, 'OK, you're done for the day because you've been a good girl.' She'll just keep going and going."
• That being said, Balia holds true to a few typical mare qualities. "She does not like other horses in front of her stall, her space. I can hear her saying, 'Get off my lawn;' that kind of thing. But other than that, she's a total sweetheart," said Lockman.
Balia has, however, grown attached to First Apple, and they often fly together.
• Balia has picked up the nickname "Big Momma" at the barn due to her affectionate nature towards humans. She was especially snuggly with Ibanez, who would often visit her.
• A former eventer, Lockman trail rides most of her horses, but Balia is an exception. "She's not the best off property," said Lockman. "She has little race horse moments. I think she thinks trail riding is below her. It's dirty out there, and she'd rather be in her little kingdom. A queen should not leave her kingdom."
• Balia's fear of dirt does not extend to turnout though, and she enjoys going out for a couple of hours every morning.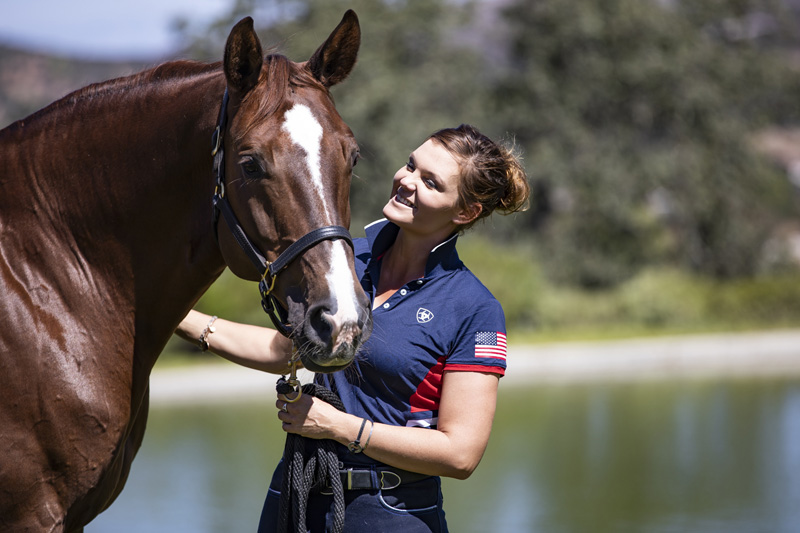 • She's not just a pretty face. For the past two years, Balia has participated in a U.S. Equestrian Federation program focused on developing Olympians. "USEF picks 10- or 12 horse-and-rider combinations throughout the entire country, and we get specific funding and help from the U.S. coaches and the physios and everything," said Lockman. "The rider and horse combinations are noticed for their talent and cultivated to help the United States win medals in the future."