Every family has that one kid that can just get away with anything—you know the one I'm talking about, the adorable one who can do something so cheeky, something that would definitely earn anyone else a time out, but they get away with it because they're just so darn cute and sweet?
At the Ingram's Nashville, Tenn., farm, that's Airport 48. The so cute, so cuddly hunter with the potential to be oh-so-cheeky.
"That one bucks you off," Tori Colvin, who rides Airport for the Ingram family, said with a laugh. "He's gotten me like three times now."
As Colvin is saying this, sweet little "Porty" is nuzzling John Ingram, ears up and eyes bright—a very convincing "But I didn't mean it."
"He's just a pet; he's a good old boy," John said.
Airport started out competing in the jumper ring with German rider Thomas Mühlbauer up to the 1.60-meter level in Europe before coming stateside in 2011 and competing with Courtney Boyd up to the 1.40-meter level. The Ingrams bought the gelding in 2013 and young professional Hayley Barnhill, who was working for the Ingrams at the time, started showing Porty in some hunter classes in 2014 with the intention of transitioning him to the equitation ring for John's daughter Martha Ingram.
John ended up getting along quite well with the now 15-year-old Bavarian Warmblood gelding (Asti Apumante—Chantal, Cor De La Bryere) and Martha was willing to pass the bucks along to her dad, so instead of equitation John started showing Porty in the amateur-owner hunters and found a good deal of success. They've earned championships in the amateur-owners at the Pennsylvania National and Capital Challenge (Md.).
Porty has given specialty hunter classes a go too—in 2014 he took second in the $25,000 Devon USHJA International Hunter Derby (Pa.) with Hayley Barnhill in the irons. This year at the Winter Equestrian Festival (Fla.), John took the tricolor in the amateur-owner, 36 and over division during World Champion Hunter Rider week before taking 10th in the $100,000 Peter Wetherill Palm Beach Hunter Spectacular.
We caught up with Porty, John and Colvin to go behind the stall door with his spunky self!
•  So about the bucking. The bad news is, he does it. The good news is, he has a tell.
"You can kind of feel it coming, he kind of takes off at the jump, and then he lands and just goes for it," Colvin said. "The first time I rode him, John explained it like 'Now he may land and then jump a 1.50-meter vertical after you land that doesn't exist.'"
"You know you're screwed when he gets faster right before the jump—you know it's coming," John said with a laugh. "You'd better just grab a hunk of mane and hold on."
As his cute little face would suggest, though, he isn't doing it to be mean.
"It's more that he's just feeling good and is excited, he doesn't have a mean bone in his body," John said. "He's very sweet."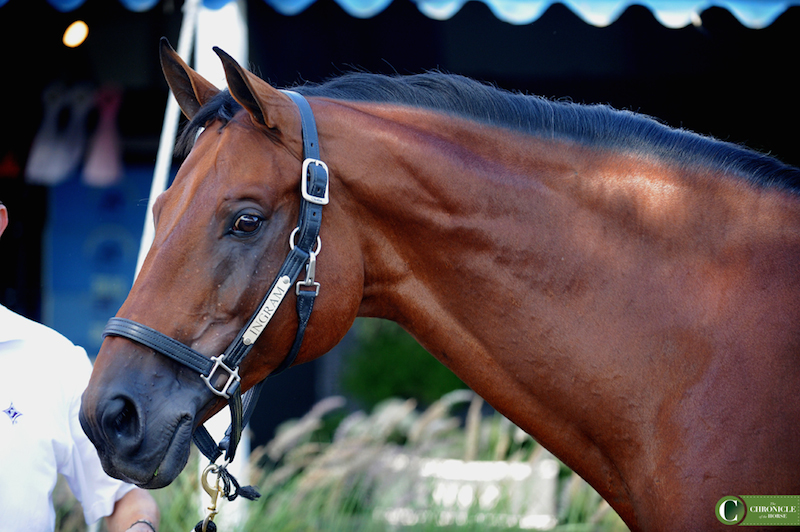 •  Porty knows how to work that cute little face for a camera.
"He loves attention. He doesn't mind that you have a camera—he loves it," said Guillermo Rojas, who takes care of all of the Ingram family's horses.
"He's a total ham," John said.
•  Unsurprisingly given his love for the camera, Porty has no stage fright when it comes to pulling out the stops for a big class.
"He's just a horse that often times rises to the big occasion," John said. "He's done the night class down in Florida three years in a row, and at indoors—I don't know some of them are just horses that tend to rise to the occasion, and that's him."
•  John doesn't use Porty as his average work-a-day show horse—he's more like the tuxedo.
"At this point he's more headed to being a just for the special occasions horse," John said. "He's a little bit older, so hopefully keep him around and going and show him lightly, show him in the things that you really want so he's fresh."
•  When it comes to treats, Porty is not a discerning food critic.
"His favorite treat is whichever one you've got—he'll eat anything," John said.
But to be clear, you best not think you're going to give his neighbors something you don't intend on sharing with Porty. Porty don't like that one bit.
"You give another horse a treat and he will bang down the walls to get a treat; it's unbelievable," Colvin said.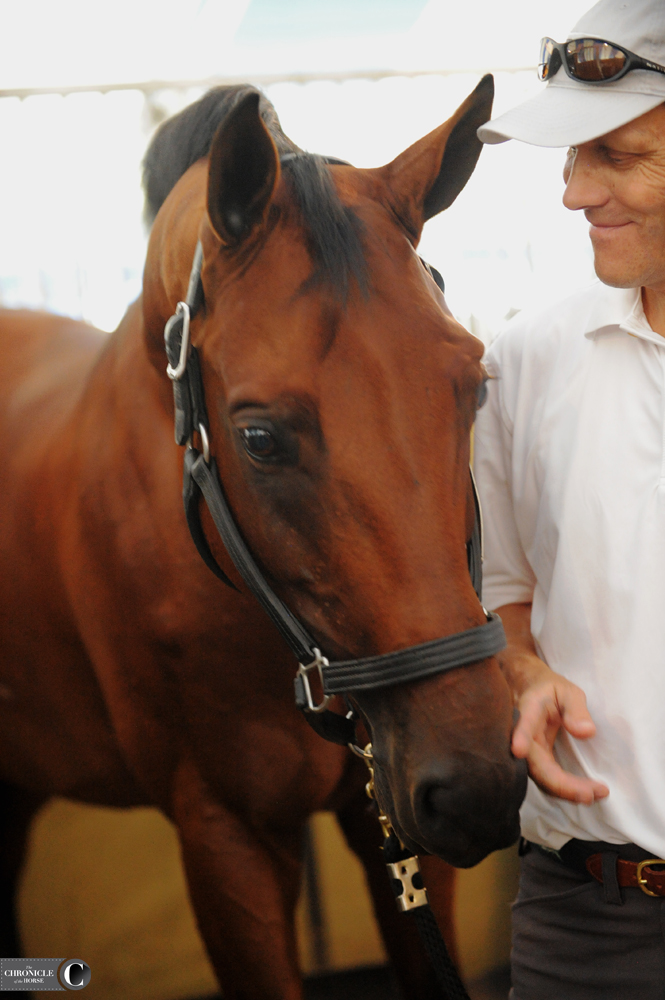 •  We challenged John to come up with a celebrity Porty is most like, and after some discussion and debate (Brad Pitt was considered and nixed) he came to a conclusion.
"He's kind of Robert Redford, a little older. But he probably looks better than Robert Redford," John said with a laugh.
With the many hats he's worn in his show career, Porty is more fitting to a food analogy for John.
"Porty is like some candy you get and you don't know what it is, and you bite into it and you go, 'Oh this is what it is, this is fantastic!' " John said.